Energy Recovery Reduces Desalination's Overall Costs in Mexico
The Cabo San Lucas SWRO Desalination plant at the point of Baja California prompts Spain's Inima to standardize on Energy Recovery Inc. technology.
Jul 1st, 2009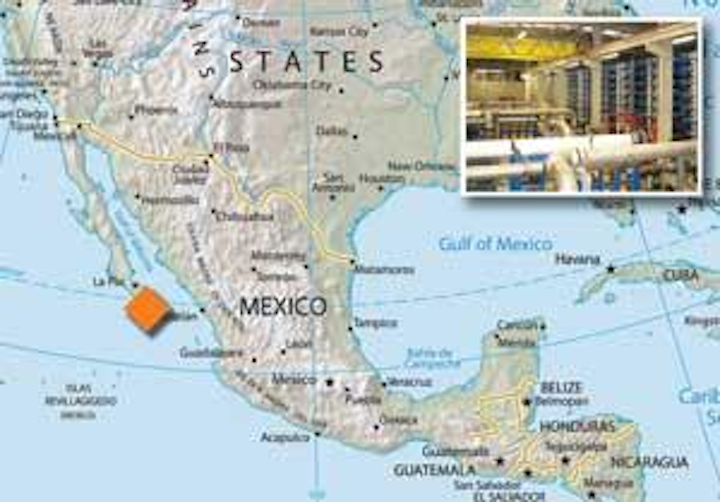 By Rick Stover
The Cabo San Lucas SWRO Desalination plant at the point of Baja California prompts Spain's Inima to standardize on Energy Recovery Inc. technology.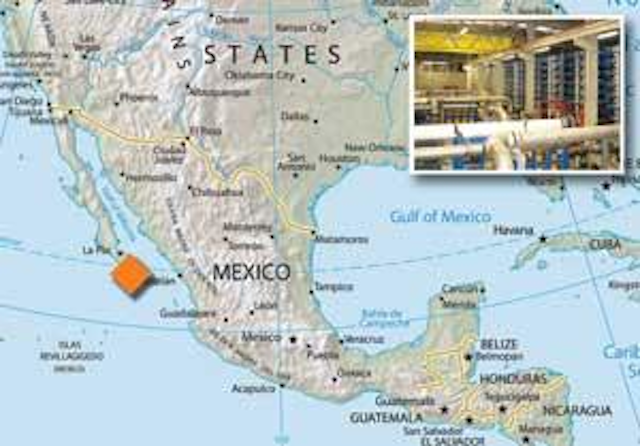 Project location
Click here to enlarge image
Efficiency and lifecycle costs of a seawater reverse osmosis (SWRO) desalination plant's energy recovery technology are critical to both winning SWRO projects and achieving maximum plant profitably through the lowest operating costs.
An Arid Peninsula
Spanish contractor Inima was awarded the new 20,000 m3/day Cabo San Lucas Desalination Plant project located in Baja California, Mexico. With no prior experience using Energy Recovery Inc.'s technology, Inima selected PX Pressure Exchanger® (PX®) devices as the energy recovery solution for the largest plant in Mexico. The plant operates with a pressure center design (common high-pressure feed header and common concentrate header) to provide operational flexibility and minimize process downtime.
The ERI device is a rotary positive displacement pump that recovers energy from the high-pressure waste stream of SWRO systems at up to 98% efficiency with no downtime or scheduled maintenance. At its core is a single moving rotor made of tough engineered ceramic that's unaffected by chemicals, won't corrode and requires no periodic maintenance. Over 80 OEMs are standardizing on this technology with installations around the world, including desalination plants such as Al Shuaibah III, Barcelona, Chennai, Hamma, Perth, Skikda, Torrevieja and Yuhuan.
A Dearth of Power
Prior to plant construction, the Baja region, similar to many areas around the world, faced a shortage of water as well as water quality problems. Availability of power was a core challenge in the region, and traditional desalination plants had no energy recovery devices to minimize this cost burden. Upon completion of the plant, however, the plant had to also overcome multiple failures of locally sourced PVC feed water pipe that disrupted the supply of feedwater to the plant. The client decided to consider the inclusion of energy recovery devices as part of its overall RO system to overcome the substantial energy cost investment for its new plant.
Equipment & Service
ERI's PX-220 Pressure Exchanger was the energy recovery solution of choice for the Cabo San Lucas SWRO plant. The plant design included 20 devices, with four trains of five units each installed to aid in the production of 20,000 m3/day of fresh water. Also included was a provision for a sixth device on each rack to allow for future expansion of the plant.
One of four PX Pressure Exchanger trains with provision for a sixth PX for future expansion.
Click here to enlarge image
In addition to equipment and to ensure the project's success, ERI provided control logic review as well as commissioning and startup assistance services. Because of piping blow-outs, its devices were fed PVC debris on multiple occasions, although none were damaged as a result.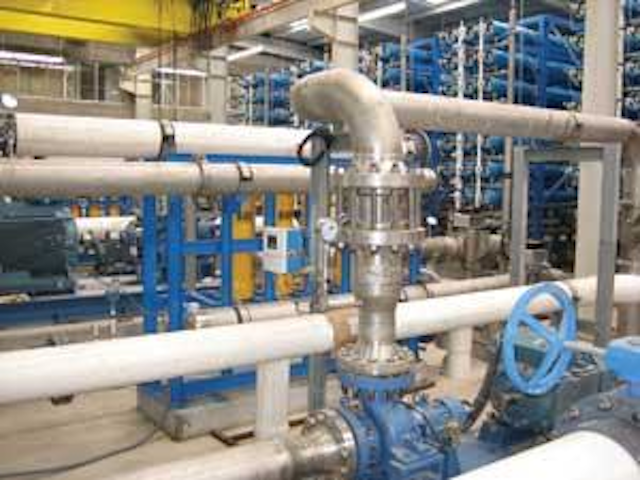 The plant is the largest in Mexico and operates with a pressure center design - with a boost pump visible here.
Click here to enlarge image
Being the first full pressure-center plant equipped with PX technology, both the client and ERI learned valuable operational competence which enhanced the client's capability to provide affordable water. To further ensure customer satisfaction, ERI technical services managers made several on-site visits to get the plant up to two-thirds capacity, while local services contractors were also summoned for follow-up work on commissioning. Overall, the plant was operational and producing water within three months of commissioning.
Conclusion
The Cabo San Lucas Desalination Plant successfully produced potable water, providing an ample and reliable supply for residents and businesses in the area. In fact, Spanish contractor Inima was so pleased with the results that it plans to apply the PX Technology energy recovery solution for a large plant to be constructed in Spain in the near future.
Other leading international OEM's such as Acciona Agua, Aqua Engineering, Befesa, CH2M Hill, Cobra Tedagua, Doosan Hydro Technology, Fisia Italimpianti, GE Water & Process Technologies, GEIDA, IASUR, Metito, Siemens and Suez Degrémont have selected the ERI PX modular technology for their recent projects because it consistently achieves real energy transfer efficiencies – up to 98%, making it one of the most efficient energy recovery devices available today.
---
Author's Note:Rick Stover is chief technology officer at Energy Recovery Inc., a global manufacturer of devices that help make desalination more affordable. The company's headquarters are in the San Francisco Bay area with direct sales offices and technical support centers in key desalination hubs worldwide such as Madrid, Shanghai, Florida and the United Arab Emirates. Contact: +1 (510) 483-7370, info@energyrecovery.com or www.energyrecovery.com