Roundup — Lab, Sampling & Analytical Equipment
Hosted information services for utilities reduce risks, increase efficiency, improve service and reduce costs.
Apr 1st, 2006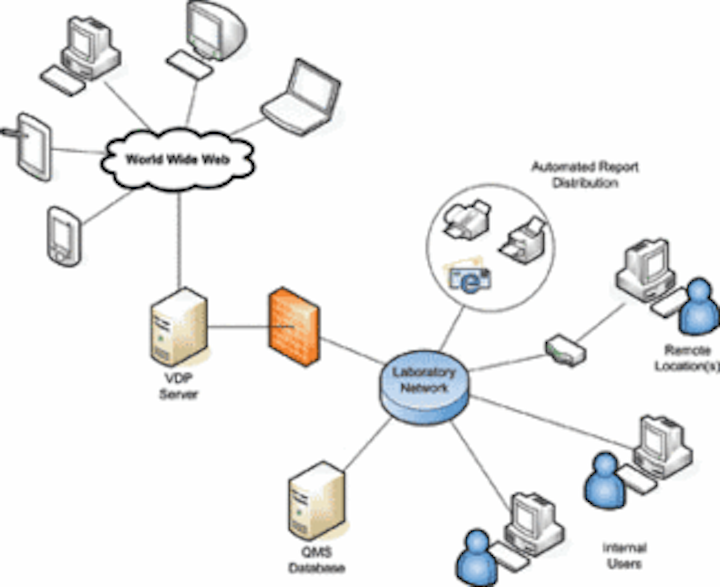 Labs expand services to gain market share
Hosted information services for utilities reduce risks, increase efficiency, improve service and reduce costs.
The laboratory analytical services market has changed little over the last twenty years. With stagnant prices and rising costs, constant improvement is required simply to stay competitive. Laboratories are looking for ways to provide their clients with expanded services in order to gain market share and create new revenue streams. By understanding the changing needs of their clients and offering affordable solutions, laboratories are learning that they can do more than "measure, record, and report."
For utilities, threats are faced on many levels, including safety, security, asset failure, and financial, and they have needs for ranking, treating, and reporting on those threats. Implementing a properly constructed risk governance plan for the entire organization can greatly enhance decision making, maximize returns on investment, and improve stakeholder communication.
Domestic and global trends test an organization's ability to manage risk. In the USA, the Environmental Protection Agency estimates that as much as US$1.2 trillion will be required through 2019 to meet water and wastewater infrastructure needs. It is likely that access to state and federal funds and/or grants will be prioritized by, if not contingent upon, sound risk management planning (see Government Accounting Office report GAO-04-461, "Water Utility Asset Management").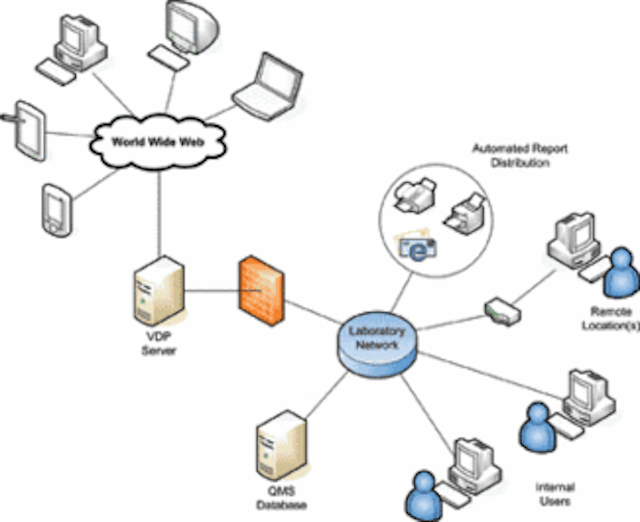 Diagram of Virtual Delivery Platform (VDP) network. Provided by Bridge-Soft, LLC.
Click here to enlarge image
Australia has been pushing the standards for water suppliers from a regulatory perspective. In 2003, the State of Victoria passed the "Safe Drinking Water Act" which, among other things, required that "Water suppliers must prepare, implement and review risk management plans." Nationally, the National Health and Medical Research Council in collaboration with the Natural Resource Management Ministerial Council developed the "2004 Australian Drinking Water Guidelines," which incorporates a preventative risk management approach and elements of ISO 9001 (Quality Management), ISO 14001 (Environmental Management), AS/NZS 4360 (Risk Management) and the Hazard Analysis and Critical Control Point (HACCP) system.
The World Health Organization has also drafted "Guidelines for Drinking-Water Quality" that are being considered and/or adopted in many regions of the world including the European Union and emerging third world countries in Africa and Asia. "The Guidelines are intended to support the development and implementation of risk management strategies that will ensure the safety of drinking-water supplies through the control of hazardous constituents of water," according to the WHO.
Lab provides affordable solution
In 2003, Bridge-Soft, LLC of Manchester, New Hampshire, USA, developed and implemented a comprehensive solution in cooperation with Goulburn Valley Water of Shepparton, Victoria, Australia. This Quality Management System (QMS) provides a wide array of tools for managing operational and compliance information, incident notification and response, and ISO/HACCP program support. QMS is manageable and affordable for medium to large utilities, but not for the smaller utilities that make up the majority of public systems.
The link between these industry trends and analytical laboratories became clear during a presentation to Simmonds and Bristow (S&B) Pty Ltd of Rocklea, Queensland, Australia. Its 40- year history of providing scientific and engineering services to water and sewerage utilities helped S&B immediately recognize that its clients had a need for the features of Bridge-Soft's QMS solution, but in many cases possessed neither the financial nor human resources to purchase, implement, and support such a system. By hosting this Virtual Delivery Platform (VDP), S&B would be able to deliver value added services at an affordable price.
Mount Isa Water Board (MIWB), a bulk water supplier to the local authority and industrial customers in western Queensland, Australia, discovered the advantages of this new system. This small organization with large responsibilities found it difficult to control its compliance testing, operations and maintenance, and incident management programs in a manner consistent with its organizational risk management plan. Their remote location and limited staffing resources makes them an ideal candidate for the VDP service.
Mount Isa plans to rely heavily on the VDP for information and incident management. Having test results available instantly 24 hours a day, seven days a week will improve the efficiency of their engineering department. The online analytical tools will allow them to analyze and visualize all of their data without any infrastructure investment. Finally, the online incident notification, assessment, and response module is expected to dramatically enhance their ability to implement, monitor, and communicate their risk management strategy.
Conclusion
Water and wastewater utilities around the globe are looking for tools to manage information and reduce risks at the lowest possible cost. Analytical laboratories can expand the traditional business model and offer outsourced services that benefit both the provider and consumer.
Author's Note
Jon DiPietro is the co-founder of Bridge-Soft, LLC, based in Manchester, New Hampshire, USA. For more information, visit www.bridge-soft.com.
---

Programmable heating blocks aid digestion in analysis
The digestion of a water sample is an important step in photometric water analysis, and the new heating blocks Nanocolor® Vario 3 and Nanocolor® Vario compact help ensure every necessary digestion in water and wastewater analysis.
To avoid mistakes, standard programmes for all routine digestions, e.g. COD, TOC, total-nitrogen, total-phosphorus, total-metals, AOX, organic acids and hydrocarbons are pre-programmed in the heating blocks. The new blocks are used for daily routine water analysis using five preprogrammed temperatures, four preprogrammed heating times, and operation via symbol keys.
The Nanocolor Vario compact enables the user to digest 12 samples simultaneously. The simultaneous digestion of 24 samples in two independently usable heating units is possible by using Nanocolor Vario 3. Both heating blocks allow the time-saving determination of high-speed COD, total-nitrogen, total-phosphorus and the total content of various metals in only 30 minutes.
Macherey-Nagel GmbH & Co. KG
Düren, Germany
---

System handles lab sampling, compliance tasks
The Laboratory Information Management System, SampleManager LIMS™ combines collection scheduling, route preparation, other pre-test activities, and many other activities performed on water and wastewater samples in one system.
SampleManager automates the pre-testing regimen, which includes scheduling of sample collection to comply with regulatory guidelines, determination of sample locations and efficient planning of collection routes to avoid wasted time, and even which bottle types the test agent should take into the field to collect the samples, eliminating guesswork and errors. This is matched with functionality to manage and automate in-laboratory sample/bottle tracking, testing, regulatory compliance verification, reporting and archival of data, particularly to adhere to regulations.
Organizations that inspect the potable water supply and wastewater discharge are closely regulated, so SampleManager was developed for the water industry as a commercial-off-the-shelf solution equipped with necessary functionality - out of the box - to serve these industries, especially with regard to compliance. Users can configure the system to observe and track such requirements as plastic versus glass collection bottles, whether a sample must be tested within 24 hours or not allowed to sit overnight. While potable water samples can be tested to determine if they are within allowable levels for identified contaminants, other samples can be tested to determine what, if any, unknown contaminants might be present. SampleManager is also designed to manage such field results as water temperature, odor and taste.
Thermo Electron Corporation
Waltham, Massachusetts, USA