Technologies & Products
The new DuraPES filtration membrane features a patent-pending pore structure and dual asymetric membrane wall that provides a protected separation layer, which provides high loading capacity.
Feb 1st, 2006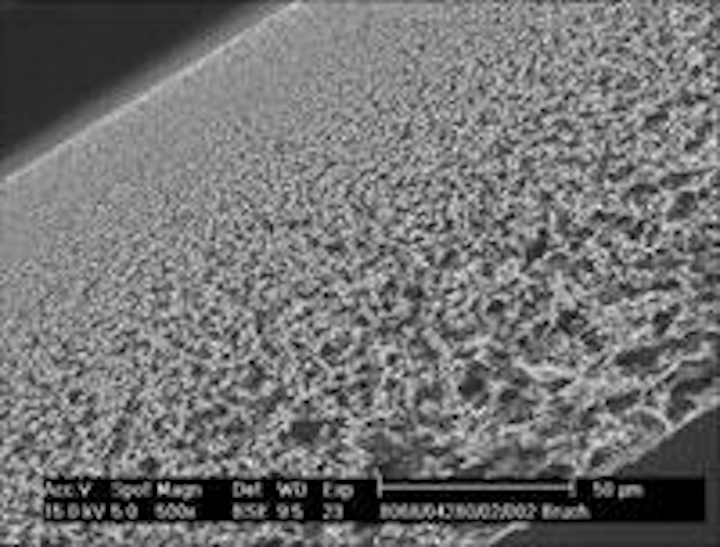 Membrane increases flux rate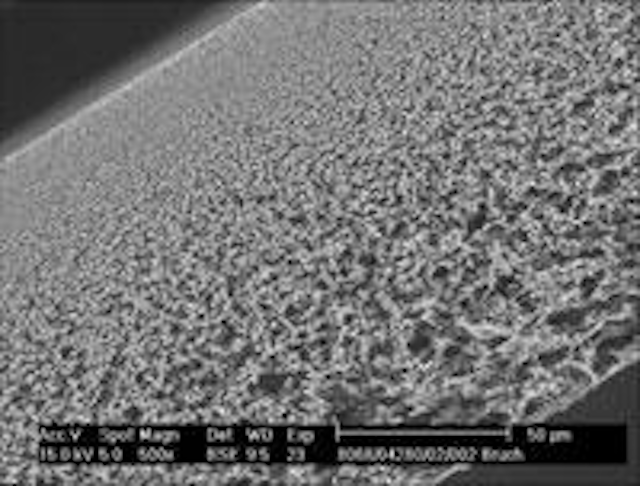 Click here to enlarge image
The new DuraPES filtration membrane features a patent-pending pore structure and dual asymetric membrane wall that provides a protected separation layer, which provides high loading capacity. DuraPES is a hydrophilic sulfonated polyethersulfone (PES) flat sheet membrane that offers permanent hydrophilicity due to its unique polymer blend and has 80% porosity and a large pore diameter, which provides a high flux rate for superior filtration performance. It also has higher water permeability resulting in increased throughput. This contributes to a substantially longer service life and lower operating costs for DuraPES membrane, according to Membrana's Industrial Membrane Contactor Group. The DuraPES membrane is targeted for use in the pharmaceutical and biotech industries for the removal of particles in therapeutics, injectibles, and buffer solutions. The food and beverage industry is also a focus area for DuraPES® where it can be used for clarifying and filtering water, beer, wine, and juice. Other industries (e.g. diagnostic) are also testing this revolutionary new membrane and the market acceptance is expected to be broad.
Membrana
Charlotte, North Carolina, USA
Kärcher Field Camp System purifies water anywhere
Worldwide missions of military units require highly mobile elements, so Kärcher Futuretech developed the "Highly Mobile Field Camp System 150" that consists of air-transportable modules, which form the basis for initial operations, including water purification.
The Accommodation Trailer (TRUK) includes three tents for eight soldiers each. These tents can be unloaded, set up and disassembled in a few minutes. The KFH 20/40 heaters heat or ventilate the tents and ensure an agreeable climate inside the tents. Food is prepared in the weather- protected MFK 250 Modular Field Kitchen with integrated CD 10 combi-steamer.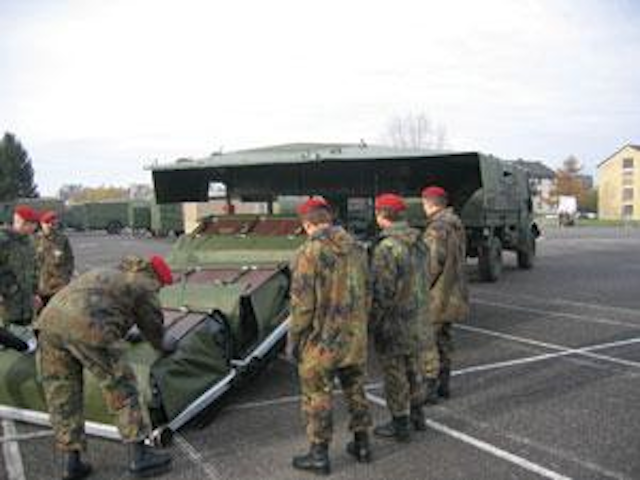 Click here to enlarge image
The WTC 1600 GTC purifies 40,000 litres of drinking water per day anywhere in the world. The sanitary trailer is a compact, mobile shower and toilet system, which offers the highest level of hygiene in the sanitary area. The mobile TFL 25 Field Laundry washes and dries dirty laundry anywhere. Individual modules of the Highly Mobile Field Camp System 150 can also be used for missions in the area of civil disaster control.
Kärcher Futuretech GmbH
Winnenden, Germany
LonWorks benefits gas detector
A new data communications module enables the MDA Scientific MIDAS® range of toxic gas monitors to directly integrate within existing LonWorks data networks.
Equipped with flexible output modes including 0-22mA analog, three programmable relays and Ethernet and Modbus/TCP field bus digital communications as standard, MIDAS is an advanced toxic gas sensing system. The new module interfaces MIDAS with the LonWorks fieldbus protocol, used in semiconductor manufacturing and other industry sectors. It offers a low-cost intelligent means to transfer real time data between sensors, control devices, relays, alarms and other equipment used in facilities management control.
Setup is quick with a standard MIDAS gas transmitter providing all power and two-way communications via a single connection cable. Should the gas detector need to be replaced, additional programming is not required to re-bind the detector back into the system as the interface module holds all this identification information in its neuron chip. Essential data such as gas readings, alarms, faults and other event reminders can be transmitted to a central control system over the LonWorks protocol. The resident relays on each MIDAS can be remotely activated via the central computer, reducing the need for wiring associated with local relays to activate alarms or shut down gas valves, in a gas release emergency."
Honeywell Analytics
Poole, Dorset, UK
Ultrafiltration pretreatment reduces total costs for SWRO
Norit X-Flow's new dedicated ultrafiltration membrane, the Seaguard, reduces total cost of ownership to a level lower than current conventional pretreatment.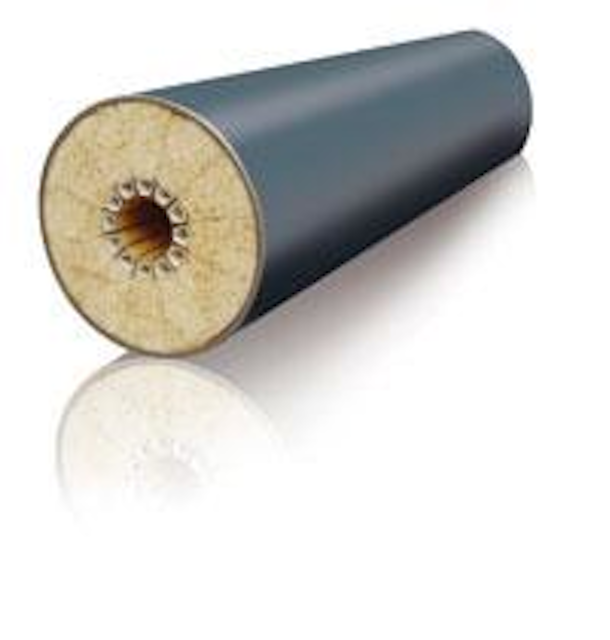 The SeaGuard ultrafiltration membrane achieves the lowest SWRO operating costs, according to Norit X-Flow.
Click here to enlarge image
The membrane manufacturer Norit X-Flow developed a pretreatment ultrafiltration technology for seawater reverse osmosis (SWRO) plants that guarantees maximum removal of particles, bacteria and microbiological contaminants. Tests conducted in Bahrain, China, Israel, Namibia, UK, and the USA confirmed its findings, according to Norit X-Flow, based in Enschede, The Netherlands.
One of the most significant factors for a cost effective operation is the ability of the pretreatment system to produce a constant quality level of SWRO influent at an adequate cost level. Seawater reverse osmosis (SWRO) is rapidly becoming the technology of choice for producing potable water from seawater; however SWRO plants do not always operate according to the requirements for e.g. capacity, recovery, downtime, leading to higher than expected costs per cubic meter of water.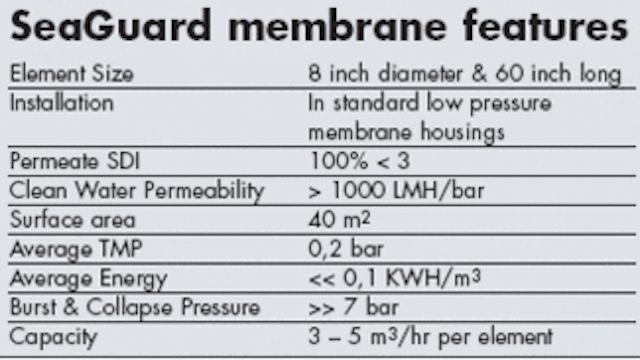 Click here to enlarge image
Most desalination plants use conventional pretreatment systems, which in many cases cannot cope with Gulf feedwater that contains particles so fine it is difficult to achieve low SDIs (salinity density index). Given that desalination plants are increasingly being built in the vicinity of cities, river outfalls, and wastewater treatment plant outfalls - areas with feedwaters of varying quality - the demand for improved pretreatment systems is growing more urgent.
All desalination plants use standard available ultrafiltration membranes. Ultrafiltration technology guarantees water quality (SDI level < 3, turbidity < 0.1 NTU), can handle varying feedwater, and requires a small footprint and a high level of automation. Seawater, however, interacts with the membrane in a specific way because of its different characteristics.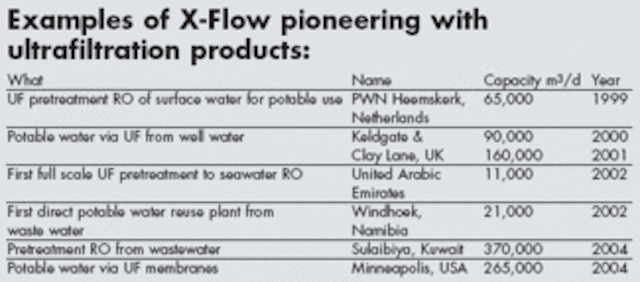 Click here to enlarge image
The standard Norit X-Flow membrane is fine-tuned towards potable water applications; it achieves the highest virus retention and is approved for use in potable water applications around the world. X-Flow developed its new ultrafiltration membrane, the SeaGuard, for seawater reverse osmosis applications to achieve the lowest overall SWRO operating costs.
X-Flow's research and development team set a goal to develop a membrane with the capabilities to reduce the total cost of ownership (TCO) to a level lower than current conventional pretreatment. X-Flow addressed the following specific parameters to achieve the lowest TCO:
• Permeate quality: SDI and turbidity: apart from SDI < 3, manufacturers of SWRO membranes require a feed turbidity < 0.1 NTU in order to guarantee membrane life time.
A high level of retention of larger microorganisms (bacteria and algae) is desirable, while high virus retention is not critical for a pretreatment membrane.
• Energy: the membranes should operate at average transmembrane pressures of 0.2 bar and a maximum transmembrane pressure (fouled condition) of 0.5 bar.
• Chemicals for cleaning and pretreatment: the membranes should only use non-proprietary chemicals that are either being used in upstream or downstream processes or that are available worldwide in bulk shipments. Chemicals of choice are acid (hydrochloric or sulphuric) and sodium hypochloride.
• Seawater intake: the membranes should not only be able to use a direct intake, but also the cooling tower seawater intake, in case the plant is being built in combination with a power plant.
• Varying seawater feedwater: the membrane should be able to cope with varying water qualities, which could be caused by storms, river outfalls, wastewater treatment outfalls, etc. This will allow for SWRO construction close to centers of population, thus minimizing the investment and operating costs for transfer of potable water.
• Low capex: goal was achieving a minimum flux of 100 lmh at 0.2 bar average operating pressure. The high flux rate ensures that the footprint of the UF system is small enough to be combined in a common UF and SWRO building. The low operating pressure will allow for feeding the UF directly with the SWRO transfer pumps while maintaining sufficient UF permeate pressure to feed the SWRO high pressure pumps.
Author's Note
Frans Knops is the product manager for Norit X-Flow, based in Enschede, The Netherlands.
Actuators designed for modulating rotary valve
Limitorque Actuation Systems' L75 series of electric valve actuators provides remote control actuation of quarter-turn valves and other rotary devices, including on/off and modulating rotary valve applications.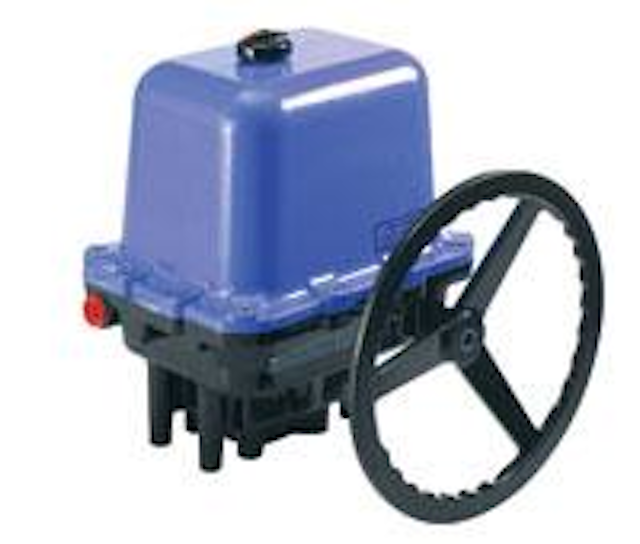 Click here to enlarge image
Targeted markets for the L75 series include water and wastewater treatment, copper mining, chemical, petrochemical, process control, and industrial applications. The L75 series adds a new dimension of operational dependability and flexibility to modern processes controlled by computers, programmable controllers, and other electric control equipment. Its multi-function capability permits the use of the L75 throughout the process for on/off, throttling, variable-cycle and any analog or digital control. The series features either a split-phase capacitor AC-reversing motor or a DC motor. The L75 series drives a valve through a sealed, permanently lubricated gear train to offer a lifetime of virtually maintenance-free operation.
L75 series actuators may be used on the complete line of ball valves from Flowserve Worcester Controls, and on other quarter-turn valves or devices requiring rotary operators. Because of their ability to provide power in both directions through selected arcs from 20° through 300°, the L75 series actuators are used to control automatic and remotely operated equipment.

Limitorque Actuation Systems/Flowserve Corporation
Dallas, Texas, USA
TOC-TN analyzer features high-temperature digestion
The IL 550 with high-temperature digestion analyzes TOC and TN, liquids and solids, particle and salt-containing samples. The injection is carried out septum-free, without tubes or valves, directly into the reactor tube. The pneumatic port, which hermetically encloses the syringe, makes this possible. The needle remains in the furnace during combustion, and is then automatically rinsed to avoid any carry-over. The variable injection volume of 10 to 500 µl enables a volume-dependent calibration to be carried out without preparation of different standards. Digestion rates are high. A furnace temperature of 950°C and the optimized composition of the catalyst packing, enable particle-containing samples and the most poorly digestible substances to be completely oxidized. The VITA software ensures long-term stable calibration. The range of 0.05-30,000 mg/l TOC and 0.1-100 mg/l TN makes precise analysis possible without dilution.For the serial analysis of solids, the HSC 1300 module is used. Oxidation takes place at 1300°C in a ceramic reaction tube without the aid of a catalyst. A sample port (laminar air flow) prevents contamination from the air. The combustion can be observed.
Hach Lange s.r.o.
Düsseldorf, Germany
Sensor keeps track of hypochlorite used in well pump discharge
The 4000 series sensor installed on the hypochlorite line with the Badger model 2101 is used to keep track of the amount of solution used. The flow sensor provides a linear repeatable output over a wide dynamic range to accurately and proportionally inject chemicals, such as hypochlorite solutions, into varying well water flows.
This output interfaces with the model 2101 flow monitor. The metering pump is automatically controlled from its pulse output signal to inject a fixed amount of chemical based on a field-programmed number of gallons pumped into the main discharge line. As more flow is required at peak times, the pulse output signal continually cycles the chemical pump more frequently to help maintain proper and consistent proportions. As demand lowers, the chemical pump automatically pulses slower.
Badger Meter Europa GmbH
Beuren, Germany