Patterson Pumps aids Iraq reconstruction
A US pump manufacturer meets a contract deadline in only six weeks to supply horizontal split case water pumps for potable water station reconstruction projects in Iraq.
Feb 1st, 2004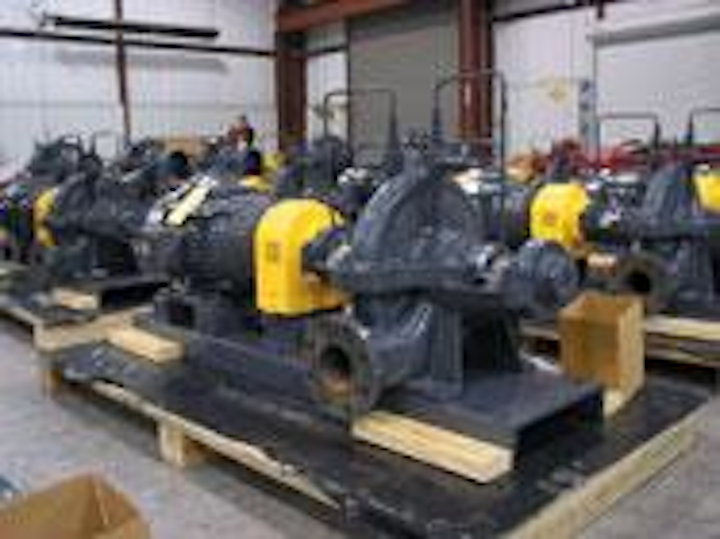 By Dean Campbell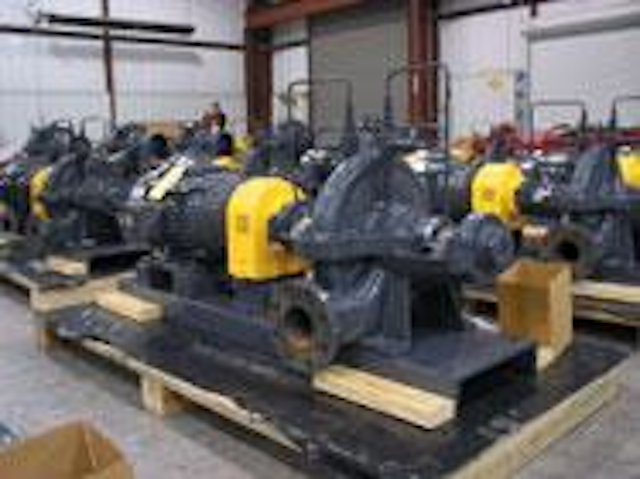 Water pumps for Iraq reconstruction were tested to verify design and performance specifications. Photo by Patterson Pump Company
Click here to enlarge image
Patterson Pump Company recently accomplished a Herculean task to complete the total manufacture from raw material to product, testing, special skidding and boxing, shipment to and receiving in Iraq, of 92 horizontal split case water pumps in only six weeks.
Water infrastructure projects that are nearing completion urgently needed potable water pumps, so reconstruction engineers contacted The Gorman-Rupp Company. Gorman-Rupp pumps did not fit all the requirements, but its subsidiary, Patterson Pump Company, produces pumps, which met the specifications.
More importantly, Patterson was the only pump manufacturer who could meet the critical, six-week time frame, and a letter of contract award was issued 1 November 2003.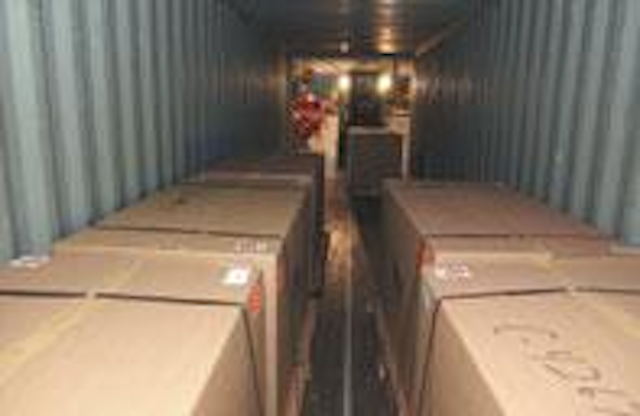 The integrated shipping units had to be loaded, unstacked, on containers and on Lufthansa Cargo planes. Photo by Patterson Pump Company
Click here to enlarge image
Six different pump sizes and capacities from 220 gpm at 164-ft heads to 1,761 gpm at 197-ft heads were specified in the contract. Included were 4X3ME, 5X4MAC, 6X5X17SSC, 8X6YR, 10X8MN and 8X6MI pumps. All pumps operate at 50-hertz (cycles per second) speeds, instead of the US 60-hertz standard.
Crucial to Patterson's meeting the quick delivery date was the just-in-time delivery of raw materials to their Toccoa, Georgia facility in the USA.
All 92 pumps required electric driven motors with starter panels, which could not be taken from stock, according to Kerby Pope of Patterson's international sales department. US Motors in Mena, Arkansas, produced the electric motors and Sprecher & Schuh in Houston, Texas, manufactured the starter panels, all of which were delivered to Patterson in a little over three weeks.
Pump shafts were specified to be stainless steel, requiring the assistance of Manufacturing Equipment in nearby Easley, South Carolina. Gorman-Rupp's facility in Canada manufactured 40 pump cases and then shipped them to Toccoa. AES Seal in Kentucky supplied the mechanical seals and Central Machine in Toccoa assisted with special machining required for the water pumps. Once raw materials were in place, Patterson was able to produce the pumps within this short time frame, according to Patterson President Al Huber.
The Iraq reconstruction order required extraordinary shipping and handling procedures. Slightly larger than normal skids accommodated special, heavy-duty cardboard boxing from Adams Container in Toccoa, which made each pump an integrated shipping unit.
Boxed units were loaded, unstacked, into containers and trucked to Atlanta's Hartsfield-Jackson International Air Cargo Depot on 12 and 15 December, and then flown on a dedicated carrier by Lufthansa Cargo on 17 December to Frankfurt, Germany, then to Kuwait. The 92 potable water pumps were trucked to storage facilities in Basra, Iraq, by 24 December. From there, they will be disseminated to reconstruction projects throughout the country.
The Patterson Pump Company has supplied Kuwait with water, wastewater and fire pumps for many years, and "the entire Middle East remains one of our major markets for fire pumps," Huber added.
---
Author's Note

Dean Campbell is an account executive with Shorey & Associates Marketing Communications, advertising/marketing agency for Patterson Pump Company, based in Greenville, South Carolina.