Australian Reservoir Replenished with Siltbuster's Aid
Australian water authority gets 10 portable silt traps and associated technology to help with a drinking water shortage and pollution problems due to fires in East Gippsland, Victoria.
Dec 1st, 2007


Mobile Silt Traps from Siltbuster being installed at WoodGlen Reservoir in East Gippsland Water, Victoria, Australia. This equipment is producing nearly four megalitres of supply a day – enough to fill nearly four Olympic size swimming pools.
Click here to enlarge image
Australian water authority gets 10 portable silt traps and associated technology to help with a drinking water shortage and pollution problems due to fires in East Gippsland, Victoria.
By Nathalie Hall
East Gippsland Water now employs 10 portable lamella clarifier units to filter and clean polluted water from the Mitchell River, in Victoria, Australia, courtesy of silt management and industrial water treatment company, Siltbuster Ltd., of Monmouth, United Kingdom.
Over 17,000 residents were affected last spring by water shortages after tonnes of soil, sediment and debris from local bush fires in recent years washed into the Mitchell River causing pollution and seriously reducing important drinking water reserves.
East Gippsland Water imposed Stage 4 Water Restrictions – the highest level – across the Mitchell River supply area as early as April due to this year's fires. The utility provides water and wastewater services to 27 towns and communities in the East Gippsland region, including coastal tourist spots like Lakes Entrance, Metung and Paynesville, along with Bairnsdale and Bruthen. The authority's area extends from Bairnsdale to Dinner Plain in the north and Mallacoota in the east. This is an effort to better manage water consumption and provide an opportunity to replenish the main storage at the Woodglen Reservoir. Since February, a number of measures to improve the situation have been considered.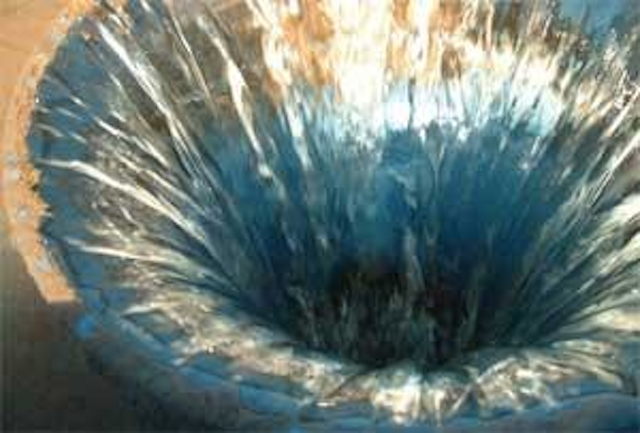 Siltbuster is the UK's leading supplier of silt management units. Among water companies using its products are Southern Water plc, Bournemouth and East Hampshire Water plc. Among industrial clients are Corus, RWE Npower plc, Exxon Mobil Chemicals and Tarmac Group plc.
Click here to enlarge image
The Mitchell River is the largest unregulated river in Victoria and provides a unique example of riparian ecology. The riparian zone, the interface between land and a flowing surface water body, includes riparian vegetation along the river margins characterized by hydrophilic plants. These zones are significant in ecology, environmental management and civil engineering due to their role in soil conservation, biodiversity, and the influence they have on wetlands and aquatic ecosystems.
Siltbuster operates a large hire fleet of its FB50 flat–bottomed, skid–mounted mobile silt traps and a smaller number of HB50 hopper bottom equivalents plus other models, including oil water separators and, most recently, mobile filter presses for solids dewatering.
Thanks to the successful installation of the new clarifier units, put in adjacent to the Woodglen Reservoir, initial production of over four megalitres (nearly four Olympic–size swimming pools) of clean water has been produced in a very short time.
Siltbuster products are specifically designed to remove suspended solids and oil from water, and are ideally suited to deal with river pollution and water filtration. Its Mobile Silt Traps are a major improvement over the construction industry's standard approach of using holes in the ground, straw–filled skips or ineffective settling tanks – and can help reduce the likelihood of silt pollution downstream.
It was hoped that by June 2007 enough useable water would be produced to meet customer demand, about 75 megalitres a week, with production increasing monthly in order to exceed demand and replenish vital water stocks. Onsite water sediment ponds also are being constructed to try and increase the amount of potable water.
East Gippsland Water's chief executive officer, Les Mathieson, said it was spending A$6 million to improve its systems and help eliminate the problem: "We've shown it's possible to treat the dirty water from the Mitchell River so that it's drinkable. Now, the next step is to increase the scale of production.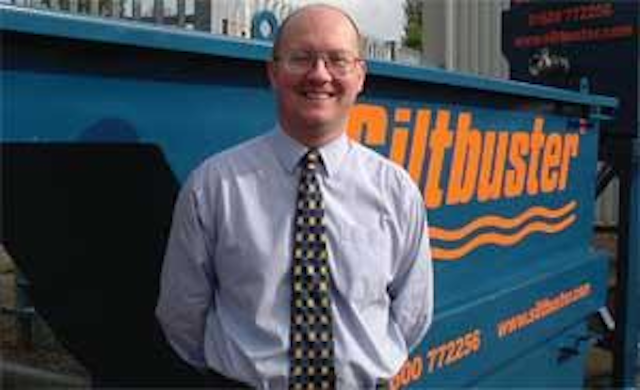 By providing cost–effective treatment systems for the construction, municipal and industrial wastewater industries, Siltbuster products are considered a reliable way to protect the aquatic environment from the uncontrolled release of silt and/or free phase oil, says company director George Anderson.
Click here to enlarge image
"With the Mitchell River's storages now less than 40% full our next target is to produce enough useable water through a range of contingency measures, including additional water clarifiers and bores, to balance our customer consumption... We'll be looking to produce a surplus of water which can be used to help top up supplies in storage.
"We are looking to install extra (clarification) units by Woodglen Reservoir and have started drilling the first of a number of new bores at suitable locations nearby, which could supply a total of up to 50 megalitres of water a week."
In addition to the clarifying systems, two water bores owned by private landowners have also been utilised producing another megalitre of water a day for the reservoir.
George Anderson, director of Siltbuster Ltd., said: "We are extremely pleased that our water clarifiers have been able to help replenish dangerously low water supplies in Australia. We didn't have a lot of time to mobilize but that's when our rapidly deployable clarifiers and experience really comes into their own.
"The whole Siltbuster range has been designed to meet the increasing need to improve environmental protection of watercourses, groundwater and marine environments and the success of the water clarifier units in Australia are a perfect example of how well our units work... In Australia, water conservation is a major issue and we're extremely pleased we have been able to do our bit."
Conclusion
East Gippsland Water had five Siltbuster mobile lamella clarifier units working on site by May with five more units en route to Australia to increase the amount of clean water that can be produced. Not only were the units to help replenish reduced water stocks, but they also help improve the local environment – thus ensuring a sustainable water supply for current residents and future generations.
The Stage 4 Water Restrictions were in place across the Mitchell River system until the end of June, gradually dropping throughout the summer until only minor water saving rules remained in most areas by August. Floodwaters boosted the system's storage to more than 50% by mid–July and water supplies reached full storage by early October.
---

Author's Note:
Nathalie Hall is marketing coordinator for Monmouth, UK–based, award–winning silt management and industrial water treatment company, Siltbuster Ltd. It designs, produces and markets water clarification units to the construction, environmental remediation and industrial sectors – and, most recently, the municipal wastewater sector. The company has in excess of 100 units at over 60 silt pollution prevention projects at any one time, as far afield as Scotland's Orkney Isles and New South Wales, Australia. Contact: +44(0) 1600 772256, nathalie.hall@siltbuster.com or www.siltbuster.com