Brazil's Largest Utility Saves 20% on Electric Bill
Bentley water demand analysis software allows Sabesp – Companhia de Saneamento Básico do Estado de São Paulo – to better project system needs.
Dec 1st, 2007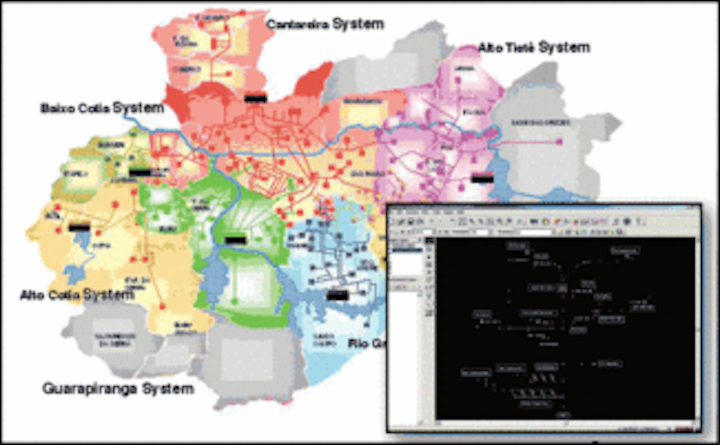 Bentley water demand analysis software allows Sabesp – Companhia de Saneamento Básico do Estado de São Paulo – to better project system needs.
By Christine Byrne
O Serving the state of São Paulo, Brazil, and one of the world's largest water utilities, Sabesp has developed a real–time decision system by interfacing WaterCAD design software from Bentley Systems Inc. with a demand prediction model.
The utility's vast infrastructure of 2,023 reservoirs, 197 potable water treatment stations and 35,000 miles of water distribution networks benefit more than 25 million Brazilians in 367 cities including São Paulo, the largest city in the southern hemisphere.
Sabesp is used to big numbers, but a monthly electricity bill of $7 million was just not acceptable, so a multi–phase project was implemented to develop a methodological evolution of a real–time water distribution system operation.
A real–time hourly demand forecast model was first created to predict water consumption up to an interval of six hours ahead, with the intention of increasing operational performance. Several manual and automatic operational control procedures of the water distribution system were analyzed.
During the second phase, Bentley's WaterObjects technology – which incorporates an extensive modeling object library – was used to create an interface between Sabesp's WaterCAD hydraulic model and the water demand prediction model allowing both systems to share real–time operational data obtained by a telemetric system. The interface was implemented as a case study in the metropolitan area of São Paulo.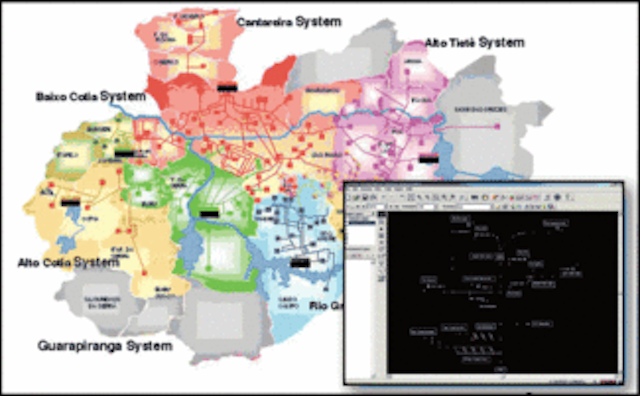 São Paulo Metropolitan Water System with overlay of WaterCAD Network Model
Click here to enlarge image
By using the prediction model in combination with WaterCAD it was possible to develop efficient operational schedules minimizing valve and pump operation during hours of higher energy cost, decreasing energy consumption. Overall, this meant a 20% savings in electric power costs.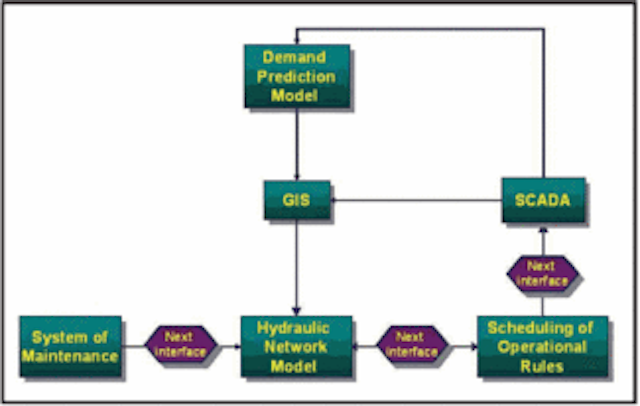 Operation Model
Click here to enlarge image
The third phase started in 2004 and is scheduled to be finalized this year. A team of Sabesp specialists, consultants, and Bentley experts are working together to develop and implement interfaces between WaterCAD and several of Sabesp's corporate applications including GIS, SCADA and maintenance systems.
São Paulo Water Mains System
Click here to enlarge image
"The collaboration and responsiveness of Bentley's professional services and technical support teams was very important to our success," said Viviana Borges, project engineer at Sabesp. "Bentley provided invaluable support to our consultants who used WaterObjects to develop the connection between our GIS and WaterCAD."
Bentley's WaterObjects technology is a published, documented, and supported Application Programming Interface (API) incorporating more than two decades and several generations of software architecture refinement, debugging, testing, and real–world implementation. In this particular case, it allowed Sabesp to have the functionality of WaterCAD extended around their vision. unique methodologies, and specific needs.
---

Author's Note:
Christine Byrne is Media Relations Manager with Bentley Systems Inc., based in Exton, Pennsylvania, USA. Contact: 203–755–1666 or www.bentley.com