Cyprus Revisited
KSB radially split case multistage pumps withstand pressure, energy demands of Dhekelia SWRO plant in this follow–up article on Mediterranean island's other desalination works.
Dec 1st, 2007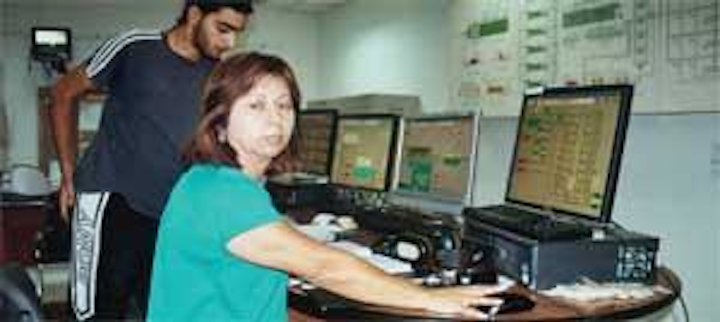 KSB radially split case multistage pumps withstand pressure, energy demands of Dhekelia SWRO plant in this follow–up article on Mediterranean island's other desalination works.
By Bryan Orchard
With energy efficiency central to operation of the recent €17 million refurbishment of the Dhekelia desalination plant in Cyprus, KSB A.G. demonstrated the superior performance its radially split HGM–RO multistage high pressure feed pump can provide.
For many years, Cyprus has been a highly popular destination for millions of tourists. During summer months, the population of around 800,000 can soar past the two million mark – and this at a time when rainfall is almost non–existent. This places greater pressure on the availability of potable water because over the past three years, reservoirs and groundwater resources have been substantially depleted.
Back in 1997, the Cyprus government made its first commitment to using seawater reverse osmosis (SWRO) desalination as a means of increasing the availability of potable water via the opening of the Dhekelia plant. Built and operated by Caramondani Desalination Plants Ltd. under a 10–year build–own–operate–transfer (BOOT) contract, the plant had an initial capacity of 20,000 cubic meters per day (m3/d), but this was soon increased to 40,000 m3/d. Subsequent to the commissioning of Dhekelia, a further plant at Larnaca was built, bringing the country's total desalination capability up to 92,000 m3/d.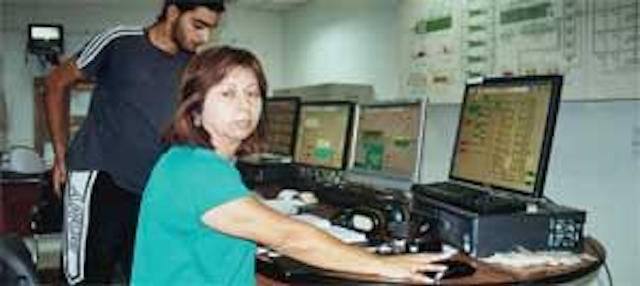 Olga Sallangos, Dhekelia Plant Manager.
Click here to enlarge image
In November 2005, the government decided to call in competitive tenders for the complete refurbishment of the Dhekelia plant, giving it a 20–year lifespan and the potential to produce up to 40,000 m3/d. The tender also laid down conditions that imposed stricter water quality specifications and major improvements to the plant's power consumption.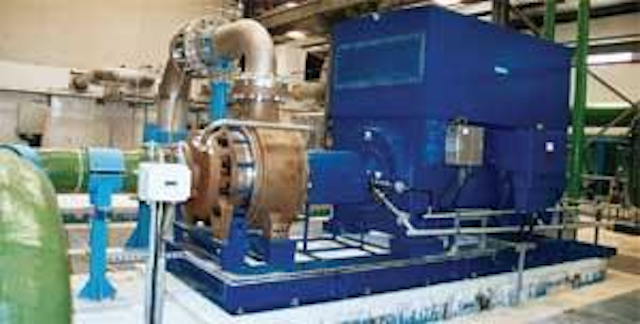 Three radially split case KSB HGM–RO 8/3 multistage water pumps (two duty and one standby) pressurise the water to 70 bar before entering the first RO pass in the RO trains.
Click here to enlarge image
The Caramondani design uses a high pressure system comprising two streams of pre–treated conditioned seawater. One stream employs three radially split case KSB HGM–RO 8/3 multistage water pumps (two duty and one standby) to pressurise the water to 70 bar before entering the first RO pass in the RO trains. The other stream feeds eight pressure exchangers and eight booster pumps, which bring the pressure up to 70 bar from where the water joins with the first stream and enters the RO trains. It's this arrangement that contributes to the high degree of energy efficiency levels required by the contract – and early indicators reveal the pumps are operating above the required energy efficiency level.
Energy, Lifecycle Efficiency
In May 2007, the upgraded desalination plant was recommissioned, the refurbishment programme taking just seven months to complete. This not only required stripping out existing RO racks and pumps, it was necessary to construct new skids for the pressure vessels and piping, install a second pass permeate RO system along with a boron removal system, and building completely new seawater intake and treated water pump stations.
For Caramondani, as the plant operator and Osmo Sistemi S.r.l. and Cadagua, the engineering contractors, the overriding decision in designing and equipping the new plant was energy efficiency, followed by maintenance costs, rather than the overall costs of the plant refurbishment. The equipment selection process was jointly taken by the three companies responsible for design and construction of the new plant. Several major pump manufacturers with RO experience were invited to present quotations, with an emphasis on energy efficient solutions.
Olga Sallangos, Dhekelia plant manager, takes up the story: "From the outset our tender was based on energy efficiency, so we decided to design the system around the use of pressure exchangers, with which we had previous successful experience, and very high efficiency pumps. Our objective was to reduce energy costs as much as possible over the full operating life of the plant. The decision as to which pump manufacturer we would select for the high pressure pumping duty was taken almost entirely on pump efficiency. Having looked at a number of pump manufacturers with proven experience in RO, it was KSB with its radially split case pump that convinced us that they had the most energy efficient and practical solution."
Pressure, Temperature & Salinity
Under test conditions at its Frankenthal plant in Germany, each of the three KSB pumps achieved an efficiency of 87% pumping water at 20ºC. At its best efficiency point, they can handle flow rates of 1,100 m3/h at a discharge head of 615m and a pump input power of about 2.1MW. A further influential factor in the pump's choice was its compact size. As the new plant design had to be confined to existing premises, all available space had to be optimised. In fact, the three pumps and their motors occupy considerably less space than the previous high pressure pumping units, thereby freeing up a sizeable amount of space in the main production hall.
"Rather than just looking at the original investment costs, our priorities were efficiency, maintenance, spares availability and of course construction materials," said Sallangos. The water when it gets to the RO pump does contain salt, so its construction materials must be high grade stainless steel with high PREN (pitting resistant equivalence number) values. In fact, all the pumps up to the membrane stage must be robust as the water temperature and salinity values aren't typical of the Mediterranean. The seawater, taken through a 1,200mm diameter 600m long offshore pipeline, has a high saline content of 42,000 mg/L TDS, which is much higher than other areas in the Mediterranean. This places higher demand on the pumps. Also the water temperature presents a problem because the plant is close to where a power station discharges cooling water. Seawater temperature can be as high as 34°C, so the combination of high salinity and temperatures require all the pumps from the raw seawater to the membranes be manufactured from very high–grade alloys. The horizontal split case seawater intake pumps and filtered seawater pumps are manufactured from Duplex and were supplied by KSB Halle. For these pumps, it placed considerable effort on the selection of the impeller and diameters to keep the speed at a low level of <1500 rpm for optimal operation efficiency.
Radially vs. Axially Split Case
Sallangos reports that initially KSB's radially split case pump was something of an outside choice. "Axially split case pumps have a reputation for being simple to maintain as they are quick and easy to open, which is why they were considered. However, when we went to KSB, we saw firsthand the energy efficiencies that could be achieved with the HGM–RO pump and also just how little maintenance would be required compared with an axially split casing type pump. We were also delighted to learn that spare parts would be advantageous in economic terms.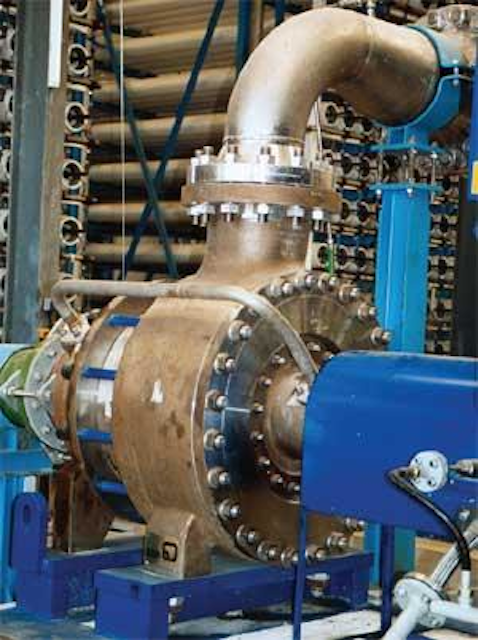 KSB's HGM–RO pumps are compact and occupy only a relatively small foot print area.
Click here to enlarge image
"KSB will be providing us with a 20–year maintenance contract, which is normal with manufacturers of axially split case pumps. We prefer to work with manufacturers who are prepared to provide lifetime maintenance. At the time of the evaluation, we asked all potential suppliers to provide a list of all the spare parts that we would need to keep in the plant and we also compared the costs."
The HGM–RO is a compact full duplex design pump offering a very short bearing span (facilitated by inclusion of internal, product lubricated fibre composite plain bearings), which provides high stiffness. As a result, it's smooth running and has a low vibration level – i.e., <2.3 mm/s as per ISO 10816–3 group 3 guidelines – and consequently lower wear rates. Designed for hydrodynamic operation, the bearings offer an impressive service life of 40,000 hours. Furthermore, the bearing design eliminates the need for maintenance intensive grease lubrication and bearing temperature monitoring. The minimum shaft deflection also allows a smaller clearance gap for high efficiency. It's ideally suited for RO systems that have to push aggressive saltwater in large volumes often at pressures up to and exceeding 110 bar.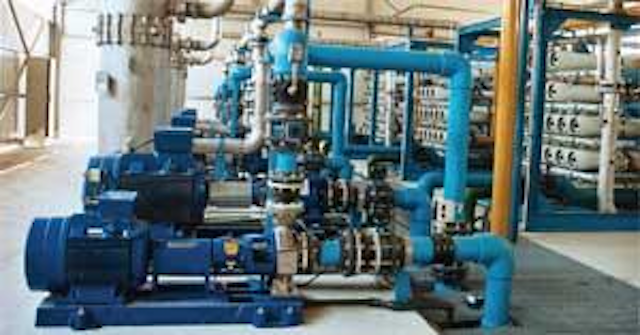 KSB's CPKN Series pumps together with the second pass Multitec–A system
Click here to enlarge image
Dismantling the axial thrust balancing system is a simple, straightforward procedure and doesn't require the pump to be completely opened up, a procedure which for an ASMP requires the use of a crane. It's the pump's suction stage impeller design in combination with the free axial inflow that gives the excellent suction characteristics. Only one mechanical seal is fitted, this being on the drive end – and it can be easily accessed. This capability is an essential element in contributing to lower maintenance costs and repair times, which can be as much as 50% lower than pumps with external bearings and two mechanical seals.
KSB's involvement didn't stop with the RO pumps. In fact, a total of 25 pumps were supplied for the plant, coming from KSB Halle, KSB Pegnitz and KSB Chateauraux and including models for the Omega V, Omega, Multitec–A and CPKN Series. According to Sallangos, even though many existing pumps were still performing adequately after eight years, the tender stipulated replacement pumps. Several factors dictated a requirement for new pumps – the principal being the new design of the plant meant existing pumps in key areas, such as seawater intake, couldn't provide the required flows and pressures. Moreover, because the refurbished plant has to provide 20 years service, it wouldn't have been economical to have started replacing pumps well into the life of the new plant.
With commissioning of the refurbished plant at Dhekelia, inhabitants of Cyprus are assured of a continuous supply of high quality potable water for years to come. Importantly, this will come from a plant designed to produce water economically and efficiently. For KSB, the decision taken by Caramondani Desalination Plants Ltd. to specify the HGM–RO pump, together with pumps for many other duties throughout the plant, reinforces the company's capability within the field of RO desalination.
---

Author's Note:
Bryan Orchard, a UK–based journalist and media consultant, has been reporting on the international pump equipment and water treatment industries for over 20 years.