BodyCote increases productivity with Thermo Scientific HiPerTOC analyzer
In 2005, BodyCote International selected a HiPerTOC bench top analyzer from Thermo Fisher Scientific for its environmental inorganic and organic carbon analyses of water samples.
Apr 1st, 2007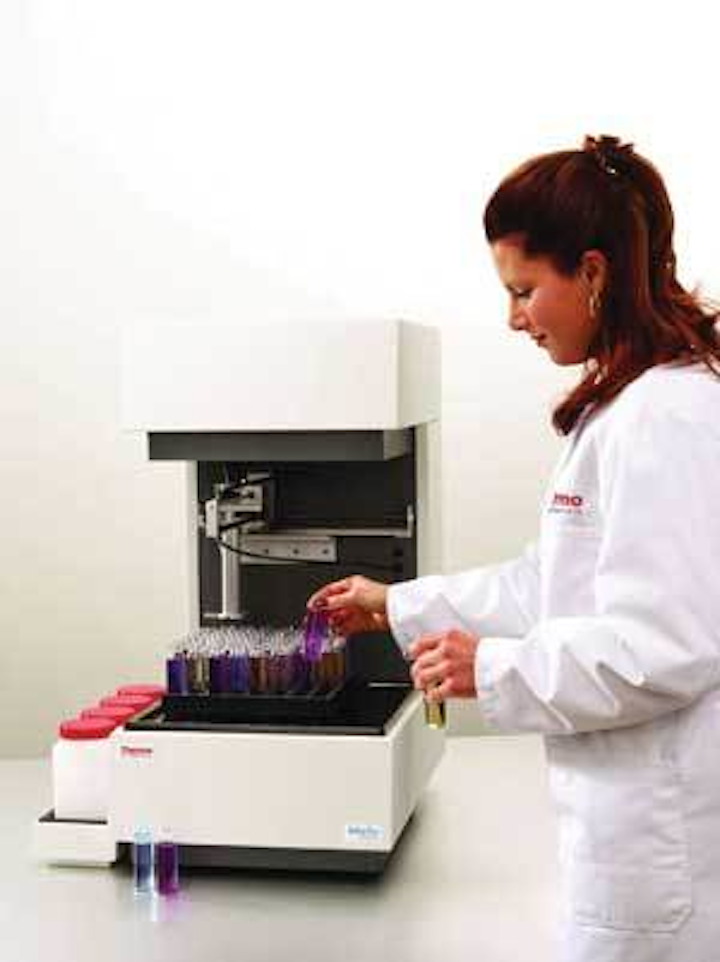 In 2005, BodyCote International selected a HiPerTOC bench top analyzer from Thermo Fisher Scientific for its environmental inorganic and organic carbon analyses of water samples. This generated significant cost savings and provided immediate benefits in productivity and to their personnel.
BodyCote Testing Group is one of four business units forming the UK-based BodyCote International Plc. The Testing Group business unit consists of over 60 accredited laboratories operating throughout Europe, the Middle East and North America providing testing, research and development, and i consulting services to all sectors of industry. Bodycote International operates 250 facilities worldwide, including over 45 laboratories in the Testing Group business unit as well as its Environmental division based in Canada.
Based in Toronto, BodyCote's Environmental Division offers an extensive network of testing and development facilities and is one of the top 10 leading analytical laboratories in Canada, employing more than 300 staff. The lab also is accredited to ISO (Guide) 17025 by the Quebec Ministry of Environment and by the Standards Council of Canada. As does its environmental division, BodyCote Testing also focuses its activity on metal testing, polymers and plastics, health sciences, engineering and transportation, and product testing.
The Canadian environmental division, in Quebec City, employs 85 staff and specializes in providing comprehensive testing in the fields of inorganic analysis, organic analysis and ecotoxicology for waters, air and soils. About 25% of its business comes from the water industry and 25% from government water organizations and public sector contracts, while 50% consists of groundwater and soil analysis. The lab analysis company relies heavily on TOC analysis as an important technique for its analysis of matrices in water samples within the laboratory.
The Need for TOC Analysis
Total organic carbon (TOC) analysis is a valuable screening process for any organic carbon present in water, and is the fastest growing process analytical method among many industries for a variety of applications. It's estimated that, overall, the worldwide value of the process TOC market will grow at a compound annual growth rate (CAGR) of over 11% between 2002 and 2007. With introduction of the strict EN 1484 and EPA 415.1 environmental regulations, compliance with these regulations is of the highest importance for environmental contract and industry laboratories monitoring the quality of wastewater and drinking water. TOC indicates the presence of any organic compounds, some of which can be potentially dangerous in the cleaning process and may react with disinfectants to form toxic and even carcinogenic compounds resulting in interference with wastewater treatment processes and production of potable water.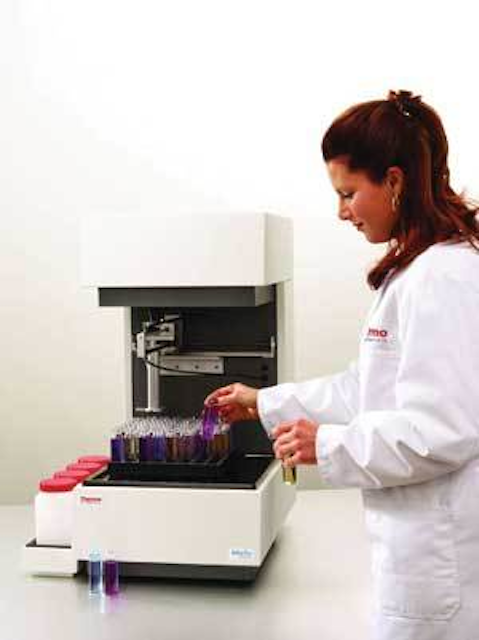 Thermo Scientific HiperTOC bench top analyzer for water sample analysis
Click here to enlarge image
To adequately measure for TOC, the U.S. Environmental Protection Agency (EPA) set a detection limit of 0.500 mg/L. Instruments capable of analyzing TOC must meet and/or exceed these detection limit requirements. Generally, all TOC analyzers employ the same basic technique. A liquid sample is introduced to an inorganic (IC) removal stage, where acid is added to the sample. At this point, the IC is converted into carbon dioxide (CO2) gas that's stripped out of the liquid by the sparge carrier gas. The remaining inorganic carbon free sample is then oxidized and CO2 generated from the oxidation process is directly related to the TOC in the sample.
Analysis methods TOC analyzers use to oxidize and detect organic carbon may be one or more of the following: combustion, UV/persulfate oxidation, ozone promoted or UV fluorescence. A method for introducing samples to the analyzer is via a syringe. Another is loop sampling, in which the sample loop introduction system allows repeatable analysis over a wide range of concentrations while avoiding inherent dead volumes of syringe-based systems. Via autosamplers is another option. Here, the liquid autosampler removes specific sample volumes from a standard vial and transfers the sample to the common analysis vessel - a common technique used for unattended analysis.
Complications with TOC Analysis
Prior to selecting the HiPerTOC unit, BodyCote used a 10-year-old TOC analyzer for its sample analysis. The broad sample range of customers' samples posed a problem for a single instrument to do all the sample analyses. As well as needing to replace an old instrument, BodyCote's customers were being affected by instrument downtime and the staff were needing to dedicate more time to maintenance than necessary. After running a dirty water sample, the old TOC instrument needed to run five blank samples. In 2005, the company made a decision to search for a replacement to its incumbent TOC analyzer while looking for a faster, more cost-effective, less disruptive solution.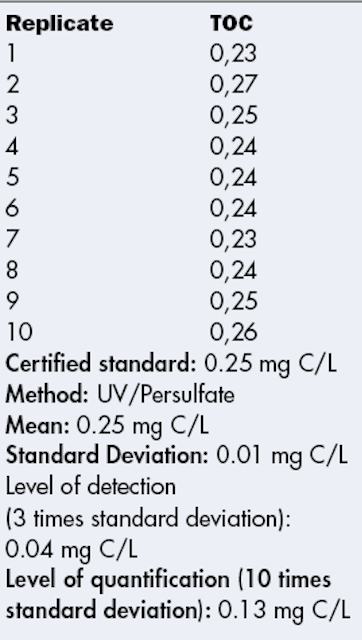 Click here to enlarge image
Francois Aube, operations manager of the chemistry laboratory, comments: "We looked at our existing supplier's model to specify a new replacement TOC analyzer - it needed more work such as blank samples to meet our current specification. The HiPerTOC is like having two instruments in one, with its wet-chemical reactor for lower detection limit and high temperature reactor for dirty samples. This is why we chose Thermo". Report 1 shows results of the detection limit study by Bodycote using the UV/persulfate technique.
Due to increasing pressures faced by water testing facilities to meet regulatory requirements, it's important for these companies to have the necessary instrumentation allowing them to meet customers' demands. Fortunately, BodyCote found that, requiring little or no training, the Thermo Scientific analyzer resulted in greater productivity and was able to run samples thoroughly and efficiently, and with greater ease. This flexibility was further enhanced with a standard autosampler this instrument incorporates.
By achieving a very low detection limit of 0.04 ppm, this analyzer exceeds detection limit guidelines and is able to respond to scientists' needs working in water treatment, pharmaceutical, food and beverage and wastewater industries. Downtime and disruption are potential problems facing companies daily, which in turn can disrupt business profitability and production. For roughly 10 years, BodyCote had struggled with its sample analysis, using its old TOC analyzer, which resulted in high downtime due to essential maintenance issues.
Benefits from Installation
BodyCote decided to install the new analyzer, first, to increase productivity. The company anticipated this replacement instrument would be able to cope with the high number of sample analyses required daily and, more importantly, that the instrument's robustness would also cope with "dirtier" samples that couldn't be analyzed efficiently with the previous system. The analyzer is equipped with four different oxidation techniques for TOC analysis, high temperature oxidation, UV/persulfate, UV ultrapure and ozone promoted. The company found that the integrated solution substantially reduces the cost per analysis and ensures major productivity gains and time savings thanks to the integrated 63-position XYZ autosampler.
The lab analysis company also sought to improve its efficiency and accuracy of sample analyses. It found that the new analyzer provided accurate and precise results at both high and low concentration ranges in a wide variety of sample types ranging from dirty wastewater to clean drinking water. Samples analyzed using the previous TOC instrument occasionally had to be sent away for external testing. With the new unit, though, BodyCote's Testing Group organization is now able to run all customers' sample analysis on a daily basis and 100% of analyses are now carried out onsite. Table 1 shows results of the recovery study by Bodycote using the high temperature technique. The concentration of SO4 is a measure of the salinity of the sample.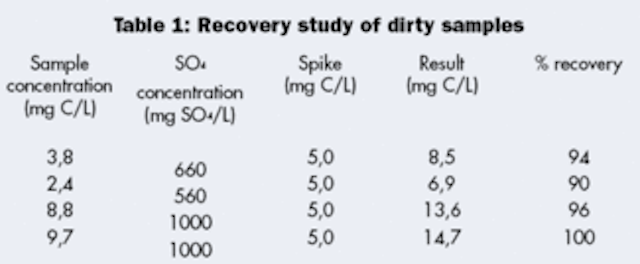 Click here to enlarge image
BodyCote has reduced training costs substantially due to the instrument's ease of use, with even new personnel being able to operate the instrument. It has allowed sample analysis runs to be carried out by its technicians with minimal training and sample runs no longer require senior technicians to be present in the laboratory. The size of this instrument was extremely favorable for the laboratory due to its smaller footprint, which saved space for other operations.
Conclusion
There are certain criteria to be taken into consideration when evaluating the need for a TOC analyzer. Firstly, the most important specification for TOC analyzers is the measuring range. Carrier gas flow rate, average analysis time and process temperature are also important. Furthermore, accuracy and resolution are important considerations.
The Thermo Scientific analyzer offers improved ease of use, lower detection limits, less downtime and improved accuracy. With minimal training, the company's analyzer has enabled the materials testing company to increase productivity and meet its ever increasing customer demands. Additionally, the integrated auto sampler reduced costs per analysis and its small footprint saves space in the laboratory.
BodyCote's Aube stated: "This solution has been operating beyond expectations. The HiPerTOC instrument has been online for a year now and dirtier samples are easier to handle - they do not break the instrument! In this first year, we have yet to find a sample we cannot analyze. We are very pleased with the quality and efficiency of the water samples analyzed with this instrument and we look forward to many more years of problem free analyses".
Thermo Scientific is part of Thermo Fisher Scientific is the Waltham, Massachusetts, USA-based company's new brand name for analytical instrumentation, lab equipment, automation technologies, reagents and consumables, and LIMS solutions. Contact: +1 800-532-4752, analyze@thermofisher.com or www.thermo.com/elemental
---

Millipore filters to use RFID tags for validation process
Millipore Corp., a provider of products and services to improve productivity and results in biopharmaceutical manufacturing and clinical, analytical and research laboratories, is the first company to successfully integrate radio frequency identification (RFID) technology with filtration products used to manufacture biopharmaceutical drugs to help customers develop and validate process steps. The new RFID capability will be branded as SMART Technology and was to be introduced at New York's INTERPHEX 2007 Conference in late April.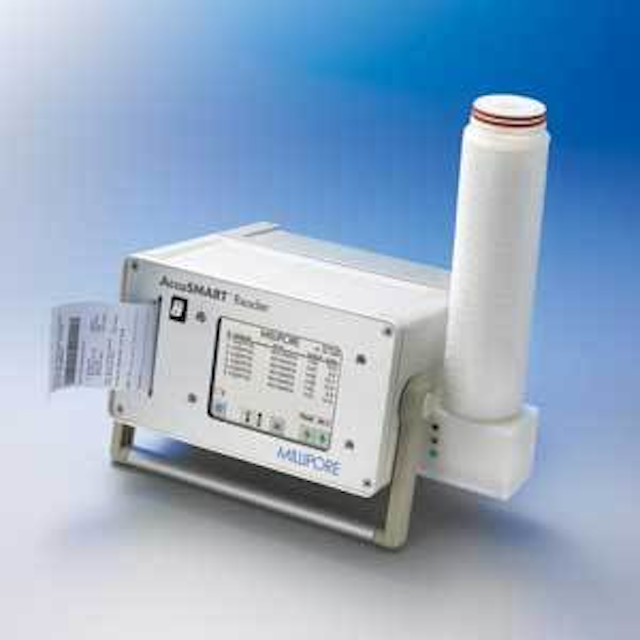 Millipore's SMART technology RFID reader, which reads a chip embedded in a filter.
Click here to enlarge image
The Billerica, Massachusetts, USA-based company recently entered an exclusive license with Dutch firm Tack Smart Filter Technology BV to embed the RFID technology in its filters and filtration apparatus for biopharmaceutical applications. It has formed relationships also with Tagsys RFID for tags and reader components; the Tech Group for injection molding and fabrication; and Northern Apex-RFID for RFID integration services and instrument development.
By using this technology in filtration products, Millipore's customers can increase speed by quickly, reliably retrieving critical information, such as when and how a product was made. When filters are coupled with sensors, RFID also can deliver real-time data about product performance and identify which fluids are present during the manufacturing process. This will help customers ensure regulatory compliance and make recording and conveying manufacturing data faster and more reliable.
---

PerkinElmer acquires Improvision Ltd.
PerkinElmer Inc., a specialist in health sciences and photonics, has purchased Improvision Ltd. in a cash transaction. Based in Coventry, United Kingdom, Improvision is a leading provider of cellular imaging software and integrated hardware solutions used in life sciences research. The company had revenue of about £6 million (BPS) in 2006.
A major challenge facing cell biologists and researchers today is the efficient management of the abundance of data derived from high content screening (HCS) and advanced confocal microscopy. The addition of Improvision's robust 3D imaging and analysis software to PerkinElmer's advanced HCS systems will provide customers with an unmatched range of powerful, easy-to-use imaging solutions for analyzing cellular events - from real-time imaging of live cells to rapid high content screening of multiple samples.
"This acquisition strengthens our leading capability in the fast-growing field of advanced cellular sciences," said Gregory L. Summe, chairman and chief executive officer, PerkinElmer Inc. "PerkinElmer now provides pharmaceutical and academic researchers with a single source for imaging and analysis solutions that will help increase their understanding of disease mechanisms at the cellular level, potentially speeding the development of new therapies for conditions such as Alzheimer's, Parkinson's, diabetes and cancer."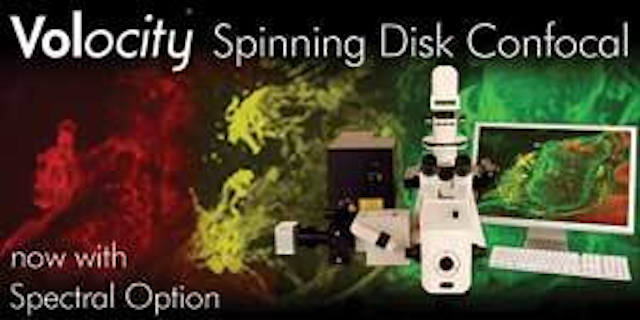 Waltham, Massachussetts, USA-based company gains Improvision's 3D and 4D imaging software
Click here to enlarge image
Improvision's flagship offering is Volocity®, a high-performance, high-throughput 3D and 4D imaging software solution that allows users to capture, visualize and analyze images of dynamic cell-based processes, as well as integrated software and hardware solutions for the control and analysis of microscopy systems. Volocity complements PerkinElmer's UltraVIEW® Live Cell Imaging system, which captures high-speed, high-resolution, multi-dimensional images of live biological samples including cultured cells, tissues and embryos. Additionally, Improvision provides integrated software and hardware solutions for microscopy systems control and data analysis.
This announcement also builds upon PerkinElmer's recent acquisition of Evotec Technologies, a leading provider of high-performance cellular screening systems. PerkinElmer now offers Evotec Technologies' Opera™ High Content Screening platform, a premier tool for high content analysis that combines the precision of confocal microscopy with the throughput required for primary and secondary screening. The product portfolios of Improvision and Evotec Technologies will be integrated and fully supported by PerkinElmer's highly regarded sales and service organization.