Depths of Lake Ontario Offer Energy Efficiency
Metering accuracy is critical to the success of Toronto's innovative Deep Lake Water Cooling System, providing natural air conditioning.
Oct 1st, 2007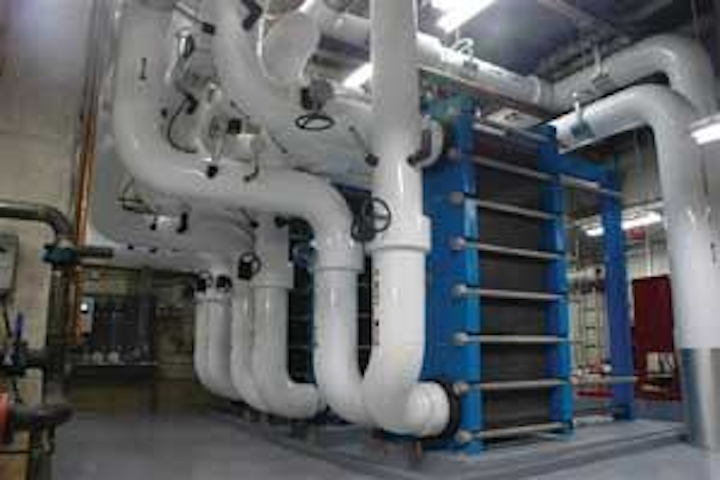 Metering accuracy is critical to the success of Toronto's innovative Deep Lake Water Cooling System, providing natural air conditioning.
The city of Toronto, Canada, has capitalized on a valuable asset lying 272 feet below the surface of Lake Ontario – icy cold water that remains at a constant 39.2°F year round. Since August 2004, this previously-untapped resource has been supplying economical and environmentally-friendly air conditioning to large buildings in the city's downtown.
The Deep Lake Water Cooling (DLWC) system in Toronto is the world's largest. The city is an ideal location for this innovative technology, because a deep body of water is situated near the dense, urban center. The DLWC system is operated by Enwave Energy, a private corporation co-owned by the city of Toronto and the Ontario Municipal Employees Retirement System (OMERS) that provides heating and/or cooling services to over 140 institutional and commercial buildings in downtown Toronto.
The DLWC process isn't complicated. A heat exchange system at the city's John Street Pumping Station transfers cold energy from the lake water to a separate, closed water loop that distributes cooling energy to Enwave's customers. The closed water loop circulates in an underground piping distribution network, providing air conditioning to the Metro Toronto Convention Centre and to skyscrapers and other major buildings. The DLWC system has enough capacity to air condition 100 office buildings or 34 million square feet of building space.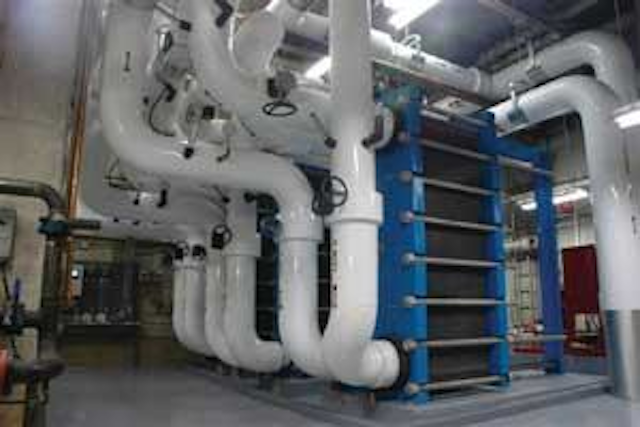 Enwave heat exchange system
Click here to enlarge image
After the lake water passes through the heat exchange process, it's fed into the city's potable water system, avoiding the potential negative environmental impact of discharging the warmed water back into the lake. A single source of water provides cooling for Enwave's DLWC system and drinking water for the city.
Green Twice Over
The environmental benefits of DLWC are dramatic. DLWC consumes only a tenth the electricity compared to conventional chillers. The lake water system thereby eliminates 61 megawatts of electricity demand from Ontario's electricity grid, during peak usage periods – equivalent to the electricity required to air condition 6,800 homes. The reduced electricity consumption annually removes 79,000 tons of carbon dioxide from the air, an amount equivalent to taking 15,800 cars off the road. The DLWC system not only reduces these greenhouse gases, but it also eliminates use of large quantities of ozone-depleting refrigerants.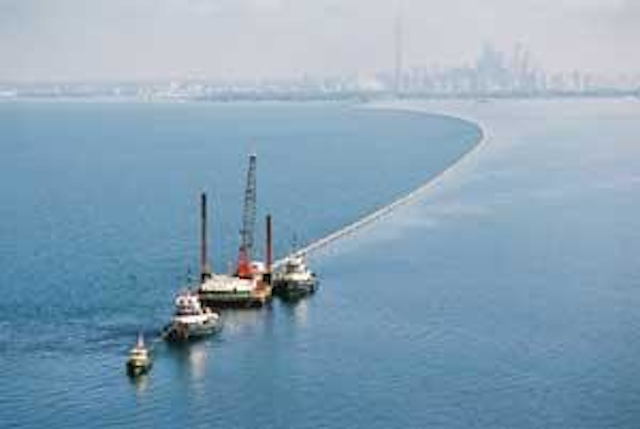 Intake pipe to Toronto's Deep Lake Water Cooling System
Click here to enlarge image
Enwave's customers benefit from availability of smart energy that's sustainable, clean and renewable, without having to pay premium prices. Moreover, DLWC, like other green projects, involves high capital expenditures and low operating costs. Therefore, Enwave is able to offer price stability, an important advantage in an era of rising and unpredictable energy costs.
Centralized production of cooling energy is more cost-effective, reliable and convenient, than distributed building-specific cooling, because it removes the need to acquire, service and maintain cooling equipment in each building. The noise, vibration and structure-born sounds of cooling equipment are eliminated. The space typically reserved for cooling equipment is freed for other purposes, and the coolers visible on roofs and walls are no longer needed.
Need for Accurate Metering
"We are changing the paradigm of how buildings provide air conditioning," explains Steve Perkins, Enwave's Vice President of Engineering. "Instead of buying electricity to power their own cooling system, our customers now outsource the process to our district cooling operation. They receive cooling energy in the form of cold water and they need only distribute that cooling energy within their building."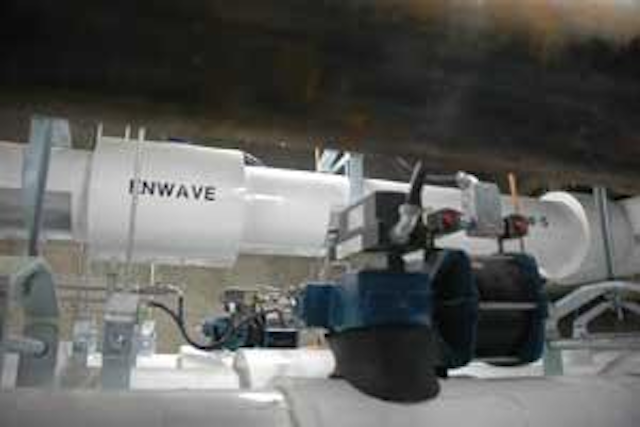 Krohne Enviromag flowmeters mounted on Enwave piping system.
Click here to enlarge image
Enwave bills each customer by calculating energy consumed, based on the water flow and the temperature differential between the customer's supply and return lines. "Our customers are used to the model of buying precisely-metered electricity, and it's critical we provide excellent metering accuracy," says Perkins. "Some of our cooling customers are buying hundreds of thousands, or millions, of dollars in cooling each year."
The Deep Lake Water Cooling System
Click here to enlarge image
For metering systems, Enwave has turned to SRB Controls Inc., of Markham, Ontario, which recommended the IFS 4000 KC Enviromag electromagnetic flowmeter (EMF), ranging in diameter from 3 inches to 20 inches, from Krohne Inc. of Peabody, MA, and Krohne Toronto, Ontario. KROHNE has been a leader in the development of magmeters since it introduced the first EMF for industrial applications in 1952.
Electromagnetic Flowmeters
"We use only magmeters, because they are economical and very reliable for a wide range in diameters and flowrates," says Perkins. "The Krohne Enviromag meter meets our exacting accuracy standards, even when flowrates for a customer might vary from 5000 gallons per minute on a hot summer afternoon, down to only 200 gallons per minute at night or in the winter when cooling may only be needed in a single computer room."
The Environmag meters require absolutely no maintenance and there are no mechanically moving parts. Each meter is wet-calibrated on accredited (EN 17025) calibration rigs at the factory and supplied with test certificate. Consistent results are reliably achieved with no zero point calibration, no precalibration, and no periodic recalibration.
EMF technology has a relatively simple operating principle. An electrically conductive fluid flows through an unobstructed insulating tube and through a constant magnetic field. A voltage is induced in this fluid proportional to its mean flow velocity, and this signal voltage is picked up by electrodes. Microprocessor-based electronics converts this voltage into scaled pulses (e.g., 1 pulse for every US gallon of medium flowing through the measuring tube). Enwave uses Krohne IFC 020 electromagnetic flow converters to store and aggregate data and to perform self-diagnostics.
In addition to providing billing information, the magmeters are networked over telephone lines to provide realtime information to monitor the flow to each customer. For example, if a meter indicates that a customer is utilizing unexpectedly high flow, it may be an indication that a problem exists in the building's air conditioning distribution system or that Enwave needs to provide supplemental cooling energy by lowering the temperature of the water that it is supplying.
Enwave is connecting DLWC customers to its distribution loop at the rate of about 18 new buildings per year. Because of the wide variety of meter diameters required by different customers, it is not economical to carry any meter inventory.
"We have been pleased with Krohne's short delivery times, allowing us to meet our project schedules with just-in-time purchasing," says Perkins. "But most important of all is the accuracy of the magmeters. The worst thing would be to start having an argument about bills, and that's why we are so fussy about the quality of the meters we use."
---
Part of Krohne GmbH & Co., with headquarters in Duisburg, Germany, Krohne Inc.'s Canadian offices are in Burlington, Ontario. Contact: +905-319-3388, info@krohne.com or www.krohne.com