CertainTeed PVC Pipe Provides Link Under Mexican Lagoon
Potable water project reconnects Caribbean island infrastructure to Yucatan Peninsula after 2005 hurricane.
Oct 1st, 2007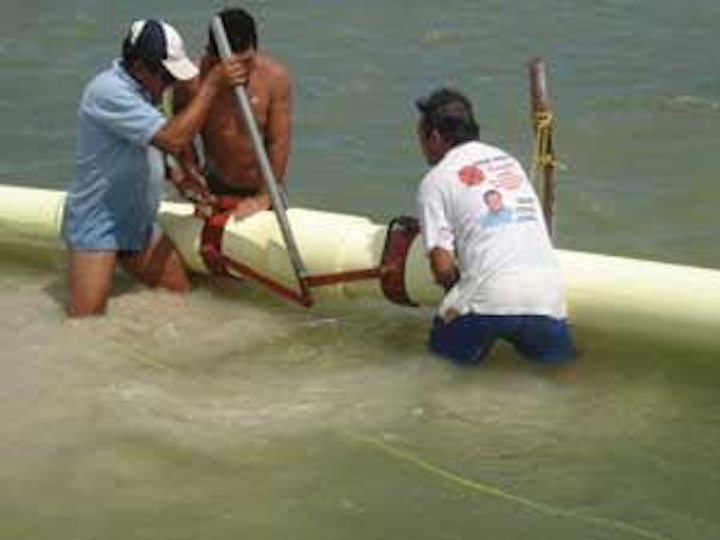 Potable water project reconnects Caribbean island infrastructure to Yucatan Peninsula after 2005 hurricane.
By Steven B. Gross, P.E
In October 2005, Hurricane Wilma wreaked havoc upon the Mexican state of Quintana Roo, leaving $7.5 billion of damage in its path.
Heavy infrastructure casualties included a water transfer pipeline that ran underwater along the bottom of Laguna Conil, a lagoon off the north coast of Quintana Roo and connected Isla Holbox, an island in the lagoon, to the city of Chiquilá. The storm dislodged sections of the submerged high-density polyethylene (HDPE) pipeline, which floated to the surface and was beat about in the Gulf. This also cut off the vital potable water supply to the 26-mile-long island.
To fix this problem, Quintana Roo's Comisión de Aqua Potable (CAPA) – or Commission of Potable Water – called on engineer Francisco Vicke Andrews, who six years before designed and installed a similar potable water transfer line for CAPA. The previous transfer line, constructed from CertainTeed polyvinyl chloride (PVC) pipe, remained unmoved by the storm.
"After Hurricane Wilma, we examined the HDPE pipeline from Chiquilá to Isla Holbox and noticed a lot of problems," he says. "Boats had hit the pipe and rocks had cut it, causing much damage. HDPE pipe floats easily, and if air gets into the line, it will float to the surface immediately. I told CAPA authorities that we would have to go with a higher technology pipe, and recommended CertainTeed® Certa-Lok™ Yelomine™ PVC Pipe, which I had used in a similar project. It's been almost six years since we installed that line, and they haven't had to perform any maintenance on it."
Because of this previous success, CAPA approved Vicke Andrews' specification. Though typically used for mining, irrigation and trenchless water distribution applications, Yelomine provides the strength and impact resistance necessary for turbulent tropic waters. It's also easy to assemble, as pipe sections are connected through a high-strength restrained joint system, using PVC couplings with integral O-rings that provide a reliable hydraulic seal. The pipe also features strong UV protection, which is perfect for the intense, water-penetrating sunlight of tropical regions. All of these factors combine to produce a reliable pipe ideal for accommodating a rapidly increasing population and tourism rate on Isla Holbox, Vicke Andrews says.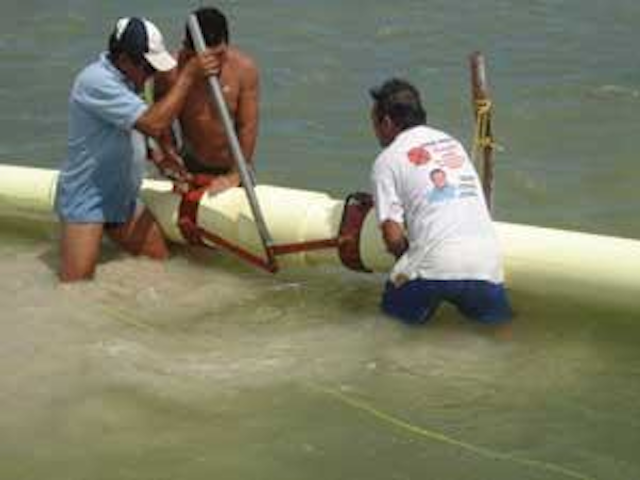 Workers connect two lengths of CertainTeed Certa-Lok Yelomine PVC pipe, securing them in place with a lever device in the waters of Laguna Conil
Click here to enlarge image
"A few years ago, Isla Holbox had about 800 residents, and now, they have closer to 2,500," he says. "During the summer tourist season, they'll have about 3,000 more people. They predict that the amount of tourists is going to significantly increase each year, and in 2009, they expect to have about 6,000 visitors. So, it was important to have a water transfer line that would support the growing population. The new line is designed to serve about 20,000 people."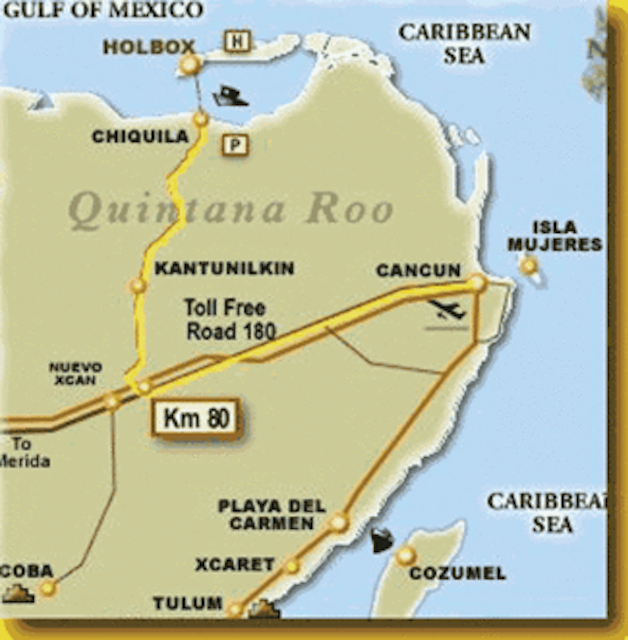 The small red line between Chiquila and Isla Holbox plots the course for the potable water transfer line across Laguna Conil.
Click here to enlarge image
Since PVC pipe requires a much thinner wall than HDPE pipe with a comparable pressure rating, Yelomine improves flow efficiency which will reduce the costs of pumping water to the island. Vicke Andrews designed a 35,270-foot pipeline of 10-inch SDR 32.5 (125 psi) Yelomine pipe to be strung across the bottom of Laguna Conil. The pipeline was to be connected to the mainland water main and submerged at a maximum depth of about 25 feet. The project was filled with Vicke Andrews' ingenuity and ability to make use of available resources to get the job done.
"Not only did we have to design the line, but we also had to design a lot of the tools to make the installation possible on land and in water," Vicke Andrews says.
Serving as engineer, contractor and project manager, he assembled a work crew of 12 local divers. The crew set posts between Chiquíla and Holbox Island, following the course that the pipeline was to take. They then assembled seven 20-foot sections of pipe, one at a time, on land before pulling the entire assembly into the lagoon with a boat-mounted crane. The pipe was fed between the side-by-side posts on the transfer line's route.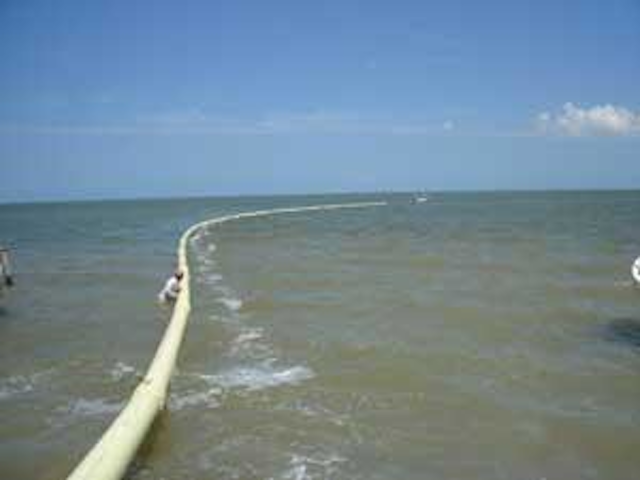 The PVC pipeline makes its ways, piece by piece, across the surface of Laguna Conil, from Chiquila to Isla Holbox. The pipeline was submerged after both infrastructures were connected.
Click here to enlarge image
Special precautions were taken to keep the pipeline floating during transportation to make installation possible. After each pipe section was added, it was roped to posts, and plastic bags were fitted tightly over exposed pipe ends to prevent saltwater from flowing into the pipes. Once the pipeline reached across Laguna Conil and was connected to the Chiquila wells and water main on Holbox Island, the crew prepared for pipeline submersion. Divers dug a trench through sand and mud for the pipeline in the bottom of the lagoon, removed all of the ropes and plastic bags and allowed the pipe to gently sink into the trenches.
To help hold the pipeline in place, 2,161-pound concrete slabs were slowly lowered by crane and a floating device on top of the pipeline. This was a particularly challenging part of the project, as currents running through the bottom of the lagoon complicated maneuvering of the slabs.
The project completed in October 2006, and CAPA began pumping water through the transfer line. Vicke Andrews says he was very pleased with how the Certa-Lok Yelomine pipe performed during and after installation.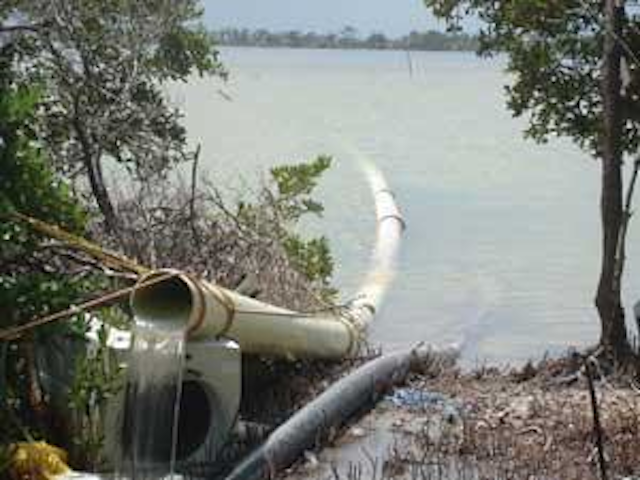 The PVC pipeline reaches Isla Holbox and is connected to the island's water main.
Click here to enlarge image
"It's a high-quality pipe, and it performs very well," he says. "The CAPA authorities are very happy with this line," he says. "We had a lot of challenges, but it was a very nice project."
---

Acknowledgments:
The author would like to thank Francisco Vicke Andrews, an independent engineer and contractor based in Chihuahua City, Mexico, with 31 years of experience in the potable water and sewer infrastructure, for his assistance on this article. Contact: vickef51@yahoo.es
Author's Note:
Steve Gross, P.E., is director of marketing and product development for CertainTeed Pipe & Plastics Group, a unit of CertainTeed Corp. based in Valley Forge, Pennsylvania, USA. Contact: +1-800-284-7473, steve.b.gross@saint-gobain.com or www.certainteed.com