Producing Drinking Water from Thick Air
The market for atmospheric water generators - technology which can draw water from the air - has started to take off. How do these technologies work and at what scale? We look at Israeli solution Water-Gen.
Jul 1st, 2017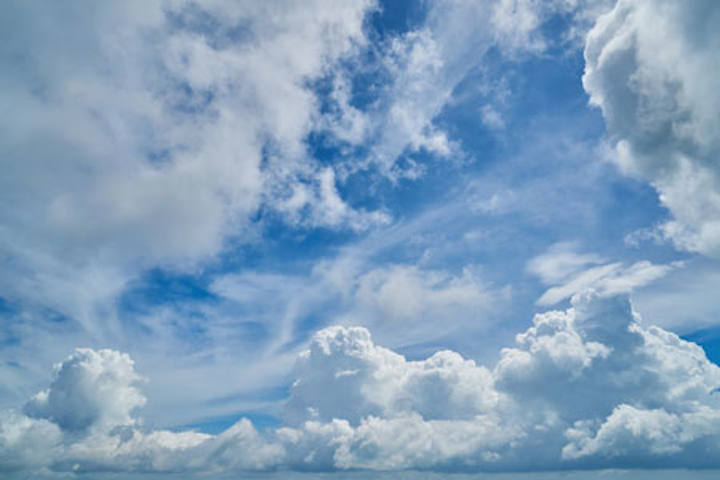 The market for atmospheric water generators - technology which can draw water from the air - has started to take off. How do these technologies work and at what scale? We look at Israeli solution Water-Gen.
By Jeremy Josephs
Magicians have been conjuring up an elaborate array of cards, coins, rabbits and doves from thin air with nothing more elaborate than a wand and the magic words "abracadabra". What about water though? Can water be equally produced from thin air? Well, the fact that global atmospheric water market revenues are set to exceed a staggering USD$8 billion by 2024 would tend to suggest that it can be.
With over three quadrillion gallons of untapped water in the atmosphere there is nothing 'thin' about the earth's air at all, with enough water present to meet the needs of every single person on the planet for a year.
With recent research suggesting that no less than 1.8 billion people are set to be living in areas plagued by water scarcity within less than a decade, harvesting that precious water is a rare example of humanitarian and commercial concerns being wholly complimentary to one another.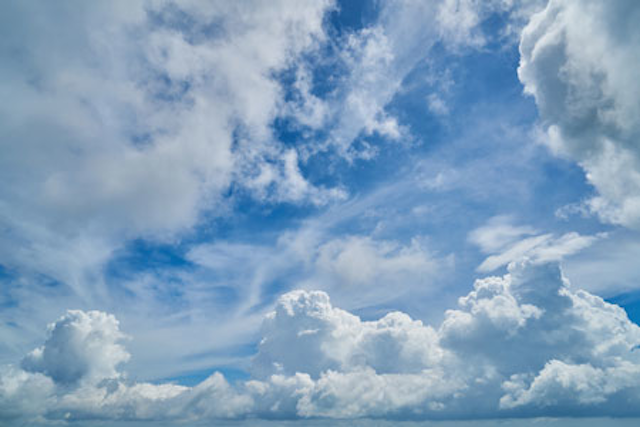 Not that the notion of tapping into atmospheric water is new. Far from it. The Incas were able to sustain their culture above the rain line by collecting the early morning dew and channelling it to cisterns. Fog fences, using a fine mesh or array of parallel wires, can similarly be traced back through the centuries.
It is new and innovative technologies, combining ground-breaking software and the likes of patented plastic heat exchangers, combined with the use of solar power, which are now at the cutting edge of the atmospheric water generator (AWG) market, with India and China currently at the forefront of regional demand but with MEA (Middle East and Africa) hot on their heels and also expected to see a significant rise in market share. It's a potentially vast market which some 20 key industry players including Ambient Water, Watair Inc, Water Technologies International, Air2Water - to name but a few.
Thirsty men
Another company worth looking at in the AWG revolution is Israel's Water-Gen, the brainchild of Arye Kohavi, the company's founder and Co-CEO. Selected as one of the world's leading global thinkers and innovators by Foreign Policy magazine, he served in the Israeli Defense Forces as a Special Forces Combat Reconnaissance Company commander. Here he headed up 100 men and thirsty men at that.
"The issue of supplying water to front line forces interested me a lot," he tells WWi magazine. "You're in Lebanon or Gaza and you have no water, so they have to supply you by convoys or by helicopter. The problem weighed on me for over 20 years until a solution started to take shape."
"There are two ways to innovate," he explains from the company's newly-established HQ in Rishon Letzion, Israel's fourth-largest city, just five miles south of the bustling bubble of Tel Aviv.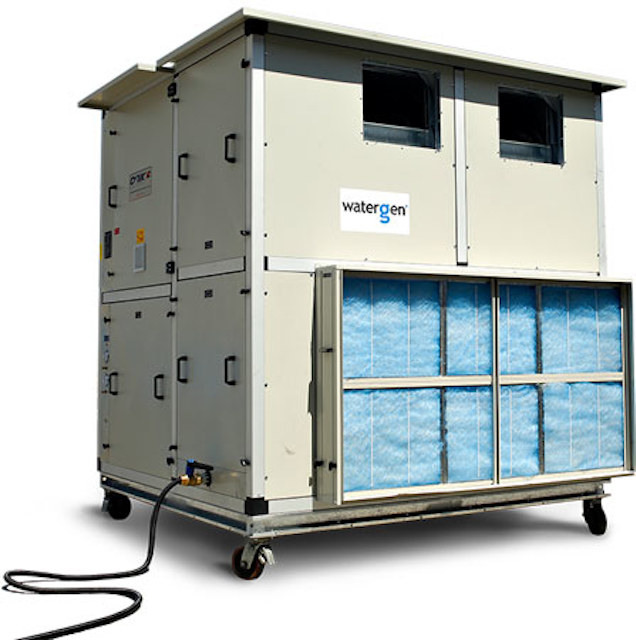 WaterGen's heat exchanger technology, made of thermally low conductive material, has been patented in 10 countries
"One is from technology. That, in my view, is not the most promising way. The alternative - and this is my approach - is to envisage a product and then to recruit the right people who can create and deliver your vision. My own background is from within the military. There you don't go down to or inside the wadi…you stand above and on the hill and take an overview. That is the better way. That is also why there was no 'eureka moment' for me. I don't believe in those. Because innovation is a road, a pathway. In Hebrew there is a saying that 'the path is smarter than the walker'. In fact the desire for that so-called eureka moment can actually be counterproductive and a recipe for inaction. Because the reality is that you learn so much from the journey, the marketplace and the people you meet en route."
The Russian-Israeli billionaire Michael Mirilashvili, the vice-president of the World Jewish Congress, recently came on board and bought control of the company last summer. As a result, the company is unlikely to experience the cash-flow squeeze that often negatively impacts fast-growing companies.
Furthermore, Water-Gen's range of products has been showcased by Prime Minister Benjamin Netanyahu on CBS's '60 Minutes'. Israel advocate and Harvard law professor Alan Dershowitz took to a sizeable stage to demonstrate the technology, and the company presented its products to the United Nations in New York. The World Economic Forum pondered if its technology was not "one of the machines which could help end the world water crisis".
Technology
The technology hinges on dehumidification apparatus. The apparatus uses a cooled core, into which relatively humid air is fed. The internal structure comprises 'leaves' of a thermal low-conductive plastic and an integral evaporator. The systems come in three sizes, each suited to a different application. All operating at 26.7 degrees Celcius and 60 percent humidity, daily yields range from 3,000 liters for the largest generator, down to 15 liters for the smallest.
With power usages ranging between 11 and 17 Watts per litre, Kohavi estimates that generated water should be driven down to well under around two cents per litre. The use of plastic is unique, allowing gradient cooling and heating of the air streams, while water condensation is limited to a small, predestined area.
Do not be lulled into thinking, however, that this is another start-up-nation pro-Israel affair. For some unlikely customers have been knocking hard on Water-Gen's door. "I am sure you will forgive me if I don't go into too much detail on this," Kohavi explains, "suffice it to say that the Arab world is now changing and changing fast - and we have signed deals with neighbouring countries. This to me is a fabulous thing - using water technology to build bridges and forging economic links between us. You know our company's slogan is "Bringing Water to the World". But it's more than just a slogan - the world means the world - so we are not remotely interested in race or religion or politics - only delivering effective solutions."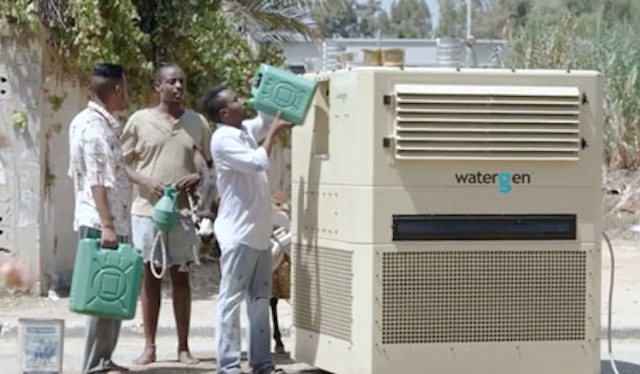 Water independence: AWG technologies are designed to provide water in remote locations
Sivan Ya'ari is founder and CEO of Innovation: Africa and remains convinced that when there are basic amenities lacking - vaccines, medicines, school books, drinking water - it's often not because of a shortage of nurses or teachers or technicians but because there is no refrigeration for medicine, no lighting for the classrooms and no power supply for the well. In other words the issue was all about the supply of electricity. But electricity which could be generated from the sun - the one resource in abundant supply in Africa. It is an approach currently being embraced by a $1.75 million competition called The Water Abundance XPRIZE, the objective of which is to alleviate the global water crisis with energy-efficient technologies that harvest fresh water from the atmosphere.
The challenge is for entrants to revolutionise access to water by creating a device that extracts a minimum of 2000 liters per day from the atmosphere using 100% renewable energy at no more than two cents per liter. A total of 98 teams have thrown their hats in the ring, including Water-Gen, in a competition underwritten by Tata and Australian Aid.
Meanwhile, the introduction of the DWQS (Drinking Water Quality Section) policies in Japan, the Safe Drinking Water Act in the United States, the National Rural Drinking Water Program in India and the oft-cited Water Framework Directive in Europe - all combine to propel further AWG growth as governments find themselves obliged to ensure safe accessibility to water for their respective populations. The challenge for the industry, however, relates to the cost of supplying power to AWG systems, no matter how advanced or sophisticated.
The Chinese AWG market is especially buoyant and was worth over US$100 million in 2015 and is expected to witness substantial growth because of a combination of rapid urbanisation coupled with uncertain rainfall.
Global growth
AWG business is growing in other areas of the world. Las Vagas based Watair's products are being used by the US Navy, Canada's International Development Agency and recently received a NATO Commercial and Government Entity (NCAGE) code for Emergency and Disaster Relief making Watair a certified NATO supplier. And in Fujian, China the Fujian Yuxin Electronic Equipment Co Ltd (trading as Hendrx) boasts a machine equipped with an inverted compressor which can reduce energy costs by 25%.
Meanwhile Hertfordshire, UK based start-up ThinAirWater is made up of a team of five young founding members who are recent graduates from Imperial College, London. Their self-imposed brief is "to develop a bio-membrane on a topology energised surface and capable of condensing and collecting water from thin air." The team won not just £10,000 from the Global CleanTech challenge this Spring but a further award of the same sum from McKinsey & Company's (McKinsey Venture Academy) MVA challenge.
Kohavi adds that the technology will need to be self-sustaining.
"My feeling is that the future is this technology combined with solar," he says. "We just signed a US$100 million with Vikram Solar in India - to supply drinking water to remote villages. I have visited some of these isolated locations, as you would expect. And even I - who have come up with this technology - who lives, breathes and eats AWG from morning to night - I sometimes simply cannot believe my own eyes and of what we are capable of doing. That from the sun and from the air - where you see and hear nothing around you - that you can arrive with your machinery, as if from nowhere, and then produce enough clean drinking water for a whole village."
Jeremy Josephs, based in Israel, is a freelance contributor for WWi magazine.
More Water & WasteWater International Current Issue Articles
More Water & WasteWater International Archives Issue Articles