Desalination activity rising on Mediterranean coast
The desalination market is attracting much interest in Asia and on the Mediterranean coast given water shortages and growing populations.
Apr 1st, 2002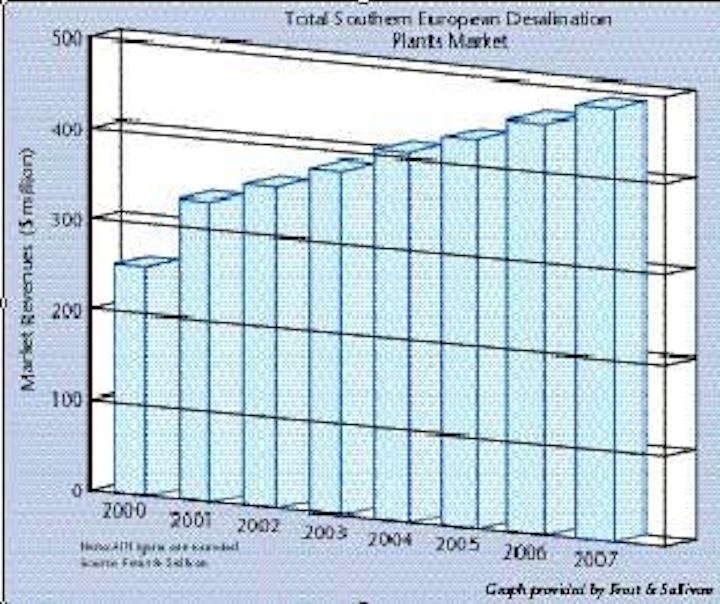 By: Matthew Barker
Dwindling freshwater supply is causing many countries to seriously consider desalination, as the need to increase supplies becomes a high priority. In some cases, the shortfall may be overhyped, but it is becoming increasingly important to prepare for future demand and ensure that populations have enough freshwater to avert water crises.
Asia
Large-scale desalination activity is rising in Asian countries, which have experienced the most economic success in the region. Except for Japan, the continent has seen few large-scale desalination projects.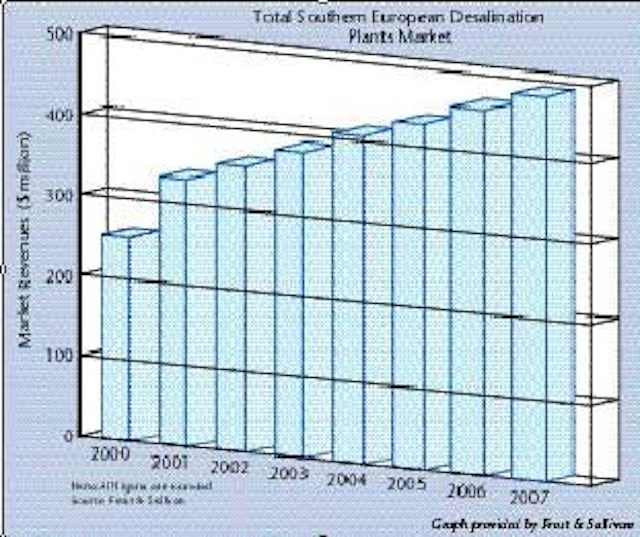 Membrane desalination plants account for most market activity in the region.
Click here to enlarge image
One of many upcoming projects, the Singapore Public Utilities Board (PUB) prequalified 11 bidders for its seawater desalination project last 30 November 2001 to be undertaken under a build-own-operate scheme. The project will supply 136,000 cubic metres of desalinated water per day. Interestingly, the desalination process and choice of power supply is entirely up to the bidder.
Other key projects in the region include a 160,000 cubic metre per day nuclear powered desalination plant in the eastern coastal area of Shandong Province, which is short of fresh water. The US$ 120-million project will use nuclear energy technology developed by Beijing's Tsinghua University. India and Pakistan are especially keen to employ desalination to meet growing water shortages, which are hindering economic development in some areas.
Rising populations and growing demands on limited water resources are increasing the demand for desalination plants. Few funds are available for desalination projects in poor rural areas and peri-urban shantytowns, which need clean drinking water.
As funds for municipal projects become available, it is expected that there will be increasing demand for desalination plants in areas where current potable water supplies are insufficient. These plants are likely to be much larger than those currently used by the industrial sector, which currently represents the largest source of revenues for plant and equipment suppliers in the region.
The key issues driving development of desalination plants in the region, include: industrial development; rapidly developing economies; offshore exploration and resource exploitation; and tourist development.
Several factors are restraining further development: lack of funds for municipal potable desalination plants; availability of fresh water; high relative cost of desalination plants; and other health priorities.
Middle East
The water situation is precarious in the Middle East where population and development needs have overwhelmed traditional water management practices. Water scarcity is at its most critical and population growth is severe. Various international agencies expect this region will see more population growth than any other region in the world. Global population is forecast to double every 42 years, whereas in the Middle East it is estimated to double every 26 to 29 years. Consequently, an increasing number of plants will be required to meet rising water demand until population growth diminishes. The Middle East holds the lion's share of revenues in the total desalination plant market, given the construction of huge-capacity projects for the provision of drinking water in the region.
The world's largest market for desalination plants is in Saudi Arabia, which accounts for 21% of world production of desalinated water. The Kingdom built 30 plants at a total cost exceeding US$ 19 billion, including US$ 4 billion for operation and maintenance. All operated by the Saline Water Conversion Corporation (SWCC), the stations produce more than three million cubic meters per day of fresh water and 5,000 megawatts of electricity. Saudi Arabia must invest US$ 40 billion over the next 20 years to keep up with demand.
Other key markets in this region include the United Arab Emirates (UAE) where a number of sub- US$ 1 billion projects are under construction, such as Jebel Ali K in Dubai and Shuweihat in Abu Dhabi. The UAE holds the second largest installed capacity in the world behind Saudi Arabia. At present, desalination supplies some 70% of UAE residents with potable water.
Thermal desalination plants dominate in the region because they are widely credited with having the ability to cope with harsher climates in terms of both the highly saline feedwater and atmospheric conditions. Past experience and knowledge of thermal technologies means that contract-rewarding authorities lean towards using these types of plants instead of other types of desalination technology.
Mediterranean Europe
A warm climate and relatively low rates of unpredictable rainfall in the summer months make water a particularly hot commodity in the Mediterranean area. Conventional water resources are scarce and unable to meet peak tourist demands reliably. Since this region depends heavily on the summer tourist industry, it is necessary to pursue different methods of guaranteeing a plentiful potable water supply. Most of the activity in the desalination plant market in southern Europe is closely allied to developments in the tourist industry.
The largest European market is Spain, which since 1969 has been using desalination for urban water supplies in Ceuta, Lanzarote, Fuerteventura and Gran Canaria. Water availability is very poor in all these areas. Due for start-up in November 2002 is the US$ 300-million Carboneras plant, the largest seawater desalination plant in Europe and one of the largest in the world. This venture between Pridesa and Hydranautics will see 12,096 SWC3 (Seawater Composite) membrane elements operated in 10 trains producing 120,000 m3/day (32 mgd) of desalinated water from the Mediterranean Ocean. The plant, Carboneras, located on the southeast coast of Spain, is being built to supply desalinated water to their large agricultural area and potable water to the urban areas.
The most prominent opportunities are on islands such as the Canaries (Spain) and Greek islands where access to fresh water is virtually non-existent. Large hotel complexes and associated infrastructure that goes with modern tourist development are particularly water hungry. Significantly, most of the water demand in tourist-dependent areas is seasonal, being concentrated in the summer months. Desalination plants are ideal for the provision of additional water supplies because plants can be literally turned on or off as required.
Membrane desalination plants account for most market revenues, a trend that is expected to continue in the region. Several larger-scale membrane desalination plants are expected to start to come online as the governments in these southern European countries look towards new methods to augment drinking water supplies.
Who's who in the market?
Many companies within this market do not specialise solely in desalination plant construction. For example, Hitachi Zosen of Japan constructs a wide range of different plants from fertiliser to chemical and petrochemical plants, alongside their core business of shipbuilding. These companies, also featuring Doosan Heavy (previously Hanjung) of Korea, Mitsui of Japan and Ansaldo from Italy tend to specialise more heavily in the construction of large-scale thermal desalination plants that provide so much of the potable water supply to Middle Eastern markets.
Many companies in the desalination market specialise within the water industry and its associated services. Companies such as Metito, Degrémont and Ionics all feature strongly within the desalination plant market, yet also supply a range of other water and wastewater plants, equipment and services, all being fairly large players on the world stage. These companies feature most strongly in the membrane desalination plant markets, perhaps through their experience of this technology for the treatment of water and wastewater.
Companies focusing on the desalination plant industry often tend to be subsidiary concerns of larger companies that feature in construction and/or water treatment markets. Weir Westgarth, one of the longest-established companies and a key player in the global market is part of the Weir Group, a UK-based global mechanical engineering company. Sidem of France is part of OTV, which is part of the Vivendi Group, the global environmental services and communications company.
The number of competitors in the market is expected to increase as the number and size of desalination plants grows. This intensification in competition will be good for technology development and can maximise plant efficiency, thereby reducing the cost of desalinated water and make it a more attractive option to customers.
Author's note
Matthew Barker is an industry analyst in Frost & Sullivan's Water Group in London. He can be contacted at matthew.barker-@frost.com. Frost & Sullivan's report "Europe, Middle East & North Africa Desalination Plant Markets " is available now.