Technologies & Products
The Sanimax® pumps liquids containing non-faecal solid particles up to a maximum of 30 mm depending on the specific pump model.
Aug 1st, 2002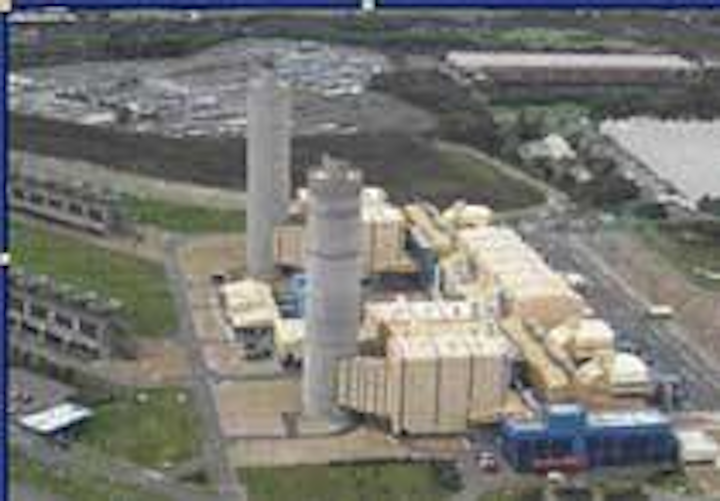 Wastewater lifting station solves removal problem
The Sanimax® pumps liquids containing non-faecal solid particles up to a maximum of 30 mm depending on the specific pump model. ABS' newest generation of Sanimax is a complete wastewater pumping unit fitted with an ABS submersible pump from either the Robusta™ or MF ranges.
Its compact triangular design saves space, and its tank is manufactured from a white synthetic material to blend into bathroom surroundings. Sanimax features automatic level control and can be used with domestic washing machines and showers. Various inlet ports provide installation flexibility. The pumping unit solves wastewater removal problems in utility, fitness or hobby rooms below the level of the main gravity sewer.
ABS
Mölndal, Sweden
DO monitoring system reduces corrosion at power station
Two dissolved oxygen (DO) monitoring systems from the UK company Pollution & Process Monitoring Ltd (PPM) help reduce corrosion in its plant at the Didcot B power station in the UK.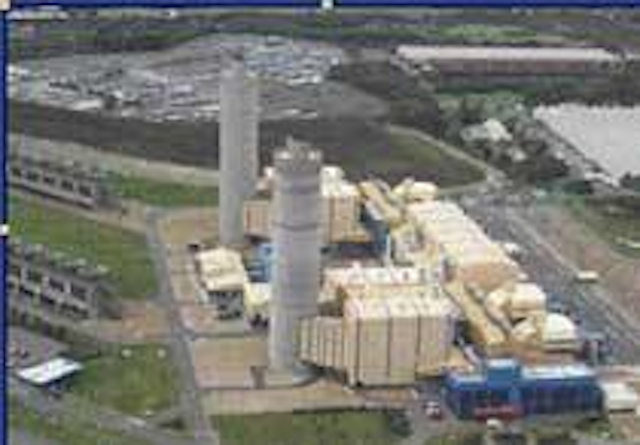 Click here to enlarge image
Boiler water containing low concentrations of DO can create problems since dissolved gas can corrode pipe-work steam turbine and boiler systems. Boiler water may be chemically treated to remove unwanted contamination and inhibit the oxidisation process. Hydrazine can be carefully dosed to scavenge the DO; however the DO concentration must be accurately measured at trace concentrations, from five parts per billion (ppb), to ensure that the hydrazine dose is properly controlled.
Didcot B relies on two WTW trace level DP systems, each featuring a Trioximatic 702 sensor along with a Technoline controller and stainless steel flow cell, to check the efficacy of any dose. Monitors sample the condenser outlet water. PPM supplied the systems.
Didcot B, operational for four years, is a gas-fired combined cycle gas turbine plant (CCGT). The PPM systems help protect the station's Nooter Ericson boilers by monitoring DO levels in the boiler feed water, which comes directly from Didcot's own demineralisation plant. "Using the PPM equipment, we are now able to monitor DO in the water at 0 to 100 ppb to a resolution of 1 ppb. Typically we expect to see 20 ppb," Mick Furby, C&I maintenance engineer, said.
Pollution & Process Monitoring Ltd.
Sevenoaks, Kent, UK
UV with germicidal lamps disinfect feed water
Low-pressure mercury lamps (germicidal) that take advantage of UV output at 253.7 nanometres inhibit bacteria and moulds. Starna Industries and associate SY Technologies supply bakeries with custom-configured UV systems that include germicidal lamps to ensure bacteria-free areas. The process is useful where contamination by yeasts and moulds can interfere with production.
UV with germicidal lamps can be used for disinfecting feed water for process equipment, such as spray cooling systems and heat exchangers, and for bottle washing plants where the rinse cycle can introduce contaminating bacteria. UV kills 99.999% of unwanted micro-organisms, including Legionella, Pneumophila, and Erischia Coli.
Starna Industries Ltd.
Romford, Essex, UK
Trenchless revolution changing utility industry
The utility industry is increasingly moving towards the "trenchless revolution" making pipeline replacement and repair much easier and less costly, according to Michelle Fleming, product manager for the UK company Wavin Plastics.
"The decay of existing infrastructure and the expansion of urban areas are changing the way our underground utilities are installed, maintained, repaired and replaced. Conventional excavation techniques, particularly in urban areas, are meeting with increasing criticism for their social, environmental and economical impact.
New underground construction capabilities such as trenchless technologies are enabling contractors to lay, rehabilitate and upgrade pipe and cable without digging open trenches or altering the landscape of the construction industry. Aside from obvious aesthetic benefits, trenchless methods save significant amounts on construction and restoration costs, eliminating delays often associated with the older open trench technology and even enabling lengthy projects to come in on-time, on-budget and often under-budget."
Wavin Plastics' Neofit system allows old service pipes to be restored without the need to open cut, trench mole or remove pipes. Based on lining existing lead pipe with Polyethylene Terephtalate (PET) tube, the system covers any holes in damaged pipes or eliminates contact between the lead and drinking water. By inserting the tube into the pipe and inflating it to OD x2.2 using an automatic expansion unit, the system provides an immediate barrier.
Wavin Plastics
Chippenham, Wiltshire, UK
Pump design helps trim municipal treatment costs
A new series of K pumps help meet cost-reducing mandates in municipal water and wastewater treatment plants, according to pump manufacturer Pumpex, Inc. Models K-89, K-103 and K-153 are designed with an improved cooling system, especially for use in a dry pit system. All three models are built on the same size frame and use the same spare parts, improved hydraulics, a choice of impeller types and curves and FM explosion-proof motors. These models reduce inventory requirements.
The pumps feature a volute design with four quick release bolts to make a tight, strong volute connection with no parts to work loose or to get lost. The 6-inch Model K-150 pump was redesigned as a smaller single- or three-phase pump. Adjustable wear rings permit owner personnel to adjust clearance between the casing and the impeller.
Pumpex, Inc.
Lebanon, New Jersey, USA
Pump designed for seawater RO systems
The new 5CP Plunger Pump delivers 6 gpm up to 2,000 psi and features a 316 SSL corrosion-resistant split manifold. Designed for continuous duty reverse osmosis systems, the 5CP pumps are almost maintenance-free, according to its manufacturer Cat Pumps.
The pump incorporates standard components found in all Cat Pumps -
• concentric, high-density, polished, solid ceramic plungers and Hi-Pressure Seals, housed in 316 Stainless Steel cast (SSL) manifold head;
• chrome-moly forged crankshaft and high-strength connecting rods.
The 5CP is available as a direct-driven pump and motor unit or as a custom-engineered and tested power unit. It includes a heavy-duty 2 mill epoxy powder coated, 3/8" steel base with 1/4" channel steel bracing, drive (electric, gas, hydraulic, gearbox or diesel), pump, pulleys, belts and system accessories.
Cat Pumps
Minneapolis, Minnesota, USA
Barrier pipe used in contaminated land
The Puriton barrier pipe system provides full protection for conveying potable water through contaminated ground. Puriton is a multi-layer composite pipe developed to supply drinking water through contaminated land. The longitudinally-welded aluminium core pipe features inner and outer layers of polyethylene (PE). Puriton provides an impenetrable aluminium barrier to the permeation of contaminants for the whole length of the pipe, even when it is stressed during bending. The pipe can be bent and formed using the same techniques as for copper pipes; this saves the need for bends and elbows. The inner and outer plastic layers eliminate corrosion and encrustation and reduce head losses.
Uponor
Environment & Infrastructure Division
Hilcote, Derbyshire, UK
BOD sensor system mercury-free
The Aqualytic® BOD-OxiDirect sensor system permits exact measurement of the Biochemical Oxygen Demand (BOD) based on the respirometric principle. All results are shown in a big display directly in mg/l BOD with the need for conversion using factors. In addition, the measuring period can be user-selected between one and 28 days.
The unit measures BOD levels via the pressure drop in the closed system during a defined period of time. Following measurement, results are stored and can be called up to the display at any time. The inductive stirrer system mixes the sample and ensures optimum gas exchange between sample and gas space in the sample flask.
Aqualytic
Langen, Germany
Open channel meter requires no cleaning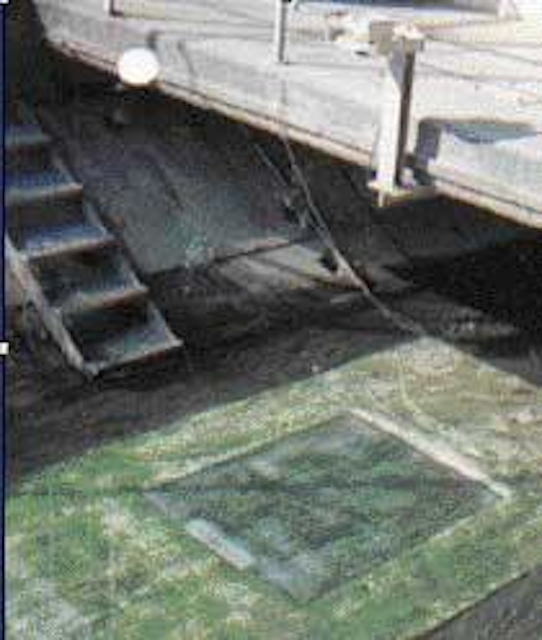 Click here to enlarge image
The Channel Mag, a magnetic "area x velocity" flowmeter system used in open channel systems, does not require any site calibration or cleaning. The mean velocity measured with the meter is offered in 8-in to 72-in widths. ChannelMag may be bolted to the bottom of existing channels or standing wave flumes to check on critical flow applications.
Large sensors account for the variation in velocity profile and true volumetric flow is measured without correction factors. Both flow and level sensors are calibrated in a long tow tank over the specified velocity range. NIST traceable calibration certificates are issued with each ChannelMag. Height is measured with an IP68 temperature-compensated ultrasonic level sensor.
AFTCo's pulsed AC technology produces a signal to noise ratio 50 times greater than conventional magmeters. The electrodes may be permanently covered with sewage grease, calcium carbonate, sediment and other debris and never need cleaning with no detrimental effect on accuracy. The ChannelMag microprocessor offers two-way communication with a modem. The logger records data in a tabular or graphical format of flow rates, flow totals, temperatures and peak events.
Arkon Flow Systems
Manchester, England
Coating system protects thickener-clarifier tanks
Two linings from ITW Devcon Engineered Coatings, when used together, protect metal-walled, concrete-floored thickener and clarifier tanks from abrasion and corrosion. VE 9300, a vinyl ester-based glass flake system provides chemical and permeation protection of steel walls, while Iraseal 200trademark, a polyurea spray elastomer, seals and protects concrete floors from chemical attack and abrasion. Either system may be used alone, but using them in combination takes advantage of each while providing a flexible joint between the concrete and steel interface.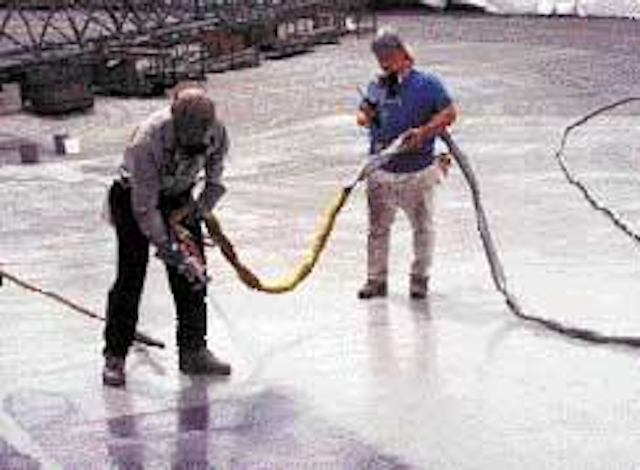 Click here to enlarge image
VE 9300 linings can withstand temperatures as high as 266°F wet and 350°F dry. A typical system consists of a primer, two mid-or build-coats and a top coat. Iraseal 200 is a polyurea system that offers resistance to mild acids and caustics, hydrocarbons, water and wastewater. A 100% solids coating, it has a gel time of seven seconds, can be built up to any thickness in a single application and can be put into light-duty service in two hours.
ITW Devcon Engineered Coatings
Danvers, Massachusetts, USA
Sealless pumps reduce risks
Sundyne Corporation released a technical brief on high temperature heat transfer oils and the ways in which this data applies to its sealless pumps. The brief discusses leakages from or into heat transfer systems, pointing out that a principal source of such leaks are mechanical seals. It lists various hazards created by leaks including health hazards, fire hazards and operation problems, such as the cost of clean up and replacement fluid.
The Sundyne Canned Motor Pump offers several configurations to meet manufacturers' needs. The HT (high temperature with cooling) configuration allows process fluid to be recirculated within the motor section via an auxiliary impeller, with an integral shell and tube heat exchanger to maintain cool fluid temperatures (71°C) within the motor.
Sundyne Corporation
Arvada, Colorado, USA
Toilet separation reduces water consumption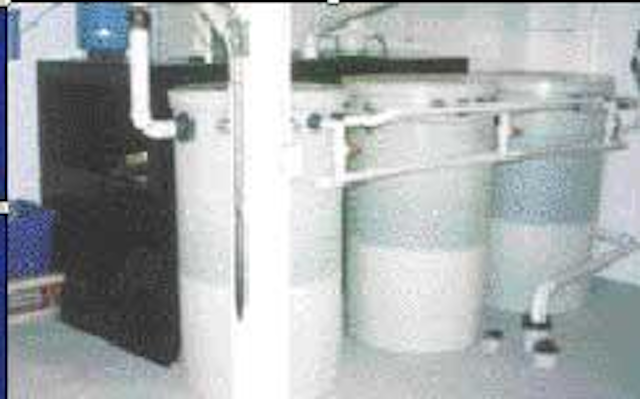 Click here to enlarge image
Separation and treatment technology patented by the US company Equaris Corporation reduced water consumption by 40% and achieved reductions in TSS and BOD5 (94%), total organics (83%), total-N (90%) and a 1,000-fold reduction in fecal coliform (in grams per day) in tests conducted by Olmsted County in Rochester, Minnesota.
Equaris patented four systems that provide total treatment of greywater and safe water quality for recycling in landscaping/irrigation or "bottled" water quality for total household reuse.
The Bio-Matter Resequencing Converter (BMRC) biologically converts (composts) 90% to 95% of all toilet and kitchen garbage disposal organic waste into odourless carbon dioxide and water vapour. The BMRC can handle up to 12 adults full-time and accommodate higher numbers for brief periods.
Greywater can be plumbed to a series of separate polyethylene settling and treatment tanks. This system consists of a surge tank for flow control, an aeration tank to produce aerobic conditions and a clarification tank to return the settled solids back to the surge tank. A 67-watt air compressor provides air to continuously supply oxygen and circulate greywater. By separating the toilet flow from greywater, water consumption and greywater treatment is reduced from 75 gallons of co-mingled wastewater to 40 gallons of "separated" greywater per person per day. The estimated treatment capacity of each greywater treatment system is 400 gallons per day.
For total greywater recycling, it flows into a storage tank that is aerated with ozone to kill bacteria. High- and low-level float switches control the operation of the Household Water Filtration and Recycling System (HFRS) to make potable water using a high-pressure pump, which directs the ozonated water through filters, ultraviolet light, ultra and carbon filtration, another UV light and reverse osmosis. The processed water is then stored in the potable water storage tank, which supplies water to the entire household using another pump, UV light and a .2-micron filter.
Equaris Corporation
Plymouth, Minnesota, USA
Pneumatic stoppers allow pipework
The pneumatic stopper type FOG-SC carries out pressure tests of pipes. The pneumatic stopper type FOG-NC temporarily plugs circular section pipes, such as sewer and drainage lines, in order to totally separate the section of pipe containing the liquid from the section where it is necessary to carry out repairs or maintenance work.
Both pneumatic stopper types can be inflated with air or nitrogen through a flexible hose fitted with a valve and safety vent valve. Both stoppers are made with synthetic fabric coated on both faces with plastomers resistant to water-based and non-corrosive liquids, and are fitted with handles for positioning into the pipeline.
SO.CA.P
Lissone, Italy
UV lamp range expanded
A new virtual reality and satellite-based GPS technology system, which will allow utility workers to "see" underground, has been developed by academics at the University of Nottingham in a joint project by the School of Chemical Environmental and Mining Engineering and the Institute of Engineering Surveying and Space Geodesy.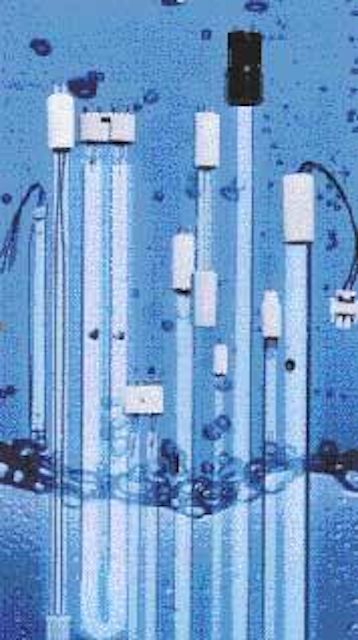 Click here to enlarge image
The technology uses information stored on computers about what lies beneath the surface to overlay a graphic of this on to what the person is actually seeing through a pair of specially-developed binoculars. It allows the person to go out in the field and see the image and the real world simultaneously to locate features positioned below the surface of the ground, from water pipes to electricity cables.
UK-based Yorkshire Water is providing support to the research team and funding towards a prototype. Mike Turner, manager of asset records (AR) at Yorkshire Water, said: " Water utilities spend a considerable amount of time maintaining underground pipes and the recording of information about this work is complex. AR will close the loop on this process and provide the engineers and field workers with the information that they need."
University of Nottingham
University Park, Nottingham, UK
Utility workers see underground
Heraeus Noblelight expanded its range of low-pressure UV-C lamps, which are used in water, air and surface disinfection applications by introducing a new series of low pressure lamps that offer higher UV-C output. The new NNI series features the Heraeus Goldspot Amalgam lamp that is available in a power range of 50 to 300W. The lamps provide a radiation flux of 0.6 W/cm. The new lamps can be used at higher ambient temperatures up to 60°C.
Heraeus Noblelight Ltd.
Bromborough, Merseyside, UK