Sustainable solutions to water scarcity
Integrated Water Resource Management through reuse and aquifer recharge promotes long-term sustainable solutions to water supply and wastewater issues in urban California and South African townships.
Oct 1st, 2002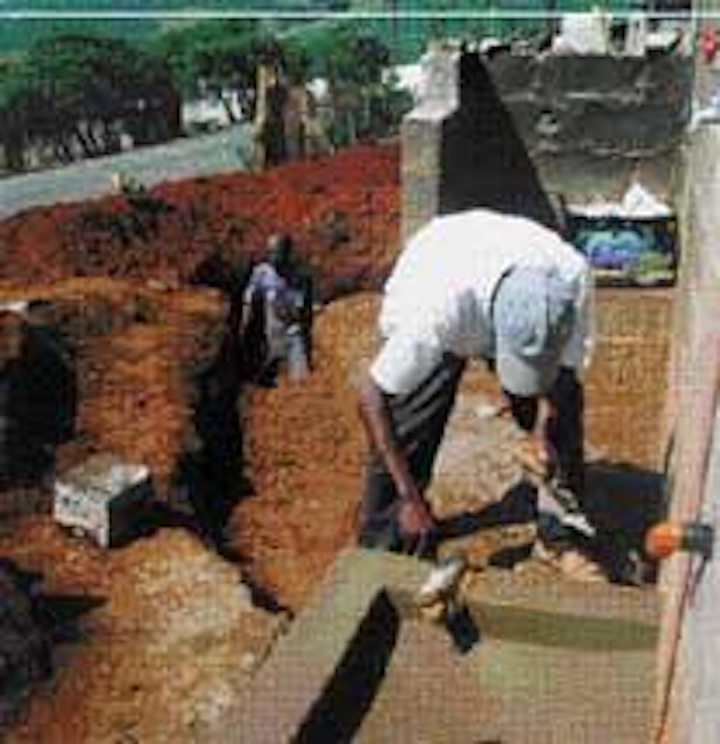 By: Bruce Durham, Stephanie Rinck-Pfeiffer (PhD), and Dawn Guendert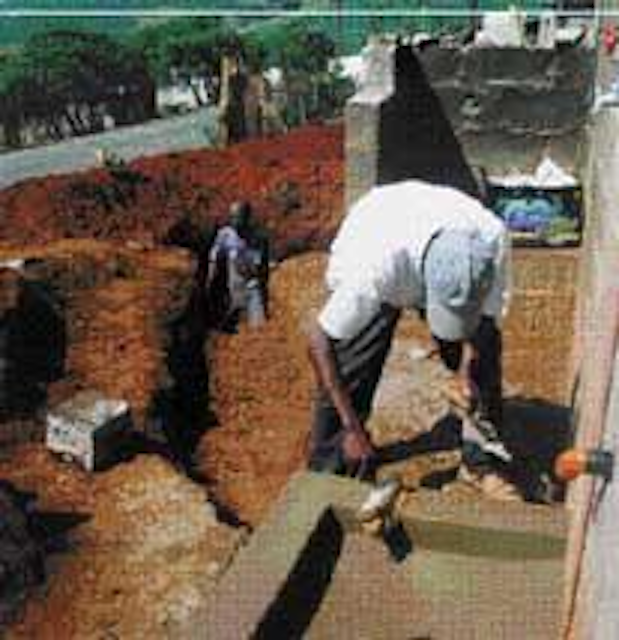 A local contractor finishing concrete work at a public water tap.
Click here to enlarge image
Integrated Water Resource Management through reuse and aquifer recharge promotes long-term sustainable solutions to water supply and wastewater issues in urban California and South African townships.
Integrated Water Resource Management (IWRM) is becoming recognised as the only sustainable solution to water scarcity. This holistic water resource approach, referred to as the Dublin - Rio principle (UNCED Rio de Janeiro 1992), highlights that freshwater is finite, vulnerable and essential to sustain life, economic development and the environment. Water development and management should be based on a participatory approach, involving users, planners and policy makers at all levels.
Water production and consumption growth rates in many regions are clearly unsustainable. For example, analysts predict that eleven countries in the Mediterranean region will have consumed more than 50% of their renewable water resource by 2010. In 2025, this percentage is predicted to exceed 100% in eight countries and more than 50% in three others. Currently, an estimated 427 million inhabitants reside in the 21 Mediterranean coastal countries. Some 145 million live near the sea with an additional 180 million tourists each year. By 2025 the population is expected to increase by 17% to 19% and the tourist population by 40%.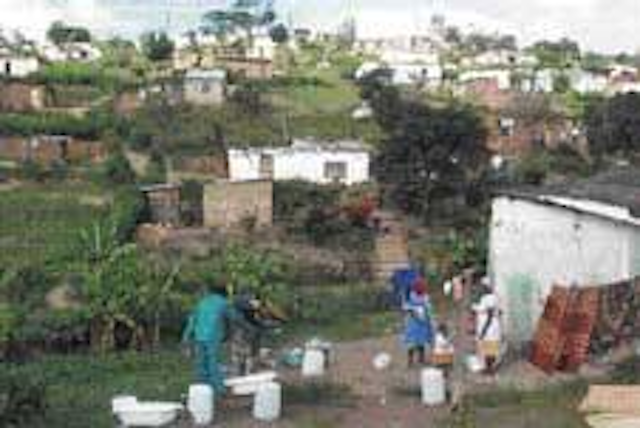 Residents of Amatikwe, South Africa using community standpipe.
Click here to enlarge image
The long-term effects of climate change, evidenced by a proven increase in average temperatures and rainfall reduction in the region, calls for water professionals with political support from government leaders, to optimise water resource management and increase desalination and water reuse.
IWRM promotes a holistic approach for the finite water resource that considers all users, planners and policy makers. One practical benefit that resulted from numerous high-level environmental conferences is an increase in communication and initiatives between municipalities, non-governmental organisations (NGOs) and private enterprise. For example, the KwaZulu-Natal pilot project in South Africa demonstrates that this tri-sector partnership brings added value to both township communities and to all three parties. These informal settlements provide homes for 26% of the population in Durban.
The worldwide Business Partners for Development (BPD) programme, established by the World Bank in 1998, includes this pilot project. Vivendi Water, with their project partners — Durban Metro, City of Pietermaritzburg, Umgeni Water, Mvula Trust (NGO) and Water Research Commission - installed and operate a new water distribution network for the townships in Durban and Pietermaritzburg. The partnership also trains employees to operate the system.
The water system implemented in the KwaZulu pilot project includes low-pressure water distribution that continually feeds a potable water tank in the customer's property with a maximum of 200 litres per day. Trained water bailiffs selected by the community manage the system in addition to standpipes available for those who are not connected to the low-pressure system. Trained local staff works with water bailiffs to provide maintenance. Customers using less than 200 litres per day are supplied free of charge following an initial US$ 24 connection fee.
Durban Water Recycling (DWR) is a Durban Metro — Vivendi Water public-private partnership that provides a 20-year build-own-operate and transfer service to Durban Metro, which started operating in May 2001. Primary sewage is treated and reclaimed water is repurified at 47,500 m3/day. This recycling system treats seven percent of the wastewater being discharged to the sea and guarantees a low cost, high quality industrial water supply to the MONDI Paper mill and the SAPREF Refinery.
These sustainable solutions in Durban provide the following benefits:
• Community partnership with affordable water supplies in poor informal settlements;
• Making available an additional eight percent of potable water for the community;
• Guaranteeing lower water costs to industry (25% than potable);
• And reducing flow to an overloaded long sea outfall, thereby extending its life.
By 2004, the 330,000 m3/day groundwater replenishment project at Orange County Water District's (OCWD) Water Factory 21 in the US state of California will purify for reuse highly treated wastewater that is currently discharged to the ocean. The project will provide a drought-proof water resource for industry and irrigation, reduce wastewater disposal to the sea, and provide clean water to inject into deep groundwater aquifers to prevent seawater intrusion. The OCWD plans to eventually expand capacity to 405,000 m3/day.
Over abstraction of groundwater resulted in saline ingress up to eight kilometres inland along the Californ-ian coast in the 1950s. Consequent-ly, three fresh water injection barriers were created to control saline ingress. Imported fresh water has been injected for more than 40 years and for 25 years repurified wastewater treated to drinking water standards has been used to provide saline ingress control and aquifer recharge for indirect potable use.
The Orange County Water District (OCWD) supplies approximately two million people with potable water. The population is expected to increase to almost three million within the next 20 years. To meet the increased demand, OCWD and Orange County Sanitation District (OCSD) developed a cost-effective solution to provide a supplemental source of high quality water. The two agencies are sponsoring this water purification project, known as Groundwater Replenishment System (GWRS), to purify for reuse additional highly treated wastewater.
Secondary wastewater from OCSD will be treated through microfiltration, reverse osmosis and ultraviolet disinfection. Approximately 80% of the potable quality water produced by the GWRS will be piped 21 km to the OCWD recharge facilities, while the balance will be used to expand the existing seawater intrusion barrier.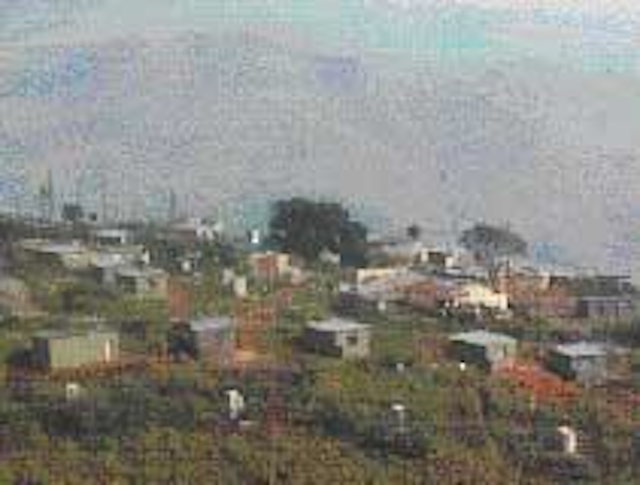 Newtown, South Africa benefits from KwaZulu-Natal pilot project.
Click here to enlarge image
The aquifer recharge project provides 75% to 80% of the potable water source for the area through direct injection and surface percolation ponds in the Santa Ana river basin. The GWRS will be capable of supplying approximately 22% of the water needed to recharge the ground-water basin by the year 2020.
In 1992 OCWD confirmed that the key issue to be resolved was identifying the most effective RO pre-treatment solution based on their 16 years experience of operating RO on lime clarification and rapid gravity sand filtration. This experience led to the long-term pilot study (> 53,000 hrs) at their world-renowned test centre so that they could select and budget for their 405,000 m3/d system.
Reclaiming secondary sewage with the GWR system consumes 1.21 kWh/m3 compared with imported water from Northern California or the Colorado river at 1.82 to 2.82 kWh/m3. Wastewater reclamation will also delay by 10 years a US$ 150 million investment in a new ocean outfall.
The OCWD selected the USFilter-Memcor CMF-S submerged microfiltration system for its RO pretreatment following extensive studies.
In the Fall of 2002, USFilter begins its first stage of construction of a temporary CMF-S system that will process 25,000 m3/day. This system will be incorporated into a 300,000 m3/day permanent treatment system fed with 327,000 m3/day of microfiltered water.
Integrated water resource management needs a holistic long-term approach that must be supported by legislation, quality standards and international finance to facilitate project completion. This is helped when one governmental water agency is responsible for all water resource issues - ranging from freshwater to wastewater treatment - rather than separate regulators responsible for a single part of the total solution.
Increasing global experience in large high-efficiency systems continually reduces water production costs. Lowering the cost of power, finance, equipment and membranes is the key to maximising opportunities for sustainable projects. Hybrid systems provide real benefits by taking advantage of the process synergy between power generation, desalination, reuse and aquifer recharge in one system. These innovative solutions enable water-scarce coastal cities to move rapidly towards Integrated Water Resource Management.
Author's note
Based in Wirksworth, Derbyshire, UK and at the Paris headquarters in France, Bruce Durham is the Alternative Resource Manager for Vivendi Water. Stephanie Rinck-Pfeiffer (PhD) is the project manager of Groundwater Resource Management for KompetenzZentrum Wasser Berlin, based in Berlin, Germany. Dawn Guendert is the Memcor CMF-S product manager for USFilter, based in Colorado Springs, Colorado, USA.
---
Wastewater reuse benefits community
• Planning for a sustainable future requires reliable knowledge of resource available, recharge, future demand and a positive involvement of the community.
• Partnerships provide affordable water supplies to poor communities by building on local experience and skills.
• Increases availability of potable water and reducing water cost by repurifying wastewater for industry and irrigation.
• Provides drought-proof water resource through reuse.
• Helps grow cash crops and creates employment in areas blighted by soil salinisation.
• Positively controls saline ingress and recharges aquifers to create sustainable water resource.
• Reduces wastewater disposal to sea and protects bathing beaches
• Supports tourism industry through irrigation of landscapes and golf industry with repurified water.