Rainwater harvesting trend shifts to urban centres
Rainwater harvesting and affordable purification units that require no energy, such as the AquaEst International's RainPC, can supply clean drinking water for islands, remote rural villages and urban centres.
Oct 1st, 2002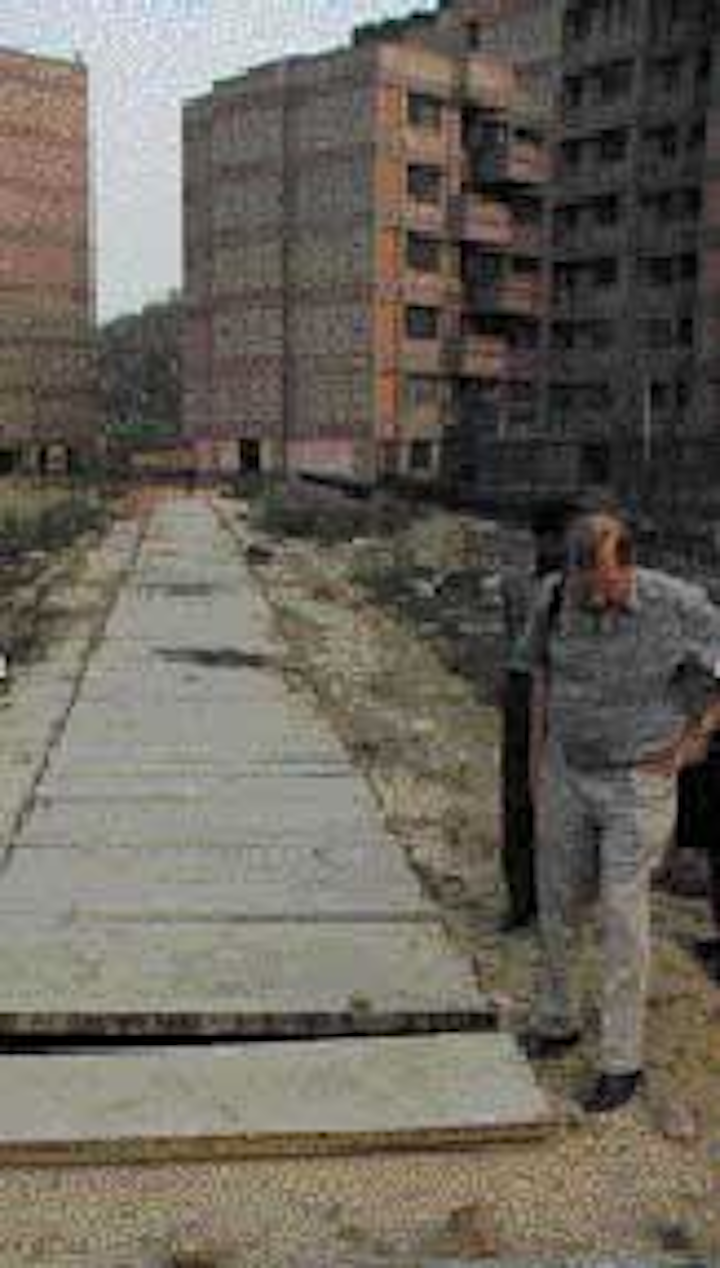 By Willem P. Boelhouwer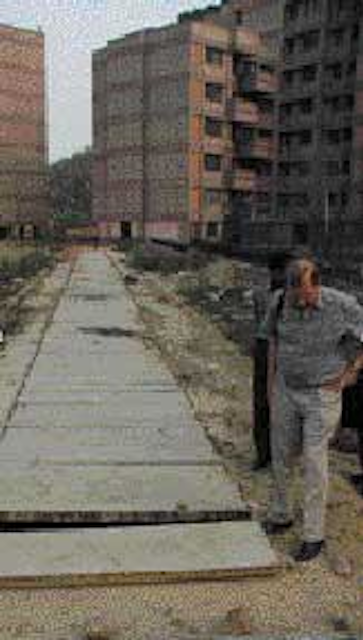 Rainwater harvesting structures are built into new housing projects in Delhi, India.
Click here to enlarge image
Large-scale, multi-million dollar piped network projects in densely populated areas attract most of the financial and technical resources of international companies. In contrast, rainwater harvesting projects so far have been less profitable, small-scale endeavours implemented almost exclusively in rural and remote areas.
This concentration, however, is shifting. India and Brazil, for example, now apply rainwater harvesting techniques in urban areas. Municipal regulations in both countries mandate that rainwater harvesting facilities be incorporated into new housing projects in the cities of Delhi, Chennai (Madras), Rio de Janeiro and Sao Paulo. Few enterprising organisations are beginning to enter this growing global market to develop new products for rainwater applications.
Yet the business community has failed so far to grasp this opportunity and recognise its potential. Raising corporate interest requires incorporating state-of-the-art technology in rainwater harvesting systems, but the appropriate technology and products must be available at an affordable price. Local needs must be met in addition to the need for distribution on a global basis. Most importantly, the use of rainwater - a primary source of water and less contaminated than most surface and groundwater sources - must be promoted to business, government and consumers.
Research has shown wide differences in the cost of water supply across the world. The cost of piped potable water supplies in Jakarta is US$ 0.50 m3 compared to Germany, where the cost per m3 is US$ 6 and more for mobile sales. Bottled water prices are just as varied and can start from US$ 400 m3. On that basis, the Dutch Rain PC (Purification Centre) is a cost-effective alternative at US$ 2- $3/m3 for providing a clean, safe drinking water supply.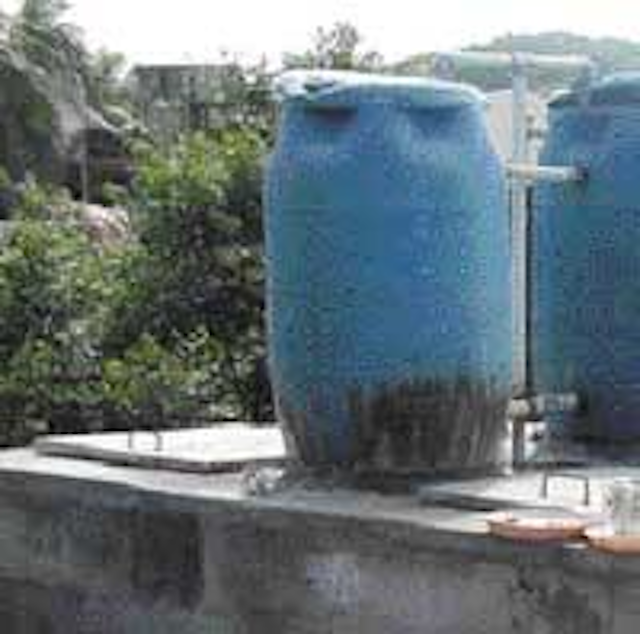 Rooftop rainwater harvesting in Chennai, India.
Click here to enlarge image
More importantly, it allows the individual to solve the water problem. No longer is one dependent on a piped network or permission to access water from someone else's land or water source.
Decentralised water sources should create a liberating effect. As the saying goes: Give a man a fish and he can eat, but show him how to fish and he will eat for a lifetime. Could it be that municipal government and water authorities are afraid to give them freedom of choice for reasons of water quality or business interests? Are large piped networked systems the only answer?
Many solutions are available. In particular, low-cost rainwater harvesting is a simple idea, giving the individual or small community the opportunity to take responsibility for their own water supply.
Rainwater may contain pollutants and bacteria gathered in the atmosphere, and from the surfaces on which it falls and is stored. Modern water purification techniques can remove pollutants and bacteria. One such example is the AquaSure Rain PC, developed in The Netherlands, which is a small compact unit that filters and purifies up to 40 litres an hour, eliminating virtually all bacteria and taking out heavy metals. One set of cartridges can be used to at least 20,000 litres before it has to be renewed. The same cartridges can be regenerated and used nine times. The unit connects to a rainwater harvesting tank and purifies the water at a steady flow from 0.1 bar gravity pressure upwards, converting rainwater into clean, safe drinking water without a power supply. It can also operate on pump pressure if needed.
The International Rainwater Catchment System Association and the Centre for Science and Environment (India) have promoted the benefits of rainwater harvesting at many international conferences for many years. The growth potential of this market for the global business community will also be covered at the Third World Water Forum to be held in Osaka, Japan from 16 to 23 March 2003. For more information on this topic, contact their websites: http://www.IRCSA.org and http://www.cseindia.org.
Author's note
Willem P. Boelhouwer is founder and managing director of AquaEst International, located in Zwolle, The Netherlands. He is representing IRCSA for The Netherlands, member of the German Rainwater Utilisation Association and American Water Works Association. For more information, contact the author at Email: WillemPBoelhouwer@csi.com