Thames Water Titan Keeps London Flowing
Supplying water services to 25% of the UK's population, you could say Thames Water CEO Martin Baggs is under a lot of pressure.
Jul 1st, 2012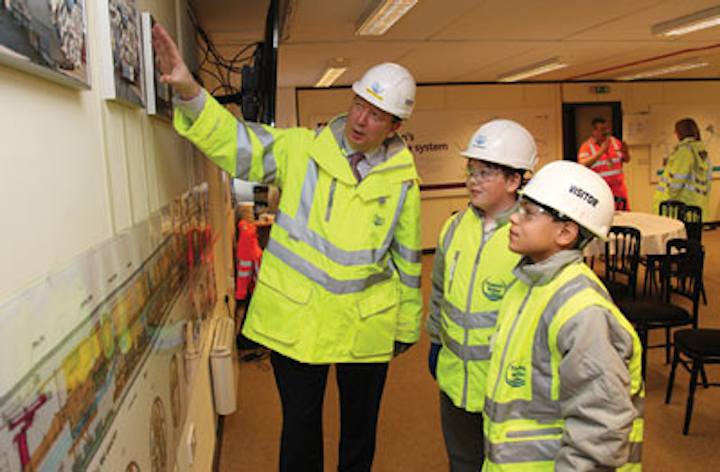 Supplying water services to 25% of the UK's population, you could say Thames Water CEO Martin Baggs is under a lot of pressure. With the Olympic Games attracting thousands of visitors to London following drought conditions, can the water network cope? Here he speaks to Tom Freyberg about the suggested north-south country water pipeline and controversial £4.1 billion Thames Tunnel project.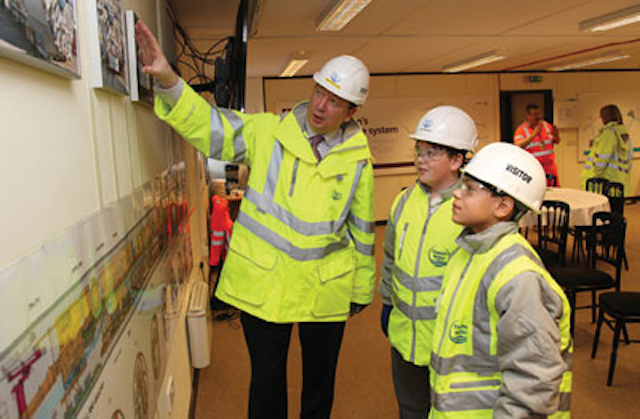 Engineers of tomorrow: CEO Martin Baggs talking children through the utility's operations
It hasn't been an easy start to the year for Thames Water, the UK's largest water and wastewater utility. Two unusual years of dry conditions, exacerbated by a dry March, led the utility among others to enforce a hosepipe ban. Or "temporary use ban", to use the correct term. Reports also suggested that the country's first major desalination plant in East London was being fired up for the first time, ready to provide back up water supplies.
And then, during the next month of April, the country received double its usual rainfall. Cue puzzled Londoners, side-stepping puddles and flooded roads while iconic red double decker buses drive past with a "WE ARE IN DROUGHT" message on their sides.
National media efforts escalating drought fears did not help. Some reports reignited the debate about water transfers, including a countrywide pipeline, shifting abundant water supplies from the north down to the water scarce south.
Fast Facts: Martin Baggs
Baggs was appointed chief executive officer of Thames Water in March 2010, having previously served as interim chief executive officer from December 2009. Before joining Thames Water Utilities as a non-executive director in 2006, he was managing director at South East Water, managing the divestiture of the company from Macquarie Capital Funds (Europe) Limited. Prior to that Baggs served as operations and assets director at Southern Water.
Martin has extensive water industry experience covering all aspects of the utility business. He has a recognised successful track record in the delivery and implementation of new initiatives and the leadership and management of diverse functions through organisational change. His past roles have included asset management, operations and the delivery of large construction programmes.
If that wasn't enough to contend with, the utility had only just closed its second consultation on the controversial £4.1 billion Thames Tunnel. The proposal will see a giant sewer tunnel constructed nearly 70 meters below ground, connecting over 30 polluting sewer overflows currently spilling into the Thames after heavy rainfall.
And then there's the day-to-day running of the utility — making sure water is available when consumers turn on their taps and wastewater is taken away, out of sight and mind. Supplying 2,600 million litres of tap water to 8.8 million people, not to mention wastewater services for 14 million customers, it's a large customer base to keep happy.
The pressure of all these challenges and leading this gargantuan water provider falls on the broad shoulders of Martin Baggs (MB). Water & Wastewater International magazine (WWi) caught up with the Thames Water CEO at the Institute of Water Annual Conference to find out how the utility is coping.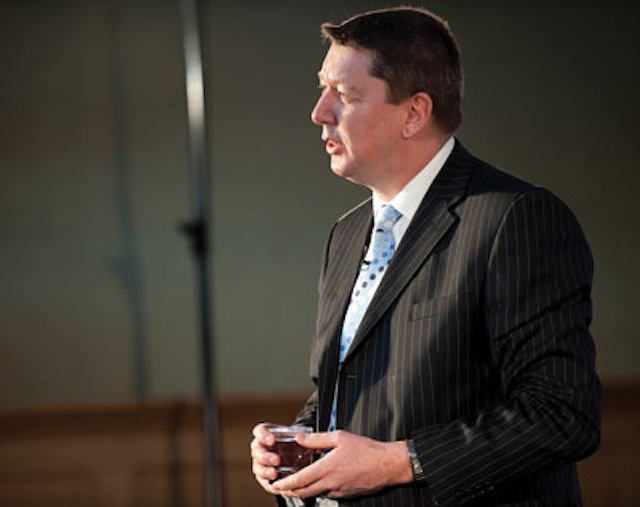 Baggs says that utility water transfer schemes are common in the UK
WWi: We've had two of the driest winters in a row. Lots of rumours suggest the Beckton desalination plant — the first in the country — is now being used? What's the latest on this?
MB: What we have to realise is that we've had two exceptionally dry years. Yes we've had a couple of weeks of rain but are those weeks of rain going to solve the two dry years that we've had? Yes we have put the desalination plant into full commission and have been running it into supply to ensure it's fully operational. It works to ensure that if we do need to use it up to the maximum 150 million litres per day, it can be used.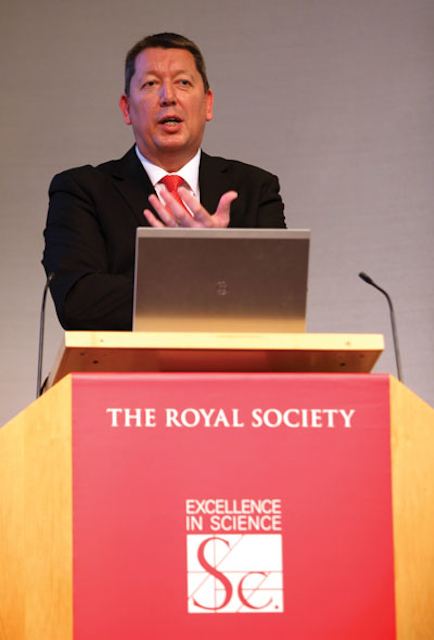 Thames Water supplies tap water to 8.8 million people
I think the desalination plant is very interesting. There's been a lot of commentary in the press about is it the right thing to do, could it have been cheaper, or is there a cheaper alternative? Yes, there is a cheaper alternative than the desalination but was it the right thing to do? Absolutely. It's there as an emergency generator.
Actually if we do need to use it this summer I think I'd rather have it there and I can switch it on rather than a big transfer scheme that can't be delivered, which people are talking about. To me this is theory versus practise. If somebody wound the clock back 25 years ago and said Martin build a big reservoir that would be available for 2012, then I would have gone ahead and built it. We tried. Infact we've been trying for years but people keep questioning whether a new reservoir is a good idea.
Unfortunately it takes about 15 years to build a reservoir: 10 years to get permission and about five years to build it. So I'm actually quite happy we built that desalination plant. And believe me, if we do need that plant this summer, in the middle of the Olympic Games, I think quite a few other people will be happy we've got a desalination plant.
An interesting fact for you: we've seen flows in the river Thames drop to their lowest levels over recent weeks. Only three weeks ago the flows dropped to 700 million litres per day. That sounds an awful lot and it is an awful lot but not for the Thames. After the rain fell in April, that same flow went from 700 million litres a day to 22 billion litres per day. We should have had a reservoir there waiting to capture all of that flow that's gone straight down the Thames and out to sea. People ask me about where's the logic of building a big reservoir in the North East of England and pumping water down hundreds of miles through pipes. Water is heavy; it costs a lot of money to pump. What we should have is storage where we need it so you don't incur the pumping costs.
WWi: How do the costs of desalination compare against other potable water methods for Thames Water?
MB: Certainly the costs are coming down. They are significantly more than some of the traditional treatment methods that we'd like to use. The technology has become far more efficient and actually the treatment processes themselves are becoming far more efficient. You can actually recover a lot of the energy you're using during the treatment process to use it again. Actually the desalination plant is run on green energy — it's run on biodiesel generators, which is another plus.
We're looking to take that to the next stage now. As a company, we're really into green energy. These things work when they make business sense. We are the largest green energy generator inside the M25. We generate in excess of 15% of our own energy. Why does that make business sense? It's because of our huge electricity and power bill - £90 million per year. We can actually use power generated from our own treatment processes to power our plant.
WWi: You mentioned during the presentation that water transfer is not rocket science and was achieved in this country 400 years ago. Why is the water transfer debate going on when technically, we know it can be achieved?
MB: I think there's some myths out there at the moment that water trading doesn't happen. It happens. It's happened for hundreds of years — there are many, many, many transfer agreements between water companies and particularly in the South East of England and they work well. The question of whether they could work better and could there be more of them? The answer is yes. When people talk about the national water grid, we don't need a new motorway network. What we need is a few new bypasses. Rather than a new motorway going from A-D, this is about bypasses going from A-B, B-C and C-D. Because we can join up some of the resources across the region but it doesn't need a multi-billion pound spend that people are talking about.
WWi: What other measures is Thames Water introducing to cope with the thousands of visitors expected into London this summer for the Olympic games?
MB: We're putting a lot of resilience into our systems and that's partly about making sure we've got the right people in the right place at the right time. There are 200 training venues, as well as the Olympic Park, so it's about making sure the support is there for the these facilities.
We are also supporting the games themselves. Water quality sampling is needed during the course of the games for the athletes — that's a huge task in itself. And then there's the day-to-day tasks - just think of the impact of the Olympics on our ability to work across London and get to the streets to fix leaks. Knowing that is going to happen in advance, we have been trying to get ahead of the game on leakage because of the Olympics and because of the drought.
We are currently operating at more than 60 million litres per day below our leakage target. This is in preparation for not only the Olympics but also looking over the horizon at what's going to happen with drought.
WWi: How is the utility gearing up to convince its customers to pay for the proposed £4.1 billion Thames Tunnel super project, especially those that live outside of London whom won't be affected by the project?
MB: We cover a large area — we cover about 25% of the UK population, so we cover everything from London down to Gatwick Airport, right out beyond Swindon and to Cheltenham. Clearly all of our customers have got the average bill across the region. It works both ways.
We've actually built some major new treatment works in small towns that the people across the rest of the region have paid for. For example, if those consumers in the small towns paid solely for those treatment works — it would be a massive bill. Actually that bill was spread across the region.
The Thames Tunnel works in the same way. On average it will add £60 onto the household bill but that is spread right across the region. And this is major infrastructure for the future. We're currently living on a sewer system that was built 150 years ago and while it's in fantastic structural condition quite frankly it's beyond its life. It was built for a population a third of the size of what it is today.
London has not only grown in population but it's also been concreted over. We're currently discharging, on average, 39 million tonnes of raw sewage into the river Thames every year. Irrespective of any European directive, that can't be right and we have to do something about it. So what is the tunnel about? The tunnel is about investing into the future and the next generations. This is going to take the capacity of the sewer system in London and enable it to deal with the next hundred years.
WWi: Another public consultation process on the Thames tunnel was due to end in February this year. What has Thames Water learnt?
MB: We've actually gone through a two-stage public consultation. We've launched the feedback from that consultation and now we're going into a more focused consultation on specific areas. We recognise there's going to be some difficult areas to deal with in certain locations and we want to work with local communities and work with those people.
WWi: You also mentioned the Priority Substances directive and not too many delegates knew much about it. You talked about oestrogen levels and if Thames was to meet required levels, then investment into a whole new laboratory would be needed?
MB: When you look at some of the new directives and regulations being talked about, and they're only being talked about at the moment, you've really got to question the need and value for money. I think that's a big debate to have. Equally from our point of view, with some of these new directives that are coming in for us to clean up the water in our rivers, it's wrong to look at end of pipe solutions. It's wrong just to look at whether we need to build a big new treatment works that will cost hundreds of millions of pounds. What you've got to look at is if there is another way of dealing with the problem. Firstly, can we change what is being put down the sewers or being spread on the fields, can we work with the farmers, can we look at the communities?
WWi: So you're talking about communicating with customers about disposing of pharmaceuticals down the toilet and farmers about fertilisers?
MB: Exactly. We don't have too many farmers in the middle of London! The philosophy is exactly the same, so we're not dealing with the farmers but about dealing with the customers. And it's about driving behaviour. And it's not just about the quality of what they flush down the toilet in terms of waste chemicals but it's also about quantity as well. And you've got to do a full circle on this — look at the impact of what you're taking out and what you're putting in.
WWi: Finally, what should Ofwat do to help drive previous lacklustre innovation among utilities across the UK?
MB: Innovation means change and means doing something different. Innovation means experimenting to a degree. I'm not talking about taking a huge risk but it means taking a greater risk. To take a greater risk you've got to have the right incentive mechanisms in place to encourage companies to innovate. We've become really stifled as an industry where we have these strict regulations to follow these strict standards we have to meet. And if we don't meet those standards we face consequences through penalties.
Do we need those absolutely strict standards? Can we look at relaxing some of those strict standards to enable innovation? I think there's scope to do that both with the economic regulator and environmental regulators.
Author's note: Tom Freyberg is chief editor of WWi magazine. For more information, email: tomf@pennwell.com
More Water & WasteWater International Current Issue Articles
More Water & WasteWater International Archives Issue Articles