Technologies & Products
The metal matrix composite AlSiC (aluminum silicon carbide) provides cost-effective solutions for the thermal management of heavy equipment electronics used in water treatment and waste management facilities, according to CPS Corporation.
Nov 1st, 2005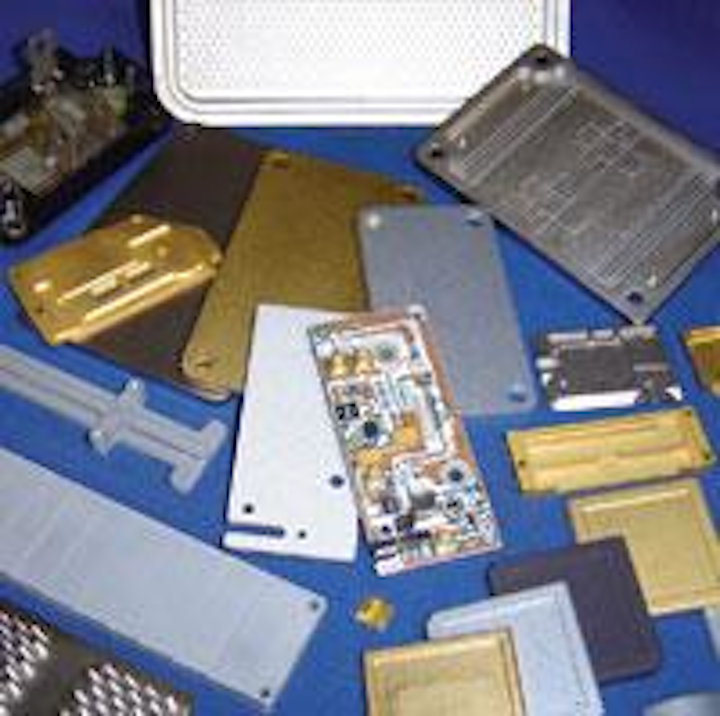 Metal matrix composite solves thermal management issues
The metal matrix composite AlSiC (aluminum silicon carbide) provides cost-effective solutions for the thermal management of heavy equipment electronics used in water treatment and waste management facilities, according to CPS Corporation.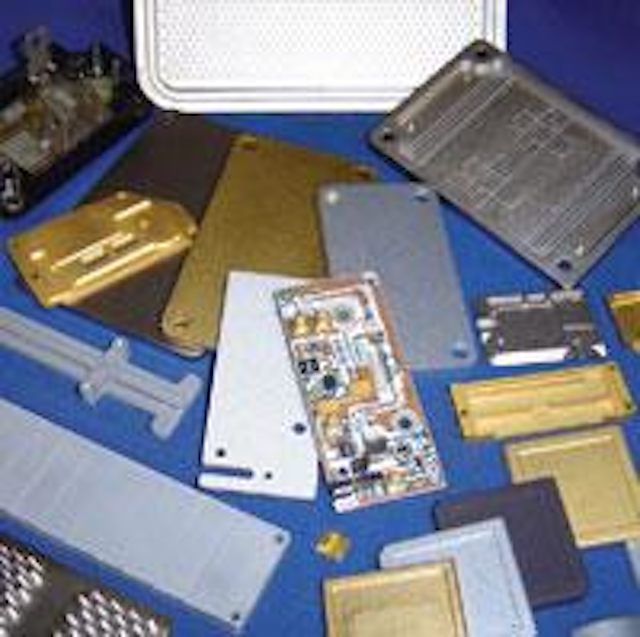 Click here to enlarge image
The material makes AlSiC components lightweight, high strength and tolerant of in-service shock and vibrations that occur in these type of facilities. Unlike traditional packaging materials, AlSiC enables a tailored coefficient of thermal expansion (CTE), offering compatibility with various electronic devices and assemblies. The isotropic CTE value of AlSiC can be adjusted for specific applications by modifying the Al-metal/SiC-particulate ratio. AlSiC's CTE matching capabilities eliminate the need for thermal interface stacking.
AlSiC exhibits high thermal conductivity that results in efficient thermal dissipation. Coupled with its CTE matching, AlSiC's high thermal conductivity prevents the bowing and flexing of packaging and substrate material that can lead to failure. Traditional packaging materials with lower thermal dissipation can cause delamination, leading to air gaps and poor reliability.
The CPS AlSiC near and net-shape fabrication process produces the composite material and fabricates the product geometry, allowing rapid prototyping for high volume advanced thermal management solutions. The casting process enables integration of very high thermal conductivity inserts (>1000 W/mK) or cooling tubes for more advanced thermal management solutions.
CPS Corporation
Chartley, Massachusetts
Rubber check valves protected against rust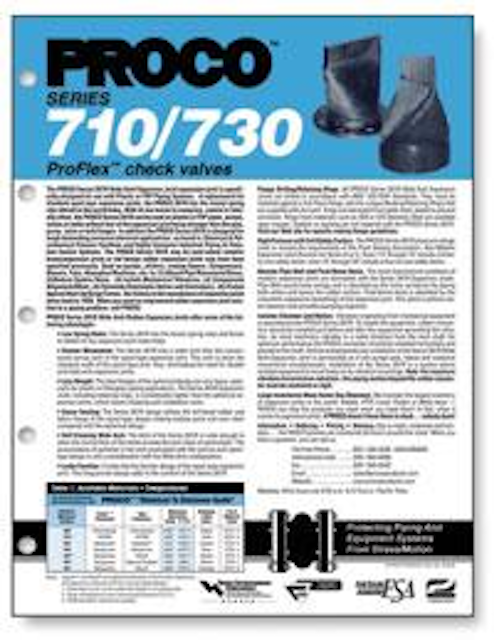 Click here to enlarge image
The ProFlex series 700 Check Valve, manufactured from rubber with fungicide and barnacle-resistant rubber, is impervious to daily operational challenges such as rust, freezing, corrosion, and seizing often affecting check valves used in the water and sewage industry, according to Proco Products, Inc. This check valve is also available with NSF61-approved materials for use with potable water applications.
Proco Products, Inc.
Stockton, California USA
Brawoliner® system renovates Jersey sewers
Since 2004, Bell Services Ltd. installed some 2,000 meters of pipeline using the German-manufactured Brawoliner® system from Karl Otto Braun KG (KOB) on Channel Island, Jersey, UK. The system was used to reline deteriorated pitch fiber and vitrified clayware sewer and surface water pipes across the island.
Bell Services is the Dyno Rod franchise holder for Channel Island. The company worked closely with CJ Kelly Associated Ltd, an independent specialist sewer renovation consultant and KOB's technical representative in the UK and Ireland.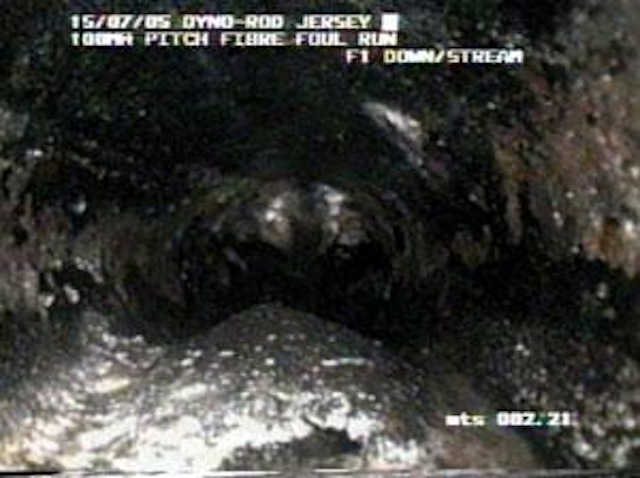 A pitch fiber pipe surveyed before lining.
Click here to enlarge image
Some examples of projects undertaken on Channel Island include the renovation of a 100- mm-diameter pitch fiber pipe, adopted by the Public Services Department, running from a road, across a private property and under a pond that was re-rounded and lined. The pipeline served a number of blocks of flats managed by Rumsey Management, totalling around 50 residences, on a private estate. The sewer system serving the community was originally 6-in-diameter pitch fiber pipe, running at depths between one and three meters, which, on CCTV inspection, showed some deterioration. The original pipeline did need repair or replacement, so Rumsey brought in Bell Services to complete the work.
The project comprised the open cut replacement of some of the pipeline, but large sections of it was rehabilitated using lining techniques. In all, five lengths were lined by employing KOB's Brawoliner system using manhole-to-manhole lining techniques. The lining runs included two lengths of 100-mm diameter that ran beneath buildings, one length of 100-mm diameter that ran under a garage, one 86-m-long section of 150-mm diameter that lay beneath a road and, ultimately, two 45-m lengths further 150-mm diameter. All of the installation sites were in sandy ground.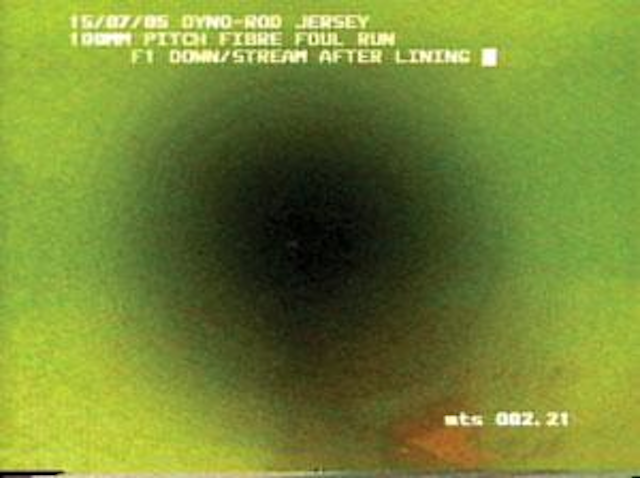 The same pitch fiber pipe after lining with Brawoliner.
Click here to enlarge image
The Brawoliner system uses a seamless lining textile fabric that is applicable to pipes from 75- to 255-mm diameter, with wrinkle-free installation around 90o bends. The system is generally compressed air inverted from an inversion drum and can be used as an ambient or hot water cured installation.
The majority of the installations were completed with relative ease, although prevailing conditions on the 86-m-long run meant created difficulties. Bell Services reduced the length of the final linings by installing a new manhole half way along the proposed length, which allowed the final lengths to be made in two 45-m runs instead of another 90-m shot. The project was successfully completed as scheduled.
KOB
Wolfstein, Germany
CJ Kelly Associates Ltd.
Peterborough, UK
Online turbidity probe improves water control
The TML-25 turbidity probe, developed for use in drinking water purification and water control, is used in applications including groundwater, tanks, pipelines, rivers and lakes. Its controller works without any delay to ensure that no turbid water is pumped into the line system.
The new patented turbidity probe TML-25 is based on a system of 2-channel-90° scattered light measuring at 860 nm. The measuring procedure is in accordance to DIN/EN 27027 and ISO7027.

Click here to enlarge image
The fast data acquisition allows the control system to take immediate effect on the process allowing effective prevention of the infiltration of a measured line. Furthermore for the TML-25 no additional infrastructure is needed in the form of separate pumps or valves. The many mounting designs of the TML-25 allows for installation into pipes of different diameters and/or channels.
Züllig AG
Rheineck, Switzerland
Refurbished crushers help Peruvian dam concrete production
Forming part of a US$ 850 million expansion of the Cerro Verde copper mine in southern Peru, a refurbished Nordberg crusher line from the Finnish company Metso Minerals will be used throughout construction of a two-million m3 dam project. Firth Industries Peru S. A. is building the dam, which is located at the Cerro Verde copper mine in southern Peru.
Firth Industries Peru S.A, a New Zealand-based concrete company, runs several quarries in Peru. After winning the contract for the dam building at the Cerro Verde copper mine, the company opted to refurbish some existing equipment made available at a recently rearranged and streamlined operation at its La Gloria Quarry in Lima, Peru.
Click here to enlarge image
The crushing line at the dam site will comprise two primary crushers, two secondary crushers and two triple deck screens, all supplied by Metso Minerals. A primary crusher, a Nordberg C80 jaw crusher and one of two secondary Nordberg HP200 cone crushers, have approximately 10 years of uninterrupted service.
"We have had no problems with the Nordberg crushers," says Ing. Jorge Luis Rodriguez, Aggregate Operations Manager at Firth Industries Peru S.A, "So we opted for refurbishing them." The main parts exchanged were the mainframe, adjustment rings and heads.
The Nordberg C Series jaw crushers are based on a modular, non-welded frame construction that provides numerous mounting possibilities. The crusher features cast steel components and spherical roller bearings, for high crusher availability, cost-efficient crushing and low cost per ton, according to Metro Minerals.
The Nordberg HP series have wear protection of all crusher components for low maintenance costs. This includes protection of replaceable head ball, mainframe seat liners, mainframe pin bushings, countershaft box frame ring, counterweight guard, mainframe liners, and the dead-bed feed hopper.
Metro Minerals
Tampere, Finland
3-Way actuated ball valves offer chemical resistance
The new generation of 3-way actuated ball valves with the Electrically Actuated Ball Valve Series Type 175/176/177/178 and the Pneumatically Actuated Ball Valve Series Type 275/276/277/278 incorporate the advantages offered with the new EA 21 electric actuator and PA21 pneumatic actuator, according to its manufacturer George Fischer, Inc.
The new actuators, designed with housings made of PP-GV 30 for high chemical resistance, make these actuated valves useful with aggressive fluids and harsh industrial applications. Typical 3-way ball valve applications include diverting and mixing liquids in piping systems for food and chemical processing industries.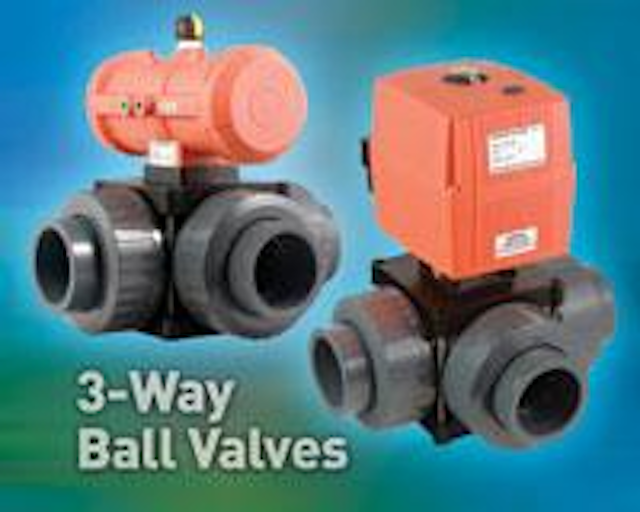 Click here to enlarge image
Features include a 250,000-actuator cycle life for long, maintenance-free service and compact, modular design for space savings. The L-port version provides independent connection of inlets with outlets, while the T-port version provides straight through flow, independent connections of inlets with outlets, or interconnections of all three ports. A variety of accessories are available from position feedback to control capabilities.
The Electrically Actuated Ball Valve Types 175/176/177/178 feature a vertical (Type 178) or horizontal (Types 175, 176, and 177) configuration. The 175/176/177/178 valves incorporate the EA 21 actuator, which comes equipped with integrated emergency manual override and automatic adjustment of voltage and frequency used for on/off or process control applications. The patented manual override for these units is fully integrated into the actuator, allowing for the voltage to be interrupted and the valve manually actuated when a situation warrants.
The Pneumatically Actuated Ball Valve Types 275/276/277/278 feature a vertical (Type 278) or horizontal (Types 275, 276, 277) configuration, option for manual override, optional stroke limiter for accurate adjustment of the valve stop, and an ISO/NAUMR connection interface, which provides greater flexibility in adding accessories.
George Fischer, Inc.
Tustin, California, USA
AC drive offers built-in harmonic protection
Harmonic currents produced by many drive rectifiers can damage delicate equipment running on the same electrical network. ABB's industrial drive ACS800-37 offers a built-in solution that removes the need for external filters or other protection.
The drive eliminates low-order harmonics using an active rectifier that uses ABB's DTC control and high-order harmonics with a line filter. The low harmonic content the drive delivers to the network exceeds the requirements of stringent harmonic standards such as IEEE519 and G5/4.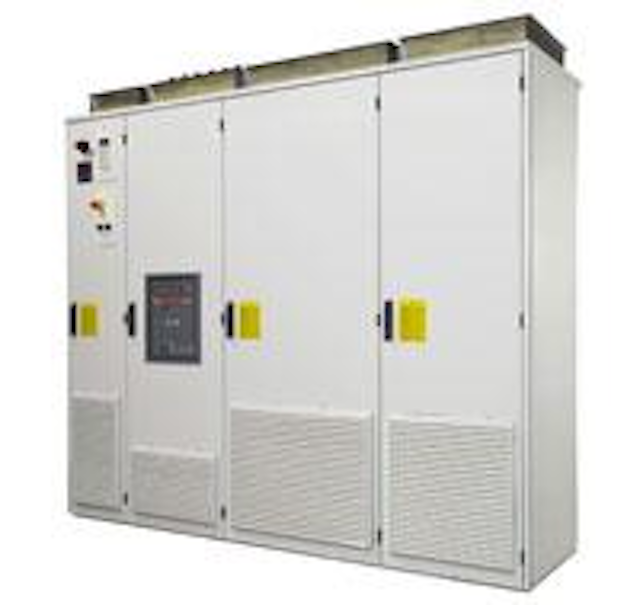 Click here to enlarge image
Eliminating the need for external mitigation measures, such as a dedicated multi-pulse transformer means less cabling is needed. Covering a power range from 55 - 2,500 kW and voltages of 380 - 415, 380 - 500 and 575 - 690 V, the low harmonic drives are built in cabinets designed for heavy industrial applications. Protection classes up to IP54 can be supplied. Standard features include the programmable I/O and alphanumeric, multilingual control panel in addition to ABB's Start-up Assistant, which provides menu-driven help with parameter setting. Optional accessories include EMC filters and extension modules for additional I/O and fieldbus adapters.
ABB Limited
Manchester, UK
Danfoss regulating valve regulates inlet to outlet pressure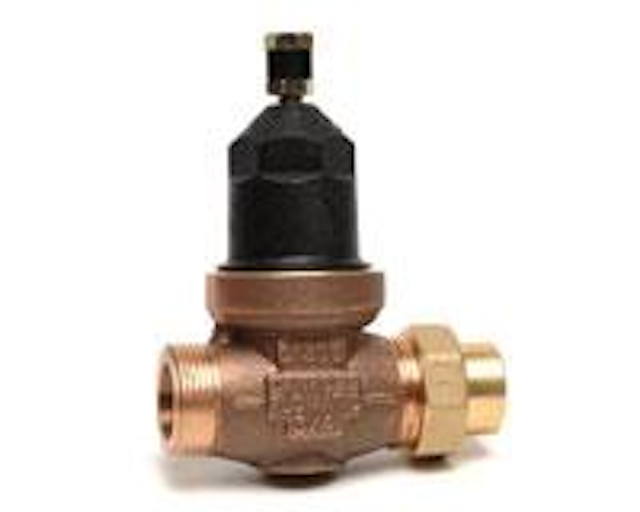 Click here to enlarge image
The direct acting regulating valve Model PRV Series C150E regulates high upstream (inlet pressure) to a lower regulated downstream (outlet pressure) constant pressure within a range regardless of water flow. This is accomplished by an adjustable spring loaded balancing valve factory set to automatically regulate the downstream pressure to 50 PSI. The regulating pressure is field adjustable. These unleaded bronze bodies are available in sizes 1/2", 3/4" and 1", which are supplied having a pressure range of 15- 75 PSI and or 15-150 PSI. Their internal parts are corrosion-resistant and their springs and fasteners are made from stainless steel. The standard model comes with female/male NPT inlet connection and single union end with female NPT outlet connection.
Danfoss Flomatic Corporation
Glens Falls, New York, USA
Compressed air piping systems expanded
Asahi/America, Inc. expanded its Air-Pro™ Compressed Air Piping Systems line by adding more fittings and sizes to their current offering. The line is available in sizes 1/2-inch to 12 inches with socket, butt and electrofusion fittings in a variety of styles, including tees, reducing tees, 90s, 45s and more. Air-Pro Systems are designed for compressed air applications and continuous operating pressures from 150 to 230 psi, and use (Solvay Eltex TUB 124 blue) PE100 high-density polyethylene (HDPE) resin, which is ductile, lightweight and corrosion-free. The systems are chemically resistant to compressor synthetic oils and mineral oils.
The Air-Pro is color-coded blue up to 4 inches, and black from 6- to 12-inches for easy identification of compressed air lines. It comes equipped with transition fittings, stub ends and backing rings for flanging. The Air-Pro System is joined through socket-fusion, butt fusion and electrofusion.
Asahi/America, Inc.
Malden, Massachusetts, USA
Remote monitoring system offers web service to track alarm response
A new web-based status and data-logging tool - the My STATIONSitter Web Service - available with the STATIONSitter™ Remote Monitoring and Alarm Notification System collects data from monitored locations and, at a predetermined time, automatically uploads the information to a secure web site. That site can then be accessed via the Internet, allowing users to track historical data and alarm responses.
The STATIONSitter, designed for the water and wastewater industries, provides automatic web page capabilities and a highly integrated solution with automatic input configuration, integrated pump control, and user acknowledgement alarm tracking.
The service remotely monitors critical water and wastewater equipment and processes using alarm notification technology. The system monitors temperature, flow rate, tank levels, pressure, power, and other conditions. When unfavorable or dangerous conditions exist, the STATIONSitter automatically issues alarm notifications through custom voice messages, alphanumeric pages, and text messaging. In addition, its built-in duplex pump control allows managers to use only one system to perform both the alarm notification and pump control with remote override of the pumps.
Sensaphone
Aston, Pennsylvania, USA
Change-over relay manages three alternating pumps
A new pump change-over relay manages up to three alternating pumps, reducing maintenance costs and increasing efficiency, according to the manufacturing company Carlo Gavazzi UK.
The DLA71 features a rescue function to manage overflow and a delay setting to limit in-rush current overloading the system. The new relay is designed for applications such as water treatment and HVAC systems where space is at a premium and two or three pumps need to be managed simultaneously.
The new change-over relay comes in a 35.5-mm DIN-rail modular housing and operates from supply voltages of 24/48 or 115/230 VAC. To ensure back-up function and reduced maintenance, the DLA71 offers differential or sequential working modes with the ability to automatically alternate pump usage every six hours when continuous operation is required.
Carlo Gavazzi UK
Aldershot, UK
Water companies study meter exchange programs
Accurate metering is widely accepted as a key factor in water supply efficiency among utilities, but how do water companies know whether meters installed in the distribution network many years ago are still the most effective for their specified purposes?
Sensus Metering Systems has developed software that measures meter efficiency and is currently piloting this approach with several water companies. A recent project undertaken by Sensus using its Optimal Sizing Maintenance Software (OSMS) demonstrated that a meter exchange program would provide a 20 percent average increase in recorded revenue, delivering a payback to the utility over just a two-year period with significant operational benefits.
The ultimate purpose of OSMS is to assist in measuring the cost-effectiveness of each meter in a supply network. In this way, utilities begin to improve performance in the supply process through a program of meter review and, if necessary, replacement. Greater meter accuracy helps water companies reduce unmeasured supply. The program evaluates the performance of meters through a minimum seven-day data profile. The assessment involves analyzing the log against defined parameters, including accuracy of measurement in a variety of flow conditions, and then projecting any pay-back potential accruing from a meter exchange program.
The measurement criteria typically applied to meters Dn50 and above focus on total consumption, meter age (meters of 15 years or older may suffer from inaccuracy), change in the customer profile (eg lower or greater consumption), meter type and size and customer processes (perhaps as a result of change in ownership).
For installations where there is no logged data, it is still possible to generate an accurate statistical meter profile by focusing on a range of accepted usage criteria and supply conditions. All event profiles used in the software have been taken from internationally recognized standards.
Sensus Metering Systems
Raleigh, North Carolina, USA
Sensor helps predict floods
A new sensor known as the Parsivel® (PARticle SIze and VELocity) is an optical disdrometer that provides a vast amount of accurate data on the type and rate of precipitation, from a light drizzle to heavy snow. Parsivel achieves this by measuring the effects of both solid and liquid particles passing through a laser-based ribbon of light.
The Parsivel measures down to 0.005 mm/hour and maintains accuracy in extreme weather conditions. The unit has an integral heater to dissipate ice should it form on any of the measuring components.
The sensor is designed for remote use because of its rugged, low maintenance design and simple 12v power requirement. Data output includes particle size and velocity, rain accumulation and intensity, and present weather reports that can be processed into WMO SYNOP, METAR, and NWS codes.
Measurements are able to identify eight different categories; drizzle, mixed drizzle/rain, rain, mixed rain/snow, snow, snow grains, freezing rain and hail.
OTT Hydrometry Ltd
Nottingham, UK
Software allows users to protect technology investments
The GE Fanuc software tool Proficy™ Change Management Version 5.50 manages automation systems and protects software and engineering assets. This release provides significant enhancements with a focus on delivering better integration with GE Fanuc products, support for new programs, devices and functionality.
Proficy Change Management capabilities include security, version control, audit trails, central storage and automated backup and recovery. The new version provides enhanced compare capability for identifying differences between versions allowing for improved support for Proficy HMI/SCADA iFIX® and Proficy HMI/SCADA CIMPLICITY®. The compare functionality provides complete reports that identify changes made in the tag database and screens or picture files.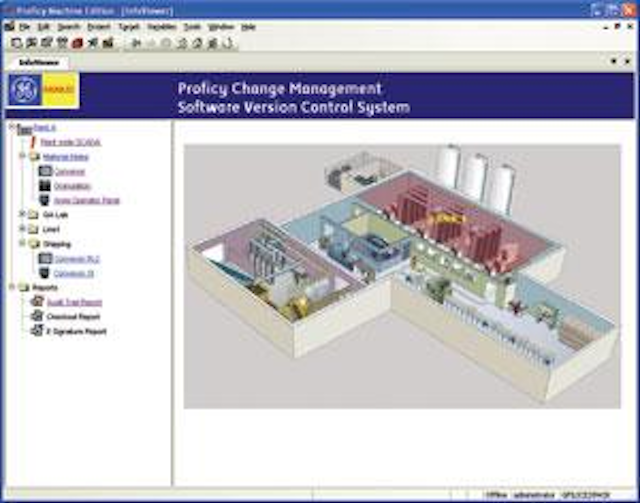 Click here to enlarge image
In addition to project management capabilities for managing Proficy Machine Edition controller program projects, Proficy Change Management 5.50 provides the ability to schedule automatic upload and compare operations so users can ensure that the PLC program matches the master version on the server or make sure they have a backup of what is running on the PLC.
A new email configuration tool allows users to configure what events trigger an email and to whom to send them. Triggers can be set up based on action, user, project name, project type, plant location and more. Individual emails or summary emails can be configured.
The new enhanced history report for viewing change history on a project now provides an HTML based report. The new checked out projects report allows administrators to determine who has what projects checked out where and for how long.
GE Fanuc Automation Americas, Inc.
Charlottesville, Virginia, USA
Electrodes extend stick style meter line
The waterproof ExStik® II Series of "stick style" water quality meters includes three multi-parameter models, EC400, EC500 and DO600, for testing pH, conductivity, TDS, salinity, temperature and dissolved oxygen.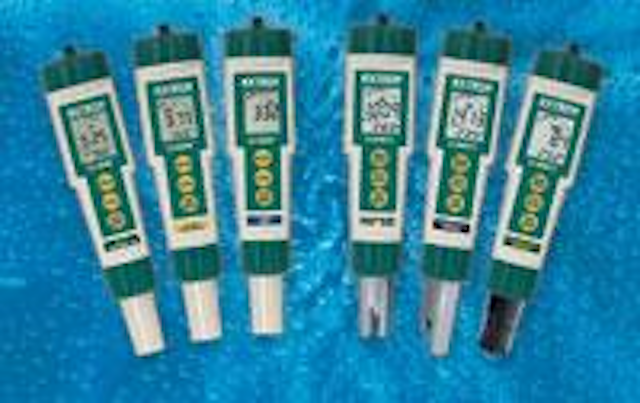 Click here to enlarge image
This addition builds on Extech Instruments' ExStik I Series of interchangeable flat surface electrodes for testing pH, ORP and chlorine. This second patent pending series features the world's first dissolved oxygen stick meter and the world's first combination pH/Conductivity stick meter utilizing flat surface pH electrode technology, according to the manufacturer.
•EC400 - Measures Conductivity/TDS/Salinity and Temperature
•EC500 - Measures pH/Conductivity/TDS/ Salinity and Temperature
•DO600 -Measures Dissolved Oxygen and Temperature
The entire ExStik® series is designed for lab and field applications, including water/wastewater and environmental monitoring, aquaculture and aquariums, process and HVAC cooling towers, industrial and commercial boilers, and reverse osmosis systems. All ExStik meters have built-in memory to record and recall 15 to 25 labeled readings and an analog bar graph to supplement the digital readings. All meters are buoyant in water and waterproof to IEC 60529 IP67 standards.
Extech Instruments
Waltham, Massachusetts, USA
Filtration system certified as microbiological water purifier
Through independent testing, Zenon's whole home Homespring™ UF200 series ultrafiltration systems are now certified to meet the US Environmental Protection Agency's (USEPA) "Guide Standard and Protocol for Testing Microbiological Water Purifiers." It is the first series of whole home water filtration systems to be certified as a Microbiological Water Purifier.
The Homespring™ Central Water Purifier can be used on treated municipal water and untreated well or lake water. On municipal water sources, the system can provide chlorine-free, bottled water taste to every faucet in the home even in the event of a boil water alert or if pathogens are picked up along the distribution lines.

Click here to enlarge image
The two-stage whole home water filtration system uses granulated activated carbon (GAC) to pre-filter the water and remove unwanted taste and odors, such as chlorine. The second stage uses thousands of strands of Zenon's ZeeWeed® hollow fiber membranes, which filter down to 0.02 microns (nominal) and physically remove turbidity, bacteria, viruses and cysts from the water. Using only the inlet water pressure, the systems can filter up to 11 gallons of water per minute without electricity and have a built in daily self-cleaning cycle.
The USEPA Guide Standard and Protocol for Testing Microbiological Water Purifiers tests the ability of a microbiological water purifier to remove pathogens, such as bacteria, viruses and cysts from contaminated wells and surface water sources during normal and emergency situations (boil water alerts and natural disasters).
BioVir Laboratories independently tested the Homespring UF200 system and detected no microbiological organisms after being filtered by the Zenon membranes. According to Tom Palkon, director of product certification for the WQA, "The systems have gone through rigorous testing to meet the Water Quality Association's ANSI accredited Gold Seal Certification program. The Homespring systems are the first Point Of Entry Filtration systems we have certified as a Microbiological Water Purifier."
The Zenon systems have been used in developing countries to provide potable water for homes, apartments, villages and schools. They were also deployed for use in the Asian Tsunami and Hurricane Katrina disasters for aid relief where they were used to supply potable water to thousands of residents and relief workers.
Zenon
Oakville, Ontario, Canada
Compact external power supply delivers 150W
The Edacpower EA11603 Series of 150W AC/DC external power supplies deliver up to 150W of power in a compact 6.8" x 2.36" x 1.49" case with an internal cooling fan.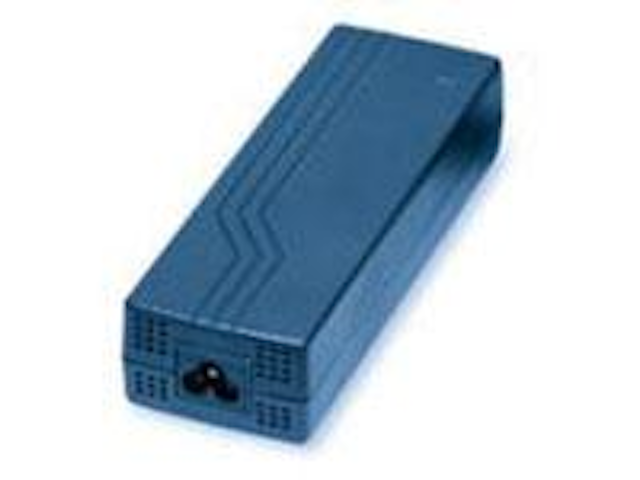 Click here to enlarge image
The EA11603 operates from a universal input and meets EN61000-3-2-3. AC input is via a standard IEC320 C6 inlet. Single output voltages range from 12VDC to 24VDC with line regulation of +/-1% and load regulation of +/-5%. Typical efficiency is 85% at full load. Comprehensive overvoltage and overcurrent protection circuitry is included in the design. The EA11603 is tested/certified to all major safety and EMC requirements, including UL60950, CUL22.2 No. 950, EN60960 and Class B emissions.
Power Sources Unlimited
Wrentham, Massachusetts, USA