Product Focus
Environmental solutions handler Corgin was recently called to a small wastewater treatment plant (WWTP) in the Lake District.
Mar 17th, 2015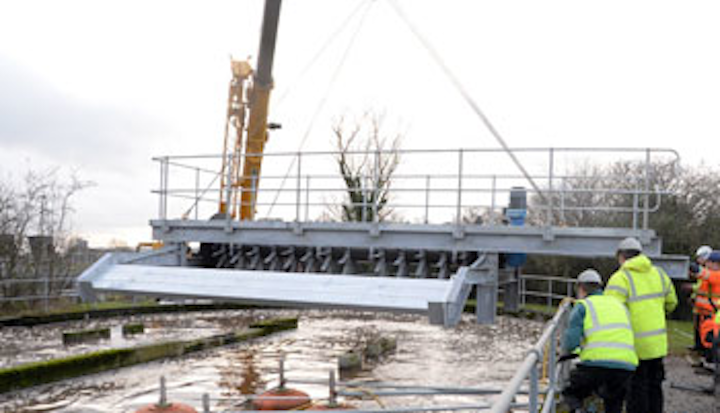 Product Review Odour Control
Brush aerator comes to the rescue of Lake District WWTP

Environmental solutions handler Corgin was recently called to a small wastewater treatment plant (WWTP) in the Lake District. The works had a population equivalent of 2500 and a tight consent limit due to its proximity to nearby conservation areas. A brush rotor in the oxidation ditch had failed beyond economical repair. The client opted for Corgin's Rotex brush aerator, which the company said offered a single shaft replacement for the existing split-shaft aerator design. With fewer bearings and no couplings, this is designed to reduce maintenance risks and energy losses. Also included was a directional baffle, which forces oxygen-rich water towards the bottom of the ditch. The custom-designed Rotex brush aerator was fabricated and assembled off site in a controlled environment and was installed and commissioned in two days, complete with access bridge and hinged splash covers for safe and easy maintenance. Corgin's said its Rotex brush aerators SOTR of 2.0kg O2/kWh. www.corgin.co.uk
Product Review Storage
Tank Connection meets potable water contract in Brazil
US company Tank Connection recently won a contract to help boost potable water storage by 40,000 m3/year in Sao Paulo, Bazil with the supply of two rolled, tapered panel (RTP) tanks. This project was awarded by Brazilian water/wastewater company, SABESP to Tank Connection through a Latin American dealer, O-Tek. Two RTP tanks were supplied, topped with aluminium geodesic dome covers, measuring 148 x 44 feet. The supplied hybrid system combines concrete, bolted steel and aluminium construction into the water storage tank containment system. Tank Connection's proprietary LIQ Fusion 7000 FBE™ is NSF 61-certified and can be used for potable water, process water and wastewater. Domes are corrosion resistant and available in sizes ranging from 32' up to 300' diameter (9.95 m up to 61.75 m). www.tankconnection.com

Product Review METERS & Sensors
Compact spectrophotometer
Shimadzu Scientific Instruments has released its UV-1280 multipurpose UV-visible spectrophotometer. Offering wavelength scanning from 190 to 1,100 nm, the instrument enables intuitive operation, while the enhanced validation, maintenance and inspection functions improve work efficiency. The monitored system for the D2/WI lamps ensures that users can perform highly stable measurements with this compact unit. Equipped with seven measurement modes, the UV-1280 can be used for a number of measurements, including photometric, spectral, kinetics, DNA/protein, and high-level multi-component quantitation. Users can connect USB flash drives directly to the UV-1280, making it easy to transport analysis data and to store large amounts of data in a PC. The curve-related data can then be converted to and saved in CSV format.
A wealth of available accessories, including a multi-cell sample compartment and a constant-temperature cell holder, makes the UV-1280 ideal for a wide variety of samples in the pharmaceuticals and life sciences, chemicals, foods and environmental industries. www.ssi.shimadzu.com
Flow meter for municipal water
Process and plant engineers contending with swirl and other flow disturbances in the line will find the new FPI-X™ Dual Sensor Electromagnetic Flow Meter from McCrometer delivers accurate and repeatable measurement under extreme flow conditions unachievable with other technologies.
The McCrometer FPI-X flow meter reliably achieves ±0.5% accuracy under the most severe swirling flows. Designed for use in close proximity to cascading or multiple pump arrays, this meter delivers the advantage of accurate measurement where no flow meter previously could serve.
McCrometer said: "Whether installed near pumps, valves, elbows, headers, or any other equipment that makes it impossible to create a symmetrical velocity flow profile in the pipe, the FPI-X will outperform traditional mag meters."
The FPI-X mag meter provides measurement in difficult sites that otherwise require multiple meters in various locations, saving customers both money and installation time. The FPI-X also eliminates the expensive flow conditioners and piping modifications necessary with other meters. www.mccrometer.com
Radar level meter
KROHNE, Inc. has introduced the OPTIWAVE 5200 C/F, a new 10 GHz FMCW radar level meter for liquid applications in up to a 30m/98 foot measuring range. The 2-wire loop powered device measures level and volume in storage or process tanks with process conditions up to 250°C 482°F and pressures up to 40 bar / 580 psi. for general purpose or hazardous locations. (Class 1/Div 1)
Together with the recently launched OPTIFLEX 2200 C/F TDR level meter, the OPTIWAVE 5200 C/F has been designed and developed for use in SIL 2 safety-related systems according to IEC 61508.
The modular design of the housing with its unique bayonet locking system and antenna extensions ensures suitability for a variety of mounting positions and applications.
To make the display screen easy to read, the quick coupling system permits 360° housing rotation. The housing can also be removed under process conditions. The remote converter version OPTIWAVE 5200 F features full display and configuration capability up to 100 m/328 feet away from the antenna. www.us.krohne.com
Flat Tape Water Level Meter
The Solinst Model 101 P7 Water Level Meter features flat tape with accurate laser markings each millimeter or every 1/100 ft, certified traceable to national standards.
The PVDF tape has high tensile strength, abrasion resistance and electrical efficiency; lengths go up to 1500 m (5000 ft). The tape is laser marked every 1/100 ft or each mm. New flat tape has increased tensile strength and electrical efficiency by using six strands of copper coated stainless steel and 13 strands of stainless steel in each conductor.
According to the company, the P7 Water Level Meter Probe is engineered to allow submersion to 1000 ft. (300 m). Sensor at the tip of the probe provides consistently accurate measurements in wells, boreholes, and cascading water, with almost zero displacement. The P7 Probe is pressure-proof, said to be ideal for depth to water, as well as total well depth measurements. www.solinst.com
More Water & WasteWater International Current Issue Articles
More Water & WasteWater International Archives Issue Articles