Wave-powered Desalination Riding High in Australia
At the end of October 2013 Australian company Carnegie Wave Power completed detailed design of a unique wave-powered desalination pilot plant on Garden Island, Western Australia.
Dec 1st, 2013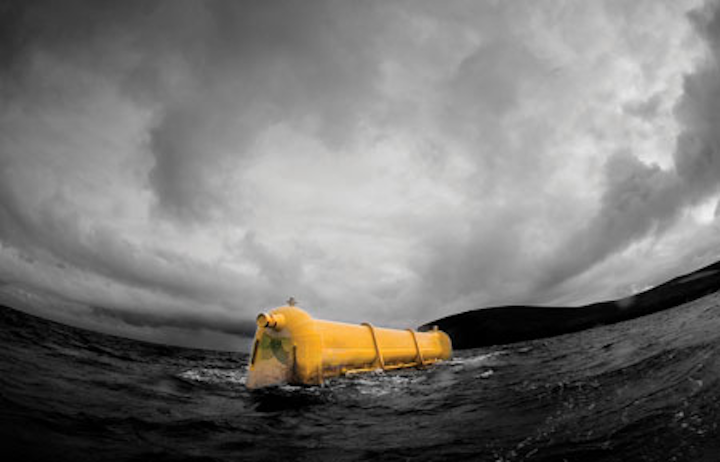 At the end of October 2013 Australian company Carnegie Wave Power completed detailed design of a unique wave-powered desalination pilot plant on Garden Island, Western Australia. So, what exactly will the project entail? What technology will it use? Are what are the future market prospects for wave-powered desalination?
by Andrew Williams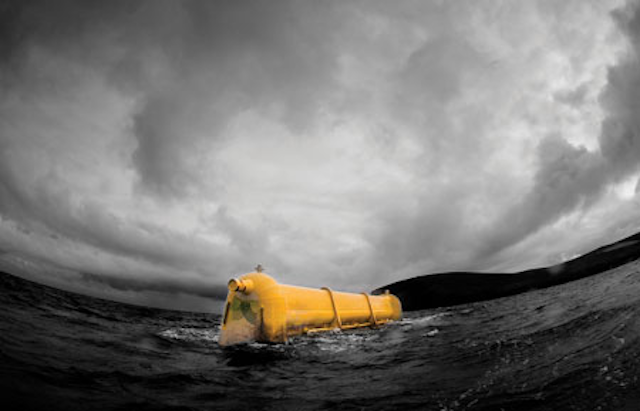 Aquamarine Power's Oyster 800 wave energy converter in operation
The Carnegie project forms a component part of the larger Perth Wave Energy Project. This will involve the design, construction, deployment and "operational performance evaluation" of a pilot scale grid-connected 720 kW peak-installed capacity wave energy demonstration project at Garden Island, Western Australia. The facility itself will consist of three CETO units in a submerged array, as well as subsea pipelines connecting the plant to shore, hydraulic conditioning equipment and an onshore power generation facility.
The CETO wave energy technology, which has been independently verified by EDF-Energies Nouvelles (EDF-EN) and the French naval contractor DCNS, converts ocean swell into zero-emission renewable power and desalinated freshwater.
Edoardo Sommacal, project manager at Carnegie Wave Energy, explains that the CETO system is named after a Greek goddess and is different from other wave energy devices "because it operates under water and is anchored to the ocean floor".
He says: "The fully submerged buoys are tethered to seabed pump units. The buoys move with the motion of the passing waves and drive pumps. The pumps pressurise water, which is delivered onshore via an underwater pipe. On the shore, high-pressure water is used to drive hydroelectric turbines, generating zero-emission electricity."
The Desalination Pilot Plant (DPP) has been developed to complement the Perth Project by leveraging the CETO wave energy hydraulic system infrastructure being installed at the site.
CETO units will supply hydraulic energy to a standard Seawater Reverse Osmosis (SWRO) desalination facility via mechanical coupling to the Perth project's hydraulic system, with a permeate, or potable water, production capacity of up to 150 m3/day.
"The technology employs wave energy to pressurise a re-circulating fluid loop," adds Andy Byk, CEO at MAK Industrial Water Solutions, which has been selected by Carnegie to manufacture and construct the pilot plant. "This fluid is pumped at high pressure into the desalination plant and the energy contained within it drives a hydraulic motor that runs the desalination process. The desalination process itself uses 'conventional' Reverse Osmosis technology, including an energy recovery turbine."
MAK Water is currently working on the construction of the SWRO container, and the pilot plant is expected to be operational in April or May 2014. Major milestones along the way include the fabrication, assembly and testing of the pilot plant at a MAK workshop, followed by installation, testing and ultimately operation at the Garden Island site.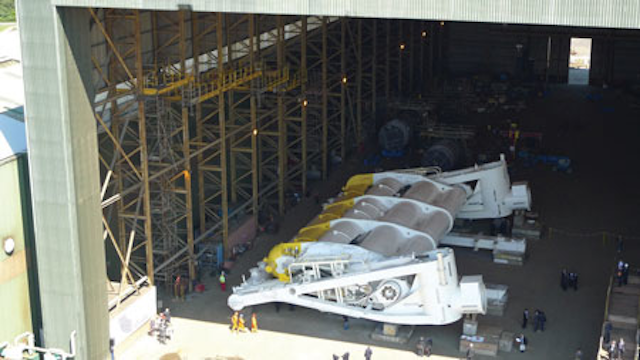 Oyster 800 in fabrication yard from the air Photo credit: Cyberhawk Innovations
Feasibility Study
According to Sommacal, the selection of the Garden Island site followed a 12-month feasibility study to identify the most suitable location for the Perth Wave Energy Project. This was carried out alongside independent technical experts and staff from the Australian Department of Defence (DOD), which will also be supplied with water from the plant.
"This site provides a suitable commercial demonstration site, mainly due to close proximity to suitable grid infrastructure on Garden Island and a predictable, moderate wave regime that is periodically exposed to high-energy storm events," adds Sommacal.
In total, Carnegie has raised over Aus$45m ($US40.5) to fund the development of its technology, which it has used to fund what it calls a "rapid prototyping" process. This is based on a combination of computer simulations, wave tank testing and scaled in-ocean testing at its own Wave Energy Research Facility, as well as onshore and offshore tests and commercial scale in-ocean testing at the Garden Island site. The pilot project itself is supported by Aus$1.27 million (US$1.18 million) in federal government grant funding from AusIndustry's Clean Technology Innovation Program.
"CETO is designed to be the simplest and most robust wave technology globally and, after ten years of continuous development, testing and refinement, is currently being demonstrated at commercial scale off HMAS Stirling, Australia's largest navy base, at Garden Island in Western Australia," says Michael Ottaviano, CEO at Carnegie Wave Energy.
Mak is currently working on the construction of the pilot plant, and Byk points out that it is expected to be operational in April or May 2014, with major milestones along the way including the fabrication, assembly and testing of the pilot plant at a MAK workshop, followed by installation, testing and ultimately operation at the site.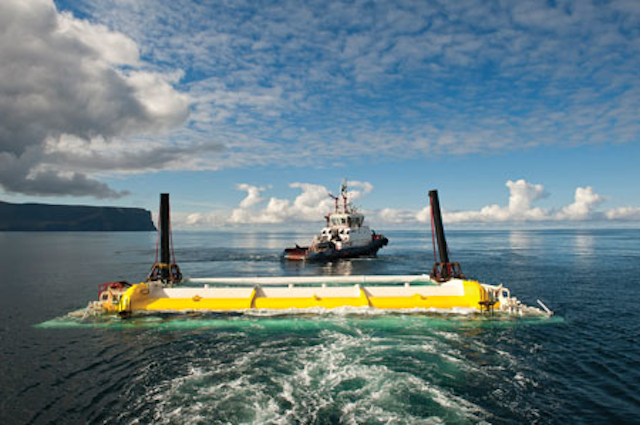 Oyster 800 being towed before installation
Challenges
In Sommacal's view, the main advantage of wave-powered desalination is that it can replace, or at least reduce, the desalination industry's reliance on the "greenhouse gas-emitting" electrically-driven pumps that are usually required for such plants.
However, Sommacal stresses that it is now important for the project team to focus on quantifying the efficiency gains, at a pilot scale, of a direct mechanically coupled wave-powered SWRO compared to a conventionally powered SWRO plant, as well as measuring the performance of SWRO membranes operating in such a novel configuration. The team will also work towards confirming the feasibility of the project, primarily by achieving the "stable operation" of the desalination pilot plant DPP "in concert with the Perth Project".
Meanwhile, Byk points out that, for the desalination plant itself, a key challenge was to enable the plant to operate continuously with varying wave energy supply, which he stresses has been solved through "smart functions in the control system that modulate the source of energy used to drive the desalination plant, dependent on conditions".
Market Prospects
Carnegie Wave Energy is confident that the technology will be well received "anywhere there is a demand of fresh water and a good wave resource", including areas throughout Australia, the Americas and Asia.
Ottaviano adds: "It is a renewable energy source without pollution, ideal for remote coastal environments, [and for providing] supplementary power to the main grid supply for towns and cities where the environmental footprint is important.
"Following successful operation of the pilot plant full commercialisation of the technology will be implemented with a number of wave energy power and desalination projects planned across the world," adds Byk.
Looking ahead, Carnegie Wave Energy has also recently announced the development of the next generation CETO 6 unit, which Sommacal says will have "at least twice the capacity" of the current CETO 5 generation being used in the Perth Project, running to "at least 500kW per unit".
"This will enable more power and water to be produced and at a lower cost. We are on track to announce the location of the first CETO 6 project at the end of 2014, following the commissioning of the Perth Project," he adds.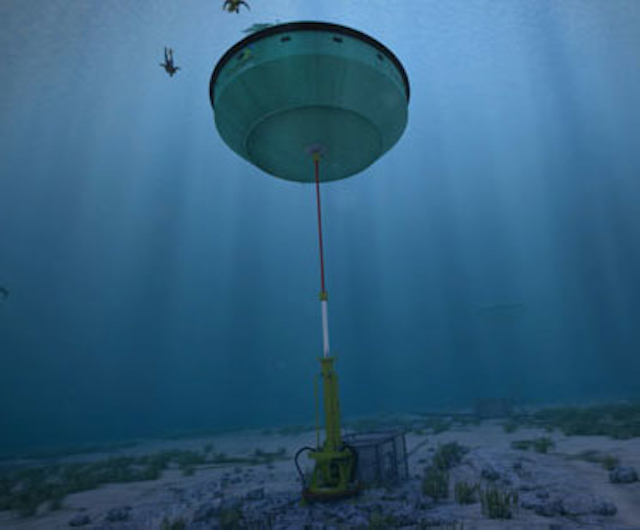 The CETO system uses moving buoys to drive pumps
Oyster experience
Another interesting initiative in this area involved a collaboration between Queen's University Belfast (QUB) and Aquamarine Power on a Royal Academy of Engineering backed conceptual project, which ran from November 2005 to April 2007.
This was designed to determine how water could be desalinated directly using the pressurised water from Aquamarine's Oyster wave energy device.
"No pilot plant was built, but it was designed to be driven by Oyster. The proposed desalination technology was reverse osmosis driven via a novel energy recovery technology that would allow the plant to be directly driven by Oyster and operate over a wide range of conditions," says Matthew Folley, senior research fellow at QUB.
"The direct generation of fresh water is more efficient because there is no need to convert energy to electricity, which always results in some loss of energy," he adds.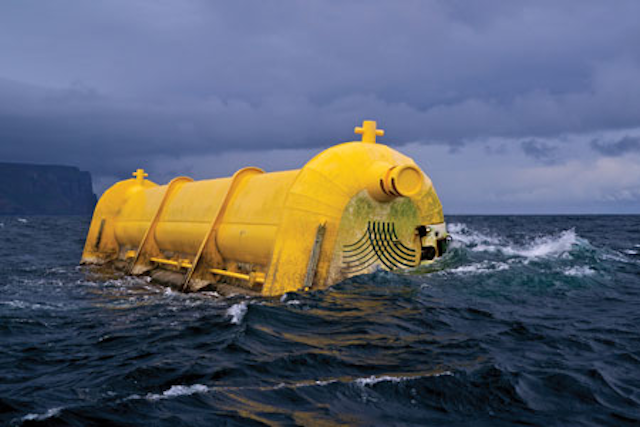 Aquamarine Power's Oyster 800 wave energy converter in operation
However, although the concept showed a good deal of promise, at that time the project team decided not to proceed with a full scale demonstration. For Folley, the main obstacles to the further progress with the concept include the need to secure funding for prototype development.
This was as well as the technical challenges involved in designing the energy recovery technology and "ensuring reliable operation of the RO membranes in variable feed conditions".
"Australia has significant demands of fresh water and is a large potential market that may pay a premium price for water from a renewable energy source.
"Small scale, off-grid water production is also a potential market, however, this market is unlikely to be able to support a new technology without further support," he adds.
Meanwhile, Marc Murray, senior site developer at Aquamarine Power, admits that, while the field of wave power desalination "offers an attractive future potential market" for its Oyster technology, the company's current focus is on the performance development of its Oyster 800 prototype technology at the European Marine Energy Centre (EMEC) in Orkney.
"It could be said that currently a wave energy desalination plant is not feasible on a commercial basis - even in places with high water scarcity and important wave energy potential, without significant grant and revenue support from the public sector," he says.
"This is mainly because the cost of wave power technology is still high compared to traditional options, and because electricity prices still do not reflect completely the negative externality of fossil fuel usage and its impact in the environment."
That said, Murray still believes that, by around 2020 to 2025, desalination powered by Oyster "will be economically feasible for some regions that provide sufficient incentives and support for new forms of renewable power.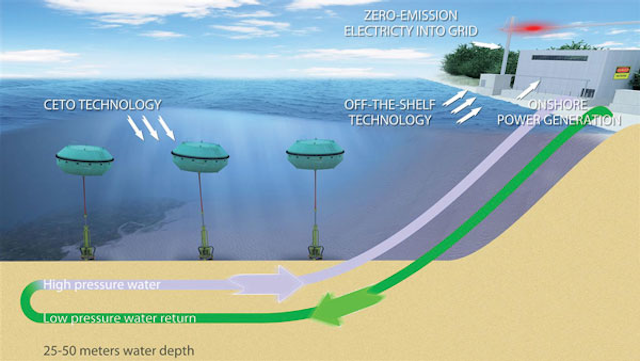 "So in essence, in the short to medium term, to have desalination plants powered by Oyster is not an unlikely scenario, since the technology is still developing and costs are decreasing, while support for cleaner technologies is in most countries agenda," he says.
The senior site developer adds: "As with any early-stage technology, costs will reduce over time and we have identified a number of significant opportunities to reduce the levelised cost of power of Oyster technology.
"These will be delivered through a combination of further innovation in design and, as we build the first pre-commercial array, learning by doing and ultimately through economies of scale."
---
Andrew Williams is freelance correspondent for WWi magazine. For more information, please email: tomf@pennwell.com