The Aftermath Restoring Water in The Philippines
Typhoons are a threat across Pacific countries throughout the year. Super Typhoon Haiyan has left thousands dead, missing and millions homeless.
Dec 1st, 2013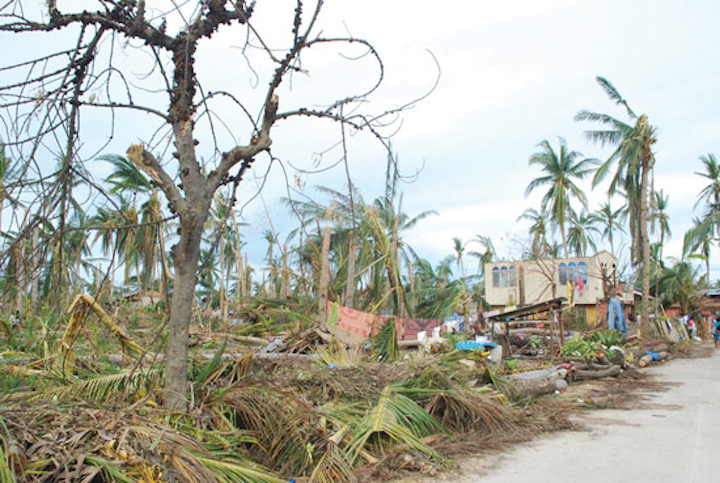 Typhoons are a threat across Pacific countries throughout the year. Super Typhoon Haiyan has left thousands dead, missing and millions homeless. And with the Philppines occupying over 7000 islands, aid efforts are hampered by logistical challenges. With sanitation and water services wiped out, how are recovery efforts going?
WWi investigates.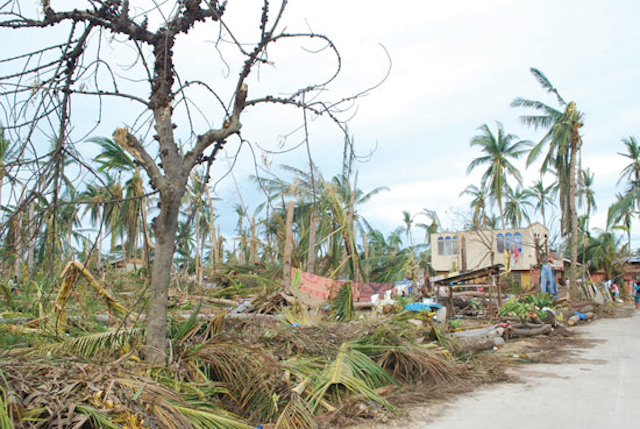 Typhoon Haiyan caused massive coastal destruction, leaving 1600 people missing
The worst effects of Super Typhoon Haiyan, one of the strongest tropical cyclones ever recorded, came not only from the 300km/h storm winds but also the deadly 6m storm surge that they drove. This wall of water caused massive coastal destruction, and the twin blows left an estimated 5000 people dead and 1600 missing. The record storm also almost completely wiped out water, sanitation and hygiene services.
Not least among the challenges for the living was accessibility – the Philippines is a chain of over 7000 islands scattered across three main geographical divisions – Luzon, Visayas and Mindanao. Early on, the UN World Food Programme declared the wrecked infrastructure to be a "logistics nightmare". The scale of physical destruction in the Eastern Visayas region is immense – over 1.1 million houses damaged or destroyed across 43 provinces, 3.43 million people displaced, and 13.17 million people in total affected by the disaster.
Cebu, Leyte and Samar islands bore the brunt of the effects as the storm crashed in, with water one of the most heavily impacted infrastructures.
In the early stages of the disaster UN OCHA reported: "Water supply is being restored in many locations, but water kits are urgently needed in many of the affected areas. Water trucking is hampered by the low number of available trucks. Open defecation is occurring in many areas and water, sanitation and hygiene (WASH) interventions are urgently needed to avert potential outbreaks."
Maynilad Water Services reported that its own operations were unaffected, as the main effects of the storm bypassed Metro Manila. The water boards local to the disaster, such as the Leyte Metropolitan Water District, were perhaps unsurprisingly unavailable for comment.
Desperate times, desperate measures
Despite the level of damage, aid agencies achieved some early positives. These included partially restoring the water supply in the city of Tacloban, one of the worst affected urban areas.
UNICEF director of emergency programmes, Ted Chaiban noted that fuel, generators and spare parts had been secured for ongoing operations, ensuring a safe drinking water supply for almost 200,000 people - equivalent to 20% of normal capacity.
Nevertheless, for many the water situation remained desperate – in the early days people were reportedly smashing open pipes to drain the little water left in the incapacitated pump stations, or collecting rainwater in tarpaulins and plastic bags.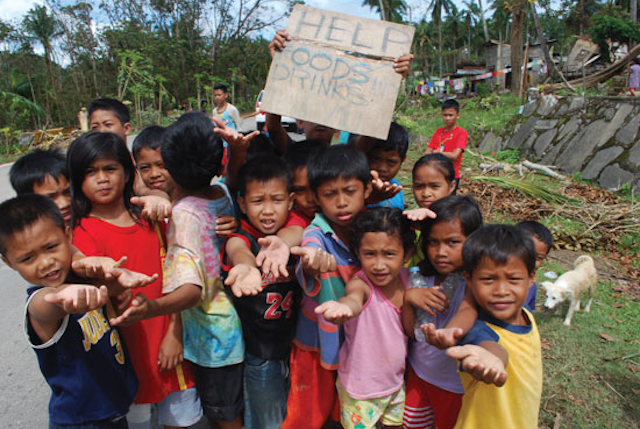 In the aftermath of Typhoon Haiyan, young children are begging for food and drinks
Water has, as a result, been a major focus for aid efforts. The International Committee of the Red Cross/Red Crescent (ICRC) reported that its staff had set up mobile water treatment units. These were used to distribute water in affected areas to around 28,000 people in towns along the southern and eastern coasts of the island of Samar, and to other badly-hit areas including Basey, Marabut and Guiuan.
Red Cross engineers and staff also worked with the local water board to restore the heavily damaged Guiuan city water system, which is designed to supply around 48,000 people. The Red Cross notes "restoring water networks is a priority for the organisation". The intention is to provide potable water for around 63,000 people over a three-month period.
Disaster response manager Pete Garratt says: "People in the Philippines have been through so much already, but they still need life-saving help. Without clean drinking water, they are at much greater risk from serious illnesses such as cholera. It's great that clean water is reaching people in need, but this is a huge disaster and there's still a massive amount of work to do."
Logistics challenge
The logistical challenges have been overwhelming, according to Sandra Harlass, the emergency relief and public health expert at Malteser International - the humanitarian aid arm of the Sovereign Order of Malta, which was originally founded as the Knights Hospitaller during the Crusades.
She had been to Samar island to assess the situation, and notes: "The areas that are easy to reach get lots of help, but the small villages get left out. At the villages we are going to, some had no help in over a week. It's unbelievable. But when you look at the scale of the disaster and the transport problems, it's not surprising really."
Malteser is providing help to 900 families on the island of Bantayan in northern Cebu province, a further 600 families on Samar island and 250 on Bohol island. These villages are in areas that initially proved challenging to reach because of the level of devastation.
She explains that the organisation's assessment focus for water was mainly on rural areas that rely on deep wells and springs for their supplies. She has seen for herself the scale of destruction, and confirms that the water situation is critical: "The springs are okay, in the mountain areas. But many wells have become saline and can't be used."
Malteser International's regional WASH advisor Arno Coerver adds that many tap stands are out of order, with the severity of the impact varying from village to village. In some cases the groundwater is affected as well.
"Unfortunately the groundwater is saline, and there will have to be a two to three year natural process before it is potable again," he explains.
On Samar, Malteser is starting to rehabilitate water systems, some of which had issues before the typhoon, he reports. "One village has not got reservoir tanks, so has no means to collect water, so we will provide the tanks so they can better manage the water available to them."
Chlorine disinfection
There are some surprising challenges. Coerver says that the villagers dislike the idea of having chlorine added to their water. "They don't want it, they don't like the taste – they are not used to it. They also don't have the habit of using filters at household level they expect their water to be treated and cleaned at source."
The charity is working on restoring sanitation. Coerver says that in San Antonio – 93% of households had latrines before the typhoon. Now, just 9% do, and people are practising open defecation on the beach, in the rice fields and coconut groves, he adds.
Malteser intends to construct emergency shared latrines, which will each serve five families – temporary, rather than permanent facilities because the villagers are considering moving to a safer location.
He explains: "The latrines will be locked, and only the families will have keys. There will be a block of five latrines together, and we will need 25 blocks. The system will operate for six to seven months and we hope by that time there will be clarity. If they move, we will build permanent systems in the new area and if they decide to stay we will then build permanent latrines in that area."
Malteser (like other aid agencies) has been distributing hygiene items such as soap, toothpaste and disinfectant fluid, providing over 130,000 water purification tablets as well as survival items such as tents, blankets and utensils.
Although the aid effort is immense, long-term issues remain. Harlass explains: "The waves took away all of the food stock – right now it is harvest time and those that had finished, their whole harvest has gone. They heard about the typhoon but not the storm surge. Their harvest is destroyed, there is nothing left. There are some boats for the fishermen, but nobody wants fish at the moment. Nobody will eat the fish because there is a general belief that they are eating the bodies. Even the bank has closed, and there is no market."
Lessons from Haiti
This process is unlikely to be easy, however – early reports suggested a struggle to provide basic needs due to the scale of the devastation. The spectre of Haiti's post-disaster cholera epidemic is also in the forefront of the minds of those helping the victims of the disaster - experts at the scene have warned that both typhoid and cholera are a real threat in the worst-hit parts of the island chain. Almost 700,000 people have been made homeless and sewage is reported to be a serious problem – septic tanks were reported to be filling up as heavy rains continued to fall, and clean water is in short supply.
Local media have already reported an outbreak of leptospirosis, and hospitals are said to be treating patients with schistosomiasis, another waterborne disease. Diarrhoea is also being increasingly being reported among the under-fives.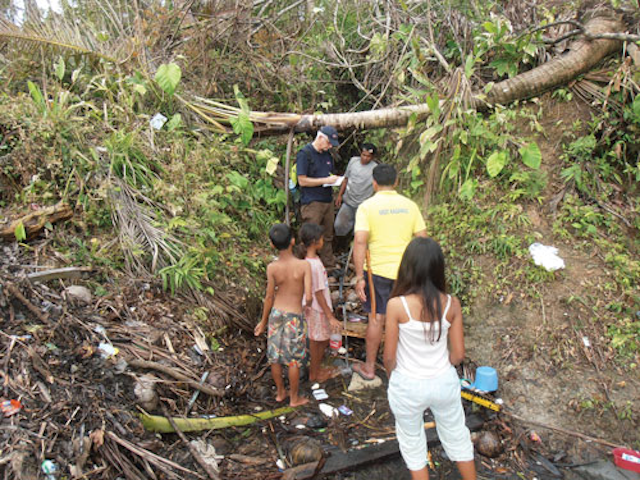 Malteser International's regional WASH advisor Arno Coerver on site at the village of San Antonio, Samar province, checking a water source near the village for possible use for drinking water.
In a situation like this, speed is of the essence. Rogers Hook, vice president of the Volunteer and Investor Partnerships arm of non-profit Christian engineering organisation Water Missions International (WMI), notes: "In a disaster, you need aid right away. If people do not get water in a few days they will die. The most difficult part is the logistics. Working with people on the ground where you have relationships is key – we spend a lot of time ensuring the relationships are established."
Among these partners are FedEx, which has sponsored two disaster response water treatment systems. The Pentair Foundation has also funded 20 safe water treatment systems and 10 potable water chorinators to provide safe drinking water for 160,000 people in communities around Cebu.
WMI has 63 water treatment systems on the ground in the Philippines, providing sufficient capacity to supply 160,000 people daily. Hook notes: "We see water bottles distributed after disasters. It's not to knock them, but they will run dry. Systems that tap into existing supplies can then transform into community-managed systems." He adds: "The need is tremendous still."
This approach means that WMI is still involved in Haiti, where it first went in the aftermath of the earthquake. Hook notes that the Philippines is "far more developed. Prior to the earthquake Haiti had a broken government, so the infrastructure was non-existent.
"The challenge in the Philippines is that they had been hit by several disasters so their resources had been plundered, and this disaster wiped them out."
Paradigm shift
The Philippines government itself is responding, as well as a host of aid agencies (see box out) high-level national task force has been established to ensure fast track transition from relief efforts to rehabilitation and rebuilding in the affected areas.
Many commentators are stressing that in a disaster, preparedness is key – but preparing for a massive disaster such as Typhoon Haiyan, in the wake of a series of other disasters, is daunting.
Rebuilding is also a challenge, but one UNISDR head Margareta Wählstrom stresses must be undertaken with disaster risk in mind: "There is an opportunity now as rebuilding gets underway.
"We must see a paradigm shift away from simply building back better to building back differently and elsewhere. Build in safe locations and build high enough to withstand storm surges."
---
For more information on the article, contact WWi magazine: tomf@pennwell.com.
Aid efforts in the Philippines
Many organisations are providing help in the Philippines. Examples include:
Handicap International reports that it has sent specialist Aquafilter water purification pumps from the UK with additional emergency supplies.
Twenty helicopters from a US aircraft carrier, the George Washington, ferried aid flights with supplies including desalinated water from the ship's own drinking water system, both to the devastated city of Tacloban and remote villages. The ship's onboard plant can produce 1500 m3 of water a day, sufficient to supply 2000 homes.
Britain sent its helicopter carrier, HMS Illustrious, which also has facilities to produce fresh water, and helicopters from the various military efforts have been dropping bottled water in isolated areas.
The World Bank has earmarked a package of assistance amounting to almost $1 billion, and staff were working round the clock on a $500 million emergency budget support loan. The World Bank told WWI that its team was on the scene undertaking initial investigations, but that this would be a general impact assessment with more detail to come.
The ADB also reported that it was ready to provide a $500 million emergency loan to help reconstruction of devastated communities.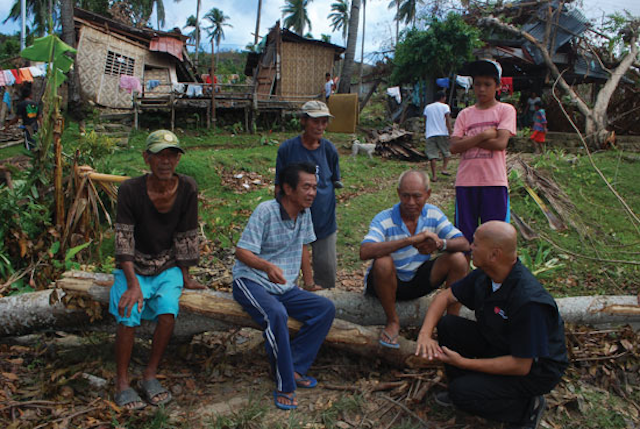 Dr. Melgabal Capistrano from Malteser International talking with people from Bantayan about their needs
To donate towards recovery efforts underway in the Philippines, visit:
www.secure-malteser-international.org