Leading Israel's Global Desalination Company
From its Ashkelon project in Israel, IDE Technologies has come a long way to win the Carlsbad desalination technology supply contract in California.
Jul 18th, 2013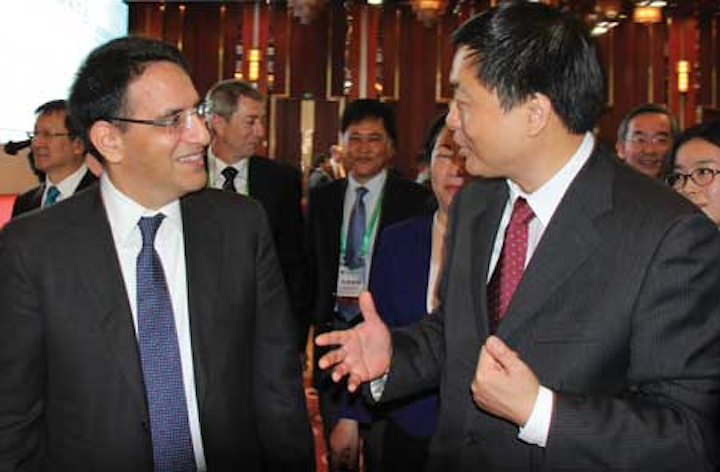 From its Ashkelon project in Israel, IDE Technologies has come a long way to win the Carlsbad desalination technology supply contract in California. Tom Freyberg catches up with the man behind the company's quite phenomenal growth – CEO and president Avshalom Felber – to find out what the secret is.
Anyone who has seen Avshalom Felber speak in public at water conferences or events could easily think he has come from an engineering background. After all, the CEO of IDE Technologies is very comfortable with the technical details of water processes. But you would be wrong.
As much as water management is an engineering based industry, it is also hard to detangle water provision from politics and finance. And it's the latter where Felber comes in.
He describes his entry into IDE Technologies as happening "by accident" but that his time there has been a "love story".
"I've absolutely no background in the water industry," he tells WWi magazine. "The owners thought the main attribute they needed for the CEO of a company like IDE Technologies was a financial background, rather than a water and engineering background. The reason being it was just after IDE had won the Ashkelon project, which was the first mega size BOT (build-operate-transfer) project and they were unable to finance the deal during the difficult economic years between 2001-2002.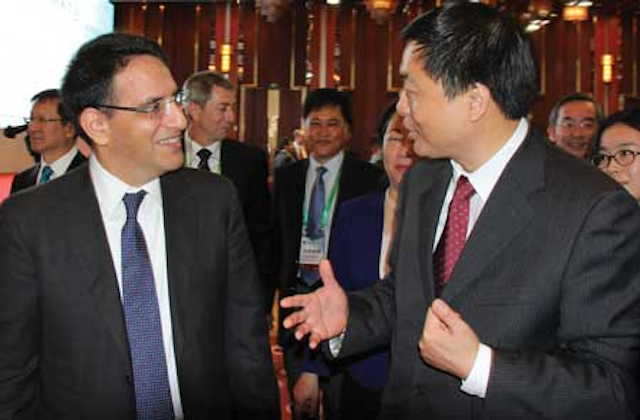 Felber with the vice mayor of Beijing. IDE has been wathching the Chinese market for 15 years
"They also had some other issues with the company that needed turning around and basically, they didn't want an engineer. They brought me in for a short period to restructure, to do the re-financing of Ashkelon and then move on."
Over 11 years later and the CEO is still there and describes his time as a "long marriage". With a financial background, he previously worked in the Ministry of Finance and as the CFO of Israel Ports and Railways Authority.
| | | |
| --- | --- | --- |
| | | Previously an employee in the Ministry of Finance, CEO Felber describes the US water market as a "different world" |
Clearly a numbers man, Felber has grown to love the water sector. "It is a fascinating industry," he enthuses. "It has political aspects, engineering aspects of course and some financial aspects."
Changing the US' perception of desalination
At the end of April IDE Technologies scooped the Desalination Deal of the Year at the Global Water Awards for its Carlsbad desalination project in California. The company was praised for "the pioneering collaborative approach taken at Carlsbad will serve as a blueprint for the financing of other large-scale desalination projects across the southern US".
Expected to produce over 200,000 m3/day of water per day by the end of 2015, the facility will be one of the largest in the Western Hemisphere. IDE will design and install the equipment and provide operation and maintenance over a 30-year period.
Shrouded in controversy and a 12-year planning battle, the San Diego project required such a "pioneering approach", as cited, to really bring it through to fruition. Despite the project's complex, political history, Felber is relaxed about how he sees IDE Technologies' position but has learned a great deal about public-private-partnerships (PPPs) in the US.
"The first thing we've learned is that there is the world and there is the US. And then there is the US and then there is California," he jokes.
"Hopefully, this is going to help recover the American perception of desalination they had from the Tampa Bay project which wasn't a big success. And hopefully this project will change the way they look at desalination as a viable, reliable solution for water shortage issues."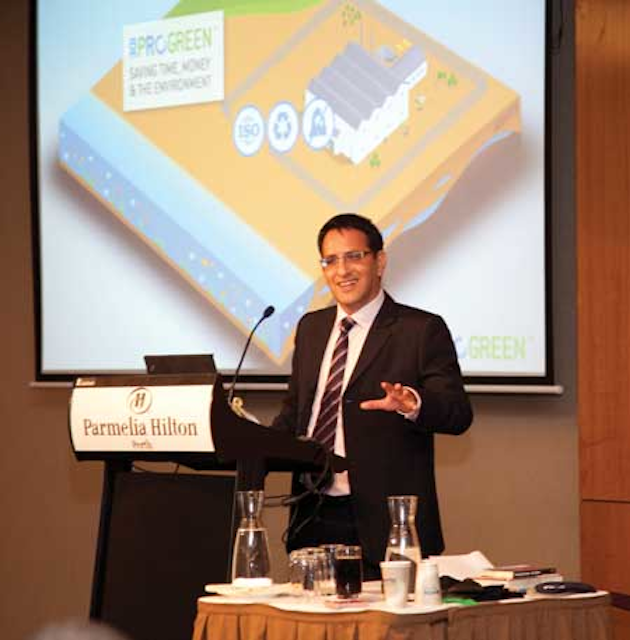 Felber launching the IDE PROGREEN modular RO system, capable for "plug and play" installations and can treat from 500 – 20,000 m3/day
The CEO adds: "America is a different world. Water issue/water rights and water procurement is done in such a complex way. Not even in China is there such a level of complexity. This is all just in Southern California. Maybe if you go to Northern California there will be another story, go to Texas and there will definitely be another story… We don't want to be in the position of a developer in the US."
China charge
On the subject of China, Felber is keen to point out his company's long history in the country. "We've been following the Chinese market for 15 years now," he says. "In terms of the desalination industry we were one of the first companies to set up an office there. Since then, we've been tracking numerous projects that have started and died. The main challenge is to find out about all the opportunities there – there are hundreds or more that are being discussed – which are the ones that are for real and the ones that are going to come through to fruition. Once that is done you still have to win the tender and be competitive."
It was in 2010 when SDIC Tianjin Electric Generation Plant commissioned IDE Technologies for the Engineering, Procurement and Construction (EPC) services for China's largest thermal desalination plant. The 200,000 m3/day Multi-Effect Distillation (MED) is designed with an ultimate capacity of 400,000 m3/day. Powered by the electric plant's waste heat, a closed seawater circulation mode eliminates dependency on external freshwater.
"We still give the country a lot of focus because we agree, when China grows it will be in a big way," he adds. "That's the general way of the Chinese market. Naturally also Chinese competition grows and a lot of companies are taking an interest in the arena. A lot of companies want to invest and buy a technology and run to the stock exchange and float the company for 20 times what they bought it for. It's a virgin land. In this sense I think we are waiting for the marketplace to settle. Then people will be able to see who is still standing after all this noise of all the companies that are trying to start and do something about it."
Pre-assembled desalination facilities
Felber says that the manufacturing plant built in China especially for the Tianjin project has since been used for exporting kit worldwide to India, Australia, Chile and Mexico. "We do most of our environmental manufacturing today in China", he adds.
This included fabricating and testing 60 pre-assembled modules in Tianjin and then shipping them to the company's 140,000 m3/day Cape Preston desalination plant to supply an iron ore mine in Australia's Pilbara region. The CEO says there's more than meets the eye when it comes to literally shipping a desalination plant.
"It's not modelled the way you think two containers attached together," Felber explains. "It's whole, huge buildings that were pre-assembled, built and wired and everything was on board and shipped to Australia in one piece. You need people that are willing to take such a big challenge and have to have a strong belief in their capabilities and strong belief in managing suppliers on the Chinese side. This is what we had with our partner and they went along with this. I'm not sure it will be so easily replicated. This is not something that can be done for each project."
Cost of produced water
With finance and numbers being one of Avshalom's strengths, it makes sense to ask him about how IDE Technologies is progressing in bringing down the cost of produced water.
"Frankly, this is one of the biggest challenges of our industry," he says. "It's very hard to tell who will prevail in this. There is a lot of potential for further reductions in water cost. Depending on the elements of energy, price and construction costs in different areas, we look at between US$0.60 to $1.2 per m3 as the range for normal projects. This is before you get to very complex or ambitious projects, say if you're bidding for a plant on top of a mountain it would naturally be very different.
"This wide range ($0.60 – $1.20) is one that most conventional projects can fall within pretty easily. There are two major questions: how can you make sure this range gets closer to the $0.60 and less towards the $1.20. The other is how can you take the next steps to see how you can progress below the next level, under $0.40. I believe both things are possible but there some major challenges."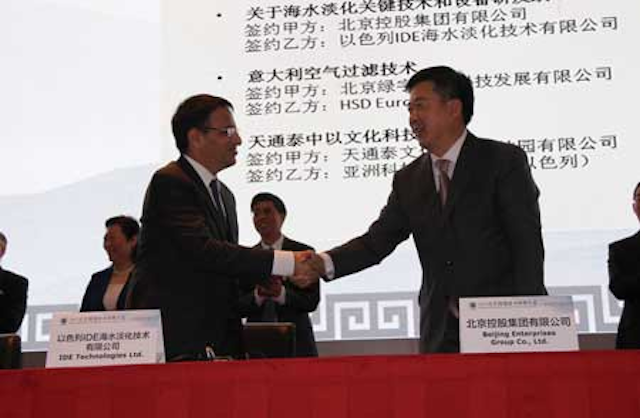 IDE Technologies' CEO and Beijing Enterprises' EVP sign a cooperation agreement at the Beijing International Technology Transfer Congress. IDE is responsible for EPC services on Tianjin's 200,000 m3/day MED facility but Felber says they are still waiting for the Chinese market to fully settle
Felber believes that conservatism in municipal water control – one of the biggest markets – is one element that's holding back breaking the $0.40 price barrier. "The highest priority on the agenda is not to fail, rather than the optimal solution," he says. "And it's natural for bureaucratic systems. They have to prove they've done all the work properly and taken all the precautions needed in order not to pay for a white elephant. This mentality – of not wanting to fail – pushes everything towards conservatism."
The CEO adds: "Complementary to that, you get the consulting firms that again, don't want to fail and their name is much more important – they don't want their name to be related to any project that wasn't a success. Their working model is such that there isn't an interest for them to take a risk which is different from us as a supplier."
Membrane Vs. thermal desalination
Thermal desalination processes (MSF and MED) have been a mainstay of potable water production in regions such as the Middle East. Although viewed as more robust, the decreasing cost of membranes has meant that seawater reverse osmosis (SWRO) processes have been slowly accepted. Yet, outside of the Middle East, an ongoing discussion is whether RO processes will eventually fully replace the thermal alternative.
IDE Technologies is in the rare position of providing both processes and, as a result, is well placed to answer such as question. For SWRO, it has references at Hadera (127 million m3/year) and Ashkelon (118 million m3/year) in Israel, as well as Larnaca in Cyprus (21.5 million m3/year) and Sorek to be completed by the end of 2013. Thermal plants are also located in India, Spain, Italy and Turkmenistan.
Contrary to the belief that the desalination future is membrane shaped, Felber strongly believes in thermal and reveals how the company is seeing it from an investment point of view.
"Firstly, people have been talking about thermal desalination disappearing for many years and it hasn't yet," says the CEO. "While it's diminishing all the time, there is still a place for thermal solutions. I would say there's a place for hybrid solutions that combine the advantage of both technologies. I wouldn't say that robustness is the only advantage you can get from thermal, as RO is getting more and more robust and it's just a standard of operation that would allow you to work well or not."
He says that it is with the pre-treatment of waters to prepare them for membrane filtration where thermal will continue to have its advantage.
"There will still be a place for thermal because firstly there's progress in thermal all the time and secondly because some waters will always be better to treat or at least partially treat, with a thermal process because of the cost of preparing them for the RO. As this can be very complex and intense in order for the water to eventually meet the membranes – it's sometimes easier to treat with thermal."
Interestingly, Felber says IDE Technologies has invested more into its R&D division for thermal than RO desalination over the years. This is pre-empting business opportunities in the oil sands and oil and gas industry. While he could not reveal precise details, he says the firm has finished designing, piloting and testing a new thermal system especially for this market.
Gaza's desalination plans
There's one topic left to pose to the CEO and perhaps the most controversial: Gaza's desalination plans. As WWi wrote in its February-March issue, the proposed 55 million m3/year desalination plant is urgently needed. Palestine is expected to have a 60% increase in water demand by 2020.
An exhausted coastal aquifer is not keeping pace with a growing population requiring three times the amount of water it generates. Requiring $455 million, questions have been raised on how the rest of the finance will be raised (The Islamic Development Bank has signalled half of this cost) and how the facility will be safeguarded, being located in a politically volatile location.
As an Israeli citizen, Felber believes this project is a must and requires his country's assistance.
"First of all it's very important that such a project will be built specifically in Gaza," he says. "Although on pure economic basis it would be cheaper, more efficient and more sustainable and more reliable to build the project on the Israeli coast and send the water to Gaza and also the West Bank that doesn't have a sea at all. Ashkelon is 10km away from the Gaza strip so there's no way they can build within reasonable time a plant that is efficient and reliable as Ashkelon and ready to produce water within reasonable time from a plant."
The CEO goes onto say: "Separating the political tension and the water issue in my eyes, and I'm saying this as a citizen, is very important. When you're talking about water you are talking about air. It's an absolute necessity so shouldn't be part of the political game."
Discussing challenges, he questions that if the desalination plant is built, who will control the water supply through the opening and closing of valves? "The whole idea of 'we will give you water if you are ok and stop your water if you're not', is so problematic in my eyes."
Concluding remarks
For a CEO with so much going on, Felber, as those who have met him will agree, seems relatively relaxed, poised and brings a young, fresh approach to water management. Yet winning the flagship Carlsbad project as technology supplier will go down in IDE Technologies' and Israel's history.
It's worth noting that as an Israeli firm, it is essentially "locked out" out of the Middle East market – one of the largest for desalination. The CEO describes this as "one of the prices of not wars but non-peace". However, although having exhausted its home market, the company has over 75% of its business coming from overseas.
With other Israeli companies - Amiad Filtration and TaKaDu – also making international headlines, it seems the Israeli nation certainly has the secret formula for raising water companies that are here to stay.
Author's note: Tom Freyberg is chief editor of WWi magazine. For more information, please contact: tomf@pennwell.com.