Product Review: Valves, Fittings & Controls
Compilation of product and news annoucements focused on valves, fittings & controls
Mar 1st, 2013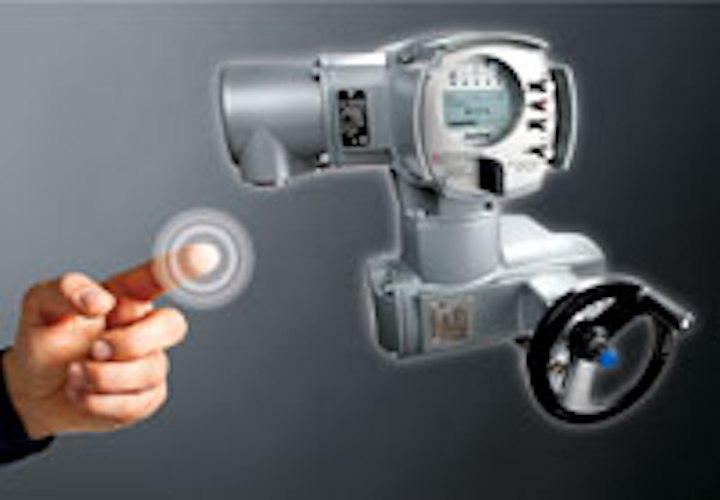 Electric actuator range update
Modular electric actuator supplier AUMA has extending its portfolio of modular electric actuators to include an SQ .2 part-turn range for butterfly and ball valve automation. The actuators, which will be launched in 2013, will replace the company's established SG .1 range manufactured since 1998.
A new actuator size included in the SQ .2 series more than doubles the torque range previously offered by the SG .1: this represents a significant expansion now covering 50Nm to 2,400Nm.
Other developments include the introduction of an SQR version for modulating duty which replaces the SGR. The manufacturer said the SQR provides improved control characteristics with enhanced positioning accuracy and an increased number of permissible starts per hour.
Commissioning and operation of SQ actuators are identical to the SA .2 multi-turn type range, introduced by AUMA in 2010 - this includes the same control concept. Both ranges are available with AM or micro-controller operated AC integral controls. Controls are interchangeable and, at plants where both product series are installed, on-site device management is said to be simplified.
AUMA's recently introduced two-component powder coating has been incorporated into the SQ .2 design ensuring improved corrosion protection. The enclosure protection of the standard version devices in the new range meets IP 68. www.auma.com Enquiry No. 116
Series P569 and P589 Ball Valves
Victaulic Vic-Press Series P569 and Series P589 ball valves are designed to be used with the Vic-Press system, a flame-free press-to-connect system that joins pipe, valves and fittings in a matter of seconds.
The Victaulic Series P569 ball valve features a full Type 316 stainless steel body and trim with PTFE seats. A blow-out proof stem and self-adjusting floating ball provide uniform sealing. The full-port design minimizes pressure drop for maximum flow efficiency. The three-piece swing-out design permits easy in-line maintenance. These valves are offered with Vic-Press Schedule 10S ends, grooved ends, or press by grooved ends.
The Victaulic Series P589 ball valve features a forged brass valve body. The chrome-plated brass ball is hollow to eliminate unnecessary weight, while maintaining flow and mechanical strength. PTFE seats and washers reduce the friction coefficient, which eases valve operation. The Vic-Press Schedule 10S ends are offered in either ASTM A-312 Type 304 or Type 316 stainless steel.
Victaulic Series P569 and P589 ball valves are rated for service up to 400 psi (2065 kPa), and are available in ½ to 2-inch (15 to 50 millimeter) sizes.
Polypropylene Wafer Style Butterfly Valve Sizes expanded by GF
GF Piping Systems has expanded its large diameter size range for the Wafer Style Type 567 Polypropylene Butterfly Valve to include sizes 14-24". This completes the large diameter size offering of 12-24".
The new larger sized valves are said to feature the double eccentric design, excellent corrosion resistance, and complete modularity for easy interchangeability.
The Type 567's double eccentric off-center design allows the disc to
completely disengage from the disc seal, even when partially open. This separation between disc and seal reduces friction and wear for longer service life and minimizes maintenance compared to non-eccentric valves. Additionally, the double eccentric design requires only about half the torque of a traditional boot design, which is also said to reduce wear on the disc seal to further enhance product life.
The Type 567 Large Diameter Valves are suitable wherever large volumes of liquids need to be conveyed safely and reliability, such as in water treatment or chemical processing. Applications include industrial water treatment, potable water treatment, swimming pools, water parks and wastewater systems in such industries as chemical, chemical distribution, electroplating and power plants.
Pressure ratings at 70ºF are 90 PSI for sizes14"-16", 75 PSI for size 18", and 60 PSI for sizes 20"-24". Other features include industry-standard ISO flange mount for easy electric or pneumatic actuation, bi-directional capability, and hand wheel. The valve is available with either EPDM or FPM seals, 304 or 316 Stainless Steel stem, and a Polypropylene body.
Duckbill check valves
Rubber joints are installed whenever pipes are mating to valves, pumps and other locations where there may be unrestrained pipe movement. The ProFlex duckbill check valves from Proco are often used as overflow backflow preventers as well as providing diffusion capabilities. The ProFlex rubber check valves are manufactured completely of rubber with top quality fungicide and barnacle resistant rubber being selected for use.
The manufacturer said therefore impervious to the daily operational vulnerability affiliated with the water and sewage industry such as rust, freezing, corrosion and seizing often found in the check valve industry. Benefits of the ProFlex rubber check valves, made in America, include greatly reduced operational costs, prevention from animals or insects lodging or disturbing the flow of liquids from outfall pipes, easy opening which prevents flooding commonly associated with defective swing type valves.
Inline check valve to prevent backflow
The WaStop inline check valve works by preventing backflow, flooding and sewage odor spreading in pipe networks. It can be inserted into any existing pipe. The product can be mounted horizontally, vertically, on an inlet, outlet, in a chamber, or utilizing flanges.
According to the manufacturer, WaStop's USP is its specialized Memory Membrane, constructed of a specially formulated blend of elastomer, giving it shape retention and chemical resistance properties. This ensures the valve always opens when needed, and immediately seals to prevent backflow.