Spearheading The Fight Against Waterborne Diseases
This September will see distinguished professor Rita Colwell pick up the 2010 Stockholm Water Prize for her pioneering research on the prevention of waterborne infectious diseases.
Jul 1st, 2010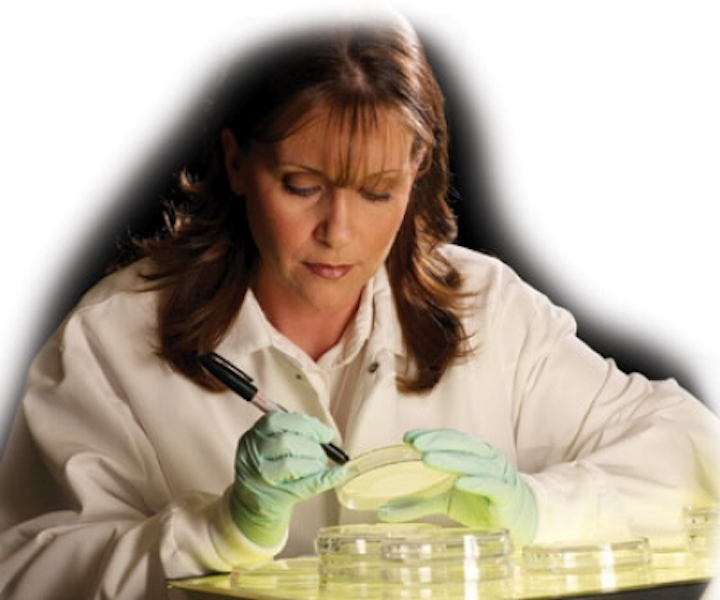 This September will see distinguished professor Rita Colwell pick up the 2010 Stockholm Water Prize for her pioneering research on the prevention of waterborne infectious diseases. Tom Freyberg speaks to Dr Colwell about the use of portable filtration solutions and the distribution of funding for water projects.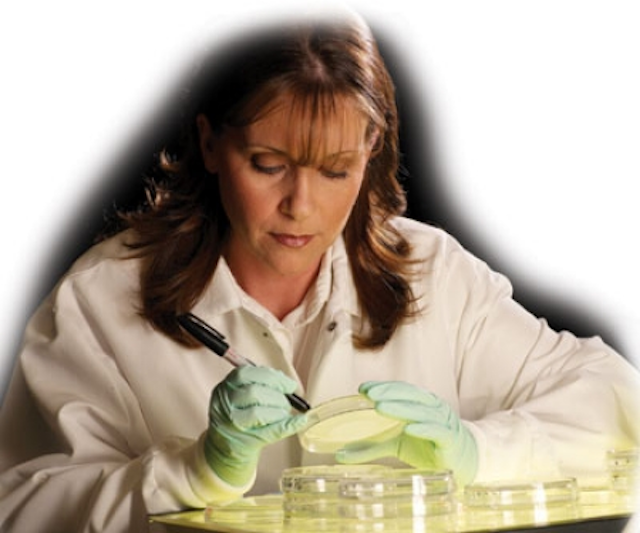 Winning the Stockholm Water Prize is no mean feat. Winners have to demonstrate that their work has contributed to the conservation and protection of water resources, as well as the improved health of the world population and ecosystems. And the decision on the winner is not taken lightly. An international nominating committee, appointed by the Royal Swedish Academy of Sciences, is responsible for reviewing the nominations and proposing a candidate.
Winners to date, since the award was first presented in 1991, have represented varying regions from around the world and a broad range of water-related activities, professions and scientific disciplines.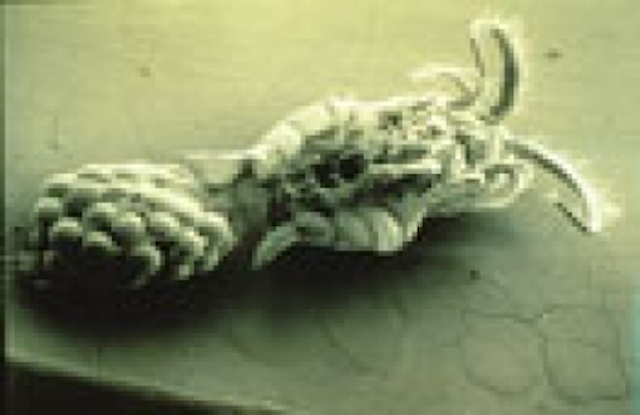 Groundbreaking: Dr Colwell observed back in the 1960s that Vibrio cholera, the causative agent for cholera, could survive by attaching itself to zooplankton.
For example, in 2008 Professor John Anthony Allan from King's College London and the School of Oriental and African Studies was named the Stockholm Prize Laureate. Professor Allan introduced the "virtual water" concept, which measures how water is embedded in the production and trade of food and consumer products. Such research is still discussed heavily to this day.
For example, a recent report entitled 'Engineering the future' published from an alliance including the Chartered Institution of Water and Environmental Management (CIWEM) showed that two thirds of the UK's water footprint is imported in the form of food, energy and other goods. These all require water for production and transportation from countries that are under stress.
The 2009 award was presented to Dr Bindeshwar Pathak, founder of the Sulabh Sanitation Movement in India for his work in the sanitation field to improve public health, advance social progress and improve human rights in India and other countries.
Seen as a "Sanitation Innovator", Dr Pathak helped the Sulabh Shauchalaya twin pit, pour-flush toilet system to be used in more than 1.2 million residences and buildings built by Sulabh. Declared a Global Best Practice technology by United Nations HABITAT and Centre for Human Settlements, the technology has since been recommended by United Nations Development Programme for use by more than 2.6 billion people around the world.
Clearly, Dr Pathak and Prof Allan's work has not only helped move thinking forward in terms of solving water scarcity and sanitation problems, but people have benefitted from a better quality of life as a result of their research. The 2010 Stockholm Prize Laureate is no exception.
Dr Rita Colwell is a distinguished professor from the University of Maryland and Johns Hopkins University's Bloomberg School of Public Health in the United States. Recognised as one of this century's most influential voices in science, technology and policy associated with water and health, Dr Colwell's research on the prevention of waterborne infectious diseases has helped protect the health and lives of millions.
On announcing the award, the nominating committee praised Dr Colwell's contributions towards solving the world's water and water-related public health problems and said that her work on preventing the spread of cholera was of an "utmost global importance".
The Stockholm Water Prize Nominating Committee said in its citation at the time: "Through her research on its physiology, ecology, and metabolism, Dr Colwell advanced the fields of mathematics, genetics and remote sensing technology and not only as they relate to these bacteria but to the prevention other diseases in many developing countries."
Dr Colwell has spent her lifetime as a scientific leader, having authored or co-authored 17 books and more than 700 scientific publications. She has held many advisory positions to the U.S. government and was appointed by President Bill Clinton as the first woman to serve as a director of the National Science Foundation (NSF) from 1998 to 2004.
Water & Wastewater International (WWi) caught up with Dr Colwell while she was on a trip to Ireland.
WWi: In your recent speech made on winning the Stockholm Prize you mentioned that for developing countries, there is a need to apply "appropriate technologies", which can be simply filtering water using fine cloth or plastic fine mesh filters, to remove particulates. Why is it that certain developing nations still don't have access to such simple solutions?
Dr RC: Well the remote villages of Bangladesh and India simply don't have the infrastructure. This is one of the points that I feel strongly about. I think vaccines are important but if you can provide clean filtered water you will address several waterborne diseases and prevent diseases...It is difficult to produce a vaccine much like trying to produce a vaccine against influenza - it changes. And so your pathogen will be different - I think that explains why vaccines against cholera have not been as effective as they could be and why I feel very strongly that safe water is what is required.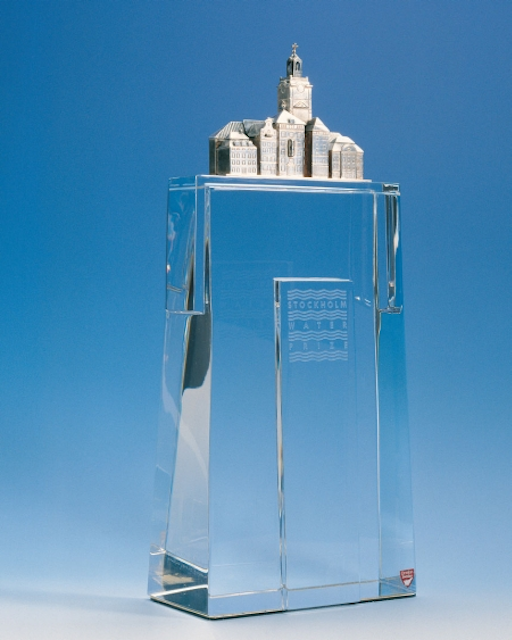 Sought after: the Stockholm Water Prize was first presented in 1991
It is evidence-based from the work we've done that our hypothesis would be valid, namely that the bacteria are preferentially attached to the hard shell microscopic creatures - copepod - and that the particular matter would also be attached. If you could remove these large particles you could reduce cholera. We did a three-year study and that was the case - we reduced cholera by 50%.
It was a very carefully designed experiment where we very carefully matched up families and had buffer zones - geographic zones - between them. We were able to demonstrate a statistically significant reduction in cholera. In fact, when we went back five years later we have shown that the women continue to filter, having been instructed to do so. Not 100% but 30% continued to filter as we had instructed them. What was important was that we had an unexpected finding that if families lived among those families who filtered, even if they may not filter themselves, they were protected.
What's important is that we can have a gradation of a technology for the remote villages since they're using a cloth filter as they take their water directly from ponds and rivers. By providing them with a modest, modicum of treatment we can prevent the disease.
For those villages which have reached the capacity for greater technology, we can build crude but effective sand filters combined with plastic filters. So for $20 we can build a device that can remove the arsenic as well as the particulate matter and then perhaps for a small amount more, we can provide a very dilute hyperchlorine solution so it doesn't give any adverse taste or smell or flavour and we can have then for family units a filtration device. And then for those areas that are more urban we could have a village centric filtration system and then for the larger cities, like Dhaka, there could be a more sophisticated system provided.
WWi: The aftermath of the Haiti disaster saw a lack of potable water, combined with poor living conditions, exacerbating the threat of waterborne diseases. Many companies donated, through partnerships with charities, portable water treatment systems to help the victims of the earthquake. This is commendable and essential during the recovery period following disasters, but should such partnerships, contributions and efforts be made all year around to protect the health and lives of millions, not just specifically after disasters?
Dr DC: This is a good thing to do but let me repeat: generally speaking these devices are sophisticated and require replacement filters or require a cleaning that requires technical proficiency. So we have to provide water treatment according to the capacity of the specific location. Simple fine cloth filtration is probably the best you can accomplish at least initially in a remote village and educating the women who do the water gathering is critical because they are the ones who provide the safe water to the household.
You can then progress to more sophisticated devices, but when it requires replacement filters and technology, that really is best done in cities and isn't generally sustainable, say, in the hinterlands of Peru or in the mountainous regions far away from the technical capacity of a city in India. I think we need to be thinking about, if you will, sustainable and technically compatible technology for providing the safe water.
WWi: How has your work been funded in the past and should there be more cross-over between private sector research and development and universities?
Dr RC: Over the years I have been funded not for providing safe water because I couldn't get the money for that. I have been provided funds by the National Institutes of Health and even for a short amount of time the Food and Drug Administration, by the EPA and the National Science Foundation.
I was funded by these other organisations, including NASA, as I was looking at a pathogen or an environmental microbiology, or a biological oceanography, not because I was studying safe drinking water - that would not have been in the mandate of any of these agencies. Perhaps the EPA but I was funded by the EPA namely as I was looking at heavy metals in water....There should be funding for providing drinking water technology that's appropriate for developing countries, from the most remote regions of these countries to the most sophisticated countries. Again I'll come back to it's not only safe drinking water but it's the disposal of sanitary waste. I really wish we could develop a modern biotechnology processing approach for treating our waste so we can recover the metals, recover the methane and gases that could be used for heating and for biofuels instead of dumping all of this waste, even though rudimentary treated, into our rivers and lakes.
WWi: So there's an enormous potential for the roll out of anaerobic digestion technologies on a smaller scale?
Dr RC: Absolutely. If we could somehow utilise the biogas approach that we ironically are exporting and providing in developing countries, if we could only scale that up for our city treatment plants, it would be enormous benefit in public health and provide a wonderful source of energy. Now in many cities we burn off the methane that is produced in waste treatment plants which is sad because if we could capture that, we could use it to heat and light cities.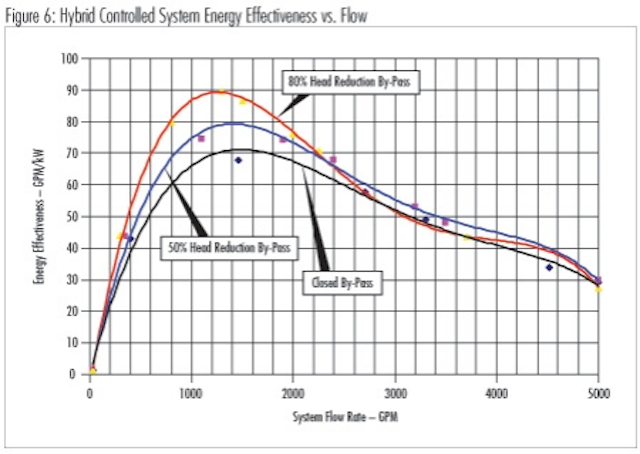 Rewarding: As part of a three-year study Dr Colwell showed that women continued to filter water as instructed
WWi: Back on the subject of finance, do you think more government funding, or international funding from the World Bank, should be directed towards drinking water and sanitation -based projects in developing countries?
Dr RC: I do indeed and I think the Gates Foundation [Bill & Melinda Gates Foundation] is only now reluctantly being dragged into providing some modest funding for safe drinking water. I wish that an equal amount of investment that is being made for vaccines could be made for safe drinking water. I would really like to see a combination of safe water and vaccines because I have a hunch that you would have more effective vaccine end results. You would have healthier kids with an immune system that could be stimulated to give you a good vaccine response.
| | |
| --- | --- |
| | Dr Colwell was appointed the first woman to serve as a director of the National Science Foundation |
WWi: What message you would like to give to the water industry on its international progress so far and what would you like to see more of, particularly in the R&D side of the industry?
Dr RC: First of all, I would like to say that the water industry, those who provide safe water, are really the heroes of the 20th and 21st century. With safe water provided in the United States and Western Europe we have conquered, largely conquered, waterborne diseases. We haven't eliminated them but we've controlled them, and that is something we should aspire to achieve. I would like to see molecular methods applied to water treatment, to sewage treatment and domestic waste treatment and I would like to see it applied as the key indicator of water safety.
WWi: The list of your achievements to date has been extensive, including the recent Stockholm Water Prize. What can we expect to see from you in the future? Are there any new research projects coming up you can talk about?
Dr RC: I will predict that we will have sufficient evidence to show that treatment for a disease like cholera is really a mixture of pathogens. I am going to go out on a limb and say that we are going to have to look at infectious diseases entirely differently in next decade. That in fact, the single pathogen approach, although effective most of the time, we will find it is a mixture of pathogens that cause many of the diseases, especially the waterborne diseases.
---
Editor's note: H.M. King Carl XVI of Sweden, who is the patron of the Stockholm Water Prize, will formally present Dr Colwell with the 2010 Stockholm Water Prize at a Royal Award Ceremony in Stockholm City Hall on September 9 during the 2010 World Water Week in Stockholm.
More Water & WasteWater International Current Issue Articles
More Water & WasteWater International Archives Issue Articles