Jumping in Jeddah
SAWACO's North Obhor SWRO Plant offers operational expertise in purifying water in this Saudi Arabian city on the Red Sea
Feb 1st, 2008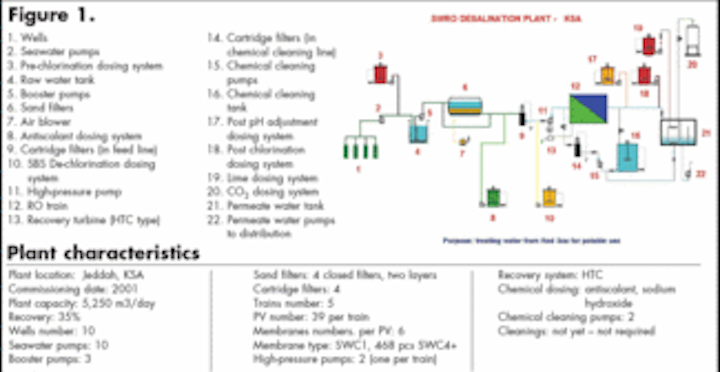 SAWACO's North Obhor SWRO Plant offers operational expertise in purifying water in this Saudi Arabian city on the Red Sea
By Nizar Kammourie, Tarek F.F. Dajani, Sandro Cioffi and Dr. Stefan Rybar
Only a tiny fraction of the world's water is available to humans for consumption and life improving processes – of this small amount, much is not healthful nor accessible. The risk of contaminated water supplies from non-treated water sources are high and may cause health problems. Today, due to increasing demand from industry, a rapidly growing population, and climatic changes resulting in very little rainfall over the past few years, public desalination plants are struggling to provide enough freshwater for community needs in Jeddah, Saudi Arabia. This-Red Sea city, with a population of over 3.4 million (second only to Riyadh) serves as the kingdom's commercial capital and gateway for the annual Haj or Muslim pilgrimage to Mecca.
The current process of bringing water from natural wells is insufficient to meet the needs in large Saudi cities such as Jeddah, and the price isn't affordable, especially during periods of high demand. In response to the needs of people and business, Saudi Brothers Commercial Co. established a water producing and supplying company, SAWACO, capable of providing good, quality water, free from salt and odor with an affordable price and dependable delivery.
In North Obhur, Jeddah, SAWACO has built its state-of-the-art seawater reverse osmosis (SWRO) facility equipped with advanced technology processes at every stage of production. The North Obhor plant is one among many to be established designed and engineered by internationally recognized firms to provide 12,500 m3/day of potable desalinated water. Experienced technology ensures high quality water conforming strictly to international standards. SAWACO assures quality water surpasses the standards set by the World Health Organization (WHO) and the Saudi Arabia Standard Organization (SASO). In recognition of SAWACO's advancement to such high production standards, SAWACO is the first commercial water production plant to operate in the Kingdom under a license awarded by the Ministry of Water.
The North Obhor SWRO plant was built in three phases. Raw water is extracted from deep wells. There are five SWRO trains in total and 2 BWRO trains for brackish water. Phase I and Phase III are equipped with Hydranautics membranes; two trains of Phase I are equipped with SWC1 membranes.This plant has been in continuous operation since startup in February 2002. Both trains of Phase I perform according expectations and produce full capacity at the requested quality without membrane cleaning to date. The latest expansion, Phase III, started in April 2006 and is equipped with Hydranautics SWC4+ membranes.
A Fully Integrated System
SAWACO's operations have been suffused with international process technology and operational experience from leading process and equipment suppliers. Its staff includes more than 120 high caliber employees, comprising executive management personnel, plant engineers, lab technicians, customer services, administrative personnel and delivery team. The company adopted SWRO technology to desalinate seawater and produce high quality potable water suitable for drinking, as well as for residential, commercial, and industrial uses. Its SWRO facilities are equipped with: Seawater intake systems; Pre-treatment systems; Reverse osmosis systems; Post-treatment systems; Product distribution systems; Brine disposal systems, and Instrumentation & control systems.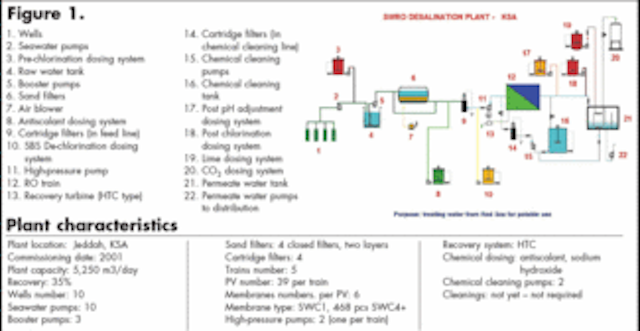 Click here to enlarge image
The SWRO design output of the North Obhor plant is 10,400 m3/day. There are five skids or RO trains (2 x 2,500, 2 x 1,800, 1 x 1,800). Phase 1 was commissioned in 2001, and its two trains (2 x 2,500 m3/day) have been in operation since February 2002, producing consistent quality of potable water qualities requested by different customers. Phase 2 was added in 2004 and Phase 3 train started in May 2006.
For specific applications, 2 x 500 m3/day brackish RO trains are available to further treat potable water to produce high purity water fit for specific industrial applications. Each RO skid of Phase I has 42 pressure vessels, each designed to hold six Hydranautics SWC1 membrane elements while Phase II has 25 pressure vessels, each designed to hold six 40" membrane elements made by a different membrane manufacturer. The Phase III train is equipped with Hydranautics SWC4+membranes. The pump chambers houses the three filter feed pumps and backwash pumps for Phase I and another three sets of filter feed pumps for Phase II. The raw water tanks and pump chambers are designed to accommodate the future expansion of the desalination Phase III. Seawater intake is located around the plant using beach wells. Six 25-hp beach well pumps for Phase I and five 20-hp beach well pumps for Phase II. Feed water is drawn from the raw water tanks to feed the pumps. The filter feed pumps, a total of six for Phases I & II, pump the raw water through the main feed water header to each phase.
In Phase I, four vertical multimedia filters (MMF) containing sand and anthracite are installed, while Phase II uses four horizontal fiberglass sand filters to remove suspended solids from the feed water. Both Phase I and II have their own backwashing procedures to ensure the quality of the feed water prior to major processing. Phase III pretreatment consists only of filtration through 5-micron (μm) cartridge filters. Remaining feed water is then split into two streams and reaches the second stage of filtration, with two cartridge filters applied to each stream. These two cartridge filters on each RO stream remove particles larger than 5 μm in size.
Chemical dosing with sodium bisulfite (SBS) of the feed water ensures that the silt density index (SDI), pH and chlorine content of the feed water are controlled as necessary prior to reaching to membranes.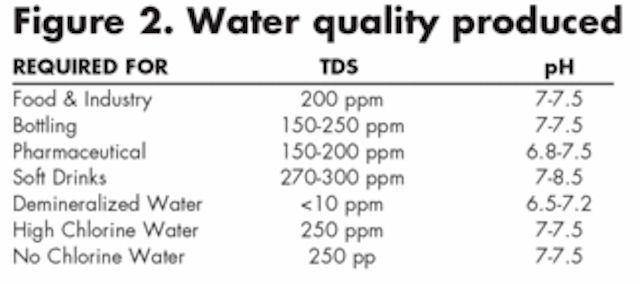 Click here to enlarge image
Each RO stream has a high pressure pump that boosts feed water pressure. A turbo charger energy recovery device on each stream further boosts the pressure. The permeate flows into the flushing tank and thereafter to the water storage tanks in the plant area. Post treatment of lime and chlorine ensure the finished product water quality.
Brine discharge flows to the brine side of the turbo charger and thereafter to the reject tank (adjacent to the pump chamber) from where it's pumped back to the sea (assisted by gravity). Other systems in the plant are the flushing system, for flushing the membranes, and the cleaning system, for cleaning and post-treatment of the membranes. Automatic control of the plant is by programmable logic controller (PLC) and by SCADA system.
Plant Performance Overview
Again, Trains A and B – or Phase I – have been in constant operation since February 2002. A continuous chlorination/dechlorination process was used in pretreatment during the first year of operation. Chlorination was stopped in March 2003, but dosing of the chlorine "scavenger" continued and small amount of sodium bisulphite (~1.5 mg/L) continued to be dosed. Many sites use chlorine to control biogrowth formation in the supply lines as well. Polyamide RO membranes, however, are degraded by chlorine and are generally limited to an exposure of less than 0.01 ppm of free chlorine. Thus, if chlorination is used, chemicals must be added just before the RO system to neutralize the chlorine and ensure the RO feed is chlorine free.
Although chlorine effectively controls biogrowth in the pipe or process equipment, many plants find that there is significant biofouling on the membrane. This is due to regrowth of the bacteria once the chlorine is removed. The bacterial growth rate is found to be higher immediately after chlorination/dechlorination compared to raw, unchlorinated water. This was attributed to the surviving bacteria feeding on the new nutrients from the chlorine degraded organic material.
Biofouling of membranes in Phase I fell immediately as chlorination was stopped, but still continued until SBS dosing was also stopped in August 2003 – at which point performance stabilized. It's important to point out water from the beach wells has a very good quality with SDI values permanently below 0.5. Still, there's sufficient amount of organic material that's transformed to assimilated organic material and used by bacteria after dechlorination. Train A from Phase I and Train E from Phase III were selected as typical examples of performance of SWC1 membranes and SWC4+ membranes
Chart 1 represents permeate flow since the start up of Train A. As discussed, a slight decline in flow during the first year due to chlorination and consequent biofouling, which was solved when chlorine and SBS dosing were stopped. Since then, Trains A and B performance has been steady with no cleaning in the first five years of operation.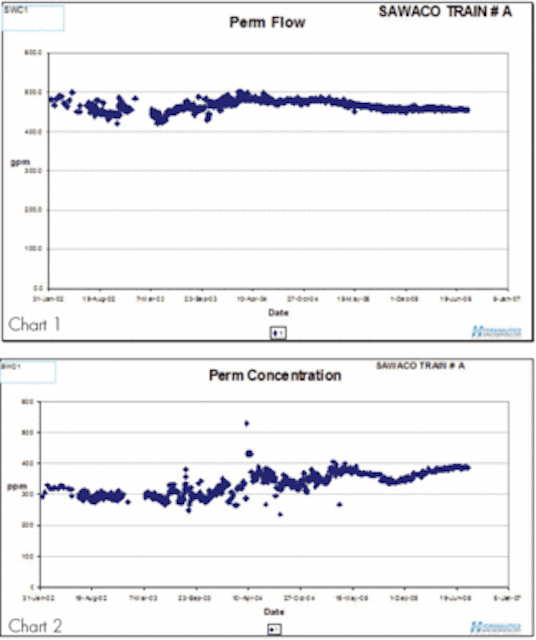 Click here to enlarge image
Chart 2 presents permeate salinity behavior. It's possible to see very steady performance of SWC1 membranes. Trains are fed with feed water salinity of 44,500 mg/L of TDS and work with recovery of 35%. Temperature is steady over the whole year at about 30°C.

Click here to enlarge image
Train E from Phase III started in May 2006. It's furnished by SWC4+ membranes. Figure 3 presents startup data compared to projected data at operating conditions. Starting feed pressure was lower than projected and permeate quality was on a calc ulated level. Figures in red represent real start up values – feed pressure and product TDS.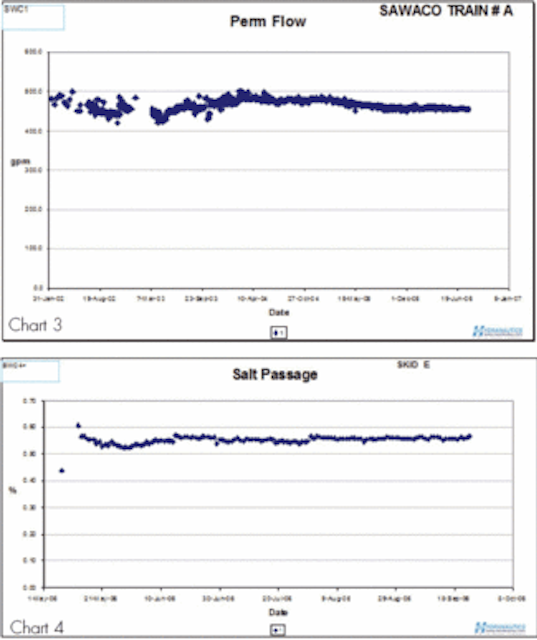 Click here to enlarge image
Charts 3 and 4 presents operational and normalized data of train E. Train E is fed by water taken directly from wells and passing just through 5 μm cartridge filtration. As mentioned – water from the beach wells is of good quality without need for media or sand filtration is required. That is why it was decided during the design of Phase III that only cartridge filtration as pre-treatment. Permeate flow as well as permeate salinity is very steady following the calculated performance.
Conclusion
The SAWACO SWRO desalination plant installed in the Jeddah-North Obhor area has performed for over five years very reliably. With regular maintenance and close cooperation between the membrane manufacturer and plant staff, the facility's performance has remained satisfactory.
There have been no membrane replacements required to date in train A and B nor any membrane cleanings. Still, SAWACO did decide to partially exchange Train A and B with SWC4+ membranes to increase production as well as recovery. Again, good cooperation between end user and membrane manufacturer is important for success of such installations.
---

Authors' Notes:
Nizar Kammourie is general manager of SAWACO Water Desalination, with headquarters in Jeddah, Saudi Arabia. Contact: nizarkam@sawaco.com
Tarek F.F. Dajani is Middle East regional manager for E.A. Juffali & Brothers of Jeddah, Saudi Arabia. Contact: tdajani@eajb.com.sa
Sandro Cioffi is European Union/Middle East sales director for Hydranautics, a Nitto Denko company. He's based in Maastricht, The Netherlands. Contact: scioffi@hydranautics.nl
Dr. Stefan Rybar is technical service director for Hydranautics. He's based in Glasgow, Scotland. Contact: srybar@hydranautics.es
The above article is based on a paper submitted for the European Desalination Society's Conference on Desalination and the Environment in Halkidiki, Greece, in April 2007.