Water Technology Proving Grounds
A new breed of flagship water technology research and development facilities across Europe are transforming innovation into implementation.
Oct 1st, 2018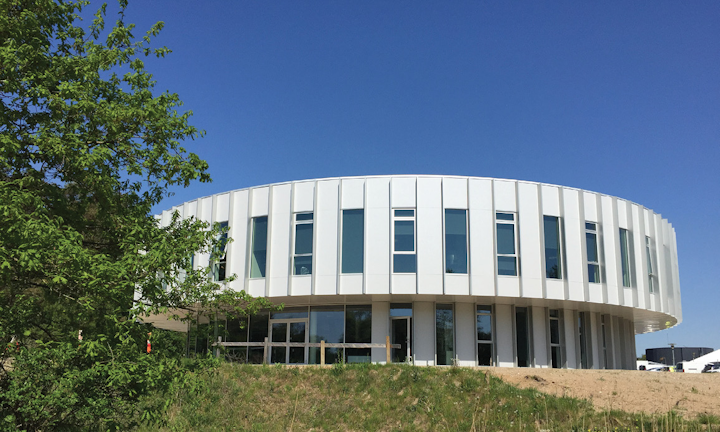 European water technology research and development facilities transform innovation into implementation
By William Steel
With new challenges on the horizon, novel technologies and fresh thinking are emerging with promise to deliver the water sector the tools to advance. One thing is clear: progress relies on collaboration between stakeholders. Nowhere else is this kind of approach more evident than at a new breed of flagship water technology research and development facilities around Europe.
Here, WaterWorld takes an in-depth look at three of the leaders in field — the proving grounds of tomorrow's water solutions in Denmark, the Netherlands and the United Kingdom.
AquaGlobe — Water Solution Center, Denmark
Inaugurated in early March, Denmark's AquaGlobe – Water Solution Center is positioning itself as a groundbreaking hub for research, development and demonstration (RD&D) of novel water solutions in response to a range of challenges from water scarcity and flooding to pollution control and water supply asset management.
Located in Skanderborg in the Jutland region of Denmark, AquaGlobe is geographically well-positioned, nestled amongst some of the water industry's big names and research institutes, including Grundfos and Kamstrup. The initiative intends to provide a broad spectrum of services to customers looking for a one-stop solution for developing new products alongside stakeholders seeking solutions.
"AquaGlobe grew out of earlier collaboration between Skanderborg, Grundfos, Kamstrup and AVK," said Jens Frederik Bastrup, CEO of AquaGlobe and Skanderborg Supply Company, about the new facility and its aspirations. "We had teamed up to explore opportunities to test and validate new prototypes and technologies in a real-world supply situation. Testing on the local Skanderborg water utility, we could see that this way of working brought great benefits."
The success of these earlier experiences motivated the concept being formalized as AquaGlobe — a permanent, multi-faceted hub for RD&D and stakeholder interests.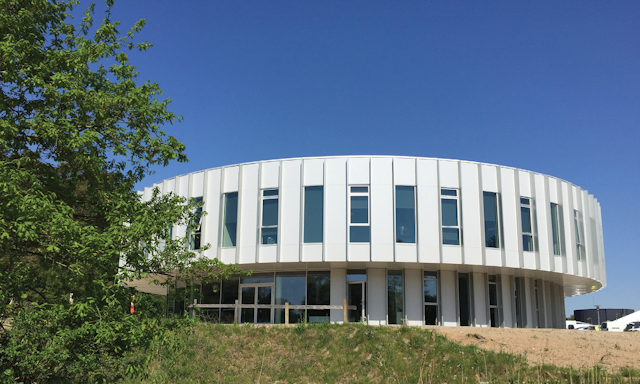 Denmark's AquaGlobe Water Solution Center is positioning itself as a groundbreaking hub for research, development and demonstration of novel water solutions.
Describing an initial focus on advancing digital solutions targeting operations, maintenance and customer needs, Bastrup said, "An increasing number of companies are latching onto these kinds of solutions, and are eager for real-world facilities to test their products. We're not a large utility, but we're agile and have capacity to support new concepts and prototypes and shorten the innovation cycle."
Bastrup believes that comprehensive testing in real-world situations is critical to developing and launching new water products. At AquaGlobe, this is enabled by connecting to the supply of Skanderborg Utility, which serves 60,000 people.
An early success was Smart Water City, an intelligent data solution system that enabled AquaGlobe to reduce energy consumption across the Skanderborg network by 15 percent. The system incorporates real-time consumer data, demand forecasts and smart analytics into algorithms to produce 24-hour pump forecasts.
"AquaGlobe also has projects looking at adopting innovative solutions within wastewater treatment operations, again using intelligent data and forecasting to deliver cost savings and greater value proposition," Bastrup noted.
Besides digital solutions, AquaGlobe is also planning physical testing and prototyping at the level of both plants and supply networks.
Going forward, AquaGlobe intends to welcome players from start-ups and subject matter experts to larger, well-­established actors. "We're keen to engage with both national and international stakeholders, both from public and private sectors," said Bastrup.
Not all visitors will come to test; many will visit to see new solutions in action, meet with product suppliers, and engage with members of the broader water supply chain. Here, AquaGlobe will function as a forum for dialog, with innovation camps and disruption sessions to tackle challenges and foster new ideas.
"We see AquaGlobe as a powerful multi-platform hub for the water business, connecting players in the right place at the right time, and then providing facilities for testing and prototyping, followed by demonstration," Bastrup explained. "Customers can see the system and meet the provider. Visits to AquaGlobe mean more than just getting business cards."
An online story-mapping feature under development provides interested parties a sense of what AquaGlobe offers even without a visit.
Looking forward, Bastrup said, "In the coming year, we expect to see development of AquaGlobe accelerate significantly. Twelve partners have already signed up, including Eurowater and the Danish Technological Institute, with more waiting to sign. I expect that we will sign with twenty companies this year."
Dutch Water Utility Vitens established its Innovation Playground for developing smart grid components — novel sensors, data acquisition technologies, and analytics software.
Vitens' Playground
Rik Thijssen is business development manager at the Dutch water utility Vitens, which operates a large-scale test and demonstration platform in Friesland. Aiming to accelerate intelligent water supply and distribution solutions, Vitens' Innovation Playground (VIP) has already succeeded in delivering an advanced smart water network providing real-time insight on water quality and water volume parameters. But the work is far from over.
Vitens' Playground was motivated by two key observations, Thijssen explained. "First, from the energy sector, we were aware of the potential of smart grids featuring sensors, data, and IT platforms and saw opportunity for their application within our sector. Second, in a conservative, risk-avoidant market like water utilities, there's difficulty in convincing stakeholders to adopt innovative solutions, partly because it's hard to test and validate solutions. Putting these together, we determined a need for a defined area to test new solutions within normal daily operations."
The observations carry importance in the context of what Thijssen described as the fundamental challenge of shifting away from reactive models towards real-time monitoring and analysis of water network parameters such as water quality, pressure, and flow rates.
The potential benefits of so-called smart grids incorporating real-time solutions are great but Thijssen specifically highlighted leak detection, efficient operational control, better asset management, and optimizing of energy consumption.
However, the arrival of real-time data requires real-time analysis. "That's new for water utilities," said Thijssen. "It's the challenge we're now adapting to."
To secure its objectives, Vitens established the Playground for developing components of smart grids — novel sensors, data acquisition technologies, and analytics software.
Echoing the ethos at AquaGlobe, Thijssen said: "Our philosophy is that large-scale piloting is central to providing convincing results." VIP incorporates some 2,300 km of infrastructure attached to 200,000 customers. "Sometimes size matters," said Thijssen. "You need scale to transform innovation into implementation."
After success with new solutions from suppliers including S::can, Intellitect and Optiqua, Vitens deployed VIP-proven technologies over 20 percent of its network within the 'Friesland Live' smart network featuring 9,000 km of infrastructure and over 300 sensors. Combining internal (technical) and external (customer) data, the system produces a dynamic real-time alerts map enabling pressure or flow anomalies to be rapidly identified.
For its part, VIP remains a platform for innovation, open to third-parties, with a bright future. "We know sensors alone aren't enough," said Thijssen, "further solutions are required to make the most of any network. From the tremendous amount of data gathered, we must have tools to understand the data, and then to recover actionable information. This area, involving modeling and forecasting, is a key focus for us going forward."
Vitens also aims to explore solutions involving analysis of water composition as a marker for novel insight on supply network functioning.
The need for data science to enhance modeling capabilities has recently led Vitens to establish a dedicated data science group to deepen its understanding of handling fixed and real-time asset data, as well as further predictive capabilities.
Through 2018, Thijssen expects tremendous gain in Vitens' data science developments. "We now have the infrastructure running to implement a new data-based project every month and explore the transition from real-time to predictive operations." Thijssen hints at the opportunities of harnessing nighttime network data to prepare for morning operations.
For all the promise of advantages, challenges remain in adopting smart grids and real-time modeling of networks. Computing power, interfaces for handling data, and training staff are all matters under investigation at Vitens. Thijssen acknowledges the challenges, but is optimistic for new frontiers in which "developing real-time models of water supply is becoming a reality."
United Utilities Innovation Lab
In England, United Utilities has taken a different approach to fostering advancement in the water sector at its Innovation Lab.
"Economic and environmental regulators are pushing us to do more for customers, do more for less, and operate more safely," said Kieran Brocklebank, head of innovation at United Utilities. "It's all in absolute parallel to what we want. At the same time, there are new technology trends that represent great opportunities for us to bring fresh ideas from other industries into the water industries."
Also commenting on the water sector's risk-averse mindset, Brocklebank suggested, "We need to rip up the rule book on approaching innovation."
Of course, incremental innovation stems from adapting to do the same thing better, faster, cheaper. "This has value," said Brocklebank, "but real disruption requires new thinking."
The response was Innovation Lab: a ten-week innovation initiative that commenced in spring 2017 with a selection of candidate participants.
Populating Innovation Lab are companies hailing from outside the water sector, without background in its typical supply chain. Brocklebank explained that it's about "marshaling the huge amount of innovative potential out there, and it's part of United Utilities' wider, open innovation strategy to seek this out from players who perhaps never contemplated the water sector as a place where they have a part to play, who might not know of their value in the water sector."
Brocklebank said that United Utilities was interested in innovating around five challenge areas: Connected Customer (smart devices and Internet of Things); Proactive Customer (proactive and interactive customer service); Predictive Asset Maintenance; Safe and Healthy Worker; and Future of Water.
From eighty applications, seven were chosen to begin ten weeks of innovation boot camp in February 2018.
For such companies, Brocklebank explained that gaining support from more experienced actors is a big challenge. "Something other industries have had success with in breaking down barriers to innovation is co-creation, where a supplier with an idea partners with a client to support them in establishing a foothold and critical mass," he said. "We're looking for great ideas that can be nurtured into really useful technologies, co-­created with and for the water industry."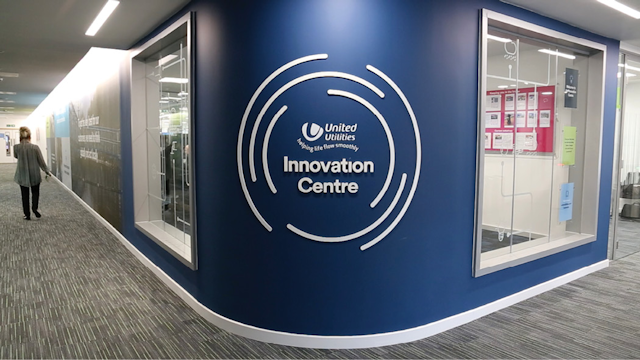 Unite Utilities' Innovation Lab is a ten-week innovation initiative that commenced in spring 2017.
With co-creation, suppliers in need of customer feedback, insight on product demand, and assurance that their idea has a future if it's developed are fostered.
"Through the Innovation Lab, we provide suppliers with access to our facilities, systems and customers, access to test and training facilities, as well as input from our skilled human resources. With this, a supplier can accelerate from idea through development and toward implementation faster than being on their own."
Because many suppliers enrolled in the Innovation Lab are start-ups, assistance with business development customized to individual needs is key. "We're providing technical feedback on their work, tailoring solutions for United Utilities and the wider UK water sector. We're also supporting their access to science and engineering asset management communities, as well as the finance community."
Ten weeks isn't long for innovation, but Brocklebank suggests it isn't without forethought. "For ten weeks we say, 'Let's have a sprint.' Still, we know that innovation is a marathon too."
It seems to have worked. This spring saw several of the companies dramatically advance their RD&D. "One partner is developing a pipe with embedded sensors. It's not going to be ready in ten weeks — it's clearly a long-term, multi-year development process — but we have their prototype installed and running at our Worthington pipeline testing facility."
In another example, an AI-based digital assistance solution is already installed in United Utilities' Integrated Control Center, remotely monitoring and controlling pumps at five sites fifty miles away with potential for significant energy savings.
The first round of the Innovation Lab drew to a close in May. What will come of the solutions we shall see, but United Utilities is happy with the outcome. "We're planning on concluding this first run, regrouping to evaluate lessons learned, and then planning for a second round." Brocklebank acknowledged that although running the Innovation Lab every four months would be unsustainable, there's "certainly a bright future for working with suppliers in a different way and building on [its] success." WW
About the Author: William Steel is a freelance reporter covering renewable energy, water and cleantech industries.
Circle No. 233 on Reader Service Card