Products & Services: Safety & Security
Collection of Safety & Security products and services.
Jul 1st, 2013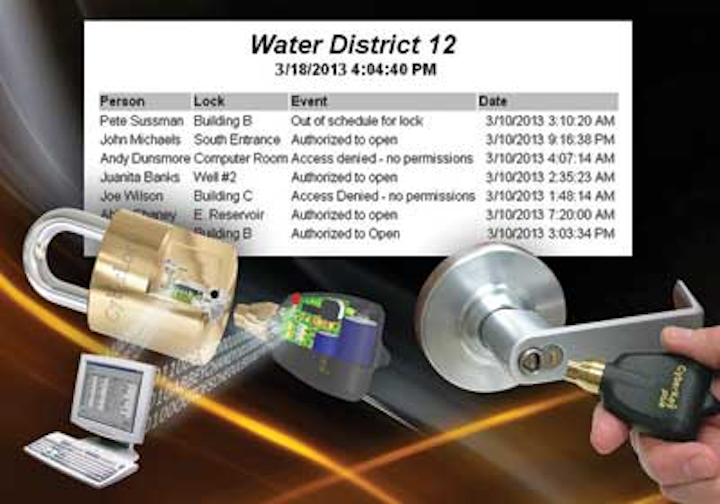 Electronic locks, keys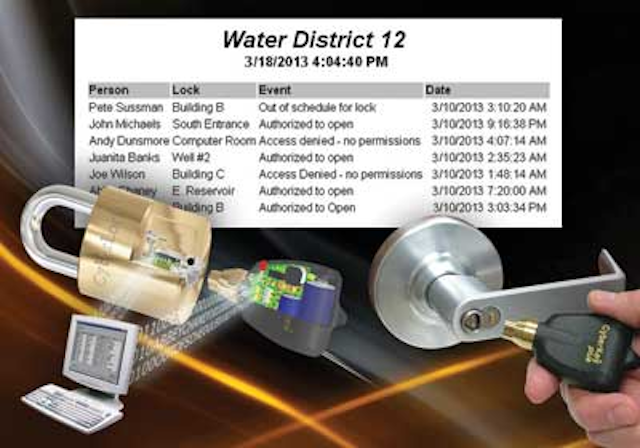 The CyberLock family of access control products allows users to track and control access throughout a facility. The audit includes electronic locks and keys that enable water utilities to control and monitor access to entry gates, chemical feed areas, watersheds, water wells, and other water sources. The electronic locks and keys record openings and unauthorized attempts to gain entry. The detailed audit report demonstrates a water utility's due diligence in securing their physical assets. Email alerts also keep management updated so informed decisions can be made when security issues arise.
CyberLock, Inc.
www.cyberlock.com
---
Fault circuit interrupter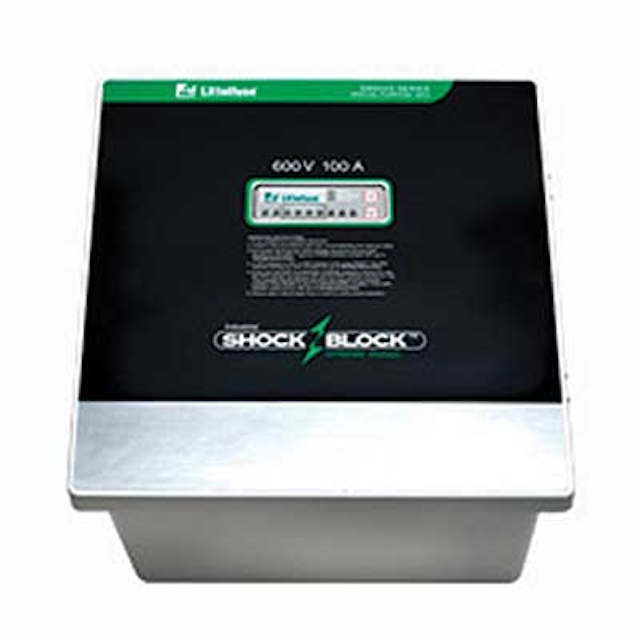 Littelfuse's SB6100 Series Industrial Shock-Block is designed for protection in industrial facilities and is the first GFCI that meets UL Standard 943C Class C and Class D requirements. Target applications include electrical cabinets supplying power to pumps, paint booths, washers, mixers, welding equipment, and high voltage machinery subject to wet conditions. They can also be mounted in movable enclosures for flexible use. The Shock-Block is available with adjustable protection settings as an EGFPD that can be set to trip at 6, 10, 20, or 30 mA. This helps reduce nuisance tripping in systems with leakage current higher than the standard 6 mA required by UL 943 Class-A GFCI.
Littelfuse
www.littelfuse.com
---
Power supply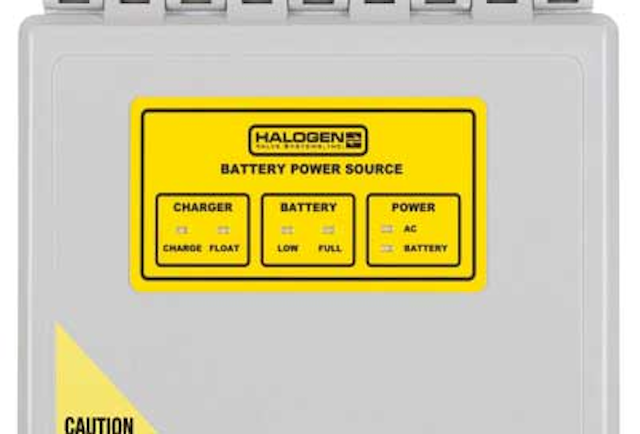 Halogen Valve Systems' instrument power supply with battery power provides uninterrupted 24 VDC for standard monitoring equipment. The three-stage battery charger, powered by 115/230 VAC at 50 to 60 hertz, maintains the 12 VDC battery at peak performance levels. The power system is designed to maintain a full charge that will provide 24VDC output during a loss of AC power for up to three days. Membrane panel status lights also provide diagnostic information for various system configurations.
Halogen Valve Systems, Inc.
www.halogenvalve.com
---
Modular enclosure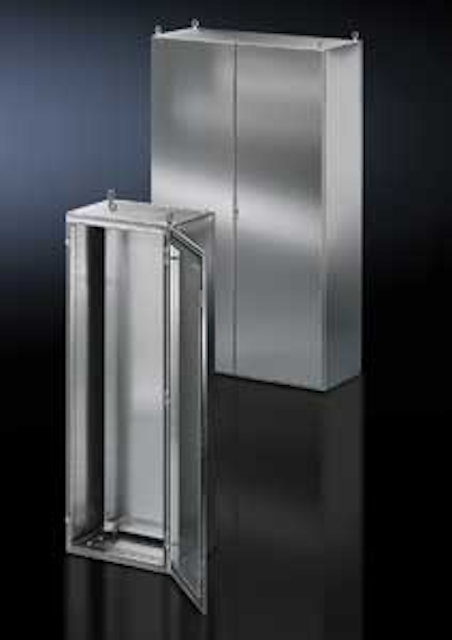 Rittal Corporation's TS8 modular enclosure line, designed for industrial applications, features a 16-fold tubular frame and multi-level mounting capability for unsurpassed strength, safety and flexibility. The enclosure frame can hold weight loads up to 1,500 lb. on the mounting panel and has up to 30% more available space than traditional NEMA style enclosures of equal dimension. The TS8 features snap-fit, tool-free assembly technology, a depth-adjustable zinc-plated mounting panel, and a 25 mm hole pattern that allows components and accessories to be mounted in three directions - by height, width and depth. It also comes available in 304 and 316L stainless steel.
Rittal Corporation
www.rittal.us
---
Railing systems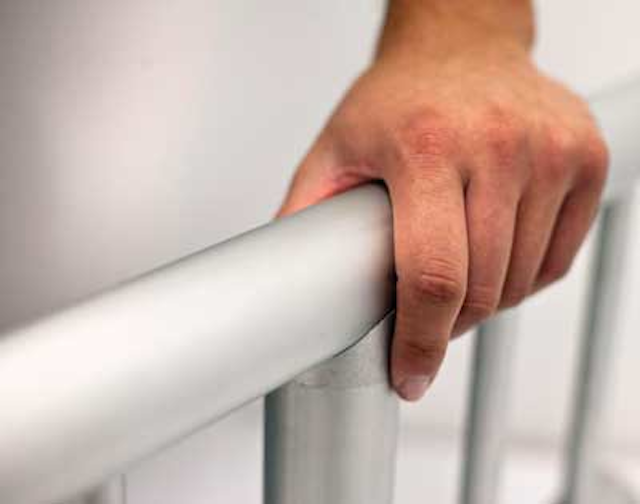 Kee Safety has introduced its Kee Lite® Smooth safety railing systems for water and wastewater treatment facilities. Constructed of corrosion-resistant aluminum that provides strong yet lightweight components, the new railing systems are pre-assembled to minimize installation time and costs. Designed specifically to meet the U.S. Water Industry's requirements, the railing system complies with OSHA 1910.23. Its posts do not interrupt the continuation of the top rail at any point, and the top railings can withstand a 200-lb. load applied at any point from any direction.
Kee Safety, Inc.
www.keesafety.com
---
Alarm-messaging system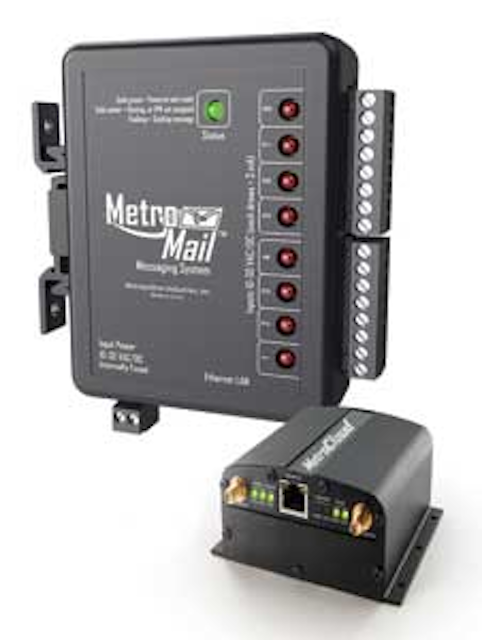 The MetroMail™ alarm-messaging system provides end users with reliable alarm notification capability. Designed to send email and text messages based on the status of eight individual alarm inputs, the system can monitor any electrical and/or mechanical system, including water, wastewater and stormwater applications. All configurations are done via webpage, allowing end users to customize it to fit their exact application.
Metropolitan Industries, Inc.
www.metropolitanind.com