Products & Services: Filtration
Collection of flitration products and services.
Nov 18th, 2014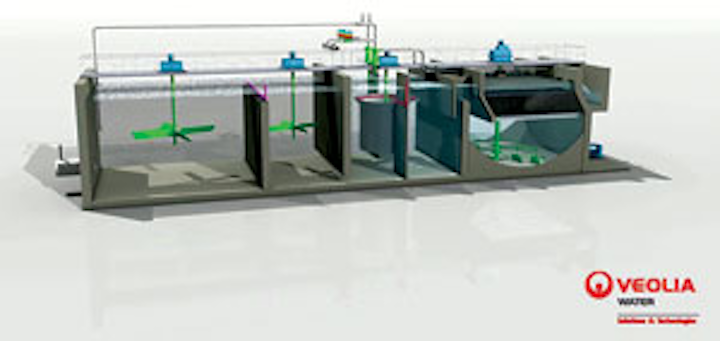 Polymeric membranes
Kruger was awarded a contract from the Harpeth Valley Utilities District (HVUD) in Nashville, Tenn., and will furnish its water treatment plant's phased expansion project with an ACTIFLO® CARB system and a Hydrotech Discfilter for the first two stages of water treatment, sending highly-filtrated effluent to the third stage of treatment -- polymeric membrane microfiltration. The ACTIFLO process combines the benefits of microsand ballasted clarification with the adsorption capacities of powdered activated carbon. As such, the removal of natural organic matter, taste and odor compounds, endocrine disruptors and pesticides is greatly enhanced.
Kruger Inc.
www.krugerusa.com
---
Dual treatment system
Aqua-Aerobic's Aqua BioMax dual treatment system is ideal for low-flow applications and combines rotating biological contactor (RBC) technology with cloth media filtration. The unit utilizes multiple RBC disks that are vertically-mounted and closely spaced on a steel shaft, providing a large surface area for biofilm growth. The disks rotate out of the wastewater to provide aeration for efficient biological oxygen demand (BOD) removal and nitrification. A cloth media drum filter follows the RBC to collect and remove the biological solids prior to the effluent discharge.
Aqua-Aerobic Systems Inc.
www.aqua-aerobic.com
---
Hollow fiber product line
Koch has announced its MegaPure™ hollow fiber product line, designed for high-solids water and wastewater applications, including surface water treatment, high total organic carbon (TOC) water treatment, reverse osmosis pretreatment, and tertiary wastewater treatment. MegaPure simplifies operation, eliminates clarifier pretreatment, minimizes downtime, and reduces chemical usage. It features a unique single-potting cartridge design that allows air scouring to penetrate the fiber bundle more completely and release accumulated solids to the bottom where they are easily drained away.
Koch Membrane Systems
www.kochmembrane.com
---
Ultrafiltration
Degrémont Technologies- Aquasource's Ecoskid™ system provides an ultrafiltration solution that involves passing water through porous and hollow fiber membranes for the removal of particles such as turbidity, bacteria and viruses. The membrane wall acts as a filter for all particles larger than 0.01 micron, and the result is a pure water with a turbidity lower than 0.1 NFU. The Ecoskid works on a patented dead-end filtration mode. Thanks to its exclusive process, the unit does not require any backwash pump or backwash tank to run its backwash cycles.
Degrémont Technologies
www.degremont-technologies.com
---
Ultrafiltration membranes
QUA® has introduced EnviQ™ submerged ultrafiltration membranes for wastewater treatment and recycle applications as part of the membrane bioreactor (MBR) process. The membranes are designed to improve ease of operation and maintenance of MBR facilities and offers ultrafiltration quality product water with a stronger and more rugged PVDF flat sheet membrane. EnviQ's features such as reverse diffusion and air diffusers maximize scrubbing efficiency, resulting in reduced cleaning. Additionally, EnviQ lowers the total installed cost of biological wastewater treatment and recycle systems as compared to conventional activated sludge processes with tertiary filtration.
---
Ozone-enhanced filtration system
Xylem has launched a cutting-edge, ozone-enhanced, biologically-active filtration system and multi-barrier solution for municipal wastewater treatment. Xylem's Leopold Oxelia combines ozone, filtration and analytical instrumentation to deliver optimal wastewater treatment for water reuse and discharge into sensitive waters. This multi-barrier removal opens up increased options for water reuse, including industrial use, groundwater recharge, agriculture, and direct potable reuse. The system also makes effluent suitable for direct discharge into the most sensitive ecosystems.
Xylem Inc.
www.xyleminc.com
---
Ultrafiltration booster module
The new BMS booster module from Grundfos is designed for reverse osmosis, filtration and ultrafiltration, pressure boosting, and water supply in high-flow and pressure applications. Its design focuses on simplicity by removing maintenance-heavy components and facilitating easy access to all vital parts. In addition, a permanent magnet motor has improved pump efficiency by up to 5%. The permanent magnet motor is capable of speeds between 4,000 and 5,500 rotations per minute, controlled by a variable frequency drive that consistently operates at the optimal duty point, guaranteeing energy-efficient operation at all times.
Grundfos Pumps Corporation
us.grundfos.com
More WaterWorld Current Issue Articles
More WaterWorld Archives Issue Articles