Product Showcase
Collection of new products of special interest to the municipal water and wastewater markets
Oct 1st, 2015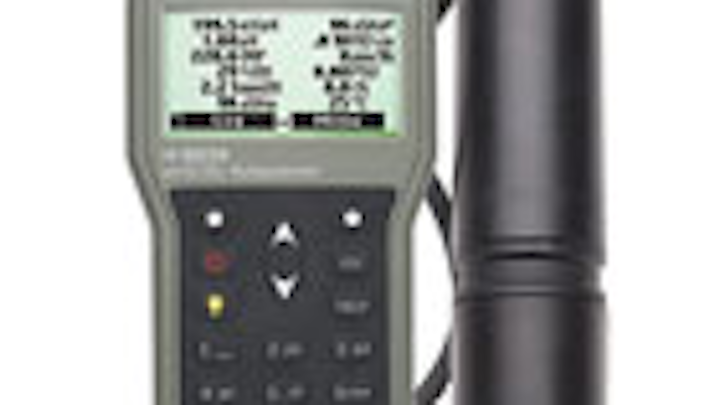 Portable meters
Hanna Instruments has released several new waterproof multiparameter portable meters. The new meters have up to six sensors for measuring pH, ORP, EC, DO, temperature, and atmospheric pressure in addition to seven interpreted parameters including TDS, seawater salinity, and pH in mV. The meters, HI98194 (pH/ORP/EC/DO/Temp/atmospheric pressure), HI98195 (pH, ORP, EC, Temperature), and HI98196 (pH/ORP/DO/Temp/atmospheric pressure) are designed for demanding applications. The meters are rugged and waterproof to IP67 specifications, while the probe with the sensors is IP68 rated.
Hanna Instruments

Level-sensing instrumentation
GF Piping Systems has introduced a comprehensive new level-sensing instrumentation product line that includes ultrasonic level transmitters, sensors and a variety of switches. The new lineup was developed in response to customer demand following the proven performance of the company's existing Submersible Hydrostatic Level Sensors and Transmitters. Key highlights are the 2260 and 2270 Ultrasonic Level Sensors. Together, these devices provide reliable and maintenance-free measurement and detection for nearly all liquids and types of vessels.
GF Piping Systems

Piping system
Asahi/America has reintroduced the Poly-Flo® co-extruded, double-containment piping system. Available in black PE and euro gray PP-R, Poly-Flo is ideal for installations with space constraints and systems where thermal expansion and contraction are present. The SDR-designed system includes full-pressure, drainage and machined fittings. It is also available in 1 x 1-1/2, 2 x 3 and 4 x 6 inches and operates up to 150 psi at 68˚F. Because of its unitary construction, Poly-Flo pipe and fittings act like a single wall system, helping prevent failures often seen in fabricated systems.
Asahi/America Inc.

Agitators
The Chemineer™ Model 20 HT/GT agitators are designed for a wide range of services including applications in the water and wastewater treatment industry that include aeration, nitrification, denitrification, and aerobic and anaerobic digestion and clarification. The agitators feature a high-efficiency gearbox designed specifically for agitator service. Models are available in right-angle and parallel-shaft configurations to meet specific application requirements. Further, the agitators incorporate a modular design package that reduces the number of needed replacement parts.
Chemineer

Research control valves
Badger Meter has established a new lead time of two weeks for Research Control® Valves (RCV) within its broad standard offering - a reduction of more than 50%. For many years, lead times for RCV valve products ranged from four to six weeks. Over the past year, Badger has made a number of major customer-focused investments, where it has optimized its inventory, enhanced its machining capability, improved its system infrastructure, and increased its staff to ensure a new two-week standard lead time.
Badger Meter

Metering antenna
Aclara has introduced a robust through-the-lid antenna that provides a solution for every meter site, reaching 100 percent of meters in pits and vaults while providing exceptionally high read rates. The antenna offers utilities a flexible and complete solution for installing communications modules in meter pits and vaults. With the unit's exclusive design and advanced technology, utilities can elect to reuse their existing metal lids or replace them with lids that radio frequency signals can penetrate.
Aclara

Smart conveying technology
SEEPEX's latest generation of Smart Conveying Technology (SCT) provides increased productivity and lower energy requirements for progressive cavity pumps. In addition to the 1-stage design for pressures up to 4 bar (60 psi), SCT is now available in a 2-stage design for pressures up to 8 bar (120 psi), which can be effortlessly reached. SCT was further advanced based on customers' needs, and it delivers enhanced pump performance with a longer component service life and easy maintenance.
SEEPEX

Wastewater pumps
The Grundfos line of SL submersible wastewater pumps are designed to handle raw, unscreened sewage, effluent and large volumes of surface and process water in municipal, utility and industrial applications. The solids-handing pump series, in motor ranges from 1.5 to 15 horsepower, is available in two types of impellers. The SLV and SL1 pumps are designed for permanent submerged installation in demanding applications such as municipal wastewater, network pumping stations, wastewater treatment plants, public buildings, housing projects, and other commercial applications.
Grundfos
us.grundfos.com
More WaterWorld Current Issue Articles
More WaterWorld Archives Issue Articles