Czech Mate to "The Butcher"
Czech utility VaK Havlickuv Brod has undergone a metamorphism - reducing tariffs to around 25% below the national average and NRW to an impressive 11%.
May 21st, 2014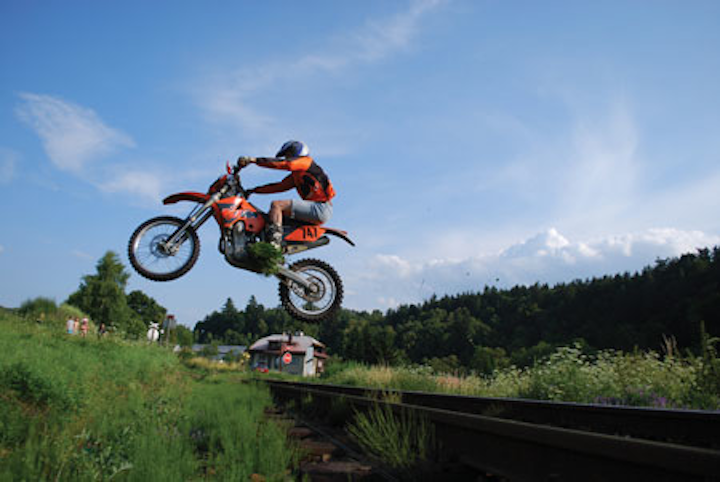 How One Man Created Private Efficiency in a Public Utility
Czech utility VaK Havlickuv Brod has undergone a metamorphism - reducing tariffs to around 25% below the national average and NRW to an impressive 11%. The one man behind this change is Pavel Policar. As WWi finds out, he's anything but your standard executive.
By Jeremy Josephs.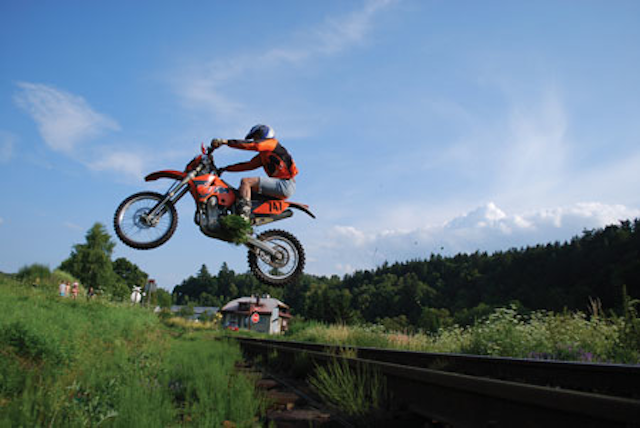 A keen sportsman, Policar competes in motocross with this competitive nature filtering down to business
The great, late American musician Lou Reed, close friend of the Czech ex-president Vaclav Havel suggested to us, quite some time ago, that we would do well to take a "Walk on the Wild Side". And he can surely be forgiven for remaining blissfully unaware that a Czech engineer turned businessman by the name of Pavel Policar had embraced that philosophy with much gusto.
Not in terms of transsexuality, drugs and male prostitution as the original lyrics suggest - one hastens to add - but rather, in his almost obsessive desire to transform a medium sized and creakingly inefficient Czech municipal water corporation into an entity able to compete with the very biggest and best private operators on the world stage. A tall order – a wild order – indeed. But one in which he is already emerging victorious.
The fact that Policar should have embarked upon such a daunting battle is not, in some respects, surprising. After all, the assessment of his line manager Dr Keith Wilson while working for North West Water in the UK, his first post-graduate job, was that "Pavel is a fierce competitor in sport, work and business. But a fair player nonetheless".
"I have always tried to abide by the sentiments of that evaluation", the energetic water boss affirms, "even though it was made over 20 years ago".
"Fair enough", his interlocutor intervenes, "but it still says that you are fierce. Is that something you are comfortable with?"
Heart and soul of Czech Republic
"Yes, very much so. I like to think that I am fierce. I still play ice hockey and do motocross with guys 25 years my junior and they in turn have nicknamed me srdcar which means 'heart fighter' in Czech. On the grounds that my approach comes from my heart and soul. In sport I will fight to the very last second - even when it seems certain that we have lost. But always with fair play. It's the same in business. You can't win all of the time.
"This is something which, hopefully, you learn as you mature in life. To the extent that you can even go so far as to openly and honestly congratulate your more effective competitor as long as they play fair too."
So you are saying that the world of water in the Czech Republic is an open and honest and fair playing field?
"No, I am not saying that at all", he responds, his tone suddenly becoming more reflective, even sombre. "There is only so much I can say on the record. Let me put it this way, 60-70% of the Czech market is operated by the large foreign conglomerates. The company of which I am executive chairman, VaK Havlickuv Brod, by way of comparison, is a small 90% municipally owned water entity supplying around 100,000 people, our geographical base being in the middle of the Czech Republic, some 100km to the east of Prague in an area known as the Czech highlands."
So not exactly a fair fight then?
"This is sometimes true. It's Muhammad Ali against, I don't know, a featherweight teenage girl in the ring. Anyway, I don't want to overdo this boxing analogy – suffice it to say that we have had to learn to box clever."
And box clever Pavel Policar did, beating off the big boys on more than one occasion, but most particularly in the small neighbouring town of Vlasim (population: 30,000) even if his victory ended up being contested in the courts. But before being able to put on his gloves Policar realized that he would have his own internal battle on his hands when he was appointed as executive chairman seven years ago.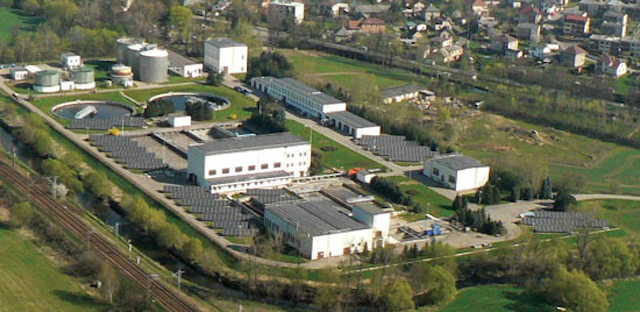 VaK Havlickuv Brod is a small 90% municipally owned water entity supplying around 100,000 people, 100km east of Prague
The "butcher" goes to work
For while his management team was with him from the outset, the local trade unions were singularly unimpressed by his determination to introduce the ethos and values of private sector efficiency into the public domain. And he dared mention the P word - profitability - a concept not known for being bandied about in the public sector. It would be something of an understatement to say that the trade unions were hostile to the root and branch reforms he was proposing - their approach can best be encapsulated in the nickname they came up with for Policar - 'the butcher'.
As the butcher set about wielding his knife - it was in action for the best part of four years - VaK Havlickuv Brod underwent a veritable metamorphism, managing its infrastructure effectively, reinvesting "wisely full" depreciations, operating efficiently, reducing tariffs to around 25% below the national average, reducing NRW to an impressive 11%, dramatically improving customer service, expanding internally and externally.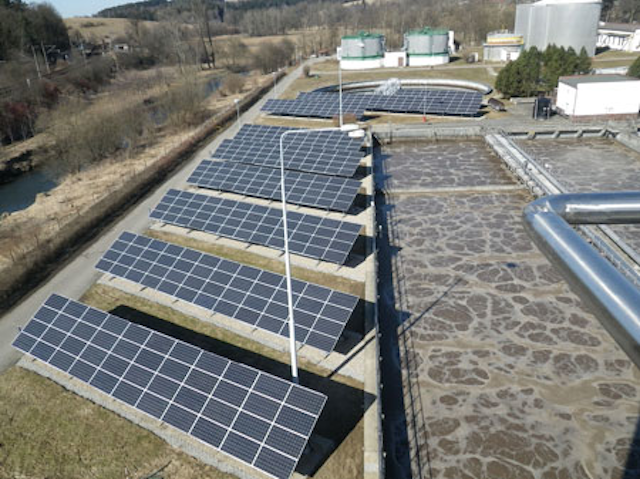 Bright idea: the utility diversifid into solar power and Policar has ideas for other tech based businesses
The utility also diversified into non-core areas such as pipe cleaning and photovoltaic power plants, involving staff in a wide variety of measurable and motivating schemes and slowly but surely over an often traumatic four year period the so-called butcher won his critics over.
He had succeeded in transforming an almost loss-making municipal entity into a highly profitable organisation in which each and every employee – from senior executives to plant engineers – began to have a real and meaningful stake in the enterprise. In fact the proof of the private style pudding was in the municipal profit-making.
"And it was because of this dramatic turnaround that we have come to rub shoulders with the big players in the large neighbouring districts. In fact we are the only Czech municipal company to be found in such tenders."
Would it be safe to assume that Policar has done well for himself?
You've got to be kidding," he responds quickly. "I deliberately receive around a couple of hundred euros each month. And I spend more than that on travel and phone calls, I can assure you."
Motivation
This raises the question of what motivates Policar if financial compensation does not even feature on his agenda?
"I told you. I am a competitor. It's my sporty nature. It's the drive to win. To be the best. And to leave a monumental success behind me. I am fortunate in that I have other business interests so I don't need the money. I am doing it for the challenge, for fun but above all for the company to stay in Czech hands."
So are we really on wild white water rafting ride with Pavel, as he would have us believe? Or has he come to digest and internalise his own hype? Well, it's certainly true to say that VaK Havlickuv Brod is involved in activities which one would not normally associate with a municipal water company.
For the truth of the matter is that 99% of such entities world-wide are inefficient whereas Vak's balance sheet manifestly paints a different story. Not only that – under Policar's dynamic leadership, and building upon his two decades of experience of leadership in the private sector, the water company is involved in an active and aggressive expansion programme. And how many other municipal corporations, Czech or otherwise, are diversifying into activities as diverse as solar power, public LED lighting and JCB excavation?
Private efficiency, public ownership
Isn't what really counts not the issue of ownership but efficient management?
"I agree entirely", Pavel retorts. "All I am trying to do is to introduce a touch of the efficiency that is usually associated with the private sector into the public domain.
"That shouldn't really be all that revolutionary in my view. You need a long term strategy and support from the boardroom. When I came to the water company, in the early days, I said that all I want is an honest and efficient eight hour day from everyone, as per the legislation, and I also said "don't lie" and "don't steal". Surely that's not a lot to have asked? In the event my managers' pay was tripled and other employees have had hikes too.
"But all against a very sophisticated motivation scheme – which includes no less than 50 measurable parameters such as debt collection, levels of NRW, non-core profit and so on. Now, finally, everyone is on board and I like to think that every employee treats every penny of company money as if it were their own. It's a most unusual PPP – an internal simulation of private sector driven philosophy but within the public sector."
"Do forgive me Mr Policar", I conclude, "but you do sound to me something of a nutcase. This competitive element, the epic battles, for example. "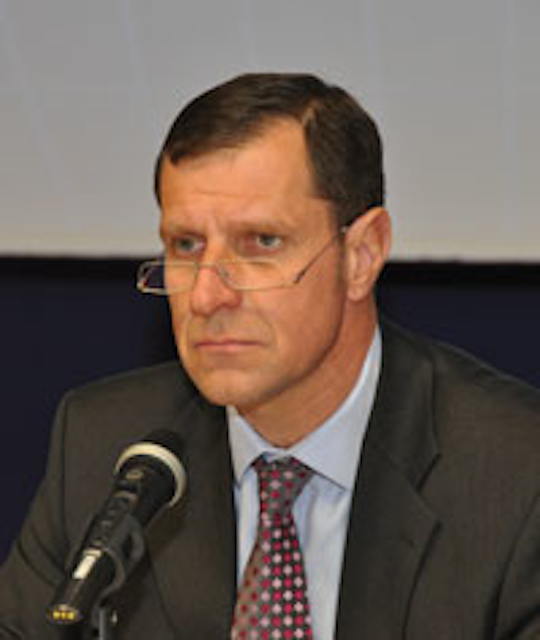 Policar introduced 50 parameters to VaK
"Now I really should be offended by that", he retorts. "But I will tell you why I am not. Because it's absolutely true. And you know what – we need more nutters running public utilities."
It's time for one final analogy.
"It seems to me as if you are swimming against the tide though.
"More like a tsunami", he responds, quick as a flash.
Which prompts one to ask, of course, what the musician Lou Reed would have made of all this. But since he too evidently enjoyed a walk on the wild side, one is tempted to conclude that he would have approved wholeheartedly.
---
Author's note: Jeremy Josephs is freelance correspondent for Water & Wastewater International magazine. Email: tomf@pennwell.com