Playing the Phosphorus Game: Severn Trent Water Explores Novel Removal Technologies
As stricter limits come into force regulating phosphorus discharge, UK utility Severn Trent Water trials new solutions.
Sep 1st, 2017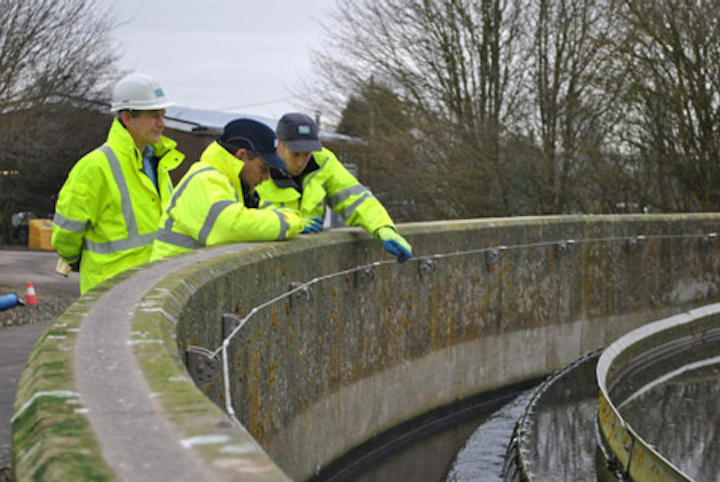 As stricter limits come into force regulating phosphorus discharge from wastewater treatment plants, UK utility Severn Trent Water looks toward new solutions for phosphorus removal.
By Williams Steel
According to Severn Trent Water, current phosphorus removal technologies in operation are unlikely to be sufficient to meet the requirements being imposed by the new EU Water Framework Directive.
In response, and following a series of trials evaluating the performance of seven phosphorus removal technologies at its facility in Packington, Leicestershire, the company has commenced rollout of several solutions as part of a £120 million investment directed at the upgrading of some one hundred WWTPs.
The challenge
Although phosphorus removal during wastewater treatment is not in itself new, the complexity of the task has now changed, according to Pete Vale, technical lead at Severn Trent Water.
"We've been removing phosphorus for the last twenty years in view of water quality and environmental considerations," he says. "The EU Urban Wastewater Treatment Directive set limits to about 1 milligramme phosphorus (P) per litre (mg/l) level. But the EU Water Framework Directive requires us to get substantially lower - to 0.2mg/l. At Packington, we're aiming to get as low as 0.1mg/l."
He continues: "It may not sound like a large difference, from 1mg to 0.1mg/l - but it's a significant. So much so that it requires new solutions."
In addition to technical motivations, Vale identified a number of additional considerations. One was the desire to explore technologies aligned with the company's ambition to ensure that new infrastructure is both as cost-effective and sustainable as possible: "We're not simply focused on performance. We need to be meeting targets in a cost-effective manner," he says.
It's an ambition that's especially relevant in view of the new targets.
Vale expands: "A key challenge when trying to remove phosphorus with conventional approaches is that to get down to the really low levels we're targeting (down from the 1mg/l to 0.1mg/l level) you need to dose a lot more iron. That in turn produces a lot of extra solids which have to managed and removed. That's a challenge in its own right and carries costs."
Christian Kabbe, project manager for resource & energy recovery from wastewater at the Berlin Centre of Competence for Water, believes Severn Trent's ambitions are not without challenges.
Speaking to WWi, he says: "From a circular economy perspective, chemical treatments have clear limitations. Of course the more iron you dose, the more phosphorus can be transferred into sludge for potential recovery…but only up to a point. After that the efforts and costs required to extract phosphorus are much higher than compared to biological treatment. But here you're vulnerable to wastewater homogeneity and climatic conditions. Biological systems can be slower to adapt to changing conditions compared to chemical systems."
Kabbe summarises: "The whole WWTP must be seen as holistic system - changing one variable means impacting another. With outcomes such as more sludge, or greater energy requirements, we're certainly looking at more challenging circumstances for plants. So new solutions are clearly needed as phosphorus, and other effluent, regulations evolve."
Potentially a third motivation for new technologies, explains Vale, stems from the industry's awareness that phosphorus recovery, with a view to synthesis into fertiliser, is on the horizon. "We're keen on phosphorus recovery. It's a side of the story that's often neglected."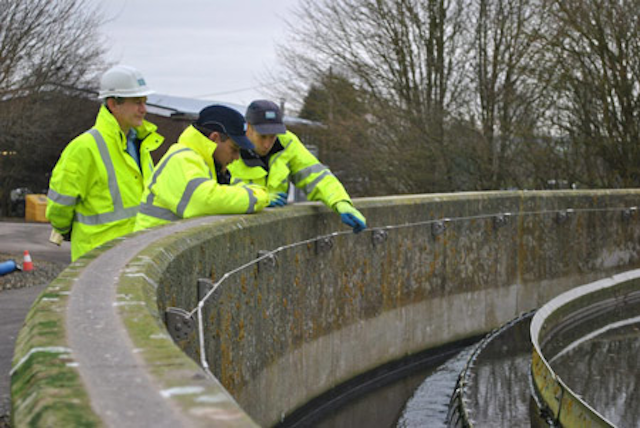 Identifying solutions
The selection of technologies for trials was driven by practical rationale, explains Vale: "We never set out with the thought that one technology would be a silver bullet to new targets."
The utility's focus was on tertiary treatment technologies: with exception of reactive media reed beds, the technologies are a second step to be used after a good amount of phosphorus (P) has already been removed. Of the technologies on trial, three were proprietary and commercially available, and therefore suited to the possibility that successful solutions might be more rapidly implemented into full-scale works.
Alongside these, the consideration of three less established technologies, developed at Cranfield University, brought advantages too. One example is a biological algal bioreactor, which alongside the ion exchange system is being put into practical application for the first time.
Trial Outcome: Nanoparticle
One of the most intriguing technologies under evaluation revealed a technology able to meet the new EU target effluent residual P values, while avoiding chemical dosing entirely.
Developed at Cranfield, the technology uses beads impregnated with nanoparticles of iron - something accomplished using an ion exchange process - which enable selective adsorption of phosphorus with retention time of only a few minutes.
Vale explains: "With the technology it's possible to treat wastewater with a relatively high phosphorus concentration and achieve a very low effluent P concentration of less than 0.1mg/l with short (circa three minutes) empty bed contact times, meaning that the technology would be high rate and compact."
He continues: "An advantage of the process is that because the iron is embedded on the media, the effluent sludge doesn't contain phosphorus and iron bound together. This is useful if we're to consider phosphorus recovery."
While Vale notes that the system allows for as many as 2000 bed volumes to be treated before regeneration is necessary, he emphasises: "The economics are very reliant on being able to clean-up and reuse the regenerant (sodium hydroxide). Most of the challenges are associated with the efficiency of regeneration and most particularly not "losing" caustic."
After regenerating with caustic, the adsorption bed must be rinsed with effluent before being returned to service. This process wastes some of the caustic and requires the high pH rinse water to be pH corrected before it is treated in the main WWTP. "More efficient ways of regeneration, including draining the column are being investigated," says Vale.
Algal bioreactor system
An algal bioreactor system is still under evaluation at Packington but early results from its first real-world installation appear promising.
Though avoiding chemical dosing, Vale notes that "biological treatment on its own is unlikely to reach really low levels", and so would need to be used alongside other treatments.
"The jury is still out whether the algal bioreactor system will be able to meet the strictest of limits, say below 0.1mg/l. Work so far has revealed that it can get down pretty low, certainly less than 0.3mg/l. So it has real potential for some sites."
Although similar in nature to conventional algal treatments, the new technology out of Cranfield differs in its use of algae. Rather than free-floating algae, the concept involves encapsulating algae in beads. While removing floating algae is energy intensive in conventional algae treatments, recovery of beads is relatively simple whilst also enabling a smaller system physical footprint.
Vale explains: "By encapsulating algae within a bead, they sink very quickly. This allows us to use fluidised bed reactors, as at Packington, and so there's no need for a separation step...Overall the process should be low energy, partly because algal beads require removal only every few weeks."
Alongside phosphorus, the alginate beads also take up ammonia effectively too. A further bonus of the system is its amenity to energy production and P recovery: "Harvested algae from beads could be digested (via anaerobic digestion) to produce biogas. Potentially you can recover P too, as it ends up in the sludge which could be recycled to land," said Vale.
Reactive media reed beds
A third novel solution trialed by Severn Trent Water is a reactive media reed bed system. Vale reported that preliminary demonstration scale plant trials revealed "initial excellent performance of a low cost, passive solution that avoids the need for chemical dosing."
Here the phosphorus removal mechanism centers on calcium ions being released from a steel slag media, rich in lime, reacting with phosphorus to form a precipitate that is then filtered out.
"With a feed concentration of circa 6mg/l P, the system achieved a very low effluent P of less than 0.1mg/l - much better than expected," reported Vale.
Moving forward
Reflecting on the challenge of ensuring enhanced P removal at over one thousand WWTPs Severn Trent Water operate, Vale says: "I believe there will always be a need for different technologies to accommodate different types of work we operate. The level of technology and sophistication varies according to the site, so there's a need for multiple solutions, some biological, some chemical."
Kabbe, agrees, telling WWi: "New regulation may mean more removal of phosphorus, and drive technologies to accomplish this, but effective valorisation of recovered phosphorus and, importantly, adaption of fertiliser regulations, is fundamental to making business cases work for technologies that are expensive."
The opportunities here shouldn't be underestimated; but as is the case at Packington, the work remains ongoing.
---
Wiliam Steel is a freelance contributor for WWi magazine.
More Water & WasteWater International Current Issue Articles
More Water & WasteWater International Archives Issue Articles