How efficient can water management become in the future using smart meters?
As part of the WWi series in which we pose a question to water and wastewater manufacturers, next up is smart meters.
Jul 18th, 2013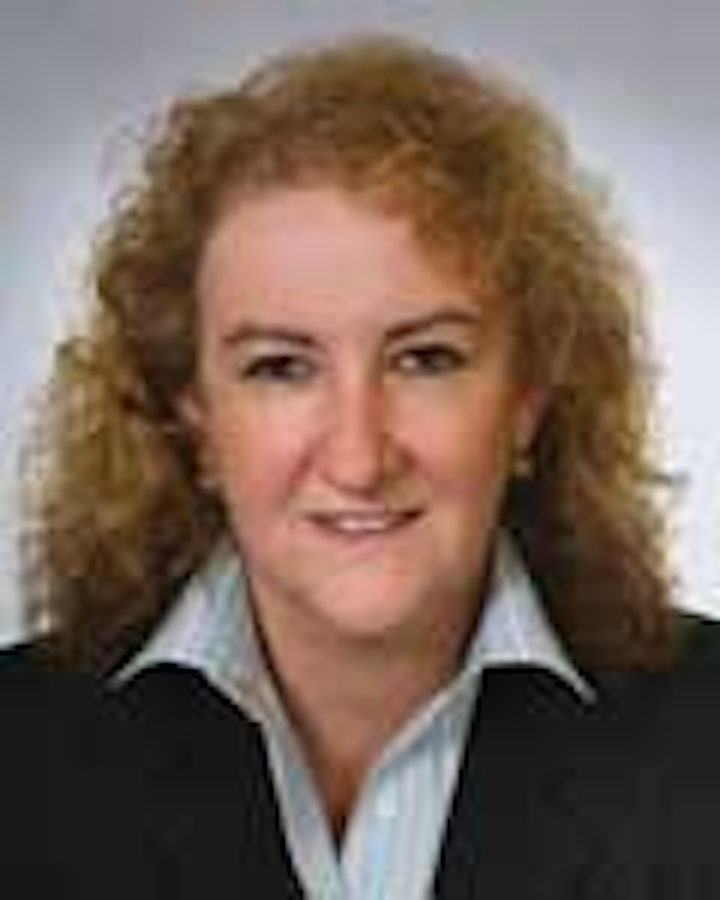 As part of the WWi series in which we pose a question to water and wastewater manufacturers, next up is smart meters. With advanced software and metering solutions available to utilities, what should they be looking for when upgrading they water systems?
Empowering communities with data
Linda Jackman,vice president of industry strategy, Oracle Utilities
There is no doubt that efficient water management is becoming a significant priority for water utilities and governments across the globe. This is evident in the finding that 93% of utilities are increasing investment in their water infrastructure to meet supply challenges, according to research from the Economist Intelligence Unit and Oracle. Great news considering the same study also found that almost 40% of water utilities believe demand for water will outstrip supply by 2030.
Smart water meters can play a critical role in addressing demand for water, which is being driven by growing populations, developing economies, changing climate patterns and rapid urbanisation. Devices have the ability to identify and resolve inefficiencies in water use through enabling utilities to analyse water flows in near-real time, which can help conserve supplies by providing customers with the right tools to monitor usage and detect leaks.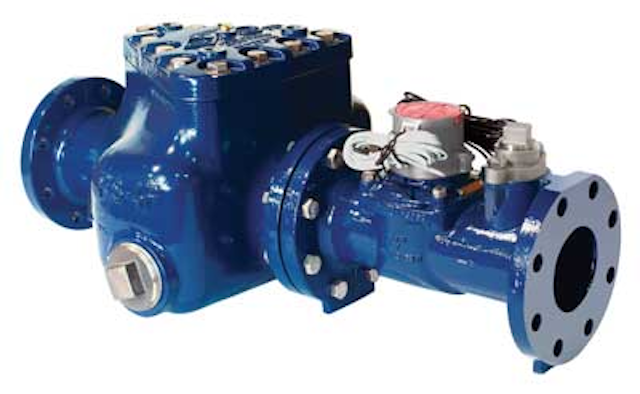 For example, consumers who see evidence of excess consumption by comparing area averages will be more motivated to seek advice for conservation techniques. Furthermore, smart meters allow water utilities to analyse and correlate data from various sources, including acoustic, and pressure, which in turn provides the ability to identify pattern changes in water usage and minimal flows.
A great example of the profound impact smart water meters can have on water management can be taken from Veolia's m2o city project, which was launched in 2011. The initiative, a joint venture between Veolia and Orange, specialises in remote environmental data and water meter reading services, and enables the gathering and management of data related to water usage. The programme means companies and real estate managers can keep a check on year-round usage across a number of properties in real-time, and ensures customers are invoiced for exact water usage. Additionally, customers are automatically notified of any abnormal consumption.
However, unlike smart meters for energy, smart water meters are not yet mandatory and while it's encouraging to see utilities investing in the devices they cannot satisfy demand for water on their own. Such technologies help in maintaining and operating the various components of the water network, and are equally important in ensuring the compliance, availability and performance of all the infrastructure's assets.
We all probably would agree that smart water meters are crucial to the future of water management. Yet water utilities must remember the device is just one component of an effective system. By building a comprehensive network featuring smart water meters, with supporting technologies, water utilities can be better equipped to combat the growing demand for water and feel more confident that a future where water is readily available for all is possible.
---
Importance of low flow accuracy
Doug McCall, marketing director, Sensus
Increasing efficiency in water management is not a far flung, futuristic dream. Utilities are implementing smart meters and entire smart water networks. These products, solutions and systems enable utilities to remotely and continuously monitor and diagnose problems, prioritize and manage maintenance issues and use data to optimize all aspects of the water distribution network.
Smart water networks enable improvements in system performance, such as leakage and pressure management, network operations and water quality monitoring. These improvements, coupled with informed decision making about the allocation of capital expenditures, can stimulate dramatic savings driven by real-time data that a smart water network provides.
Sensus' global survey of water utilities found that one-third of utilities report losing more than 40% of their clean water to leaks. Water utilities are also faced with a dilemma when it comes to water metering and measurement for large commercial customers.
While many commercial water meters are designed to withstand the high flow requirements of commercial water customers, these same meters are often incapable of measuring low flows and retaining accuracy over time and continuous flow conditions.
Grocery store commercial customers, as an example, cannot be charged for the low water flow set forth by produce misters. With revenue as the main consideration for water utilities, it is imperative that commercial meters boast low flow accuracy as well as genuine strength, ongoing accuracy and compatibility.
Today's intelligent technology enables low flow detection, enhanced accuracy ranges and overall greater accuracy through Floating Ball Technology (FBT). This supports unprecedented reliability paired with an easily removable measuring chamber, unique chamber seal, electronic register and an AWWA compliant strainer.
When it comes to residential customers, today's technology offers unparalleled low flow accuracy with high flow durability. Magnetic technology allows for the capture of previously unmeasured low flow and drives additional revenue for the utility. Today's technology can increase returns while maximizing operational efficiency. This is just one benefit of a smart water network.
Company developments
Water utilities are under pressure from growing demand, water stress, increasing energy prices and aging water systems. AquaSense is the smart water solution for water utilities designed to improve both efficiency and the bottom line. It is built around each utility with the aim to realize day-one savings, short-term payback and technology that will grow into the future. The AquaSense solution also provides utilities the opportunity to measure flow ranges and drive revenue. The product complies with and exceeds requirements set by The Safe Drinking Water Act and NSF/ANSI 61 Annex F and G that became standard in 2012.
---
Advanced metering analytics
John Fillinger, director of utility marketing, Badger Meter
One of the keys to optimising utility system performance is the ability to quickly analyse an increasing amount of data collected using smart metering technologies. The next generation technology, Advanced Metering Analytics (AMA), integrates powerful software to automate reporting and diagnostics and drive proactive management.
In addition to gathering and analyzing meter data, AMA automates the first action in the decision-making process by alerting appropriate utility personnel to issues via email, text, or the system's dashboard. Beyond the expected efficiencies of automated data collection, such as reduced meter reading time, AMA provides additional benefits in customer service, operations and asset management, resource management, water and energy conservation, and government compliance.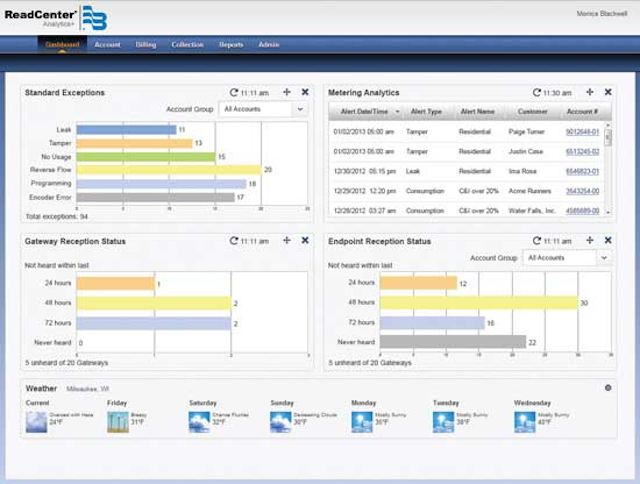 In the area of customer service, AMA enables utilities to provide more detailed consumption information − from hourly to annual periods − quickly and easily. Usage information can be shared with water consumers via email, traditional mail, phone, or a consumer web portal, providing transparency that decreases customer calls and billing inquiries as well as theft.
Through an online dashboard view of the network infrastructure and endpoints, utilities can monitor their operations without running reports. Dashboards can be customised and assigned for different user roles. Plus, maintenance tasks can be integrated along with local weather forecasts to help with scheduling outdoor tasks.
Managing resources becomes more efficient with AMA, too. Proactive notifications can report continuous use or leaks, cut wire, reverse flow, encoder error, water main leaks, and removal from the service line. Hourly data also can be analysed to indicate meters that are under registering and may be in need of repair or replacement.
When it comes to water and energy conservation, AMA provides significant efficiencies. By helping to identify leaks and other issues quicker – whether at the endpoint or distribution level – it enables utilities to decrease water and revenue losses. In communities with conservation programs, AMA can play a role in ensuring restrictions are being followed. Restriction profiles can be applied to selected accounts that are then monitored using hourly data, and an alert is triggered if the restriction is not followed.
Streamlining government compliance tasks is yet another benefit of AMA for utilities. Users can easily configure and email reports through the system. By making real use of hourly interval data and delivering proactive, meaningful information to utilities, advances in smart metering technologies such as AMA will help utilities efficiently monitor and manage their valuable resources now and into the future.
Company developments
The latest releases of Badger Meter's analytics software includes ReadCenter AnalyticsPro and ReadCenter Analytics+, make optimal use of hourly metering data to facilitate intelligent, information-driven decisions. When coupled with Advanced Metering Infrastructure (AMI) hardware, ReadCenter AnalyticsPro software delivers a web-based AMA solution that helps utilities optimize operations.
In four simple steps, proactive analytics can be set up with the software, automating data analysis so it is no longer necessary to run reports. The system also can be configured to alert appropriate personnel of specific conditions via email, SMS, or the system dashboard. An enhanced ReadCenter AnalyticsPro dashboard provides utilities with an immediate system overview. At a glance, utility personnel can see potential issues such as leaks, tampering, no usage, reverse flow and endpoints that are reaching the final days of useful life. Fixed Network Monitoring provides a summary of how fixed network data collectors and endpoints are operating.
Both ReadCenter Analytics+ and ReadCenter AnalyticsPro offer additional advantages to boost utility performance in customer service, water and energy conservation, operations and revenue management, and government compliance.