Product & Services: SCADA & Process Control
Collection of SCADA & Process Control products and services.
Jan 1st, 2013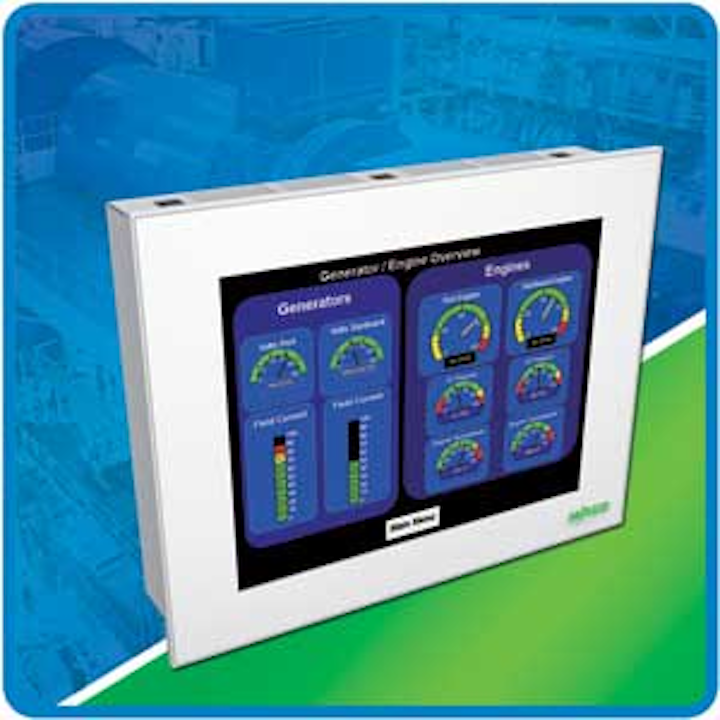 Information management
Hach Company now provides a new low cost way to get started with its Water Information Management Solution (WIMS™) data management software. Its WIMS Online system offers users all of the benefits of Hach WIMS, but enables access over the internet from any Windows Mobile device, tablet or PC. Benefits include a cost effective way to store and analyze data, and customers only pay for the level of support that is required for their facilities The online system offers simple set up requirements, remote access and the ability to share information with interested parties.
Hach Co.
www.hach.com
---
HMI, PLC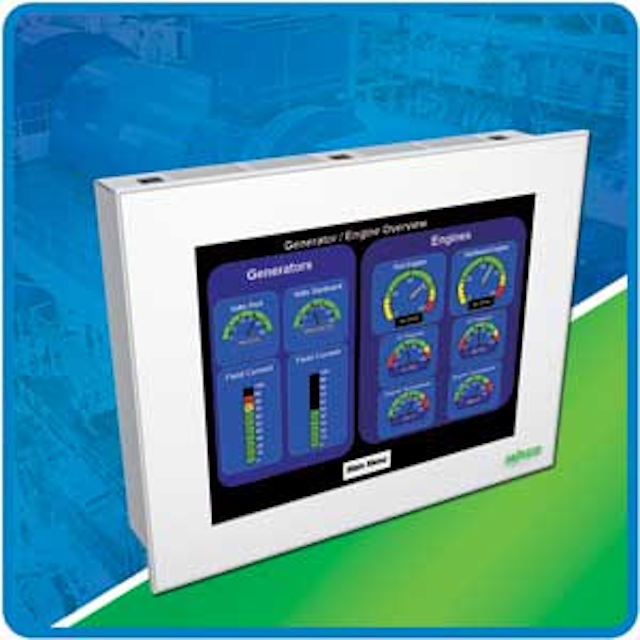 Wago's Perspecto® CP TV merges an HMI and PLC into one package. Unlike traditional configurations with separate PLC hardware/software and HMI hardware/software, the system is a comprehensive logic and visualization solution. This reduces overall costs and engineering time. Part of the company's I/O-System, its is compatible with 450+ digital, analog and specialty I/O, as well as controllers and bus couplers. It also permits direct access to IP67 distributive I/O, couplers and controllers - ideal for harsh environment process control.
Wago
www.wago.us/perspectocptv.htm
---
Data monitoring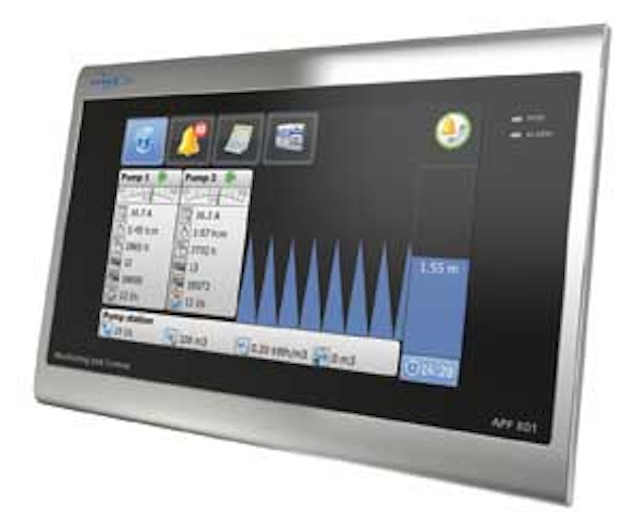 The Whitewater BlueBox™ collects, validates, and synchronizes continuous data originating from online water quality sensors, online operational sensors and field devices. The system uses patent protected algorithms to analyze multivariate parameter combinations learning the normal behavioral patterns of the network.
Whitewater
www.w-water.com
---
Pump controller
Xylem's Flygt APP 800 automated water transport controller is a next generation pump station control system designed to provide more uptime, greater energy savings, less operating and maintenance costs, and added peace of mind. Unlike general-purpose PLC systems, this system with dedicated pump I/Os is specifically engineered for control of water and wastewater transport systems.
Flygt, a Xylem brand
www.flygtus.com
---
Pump station control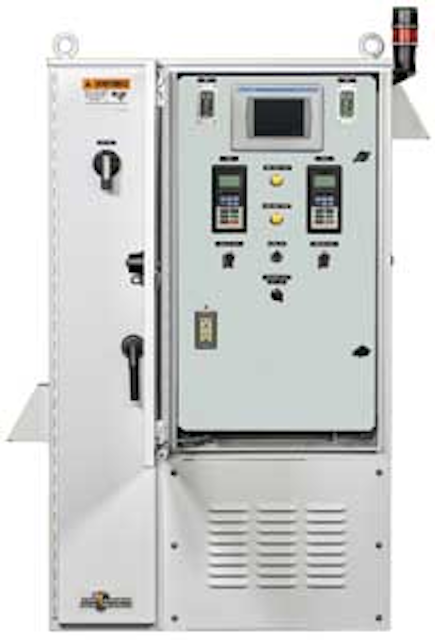 The Eco Smart Station® AB pre-engineered control system provides a safe, simple, energy efficient solution for pump control in municipal lift station applications. Housed in a patented multiple compartment Arc Armor® enclosure, it is designed to reduce the risk of injury resulting from electric shock and exposure to arc flash. The controller provides energy efficient level control, automatic pump alternation, flow monitoring, data logging, alarm logging and historical trending.
SJE-Rhombus®
www.ecosmartpanel.com
---
Pressure measurement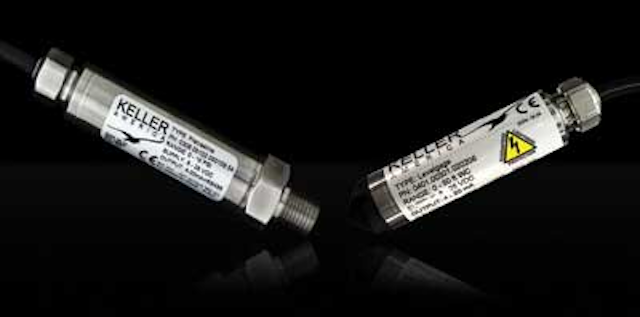 Keller offers a full line of level and pressure transmitters designed to provide the greatest value for process control applications. Each instrument is built in the U.S. with a short 3-day lead time including custom calibrations, cable lengths, and industry standard outputs to simplify installation into new or existing systems.
Keller America
www.kelleramerica.com
---
Energy use monitoring
Mitsubishi Electric Automation has introduced EnergyPAQ, an energy monitoring and control solution that can help lower utility bills, reduce energy consumption and meet energy compliance standards. The self-contained energy monitoring unit provides easy-to-read visual data identifying how much and where energy is being used by various building loads and processes.
Mitsubishi Electric Automation
www.meau.com
---
Level monitoring
Magnetrol has launched the Eclipse Model 706 guided wave radar (GWR) transmitter designed to provide accuracy, reliability and safety for virtually all process industries. The transmitter's circuitry achieves both a higher transmit pulse amplitude and improved receiver sensitivity, resulting in a signal-to-noise ratio that is nearly 300% higher than competitive GWR devices. This assures dependable control for every level application, including extremely low dielectric media, extended measuring ranges, and punishing conditions where foaming, boiling or flashing can occur.
Magnetrol International Inc.
www.magnetrol.com
---
Flow monitor
Pulsar Process Measurement have launched Flow Pulse, a compact pipe flow monitor suited for monitoring flow rate in fluid distribution systems, for pump efficiency checks, in treatment plants or sewage pumping stations. Users clamp a small sensor to the outside of a pipe and immediately get a repeatable flow measurement. There is virtually no installation costs and no interruption to service. The monitor uses a spread spectrum ultrasound analysis technique never before used in flow monitoring. It operates in a flow range from as little as 0.3m/s through to 4m/s, with a minimum particle size of 100µ and concentration of 200 ppm or above (the equivalent of hard water).
Pulsar Process Measurement
www.pulsar-pm.com
---
Pump control panels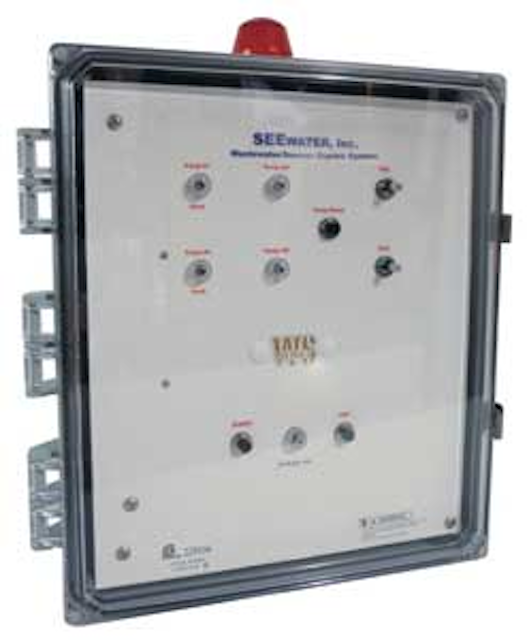 The WS Series™ control panels are advanced simplex and duplex systems controlled by SEEwater's "Smart Board" designed for wastewater and sewage pump applications. The panels come standard with: NEMA 4X enclosure, upgraded pump protection, pump fault indicators and auxiliary contacts for accessing building management systems (SCADA). Custom options are available upon request. All panels manufactured by SEEwater are 100% factory tested and ARRA Certified.
SEEwater Inc.
www.seewaterinc.com
---
Ultrasonic flow meters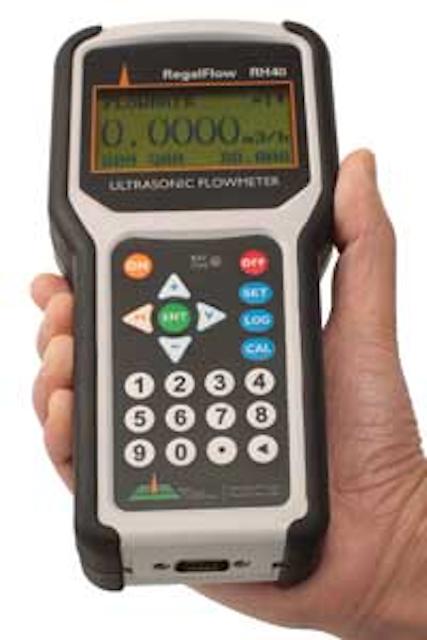 Spire Metering Technology, formerly Shenitech, has released its next generation handheld ultrasonic flow meter, the Regal Series RH40. The meters are engineered to deliver non-intrusive flow and BTU measurement across a broad array of pipe sizes and applications for water, wastewater and other liquid flow applications. The meter is portable and relies on clamp-on sensors to perform non-intrusive measurements on flow, temperature and heat energy/BTU consumption on pipes ranging from 0.5" to 120" in diameter.
Spire Metering Technology
www.spiremt.com