New Products
Collection of new products for the municipal drinking water and wastewater markets.
Sep 22nd, 2014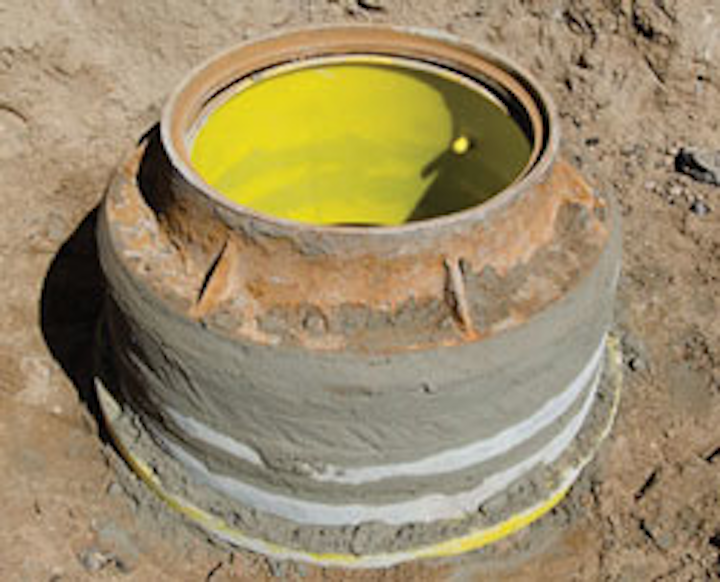 Manhole shield
Eull's manhole shield is a turnkey system for final manhole adjustments that combines all structural elements in one package for an incomparable fit and finish. The system is designed to remove the guesswork from the manhole adjustment process and includes concrete grade rings, underground mortar, masonry shim strips, and an impermeable I&I barrier. Each component functions as part of a cohesive unit, which simplifies installation, minimizes maintenance, and ensures long-term durability, reliability and safety.
Eull's Manufacturing
www.eullsmanufacturing.com
Ratcheting socket wrench
Lowell has made several updates to its 8C 4-in-1 ratcheting socket wrench. The 8C features four sockets that can handle the four most common nut sizes found in utility and construction work so that workers can carry one wrench instead of four. Applications include guard rail assembly, leveling pad adjustment, mechanical joints, restraints, couplings, sleeves, repair clamps, saddles, and flange bolts.
Lowell Corporation
www.lowellcorp.com
Dual treatment system
Aqua-Aerobic's Aqua BioMax dual treatment system is ideal for low-flow applications and combines rotating biological contactor (RBC) technology with cloth media filtration. The unit utilizes multiple RBC disks that are vertically-mounted and closely spaced on a steel shaft, providing a large surface area for biofilm growth. The disks rotate out of the wastewater to provide aeration for efficient biological oxygen demand (BOD) removal and nitrification.
Aqua-Aerobic Systems Inc.
www.aqua-aerobic.com
Visit Aqua-Aerobic at WEFTEC.14 – Booth 7602
Filter cart
Fountain Bleu has announced its Dual Filter Cart to the Water-Vac Solids Separation System line. It works in conjunction with the Water-Vac by breaking down particulates into multiple stages, thus speeding up the cleaning time. The Dual Filter Cart can be filtered down to 200 microns at a speed of 3,000 GPH of continuous circulation. The Dual Filter cart can be expanded to add more filtration to your cleaning process.
Fountain Bleu
www.fountainbleuvac.com
Chloride formulation
HaloKlear has introduced a new hybrid polymer called BHR-P50, which is a blended biopolymer and polyaluminum chloride formulation for water clarification and nutrient removal. The hybrid is a "greener" alternative that exceeds the clarification performance of traditional and commodity treatment chemicals. Additionally, BHR-P50 produces denser solids more suitable for dewatering and disposal, resulting in reduced disposal and hauling costs.
HaloKlear
www.haloklear.com
Control software
Euclides Technologies is an integration and implementation specialist with the ClickSoftware Service Optimization Suite. This solution is a proven tool for the water service sector that assists companies in the process of creating optimal service schedules. Clients who choose this software have the ability to monitor and control any element that challenges daily service operation, including real-time data communication with the field using mobile devices, travel and route optimization including map view and 360-degree visibility of all work and work types in a centralized system.
Euclides Technologies
www.euclidestech.com
Ball valve assembly
Festo has introduced a ball valve assembly program designed to deliver a host of process application benefits. The company now assembles, warrants and supports ready-to-install ball valve assemblies that can include the ball valve, Namur solenoid, actuator, positioner, and sensor. Until now, most ball valve assemblies have been locally sourced and built for each plant. This leads to variations in part numbers, components, quality, support, and higher-than-needed inventory levels. The new Festo program ensures consistency, especially for the components, which allows precise control of the ball valve and all its accessories.
Festo
www.festo.com