World Class Technologies: Smart Design, Durable Manufacturing Drive Improvements Across Critical Operational Areas
World class technologies, systems and equipment applicable to and relevant at wastewater treatment plants and waste streams for various cultures, countries and industries worldwide, employ smart design and durable manufacturing, which can materialize in obvious and more subliminal savings.
Jun 2nd, 2014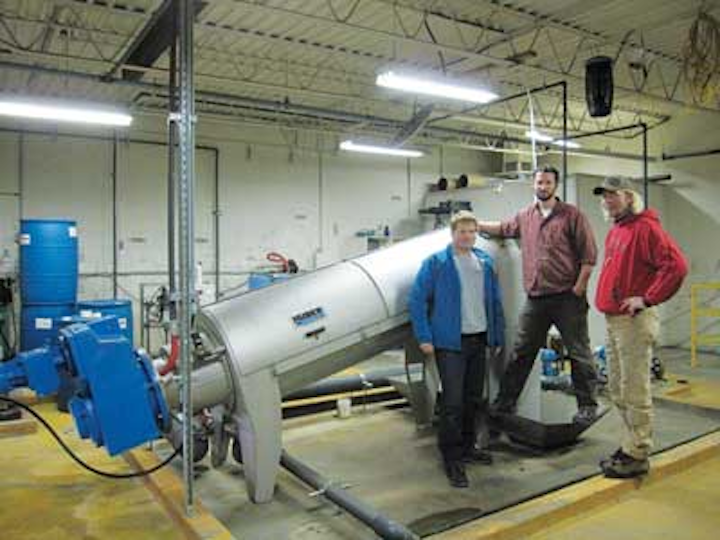 By T.R. Gregg
World class technologies can deliver savings that wastewater treatment plant (WWTP) operators covet. 'World class' here describes technology and equipment applicable to and relevant at WWTPs worldwide. It's technology that has been developed for and applied to waste streams for various cultures, countries and industries. These technologies employ smart design and durable manufacturing to deliver what they promise. When these factors align, plants can feel technology's saving grace, which materializes in obvious and more subliminal savings.
Even those unfamiliar with the operations of the typical WWTP can recognize obvious reductions (and relative savings) that technology can produce. But, some elements - such as electricity, water consumption and equipment footprint - take a little more information and insight to recognize and understand.
Man Hours
Some components of a treatment plant consume all of the man hours of one complete employee. Modern wastewater technologies can totally eliminate the need for operational management and can greatly reduce maintenance and repairs.
For the city of Guelph, Ontario, Canada, maintenance and management improvements were striking. For example, its cleanings were reduced from a two-month cycle to a nine-month cycle. Instead of six cleanings per year, Guelph needed to perform only one and a half cleanings. Similarly, the city of San Diego's WWTP greatly reduced its need for replacement parts and maintenance and thus reduced its downtime to perform these tasks.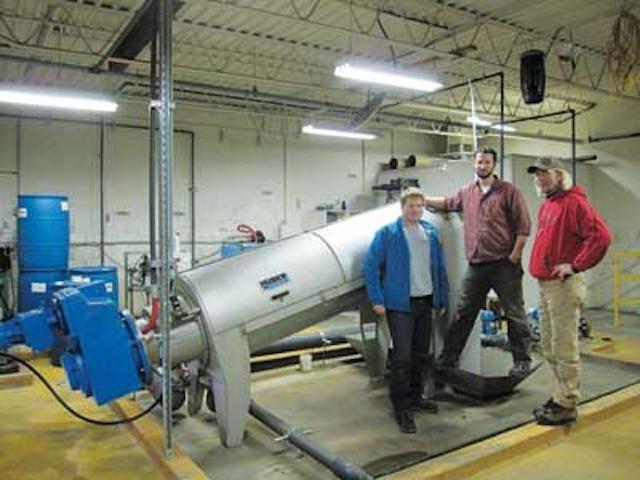 With new liquid separation technology, the town of Cardston, Alberta, Canada, has reduced water consumption by 100 cubic meters per week.
Electricity and Water consumption
Efficiencies with world class technologies also impact the plant's water consumption and electrical usage. Not only do these technologies have smart designs, they remove most debris early in the process so that all components operate more smoothly without the risk or stress of heavy materials or clogs.
In fact, the town of Cardston's WWTP in Alberta, Canada, enjoys a reduced water consumption of 100 cubic meters per week. This metric is quite impressive since the typical day's consumption - prior to deploying new liquid separation technology - averaged 150 cubic meters.
Transportation Resources
Because technologies that produce cleaner, dryer and lighter biosolid end-products also produce less haul-off, transportation costs drop for plants that have deployed them.
The WWTP in LaCrosse, Wis., has achieved impressive haul-off savings. As a result of its grit washing technology, the plant had a total reduction in haul-off fees of 79% - from 125 tons of grit at $65/yard ($7,530/year) to 48 tons of grit at $12.50/yard ($600/year).
Debris and Solid Contaminants
Screening technologies can be game-changing for WWTPs because of the impact their processes have on the volume of contaminants in the flow. Guelph Wastewater Treatment Plant experienced such a reduction in stream debris that its digesters improved operational efficiency by 90%.
Offensive Odors and Noise
Odor is directly related to contaminants in the flow. So technologies that are designed to eliminate debris from the stream and to wash it as it is readied for haul-off enable the plants that deploy them to provide a near-odor-free environment for their employees and for their community. This can transform the image of the WWTP for any area.
In Havre, Montana, and in Cardston, Alberta, the WWTPs made significant improvements to their community impact through the use of technology as cleaner headworks processes emitted no gaseous odors to permeate their communities. The Cardston plant was also known for providing sludge as fertilizer to local farmers. The community knew when deliveries were made because of the odor the sludge emitted. Enter new technology. Exit foul sludge odor. The elimination of this odor was not lost on the delivery recipients and their neighbors.
Many factors contribute to a lower noise quotient with newer world class technologies. Creating a practically noise-free work area has its advantages: Not only does it eliminate the need for operators to wear ear protection, it reduces accident and injury risks. The bonus of less odor and noise for Havre's channel operator is plain and simple: Less noise just makes the plant a more pleasant place to work.
Proven Durability
Design and manufacturing quality is the basis for the impressive durability of world class technologies. When you start with stainless steel, you eliminate the risk of corrosion in an environment that is generally wrought with it. More often than not, the efficiencies come from simplicity, so straightforward designs deliver the best results and help operators and supervisors stop the seemingly continuous cycle of downed machines. Durability also counts when you consider that component rebuilds can quickly consume allotted budgets. In fact, the world class, workhorse components are so efficient and durable, their presence in processing improves the durability of other process components.
Over the six years since implementing new screening technology, Oostburg, Wis., has reined in WWTP rebuild costs since it has had to rebuild fewer of its plant components. But the most vivid illustration of durability is in the Spanish Fork Wastewater Treatment Plant in Spanish Fork, Utah, where stainless steel screening technology has been deployed for more than 10 years. Not once during its lifecycle has the screening component required repair. Only "wear and tear" parts have needed maintenance.
Equipment Footprint and Flexibility
World class technology architects can do amazing things with space. Any WWTP supervisor will tell you that - even in the largest treatment plants - space is a hot commodity. Likewise, when older facilities are updated, new technology often must fit into the available space. Oostburg faced this when installing its new fine screening technology. Its space was not only limited but also included a unique vertical lift. The deployed technology required only one square meter of floor space and raised screenings vertically to the floor above for haul-off.
When you examine the impact to treatment plants in terms of reductions, improvements and savings produced by world class wastewater treatment technologies, it is clear that these technologies help wastewater facilities improve effectiveness and drive efficiencies that earn them a place as good citizens of their communities.
| | | |
| --- | --- | --- |
| | | About the Author: T.R. Gregg has a 25-year history in the wastewater treatment technology industry and is enjoying his eighth year as Huber Technology's National Marketing Manager. Huber Technology serves the municipal and industrial wastewater treatment market with high-quality liquid-solid separation technology. Learn more at www.huber-technology.com. |