Products & Services: Flow, Level, Pressure Measurement
Collection of Flow, Level, Pressure Measurement products and services.
Jul 23rd, 2014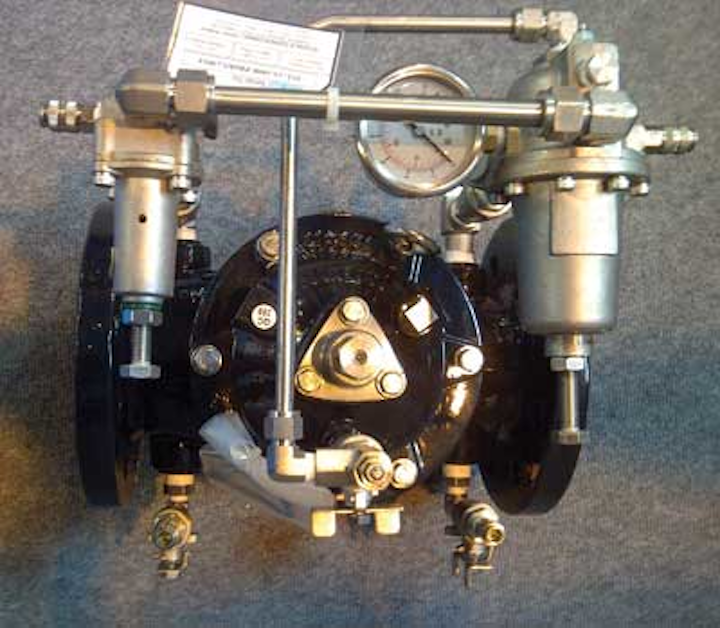 Demand control valve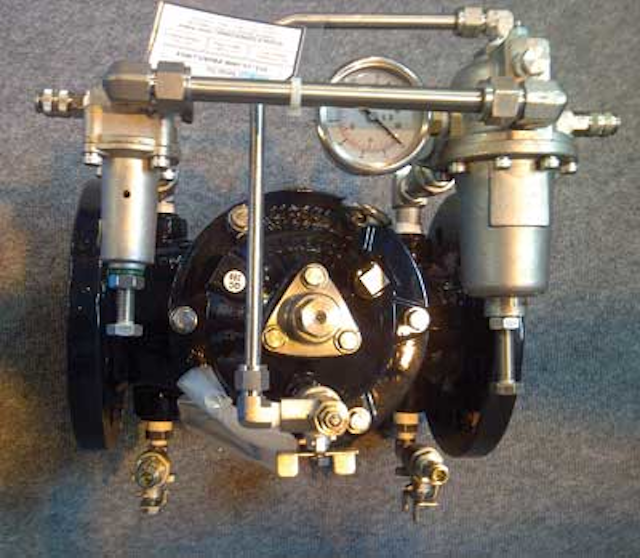 A new demand control valve from IVL Flow Control delivers water at the lowest possible cost. The valve ensures security of supply, maintains customer service levels and reduces carbon footprint on the production of water - without the need for a complicated computerized algorithm. All valves from 40 mm through 800 mm can regulate down to flow rates of 0.36 lsec-1 and operate from a drip-tight closed position without loss of control stability, promoting calmer network conditions.
IVL Flow Control Ltd.
www.ivlflowcontrol.co.uk
Level transmitter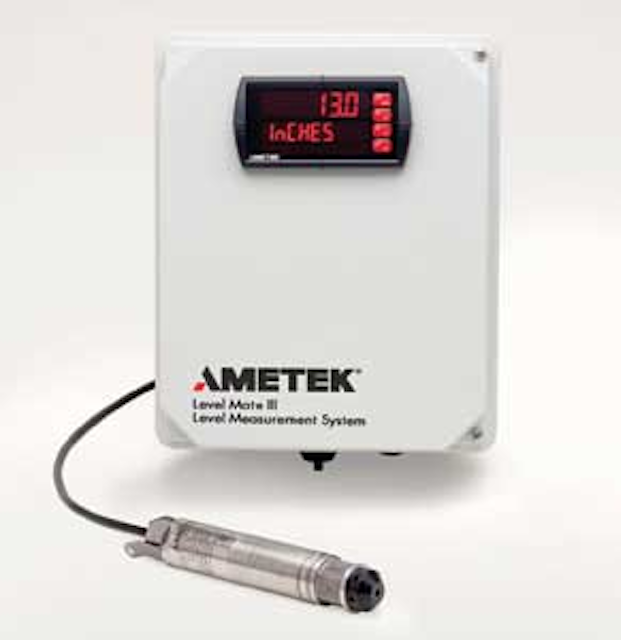 AMETEK's Level Mate III transmitter indicates liquid level by continuously measuring hydrostatic pressure through the transmitter's nose-mounted sensing element. The device operates in depths from 3' to 690' (211 m) and at pressures up to 300 psi, depending on the sensor. The Level Mate's meter provides excitation voltage, displays data from the transmitter and transmits an analog signal for remote recording, alarm or control functions.
AMETEK Inc.
www.ametekusg.com
Control valve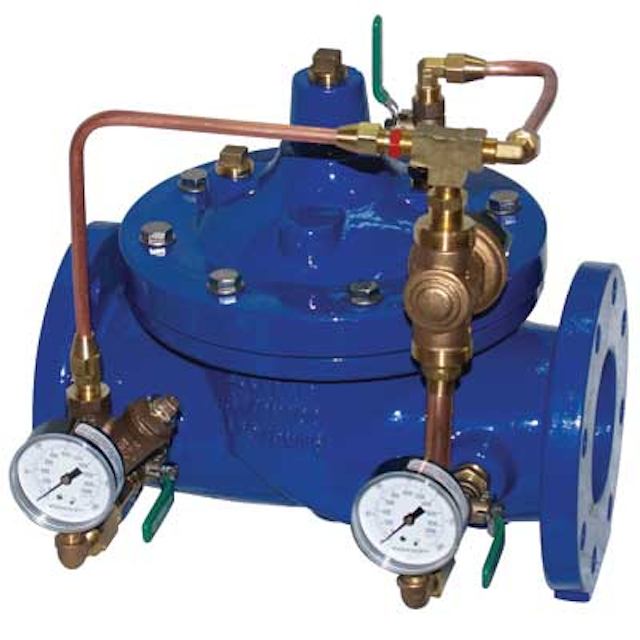 Zurn Industries announced new additions to its roster of Zurn Wilkins Automatic Control Valves (ACV) that build on the excellent quality, reliability and ease of use provided by the ZW209 Pressure Reducing Valve. With this product line expansion, the Zurn Wilkins ACV offerings address multiple end connection options, pressure ratings, ANSI/AWWA standards, functionalities, and a wide range of applications and uses, including commercial, education, healthcare, industrial, irrigation, penal, retail, waterworks, and fire protection.
Zurn Industries
www.zurn.com
Pressure impulse recorder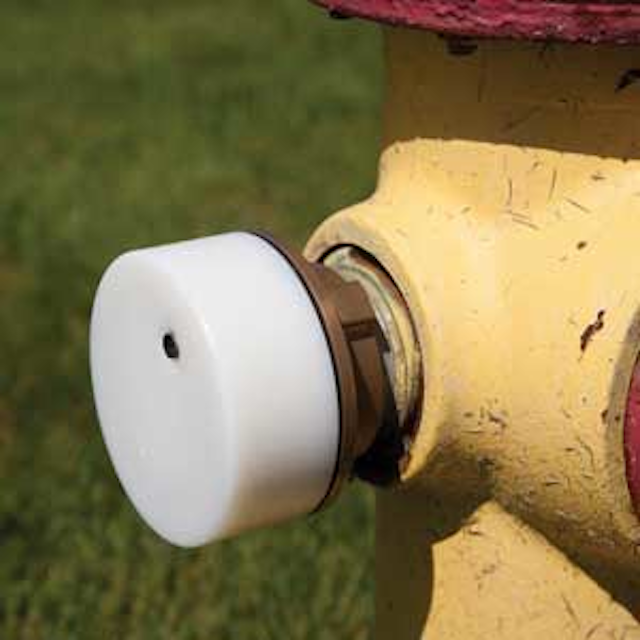 Telog's HPR-32i Pressure Impulse Recorder is an advancement of the company's HPR-32 Hydrant Pressure Monitor. In addition to the HPR-32's ability to record system pressures and trends, the HPR-32i captures water hammer and negative pressure event waveforms in a separate memory and downloads them wirelessly to Telog's host computer application. This recorder samples up to 20 water pressure samples per second, storing the waveform of impulse events detected by a rate-of-change detector. More than 300 events can be stored, each lasting from a few seconds to many minutes.
Telog Instruments Inc.
www.telog.com
Signal converter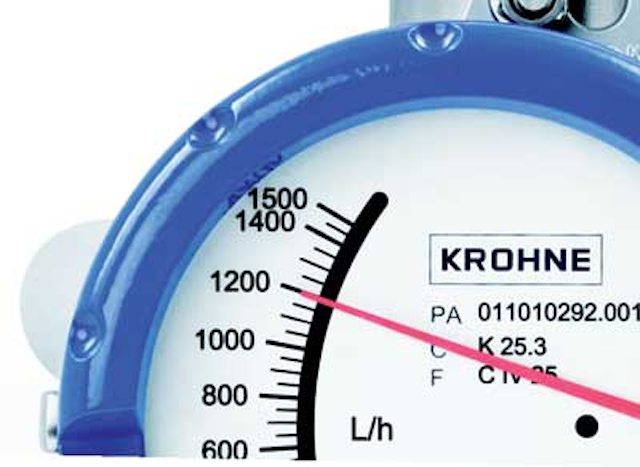 KROHNE's new IFC 050 electromagnetic signal converter measures volumetric flow in wastewater applications, water distribution networks, irrigation installations, water abstraction, and CIP cleaning stations. The signal converter can be combined with the OPTIFLUX and WATERFLUX flow sensors, making it suitable for many kinds of water and wastewater metering tasks.
KROHNE
www.us.krohne.com
Ultrasonic sensor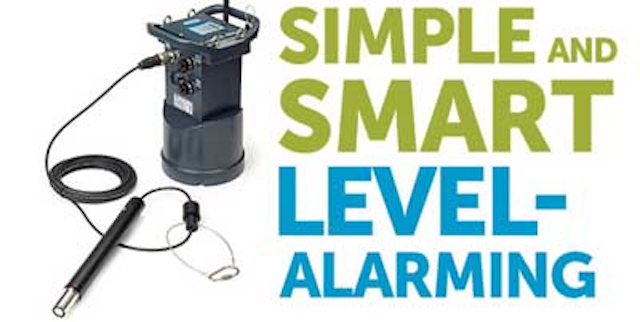 With Hach's level-alarming network extension solution, data can be captured from more sites in a network without crushing the user's budget. Just pair the new Hach US9001B Ultrasonic Sensor with Ballast with a wireless Hach FL900 Series Flow Logger, and users have an intelligent, economical answer. It has a simple installation and no confined space entry; captures flow data utilizing flumes, weirs or Manning's equation; displays real-time data through FSDATA Online Data Manager software; and is available with Data Delivery Services (DDS) or as an instrument purchase.
Hach Company
www.hach.com
Flow meter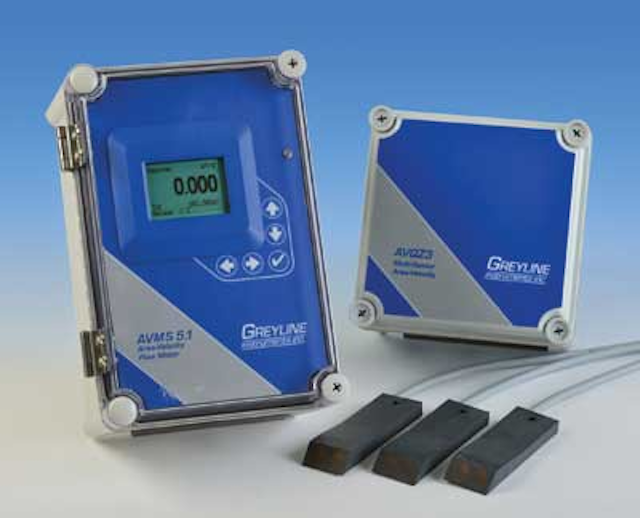 The Greyline AVMS 5.1 is designed for municipal stormwater, combined effluent, raw sewage, and irrigation water. It uses three submerged ultrasonic sensors to continuously measure velocity at different points in the channel and provide an average velocity reading for flow monitoring. One of the three sensors can also monitor the water level, or a separate non-contacting ultrasonic level sensor can be used in the system. The AVMS 5.1 measures forward and reverse flow and includes a backlit flow-rate display, totalizer, three 4-20 mA outputs, and two control relays.
Greyline Instruments Inc.
www.greyline.com
Single rolling diaphragm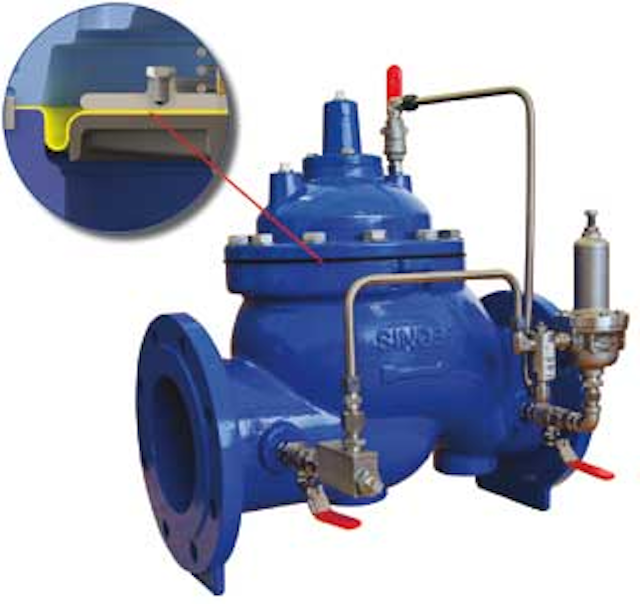 Singer Valve has designed an innovative vertical diaphragm that rolls while opening and closing, enabling it to lock the valve in place without any friction. This makes for incredible pressure stability from the highest to the lowest flows unlike flat diaphragm or traditional piston-style valves. By reducing pressure, this valve technology also reduces leakage. The rolling diaphragm reacts faster to changing pressures as it typically has much less water volume above the diaphragm, enabling it to respond quicker. Sizes range from 6" to 36" and are NSF-372 certified.
Singer Valve
www.singervalve.com