New Products
Collection of new products for the municipal drinking water and wastewater markets.
Oct 21st, 2014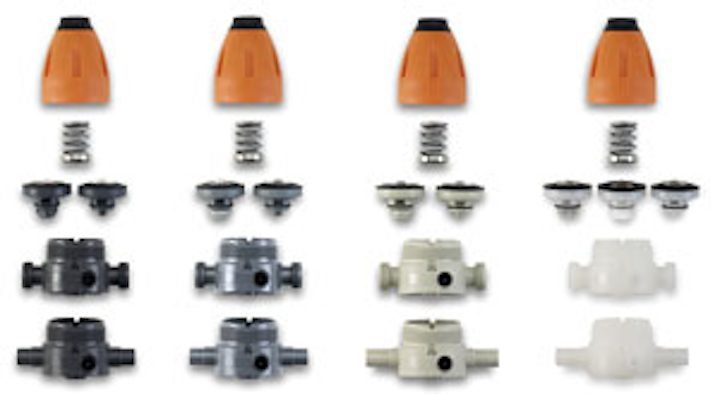 Pressure regulating valve
GF Piping Systems has added a new full plastic pressure regulating valve to its wide range of products. Its compact design ensures that the valve suits even in confined spaces. Due to consistant temperature expansion coefficients, the valve has efficient long-term behavior, guaranteeing lasting stability without tightening or adjusting. By using a non-rising spindle, the allowable installation space could be reduced. Features include less re-torquing, one body with two functions, and an online guide for best planning.
GF Piping Systems
www.gfps.com
---
pH/ORP sensors
Sensorex's new SD7000 Series Differential pH/ORP sensors offer wastewater treatment plant operators a unique sensor technology. The sensors offer unparalleled accuracy and reliability with an encapsulated preamp to eliminate moisture problems and also allow mounting up to 3,000 ft. from pH/ORP monitors. The Ryton sensor body provides outstanding chemical resistance, and the reconditionable double- junction reference resists contamination to ensure measurement stability.
Sensorex
www.sensorex.com
---
Services program
Swan Analytical has introduced its new services program aimed at serving drinking water facilities and clarified or filtered wastewater applications. This includes startup, training, scheduled maintenance, and retrofit services for online analytical water quality monitors and controllers from a variety of manufacturers. One unique element of this program is detailed service call reporting with a forward-looking service plan for the client.
Swan Analytical USA Inc.
www.swan-analytical-usa.com
---
Universal transmitter
The dual-channel T80 Universal Transmitter and Triton® TR6 Turbidity Analyzer from Electro-Chemical Devices can be easily combined with the S80 Intelligent Sensors to measure DO, pH or five other common liquid parameters. The transmitter features self-configuring electronics that provide a fast, easy plug-and-play monitoring solution for wastewater treatment. In secondary clarifiers, careful analysis of turbidity, DO, pH, and other parameters optimizes the treatment process. The Triton DO80 Optical DO sensor uses fluorescence quenching to determine the oxygen concentration in water. This minimizes maintenance, increases reliability and improves the long-term accuracy of the measurement.
Electro-Chemical Devices
www.ecdi.com
---
Pressure transmitter
The new Ashcroft® GL42 low differential pressure indicating transmitter mates a four-digit LCD to Ashcroft's field-proven, stable, low-dp transmitter to provide a local reading and a 4-20 mA output. These features allow communication with a remote data acquisition device as well as a visual reading at the pressure source. Selectable engineering units, adjustable display response times, an IP65 enclosure, and several mounting options allow the GL42 to be easily applied to a variety of installations. Ranges from 0/0.1 to 0/25 inches water (in H2O) and bidirectional to ±30 in H2O are available.
Ashcroft Inc.
www.ashcroft.com
---
Butterfly valve
Victaulic has expanded the Vic®-300 MasterSeal™ butterfly valve line with the new grooved-end, stainless steel Series 461 valve that provides a cost-effective alternative to flanged valves while offering faster, easier installation. It is ideal for air and low-pressure reverse osmosis (RO) systems. Featuring Victaulic OGS (Original Groove System) ends, the 461 is joined using Victaulic couplings and features a patented seat design, made popular by the Series 761, which assures full 360-degree sealing.
Victaulic
www.victaulic.com
---
Real-time equipment status monitoring
RACO has introduced real-time equipment status monitoring for AlarmAgent.com -- the company's low-cost, wireless, web-based alarm detection and notification system. Real-time features include WRTU health reports, local alarm relays and over-the-air firmware updates. The technology will help save users time and money, as well as achieve the flexibility and peace of mind they need to remotely monitor their pumps.
RACO Manufacturing and Engineering Co.
www.racoman.com
---
Quarter-turn valves
Val-Matic's cast and forged Quarter-Turn Valves are designed to provide both on-off and process control functions. Valve flow path geometries are optimized to provide exceptional flow control characteristics, ultra-low headloss and energy conservation. They are equipped with manual or power actuators to precisely position the plug, disc or ball under the rated flow and pressure conditions. Automatic controls are also available to position the valve in response to process signals and provide failsafe positioning on signal or power loss.
Val-Matic Valve & Manufacturing Corp.
www.valmatic.com
---
Thermal imager
PureTech Systems has integrated its PureActiv wide-area surveillance solution with FLIR's SA180 ThermoVision® thermal imager. The integration merges PureTech's geospatial user interface with FLIR's line of panoramic view thermal imagers, allowing for display and control of the FLIR SA180, which boasts views of 180°. The solution also utilizes PureActiv's video analytic capability to alarm on intrusions and dynamically display the target's location on the map-enabled video management command and control.
PureTech Systems Inc.
www.puretechsystems.com
---
Ultrafiltration booster module
The new BMS booster module from Grundfos is designed for reverse osmosis, filtration and ultrafiltration, pressure boosting, and water supply in high flow and pressure applications. Its design focuses on simplicity by removing maintenance-heavy components and facilitating easy access to all vital parts. In addition, a permanent magnet motor has improved pump efficiency by up to 5%. The permanent magnet motor is capable of speeds between 4,000 and 5,500 rotations per minute, controlled by a variable frequency drive that consistently operates at the optimal duty point, guaranteeing energy-efficient operation at all times.
Grundfos Pumps Corporation
us.grundfos.com
---
Manager software
Hach Company Flow Products & Services has announced the Hach FSDATA Desktop Instrument Manager software, designed for field crews to reduce the time needed to set up, download and maintain Hach FL900 Series Flow Loggers and sensors. FSDATA's dashboard approach displays both program and real-time information in a single location, allowing users to quickly assess and improve the meter's programming. It is also highly-intuitive, built with extensive input from field crews, to mimic the actual workflow process. FSDATA also reduces the chance for programming errors.
Hach Company Flow Products & Services
www.hachflow.com
---
New technology meters
Otek Corporation's New Technology Meters (NTM) series has introduced an exclusive input failure alert and alarm system. The series offers an operator-friendly digital display and an automatic tricolor bar-graph with color set point. There are no moving parts in the design, making it durable and reliable. A featured model in the series is the NTM-3 -- the ANSI 4" switchboard replacement meter. The NTM-3 is available in plastic or metal housing and meets military or nuclear specifications. Users can build up to three channels to house in one meter. The meters can be loop-, signal- or externally-powered.
Otek Corporation
www.otekcorp.com
---
Reverse osmosis elements
Dow's FILMTEC™ SEAMAXX™ Reverse Osmosis elements help reduce the high amount of energy needed to create freshwater from saltwater. The enhanced membrane chemistry of the elements helps minimize pressure and energy consumption and provide reliable, long-term permeate quality for single, double-pass and interstaged desalination systems. The elements have low energy consumption (17,000 GPD) and an optimized module design, with 440 ft2 of active membrane surface and interlocking technology to help maximize the productivity of a desalination system with low differential pressure, low cleaning frequency and high cleaning efficiency.
Dow Water & Process Solutions
www.dowwaterandprocess.com
---
Grinder
A single Moyno TR Muncher® has been selected to do the work previously done by three grinder units that were struggling to deliver the required performance and maintenance levels at a large wastewater treatment plant in Rhode Island. The single Moyno CA203 TR Muncher installed in the Field Point plant's Gravity Thickening Building incorporates Moyno's unique EZstrip™ design, which allows the unit to be maintained in place, without the need to remove it from the process. It is already delivering many benefits, including increased efficiency, simpler operating procedures and reduced maintenance requirements.
Moyno
www.moyno.com
More WaterWorld Current Issue Articles
More WaterWorld Archives Issue Articles