Product Showcase
Collection of new products of special interest to the municipal water and wastewater markets.
Apr 7th, 2014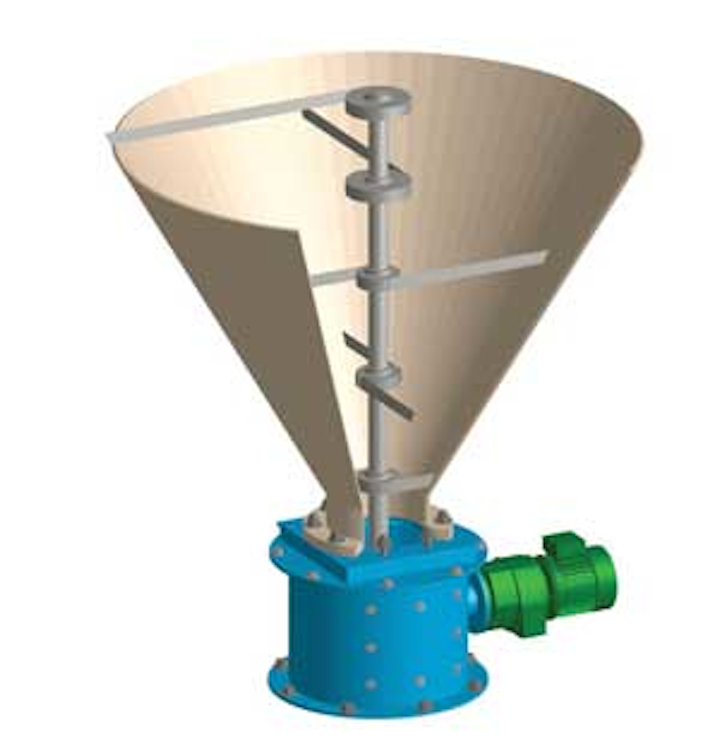 Silo unloader
The Unloader from Sodimate features a vertical spindle fitted with flexible blades to ensure the mechanical discharge of dry chemicals from silos, bins and hoppers. The discharger rotates within the container bottom to prevent non-flowing materials from jamming, bridging or compacting, as is often seen with vibration and fluidization systems. The unique design of the system allows the complete discharge of difficult dry chemicals such as polymers, lime and other reagents used in the water and wastewater treatment process.
Sodimate Inc.
www.sodimate-inc.com
Solids, sludge management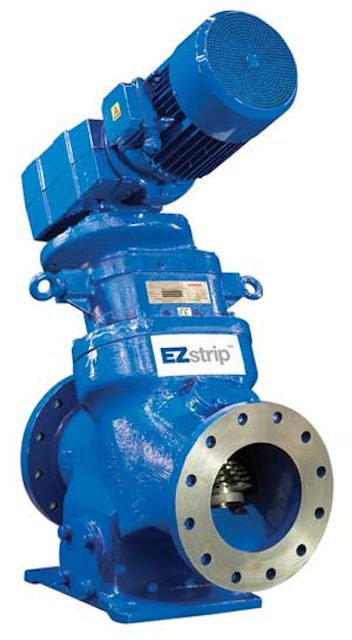 Moyno's EZstrip™ has revolutionized the way in which grinders, PC pumps and associated products are 'maintain-in-place' (MIP), reducing a day-long maintenance operation to a few hours. The EZstrip TR Muncher® offers a solution to solids grinding and sludge conditioning. With the ability to maintain the grinder in place, maintenance is reduced by more than 70% for significant cost savings. Equal Thrust Offset (ETOS) cutters capture and reduce large solids for effective maceration; an angled cutter stack "upflow" design rejects hard materials, reducing the risk of damage to the cutter teeth; a cantilever design eliminates the need for lower mechanical seals or bearings, reducing breakdowns and repair costs; and a built-in trash trap with clean-out ports catches any rejected materials.
Moyno Inc.
www.moyno.com
Bimetal thermometers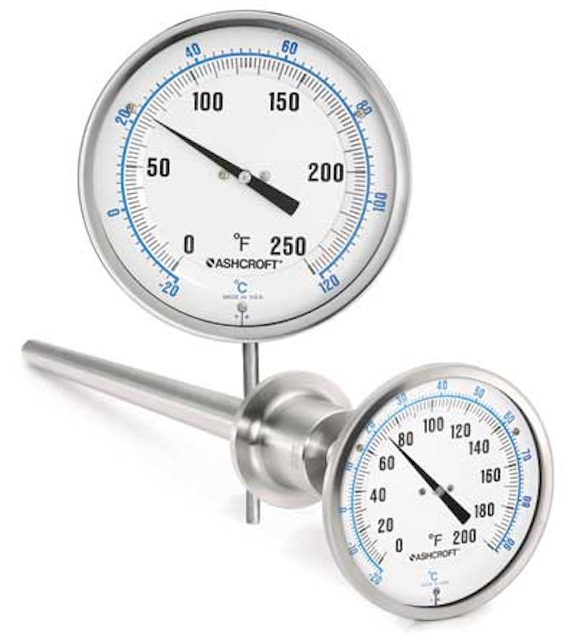 Ashcroft® bimetal thermometers are safe and reliable, eliminating mercury to measure temperature. Available in dial diameters from 2" to 5" and in ranges from -80°F to +1,000°F, these instruments are available in standard stem lengths from 2 1/2" through 24" and special-order stems up to 60". Maxivision® thermometers provide a fixed rear or bottom stem, while the Everyangle™ design allows the stem angle to be adjusted. Hermetically- sealed for easy wash-down or liquid-filled to counter high vibration, Ashcroft stainless steel bimetal thermometers are ideal for virtually every difficult installation.
Ashcroft Inc.
www.ashcroft.com
Hydrant flushing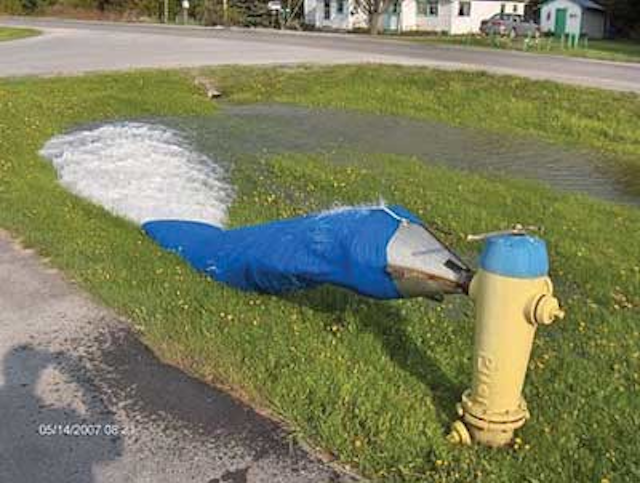 The Hydrant Sock from Lakeshore Hydrant allows water operators to do high velocity flushing without using fire hoses, which reduces the C factor when used on fire hydrants. The sock works with the diffusers already in service to protect private and public property. It takes the water and the force remaining from the diffuser and calms the water so that it flows from the sock like a stream over the surface of the ground. It also can be used to divert the flow of water over or around obstacles that could be damaged. The Hydrant Sock is available for all known diffusers in 10'and 20' lengths.
Lakeshore Hydrant Services Inc.
www.lakeshorehydrantservices.ca
Remote data acquisition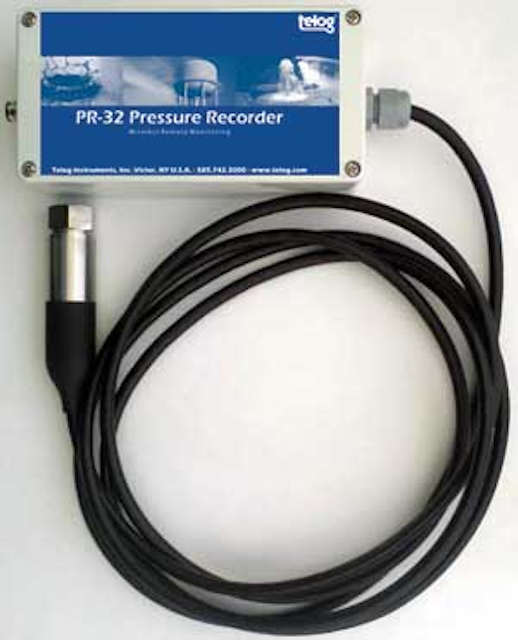 Telog's PR-32 Pressure Recorder provides a monitoring system for water-tower level. The system offers two installation approaches: 1) drop a submersible level sensor into the tank from above, or 2) attach a pressure sensor to a fitting below the tank. Both methods provide an accurate means of determining tank level. Telog Enterprise or Telogers for Windows software can convert this level to volume if the geometry of the tanks is known. The PR-32 Pressure Recorder is both battery-powered and equipped for wireless transmission of data to the host system. With no telephone landlines or electrical power cable required, installation is quick and inexpensive.
Telog Instruments Inc.
www.telog.com
Water level meter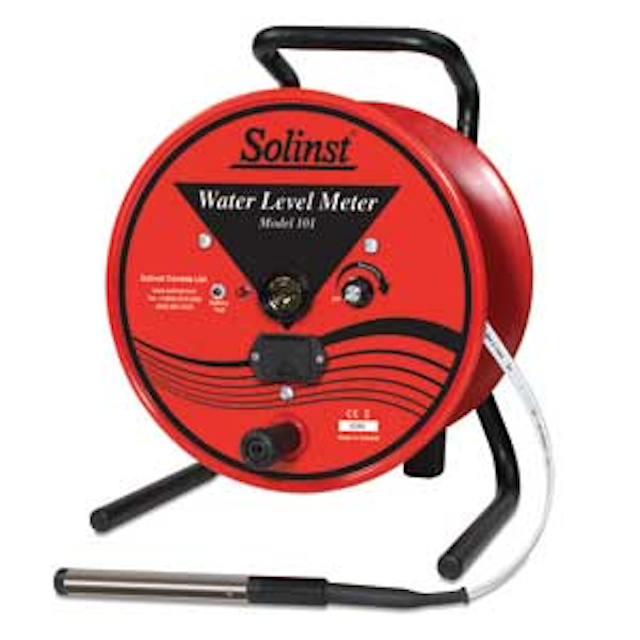 The Model 101 P7 Water Level Meter from Solinst features durable PVDF flat tape with laser markings every 1/100 ft. or each millimeter, certified traceable to national standards. The tape has increased tensile strength, abrasion resistance and electrical efficiency. The P7 Probe is submersible to 1,000 ft. (300 m). The standard Model 101 P2 Water Level Meter with heat-embossed tape is also available.
Solinst Canada Ltd.
www.solinst.com
Custom diaphragms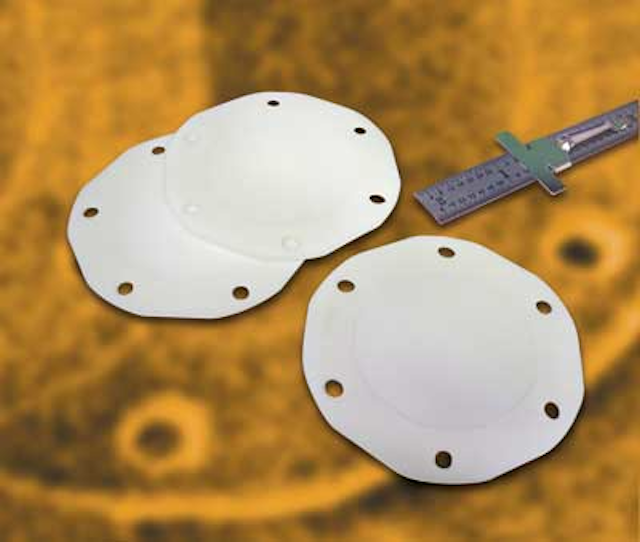 By converting the thermoset fabric-reinforced rubber diaphragm to functionally-improved co-polyester, Minnesota Rubber and Plastics eliminated the possibility of pinhole leaks between fabric weave caused by rubber tear and de-lamination. Subjected to and proven by 300 PSI burst test pressure, these injection molded parts also deliver flex-life and chemical resistance while adding cost reduction opportunities. Measuring 2-1/2" diameter x 1/32" thickness with six equally-spaced 1/16" mounting holes, these TPE diaphragms can be created in virtually any custom size/configuration to meet customer requirements. The chosen material offers the tensile strength to replace the fabric in this application, while component geometry has been modified to accommodate differences in the material's stiffness.
Minnesota Rubber and Plastics
www.mnrubber.com