Products & Services: Valves
Collection of valve products and services
Feb 3rd, 2014

Control, globe valves
Bürkert's angle seat control valves offer high flows for large capacity heat exchange operations, while its globe valves offer precision and quiet operation. Both can be incorporated in the superlative 8802 control valve system. The 8802 Continuous ELEMENT architecture enables the easy integration of three levels of automation modules: a simple blind positioner, a positioner with display and a fully- functional process controller. A range of fieldbus interfaces (AS-i, Profibus or DeviceNet) can be added with ease. Features include digital calibration, high control accuracy, a security code lock, stainless IP65 and 67 protections, a graphic backlit display, and positive positioner pressure and overpressure relief.
Bürkert Fluid Control Systems
Diaphragm valves
Asahi/America's Type-14 diaphragm valves are available in sizes 1/2" through 2" with one-piece molded bodies of PVC, CPVC, PP, or PVDF. Available diaphragm materials include EPDM, FKM or three-layer EPDM/PVDF/PTFE. Asahi also machines two integral parts of their valves in-house: the valve stem and sleeve. Asahi's Type-14 diaphragm valve features visual position indication, weir design for excellent throttling capabilities, and built-in travel stop to prevent over-tightening and eliminate compressive strain. For maximum corrosion resistance, the valve's rugged body and bonnet are manufactured of solid thermoplastic materials. Asahi Type-14 diaphragm valves can be electrically or pneumatically actuated.
Asahi/America Inc.
www.asahi-america.com
Isolator rings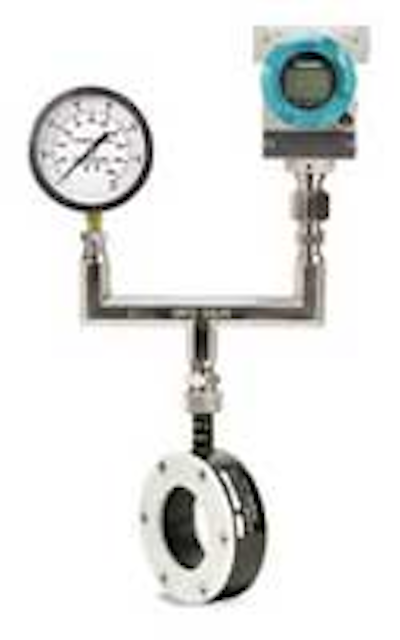 The Onyx Isolator Ring provides a simple method to measure the pressure of slurries, raw sewerage, sludge, lime slurry, and other noxious and corrosive fluids. The PSW series is compatible with flanged pipe connections. Nesting inside the bolt circle of mating flanges provides accurate alignment and minimum weight at the lowest installed cost. The inside diameter of the PSW precisely matches standard pipe for smooth, unobstructed flow, self-cleaning operation, and minimum turbulence and friction. Connect your gauge, pressure switch or transmitter to an Onyx Isolator Ring for accurate readings and guaranteed plug-resistant design. The rings are available in sizes from 1/2" to 42".
Onyx Valve Company
www.onyxvalve.com
Metering ball valve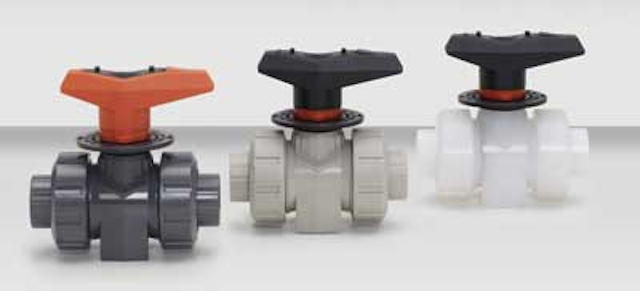 GF Piping Systems has introduced the new Metering Ball Valve Type 523, completing the company's 5-Series Generation of Ball Valves. The new series incorporates improved flow control, easy actuation, a new scale and display, and a large material range for application versatility. The 523's new design features a special V-notch ball with 180-degree turn rotation capability, providing excellent flow control characteristics and better resolution than standard ball valves with only 90- degree rotation. It also includes a circular scale and high-contrast display that makes it easy to read. The 523 Valve Series is available in a variety of materials such as PVC, polypropylene (PROGEF Standard) and PVDF Standard (CPVC and ABS are available on request) in 3/8" and 1/2" sizes.
GF Piping Systems
Check valve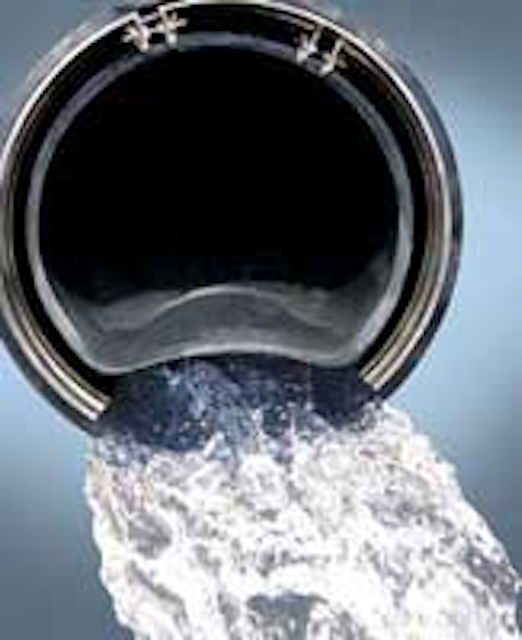 The CheckMate® Inline Check Valve from Tideflex® is ideal for backflow prevention. In outfalls, stormwater, CSO, and SSO applications, the valve's custom-engineered design eliminates costly backflow from oceans, rivers and interceptors. A major advantage of the CheckMate® is low headloss. The valve opens to near full pipe diameter, maximizing flow capacity of the outfall. Further, the valve's elastomer construction provides maintenance-free performance and significant cost savings.
Tideflex Technologies
www.tideflex.xom
Automatic control valves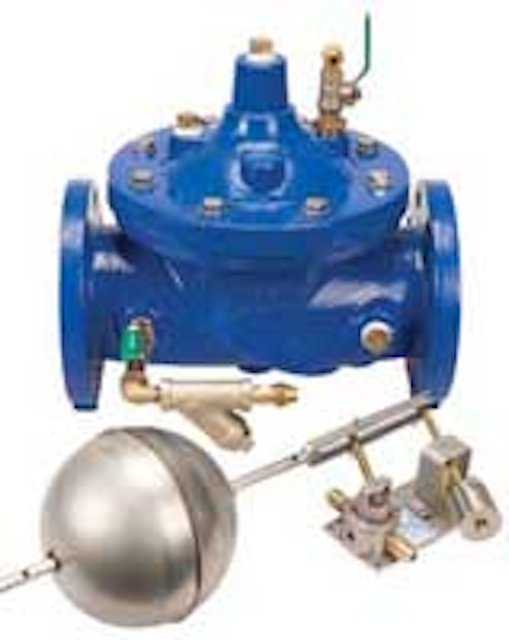 The Zurn Wilkins ZW204 Non-Modulating Float Valve maintains accurate fluid levels in tanks or reservoirs. It is equipped for threaded connections from 1 1/4" to 3" and for flanged or grooved ends from 1 1/4" to 10". The ZW205FP Fire Protection Pilot-Operated Pressure Relief Valve also relieves high system pressure in fire protection systems while maintaining positive pressure on fire pumps. It is equipped for threaded connections from 2" to 3" and flanged for grooved ends from 2" to 10". Additionally, the P4000A Fire Protection Thermal Expansion Relief Valve relieves excess pressure buildup from thermal expansion in stagnant fire suppression systems and is designed for 1/2" and 3/4" threaded bodies. It has a standard pressure range of 50-200 psi and a high pressure range of 150-300 psi.
Zurn Industries
Control valve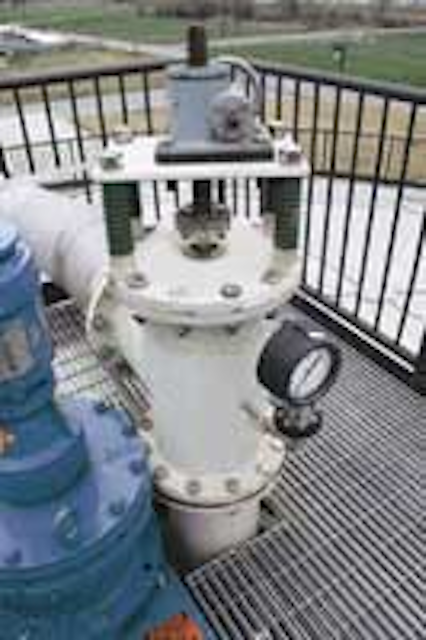 The Haymore Back Pressure Control Valve from WesTech is uniquely designed to optimize the release of dissolved air concentric to the influent stream at the center of a dissolved air flotation (DAF) mechanism rather than at the perimeter. This maximizes the benefit of a circular DAF design by allowing proportional distribution of microscopic air bubbles over a larger surface area, increasing the effectiveness of the flotation process. An adjustable hand wheel allows the operator to control the pressure in the system. This pressure is indicated by an integral gauge complete with a diaphragm seal.
WesTech Engineering Inc.
www.westech-inc.com
Check valves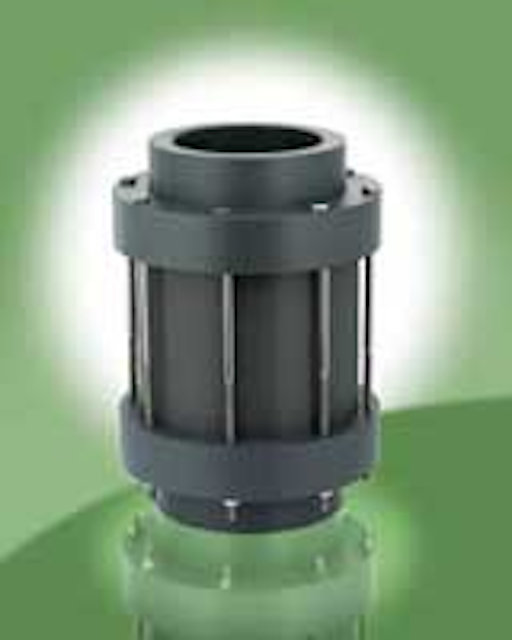 New 3" and 4" pipe-size thermoplastic check valves from Plast-O-Matic are normally closed and require no reverse flow to seal bubble-tight. The design features no wetted metals, and the valves are ideal for use with highly- aggressive chemicals in a variety of wastewater treatment applications. Closure is provided by an isolated, Teflon- encapsulated spring. Leak-free sealing protects against the potential hazards created by reverse-flow corrosive liquids such as acids, caustics and chlorine solutions. The valves offer positive repetitive sealing where the poppet automatically positions itself against the seat in the identical location each time for long cycle life dependability.
Plast-O-Matic Valves Inc.
www.plastomatic.com
Nominal air valves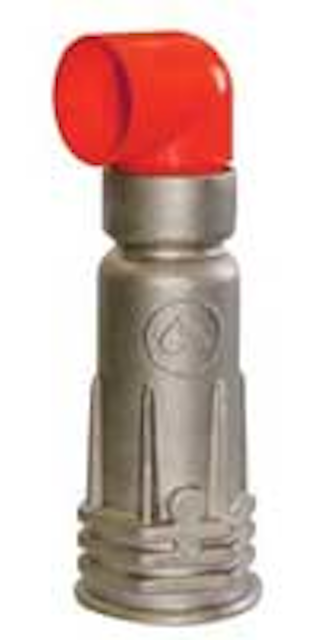 A.R.I. launched a line of nominal air valves featuring a one-piece body that is compact and lightweight for municipal water purposes. The valves seal over a wide range of pressures (0.1 to 25 bars) to minimize leaks and can be upgraded to an adjustable non-slam model by simply removing the discharge outlet and adding an adjustable disc. The PRO air valves also help deter vandalism since its one-piece body cannot be separated in order to steal parts. Available in 2- to 8-inch sizes with a PN rating of 16 or 25, A.R.I. plans to make PRO valves available with a pressure rating of PN40 in the future.
A.R.I. Flow Control Accessories Ltd.
www.arivalves.com