Restoring the Past: Renovation Project Breathes New Life into Century-Old Pumping Station and Water Tower
When it comes to the history of aged water and wastewater infrastructure, every building has a story to tell. Such is the case with Louisville Water Company's retired 150-year-old Original Pumping Station No. 1 and water tower in northern Kentucky. In January 2013, the organization launched a year-long project to restore the interior of the station and build a museum commemorating the value of water and history of the premises.

Feb 3rd, 2014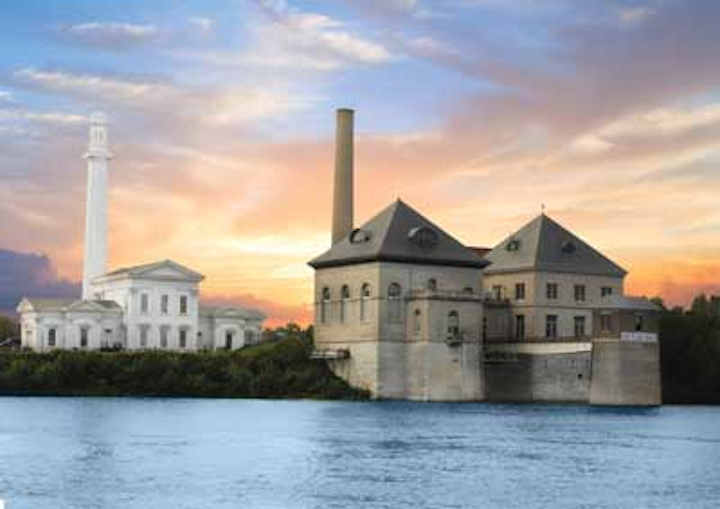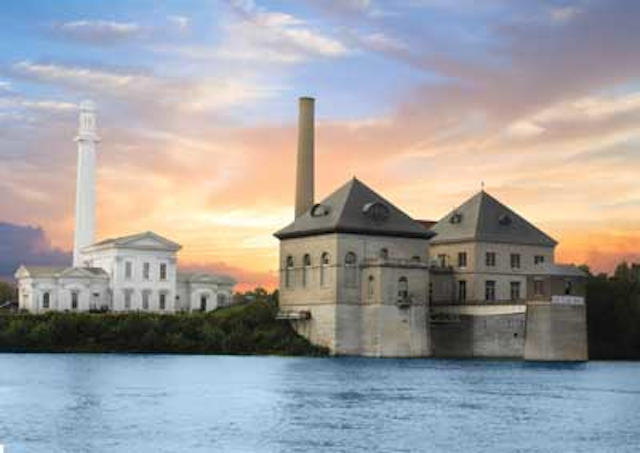 The original Water Works sits alongside Louisville Water's current pumping stations on the Ohio River.
By Art Haddaway
When it comes to the history of aged water and wastewater infrastructure, particularly unused or abandoned facilities, every building has a story to tell. Such is the case with Louisville Water Company's retired Original Pumping Station No. 1 and water tower located in northern Kentucky.
In January 2013, the organization launched a year-long project to restore the interior of the station, built between 1858 and 1860. It would feature a new "WaterWorks" museum commemorating the rich history of the structure and highlighting the value of water in the community. This undertaking marks the site's first large-scale internal renovation in over 40 years.
"We wanted to restore the inside of the building as a platform to talk about the value and quality of water," said Kelley Dearing-Smith, communications director for Louisville Water. "So we took that idea, and in working with a local exhibit company, designed the museum aspect, and put it in our own facility as part of this original pumping station."
Resting on the banks of the Ohio River, the 150-year-old structure served as part of Louisville's first water system built to provide a safe drinking water supply for local residents. As such, it was erected at a remote elevated location upriver as a means to avoid the potential risk of pollution emitted from the city downriver at that time. The water tower - the oldest ornamental water tower in the world - also functioned as a welcoming civic beacon for travelers passing the picturesque site aboard steamboats.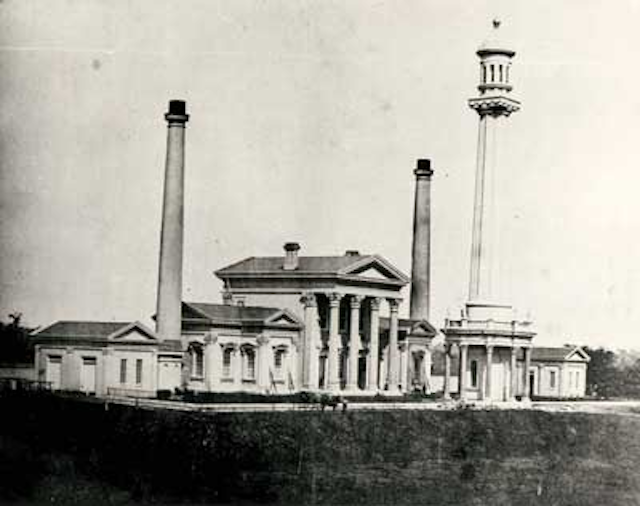 One of the earliest photos of the original Louisville Water Works, circa 1860.
Designed by engineer and architect Theodore Scowden and his assistant Charles Hermany to unite "architectural beauty with industrial efficiency" - a concept inspired by French architect Claude Nicolas Ledoux - the building resembled that of a Greek temple, which denoted purity. They chose the unique design to mollify the public's poor perception of water following a widespread epidemic of waterborne diseases in the 1830s and 40s that afflicted about a quarter of the city's population - giving Louisville the then-nickname "Graveyard of the West."
Accordingly, the construction of Louisville Water's pumping station and water tower marked a significant turning point in the city's longstanding history and paved the way for innovative developments in water and wastewater treatment, such as pioneering the use of filtration and coagulation in 1896 to better purify water. The aged edifice later retired from operation around 1912 and has since become one of the city's most notable landmarks still standing today.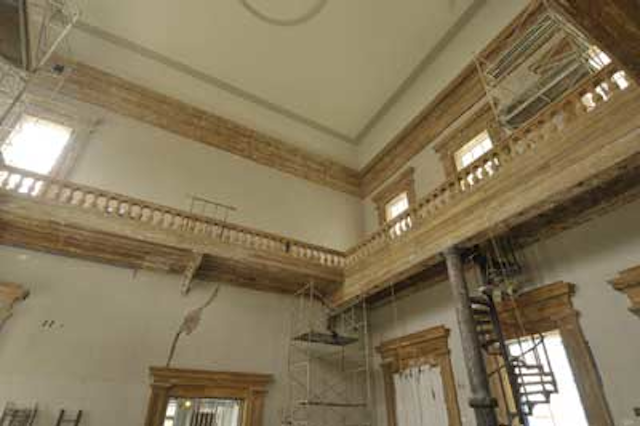 Crews spent nearly a year removing up to 50 layers of paint and restoring the original pumping station.
"The story of Louisville is the story of water," said Jim Brammell, Louisville Water president and chief executive officer. At the time, many of the company's predecessors were on the leading edge of discovering how to treat water, and "a safe, high-quality water supply helped the city grow," he said.
Designated as a National Historic Landmark by the U.S. government in 1971, the original pumping station and water tower served as a garage and warehouse as well as a space to house the University of Louisville River Institute and Visual Art Association before its most recent transformation. This project - a "Water Innovation Center" as Brammell and his team call it - was established to "explore the entire cycle of water and educate visitors on the value of life-sustaining water resources," a Louisville Water news release stated.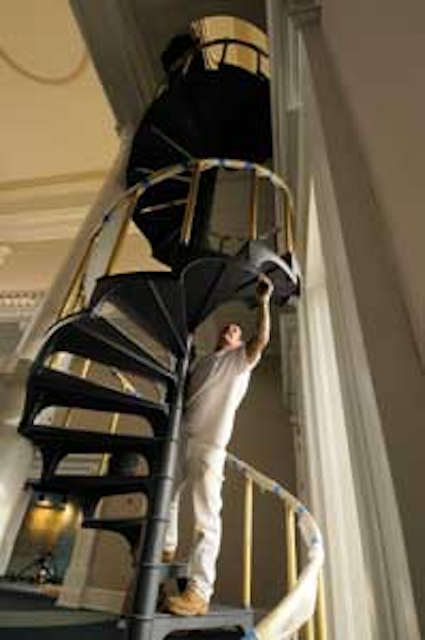 Look up from the first floor of the Center Gallery
The $3.4-million renovation program involved an overhaul of its Center Gallery, a large open space that housed two massive Cornish steam engines, and its East and West Wings, which contained the boilers for the engines. Further, the restorations consisted of stripping the entire building down to its original interior shell and repairing a number of walls and trim, installing new floors and carpets, removing several coats of paint (up to 90 layers in some places), and updating electrical, wiring and fire systems throughout the premises.
"The building itself is actually in very good condition," said Dearing-Smith. "We restored the outside of the pumping station back in 2010, but the interior had mostly no work done since the early 1970s. What we did was take the building back to closely resemble what it looked like in the 1860s" - to its pre-Civil-War condition.
Upgrades to the Center Gallery, which overlooks an outside terrace, included the restoration of its early woodwork, ceiling centerpiece and surrounding second-floor railing wooden-spindles. Crews also refurbished an antiquated cast-iron spiral staircase that led to the second level of the station, bringing it back to its original brass finish.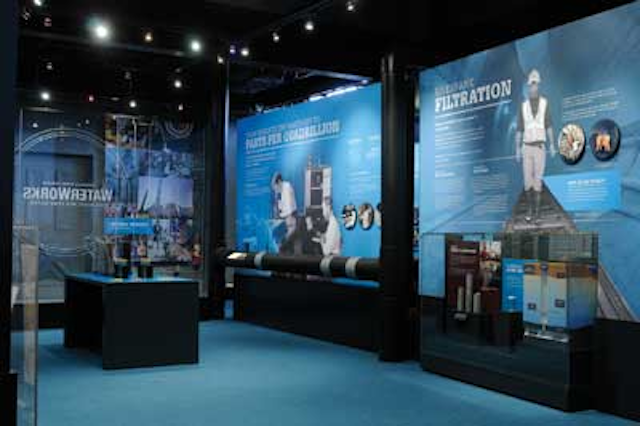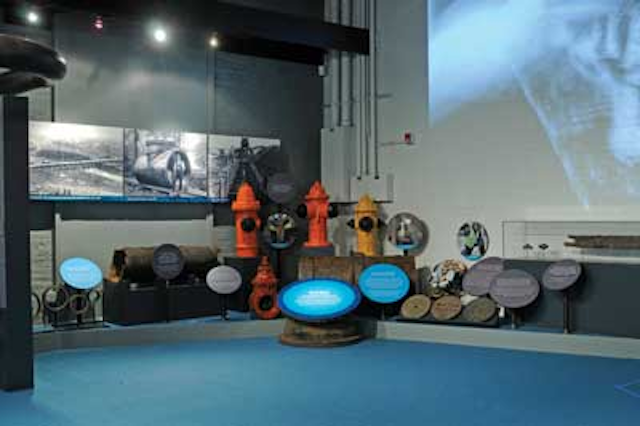 Louisville Water used archival photographs, drawings, film, and artifacts to create stories in the WaterWorks Museum
In the East Wing, construction teams remodeled an old entrance to the building, installed new restrooms, and incorporated a small gift shop and a catering prep kitchen for visitors. Additionally, Louisville Water dedicated the entire West Wing to house its WaterWorks museum, which will feature an array of historic archived multimedia, artifacts and memorabilia.
"We had a need to renovate and rehabilitate this building," said Brammell. "We feel very strongly about being good stewards of our historic structures, so this project was first priority. This is a national-registered facility - it belongs to the community, and we're making it available to them."
The new museum will include a wide collection of notable films and photographs; interactive and educational exhibits; original architectural drawings, handwritten minutes and customer notes; and actual pieces of water tools and systems first used at the plant. Further, it will highlight Louisville Water's many strides in water science, engineering and architecture throughout the years.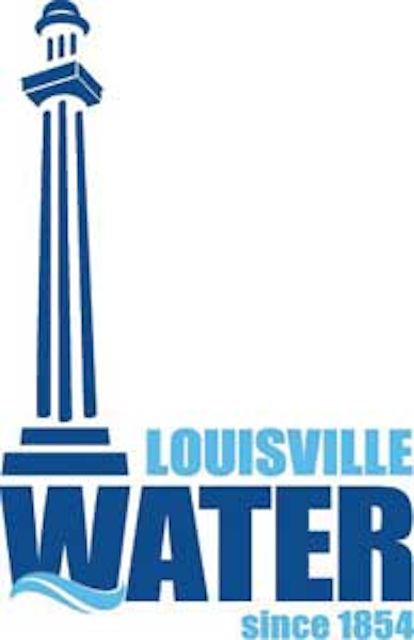 Most notably, the station's museum will serve as an important tool for educating the public. Along with showcasing unique relics from years past, the repository will also reflect the broad academic efforts made by Louisville Water that have reach over 50,000 people in classrooms and facility tours across the region annually through partnerships with local schools and community organizations.
"We created the museum to complement and give us a different platform for education," said Dearing-Smith. "We were really mindful of not doing something that would just attract engineers and scientists, but we wanted to make sure we had something that would also attract school teachers, historians, parents, children, etc."
Brammell added, "We think it's important that our citizens understand how water gets to them and how we purify it - I believe it helps better educate them about the value of water. We're touching a lot of young lives, and hopefully we're inspiring them to further their education in the science and technical fields."
Louisville Water's pumping station also functions as a popular rental venue for a variety of private special events such as weddings, church gatherings and business meetings, and its 30-acre park hosts several public concerts and community festivals each year as well. Likewise, the scenic grounds have always served as a gathering place for friends and family to enjoy activities together since it opened in the 1800s.
"It is proving to be very popular - young ladies (brides to-be) are ringing the phone off the hook wanting to book this venue for their weddings and receptions," said Brammell. "We are also going to generate some money from the event rental side, so everything we do to generate this non-water revenue helps us offset rate increases."
Currently, Louisville Water's Pumping Stations No. 2 and 3, built in 1893 and 1919 respectively, are still in operation and function as the primary intakes for the city. Station No. 3 still contains an original giant Allis Chalmers steam engine that visitors can also view during site tours.
"When the museum opens and the building is open for tours, there's a large portion of our population that will want to get in there and experience history and see that wonderful structure," said Brammell. This is a symbol that Louisvillians identify with - you show them the water tower, and they think 'home.'"
Dearing-Smith added, "It's really nice to work for a company that values its old landmarks. The water tower and pumping station are such icons in this city - they definitely have a special place in the heart here in Louisville."
The museum is expected to open in March 2014.