Products & Services: Pumping Equipment
Collection of Pumping Equipment products and services.
May 13th, 2014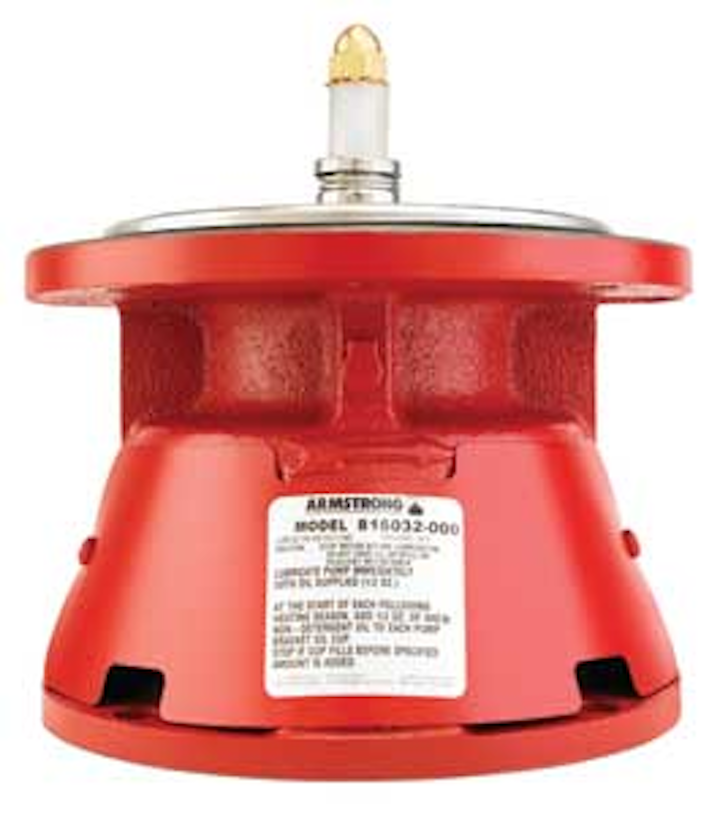 Seal bearing assemblies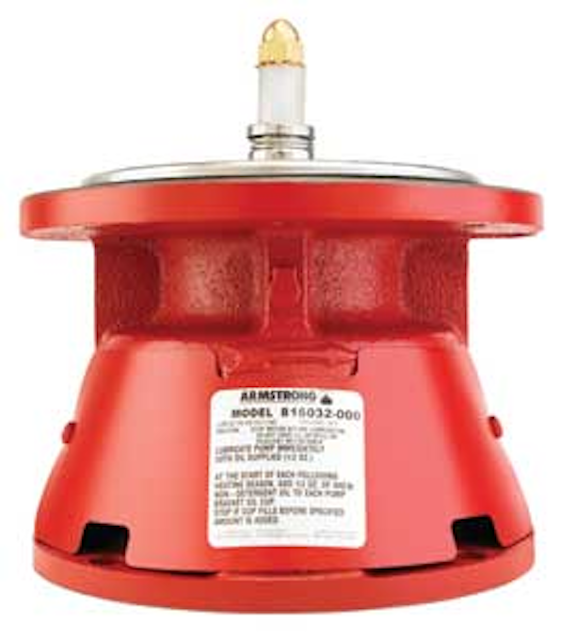 Armstrong Fluid Technology has introduced maintenance-free versions of its S&H Circulator line and the seal bearing assemblies used to service them. The new circulators eliminate the need for oiling, saving time and cost for building operators, and will be offered as an additional option alongside the traditional sleeve bearing designs. Armstrong SBAs are also compatible with many competing circulator models that require maintenance. This allows building owners to upgrade installed circulators by replacing the SBA with MF versions.
Armstrong Fluid Technology
www.armstrongfluidtechnology.com
Pump motors
Baldor Electric Company has added 28 new ratings to its portfolio of Baldor-Reliance® Super-E motors with an internal AEGIS Bearing Protection Ring. These new ratings consist of 1 to 40 HP, Open Drip Proof motors, 200 and 575 volt, and 5 to 15 HP Totally Enclosed Fan Cooled designs for 200 volt. With these latest additions, Baldor now offers 152 ratings from stock, meeting the continuing demand for inverter driven motors with a shaft grounding device factory-installed.
Baldor Electric Company
www.baldor.com
Skid pumping system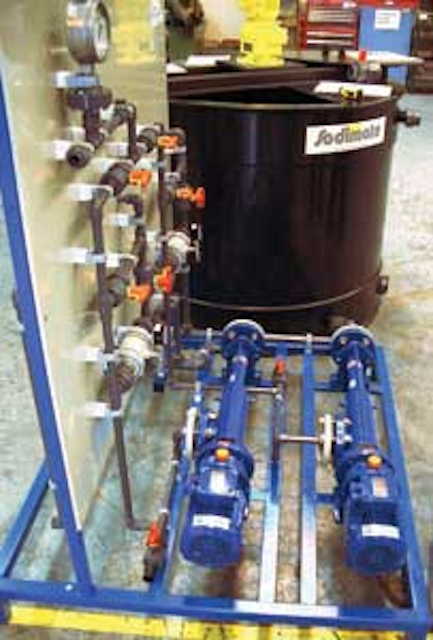 Sodimate Inc.'s mounted slurry system integrates a slurry tank, skid pumps and controls, and is pre-wired and ready to use, allowing for quick installation and startup. Typical slurry tank fabrication material includes high-density polyethylene (HDPE), stainless steel or fiberglass, and volume can range from 130 gal to 500 gal. Completely dust-free, the skid pump system is specifically fabricated to be used with dry hydrated lime, powdered activated carbon (PAC) and polymers.
Sodimate Inc.
www.sodimate-inc.com
Remote monitoring system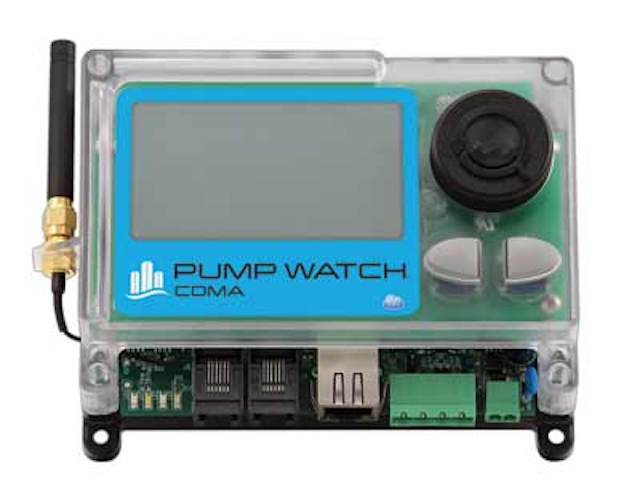 The Pump Watch remote monitoring system from PRIMEX allows for management of lift stations and wastewater collection systems remotely via a secure cellular network from a web browser on a PC, tablet or smartphone. The system visually tracks system performance through data logging and critical information trending. Alarms are monitored and service personnel notified via email or text messaging. Users can monitor data trending 24/7 from the website. Pump Watch models are available for new or existing pump stations.
PRIMEX Controls
www.primexcontrols.com
Component control system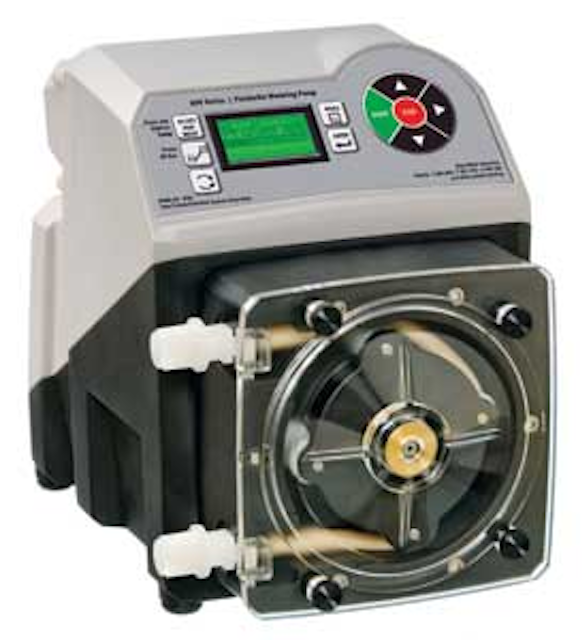 The Component Control System from Blue-White ensures that two or more positive displacement pumps operating together in a system will run only if all pumps in the system are running. This can reduce costs by eliminating the need for separate pump controllers for each unit. This feature is particularly important when failure of one pump to meter chemicals could have a damaging effect on the entire process - for example, when pumping two or more chemicals into a system using multiple pumps. This new patented feature is currently available on Blue-White's Flex-Pro® A3 and A4 Metering Pumps; and Proseries-M® models M-3 and M-4 Metering Pumps.
Blue-White Industries
www.blue-white.com
Pressure sensors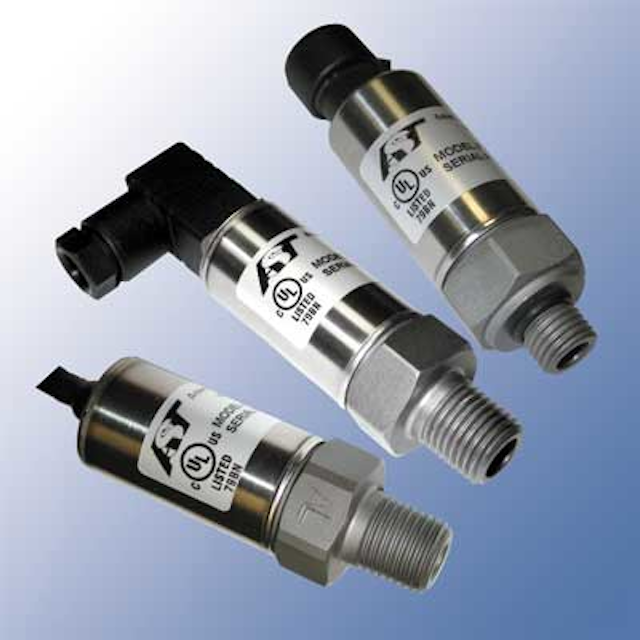 Used to measure water booster pressurization in pipelines and tanks and serve as part of monitoring and control systems, water pressure sensors from American Sensor Technologies maintain the operating efficiency of water pumps while minimizing service calls. AST water pressure sensors can be packaged with high-level voltage, current and frequency outputs. A 4-20 mA output signal is recommended for transmission lengths greater than 15 ft. in environments with electrical noise. Sensors are available with a variety of process connections (NPT, SAE and BSP threads), with various electrical connections (cable, DIN, Eurofast, and Deutsch), and in sealed gauge pressure ranges to protect electronics from water conditions.
American Sensor Technologies
www.astsensors.com
Level management
The new and improved LMS II level management system from Metropolitan Industries is a pre-programmed level controller with a color touch screen operator interface. The system allows users to seamlessly alter pump options, transducer options and more, providing access to basic SCADA features at a cost-effective price. The LMS II is a menu-configurable, constant speed, pump down level controller, allowing for the control of one to three pumps, with optional pre-programmed configurations for single/dual level transducers, 0-20 mA flow meter input, and a completely redundant float backup controller. Seal fails and thermal inputs are also available standard.
Metropolitan Industries Inc.
www.metropolitanind.com