Products & Services: Corrosion Control
Collection of Corrosion Control products and services.
May 13th, 2014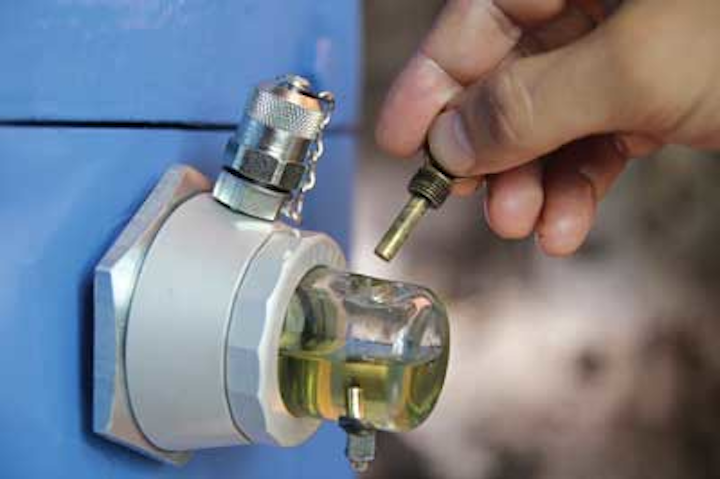 Corrosion inspection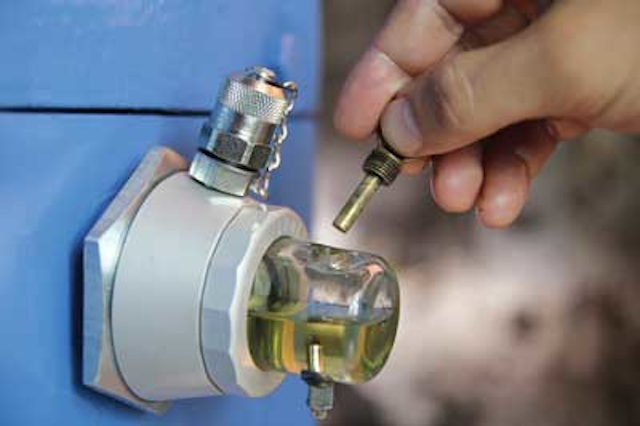 Luneta announces the launch of the Condition Monitoring PodTM (CMP), a multi-parameter inspection device modernizing and expanding daily lubricant inspections. The CMP is a visible inspection window revealing critical health conditions of the lubricant and machine. Its proprietary design serves an unmet industry need, providing an improved method of inspecting the health of machinery without the need for laboratory analysis. The CMP boasts a robust platform of 16 capabilities (10 of which are uniquely exclusive to this innovative tool). Features include a built-in oil sampling port, easy-to-remove-and-view magnetic plug, corrosion/varnish inspection probe, and quick lubricant access point for syringe sampling.
Luneta
www.luneta.com
Corrosion monitoring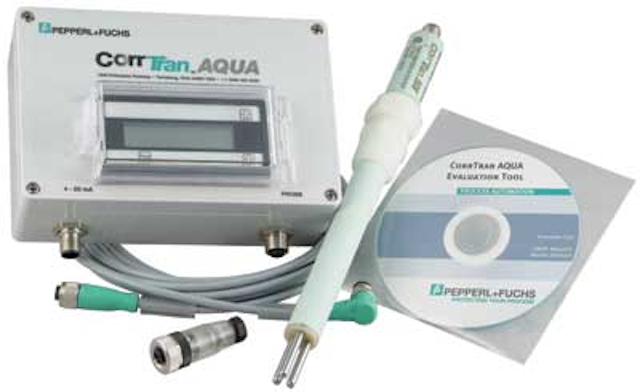 Pepperl+Fuchs has introduced CorrTran® Aqua, a system specifically designed to meet the corrosion monitoring needs of municipal and industrial water and wastewater treatment facilities. The system continuously monitors water and wastewater processes for general and localized corrosion, enabling users to determine the effectiveness of their corrosion inhibitors and to detect and correct corrosion issues through upkeep and preventative maintenance before they become a problem. The system is sold as a complete kit that includes a main unit, 100-psi working pressure probe, 10-ft. interconnect cable, and steel or copper electrodes.
Pepperl+Fuchs
www.pepperl-fuchs.us
PVC coated conduit fittings
Calbond™ provides an aluminum option that is lighter and easier to install than the comparable steel line. For additional corrosion protection, Calbond PVC-coated conduit bodies feature a minimum thickness of 0.002" urethane on the interior and exterior of the fitting, and are then coated again with a 40-mil PVC coating on top of the urethane, providing an additional layer of protection against accidental nicks and/or cuts from assembly tools during installation. All fittings incorporate flexible overlapping sleeves, ensuring a tight seal at every connection.
Calbond
www.calbond.com
Corrosion prevention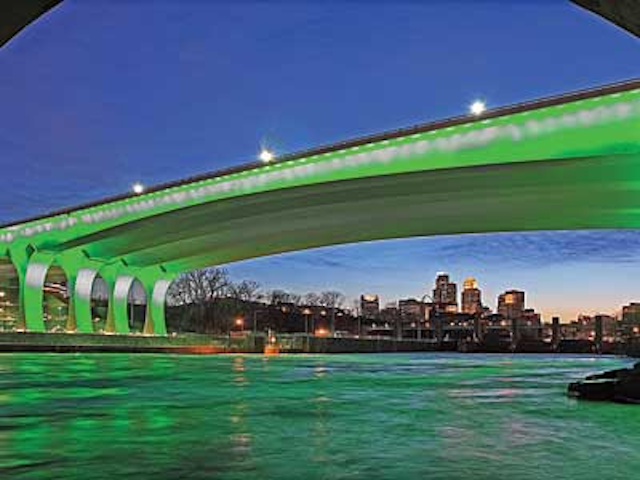 MCI®-2012 IntegraPel from Cortec is an integral water-based organic, waterproofing and corrosion-inhibiting admixture designed to prevent or retard corrosion of steel reinforcement in new concrete structures. It reduces the intrusion of corrosive species into the concrete and provides a self-replenishing protective layer on embedded reinforcement with Cortec's patented, time-proven migratory corrosion inhibitor (MCI®). The product is particularly suited as a corrosion-preventative for concrete construction exposed to corrosive environments (carbonation, chlorides and atmospheric attack) and is formulated to reduce porosity of the concrete.
Cortec Corporation
www.cortecvci.com
Ceramic epoxy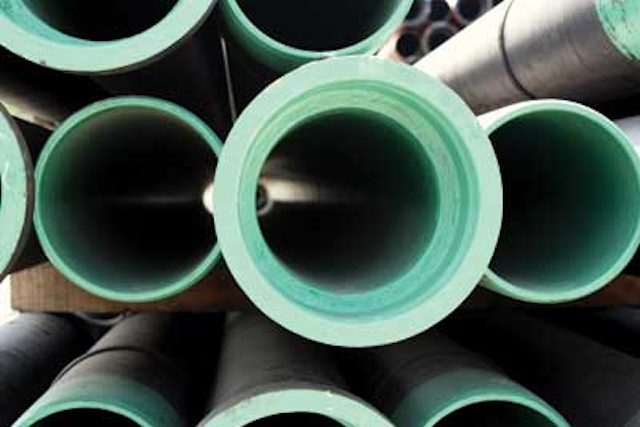 Tnemec's Series 431 Perma-Shield® PL is a high-performance, ceramic-modified epoxy lining for ductile iron and steel pipe. Formulated for the most aggressive sewer environments, it offers advanced permeation, abrasion and chemical resistance. It can also withstand 2,500 psi hydrocleaning, and its light green color makes it easy to inspect.
Tnemec Co. Inc.
www.tnemec.com
Antimicrobial additive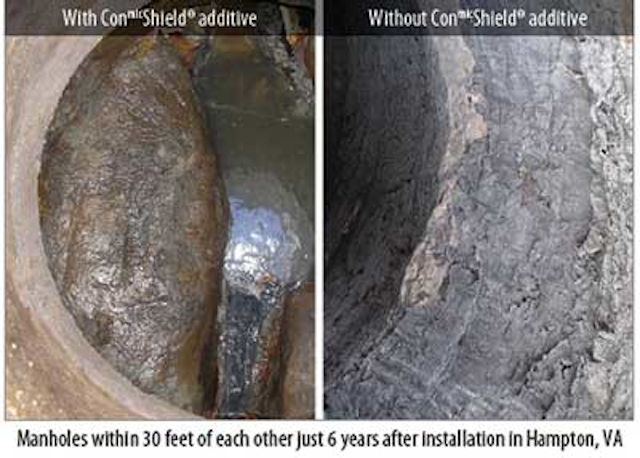 Conshield Technologies Inc. produces a unique antimicrobial additive for concrete that prevents Microbiologically-Induced (H2S) Corrosion (MIC) of concrete in sanitary sewer environments. This liquid additive provides protection throughout the entire thickness of concrete and cannot pinhole, delaminate or wear off like coatings that are applied only to the surface. Conshield's Crystal-X product line offers economical and effective waterproofing protection of new and existing concrete sewer pipe and manholes as well as dams, reservoirs, bridge decks, foundations, sewage and water treatment plants, tunnels, subway systems, and virtually any other concrete structure where water damage may occur.
Conshield Technologies Inc.
www.conshield.com
Protective lining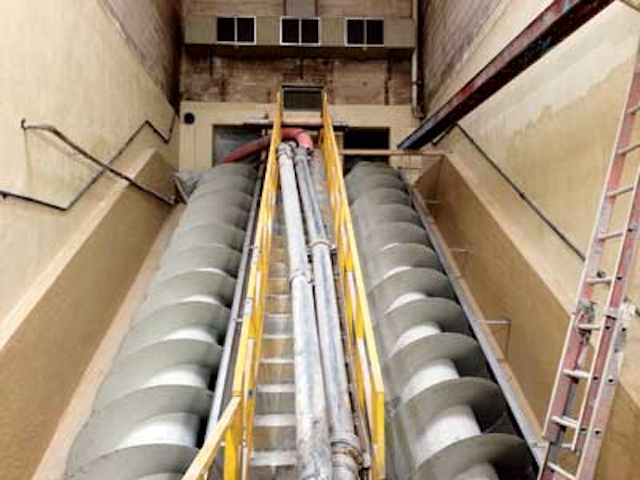 Sauereisen SewerGard™ No. 210X is a protective lining specifically formulated for municipal wastewater environments. The lining provides a chemical-resistant barrier for concrete, masonry, brick, and steel substrates. It has the ability to build up to 125 mils in a single coat and offers strengths in excess of 15,000 psi. It also has the ability to maintain an elongation of more than 12%. As a 100% solids epoxy polymer, the lining is designed to protect infrastructure throughout the wastewater industry.
Sauereisen
www.sauereisen.com