New Products
New products involved in the water industry
Sep 22nd, 2015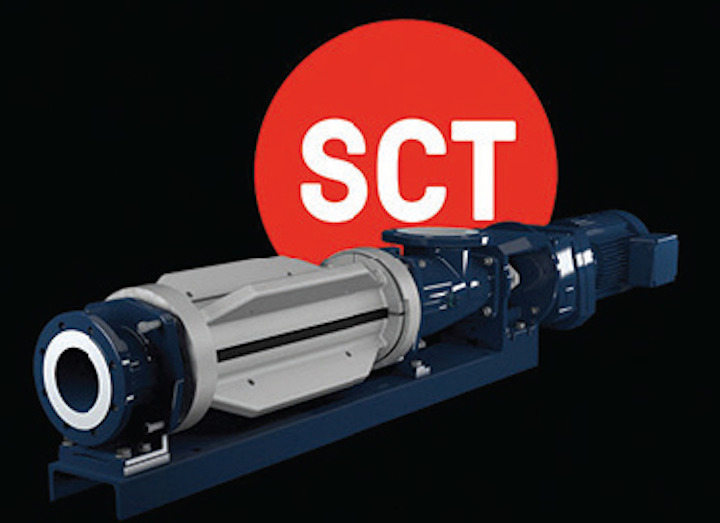 Smart conveying technology
SEEPEX's latest generation of Smart Conveying Technology (SCT) provides increased productivity and lower energy requirements for progressive cavity pumps. In addition to the 1-stage design for pressures up to 4 bar (60 psi), SCT is now available in a 2-stage design for pressures up to 8 bar (120 psi), which can be effortlessly reached. SCT was further advanced based on customers' needs, and it delivers enhanced pump performance with a longer component service life and easy maintenance.
SEEPEX
www.seepex.com

Software platform
Schneider Electric has announced the release of StruxureWare™ SCADA Expert ClearSCADA™, an open software platform enabling efficient management and optimization of remote assets. These functionalities are part of a software platform that is designed to lower the overall operating costs of remote assets while providing a complete, comprehensive overview of site operations. Other features include an enhanced WebX User interface, extended integration of telemetry hardware, and increased system security. Schneider's ClearSCADA software helps reduce costs while providing crucial, business-relevant data across all operational levels.
Schneider Electric
www.schneider-electric.com

Pipe restoration technology
Pipe Restoration is currently preventing customer-side domestic water leakage of nearly 14.5 million gallons of water per year throughout California using its patented ePIPE® leak protection and pipe restoration technology. With this, the company restores water pipe systems from the inside and prevents pinhole leaks from occurring. The ePIPE's revolutionary epoxy coating is NSF-Std-61 approved for a return-to-water service in as little as 2 hours. The pipe lining method is preferred over traditional pipe replacement techniques, which can be extremely expensive, disruptive, time-consuming, and harmful to the environment.
Pipe Restoration Inc.
www.restoremypipes.com

Excavator
Hi-Vac Corporation has added the latest product to its X-Vac Hydro Excavation line. The truck-mounted X-6 Hydro Excavator has a 6-cubic-yard debris tank. The X-6 can store 570 gallons of fresh water with an option for a capacity of 1,000 gallons. The adjustable Triplex water pump exerts 0-3000 psi and is set independently of the blower speed. With vacuum systems ranging in size from 2,600 cfm @ 27" of vacuum to 3,400 cfm @ 16" of vacuum, the X-6 is ideal for utility excavations.
Hi-Vac Corporation
www.hi-vac.com

Wireless switch controller
Harwil's wireless switch controller eliminates the cost of the wire, installation and maintenance that would normally be needed for a switch to control a device. The range can cover distances of 1,000 ft. The system includes a switch-sending unit that can be attached to two separate switches and a relay-receiving unit that has 10- and 15-amp relays. It is used to control water levels in a tank, detect moisture intrusion or line breaks, and is ideal for temporary and portable applications.
Harwil Corporation
www.harwil.com

Grinder pumps
Franklin Electric has introduced the new FPS IGPH Series of high-head grinder pumps engineered for the tough demands of higher head conditions found in many low-pressure sewage transfer applications. Available in an automatic or manual version, the series utilizes a patented cutter system with tight clearances for superior grinding at 414,000 cuts per minute. These new units incorporate two non-clogging impeller stages for efficient pumping of sewage slurries with a shut-off head of 200 feet.
Franklin Electric Co. Inc.
www.franklin-electric.com

Sizing software
Badger Meter has introduced its new sizing software for Research Control® Valves (RCV). This software will adapt to the unique process requirements of a plant and guide specifiers through selecting the right control valve for any project. RCVcalc provides accurate and meaningful valve sizing information to better reflect the system parameters of individual applications. Further, it enables users to graphically visualize their operation set points and review various trims and characteristics, which are dynamically filtered based on their selections.
Badger Meter
www.badgermeter.com