Products & Services: Chemicals & Application Equipment
Collection of chemicals & application equipment products and services.
Sep 1st, 2015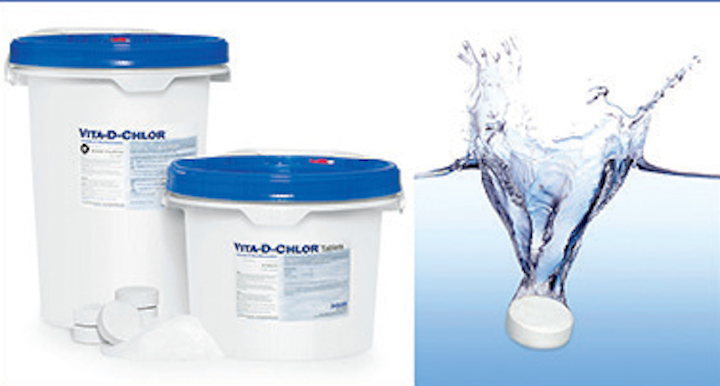 Dechlorination solutions
Integra Chemical's technical support staff can provide assistance in addressing specific dechlorination requirements. Dechlorination may be as simple as placing tablets in a flow stream or delivering a mixed solution through a metering pump or day tank. Integra Chemical's Vita-D-Chlor provides safe and effective dechlorination. Further, it will neutralize chlorine and chloramines instantly and is 100% organic and water soluble.
Vita-D-Chlor/Integra Chemical Company
www.vita-d-chlor.com
Metering pump
The CHEM-PRO M™ series metering pump from Blue-White features NSF 61 listing; 200:1 turndown; a large, easy-to-read LCD screen that displays the pumps' output rate; a 4-20 mA output standard on all models; a robust #316 stainless steel pump head cover for added strength; and a comprehensive 3-year warranty. The series also features Blue-White's exclusive single-piece DiaFlex™ Diaphragm, manufactured 100% in house of molded Kynar, providing zero delamination or breakdown.
Blue-White Industries
www.blue-white.com

Chemical sensor
Endress+Hauser's Promag E is a streamlined sensor for basic chemical applications. Combined with a small transmitter housing, it delivers full performance on a small footprint. Designed for applications where space is a premium, Promag E 100 is an ideal choice for system integrators, skid builders and equipment manufacturers. Benefits include a cost-effective sensor, energy-saving flow measurement, space-saving transmitter, time-saving local operation, and integrated verification.
Endress+Hauser
www.endress.com

Chemical scales
Scaletron is a manufacturer of corrosion-resistant electronic and mechanical scales and accessories. The scales are designed for weighing and monitoring the usage of corrosive chemicals and/or materials in water and wastewater treatment applications. The company offers a complete line of scales including 150-lb.-cylinder and ton-cylinder scales; drum, tank and platform scales; and IBC-tote and spill-containment scales.
Scaletron Industries Ltd.
www.scaletronscales.com

Defoamer
The MICROCAT DF Biocompatible Defoamer from Bioscience is a synthetic liquid for controlling biologically generated foams in wastewater treatment plants. It is formulated for aeration tanks and sludge digesters to suppress foam without inhibition of the biomass and other negative side effects associated with conventional defoamers. This product does not contain silicones, mineral oil, nitrogen, or phosphorus compounds and is compatible with MICROCAT microbial formulations. Significant cost reductions can be achieved by combining DF with other MICROCAT formulations for a "green" solution for foaming problems.
Bioscience Inc.
www.bioscienceinc.com
Emergency response software
SAFER® Systems has launched SAFER Water Treatment™, a new integrated emergency response software solution designed for water treatment facilities to maximize their chemical monitoring and emergency response efforts. The program provides a cost-effective tool that ensures the safety of staff and community members from the potential release of hazardous chemicals used in water treatment. Available as a stand-alone software installation or as a software and hardware package, SAFER Water Treatment can be seamlessly integrated with an existing weather or gas sensor system.
SAFER Systems
www.safersystem.com

Water treatment additives
Hydrex™ water treatment additives, part of Veolia Environnement, include a wide range of chemicals formulated for most industrial and municipal applications. The line is categorized in product series 1000-9000, which encompasses solutions suitable for drinking water and wastewater treatment, cooling and boiler water, membrane operations, and food and beverage chemicals. These programs optimize the entire water cycle, chemical consumption and operating and maintenance costs. The company's staff offers complete carbon footprint assessments as well as ecoGreen alternatives where applicable.
Kruger Inc.
www.krugerusa.com