Products & Services: Pipe Tools & Supplies
Collection of pipe tools and supplies products and services.
Oct 1st, 2015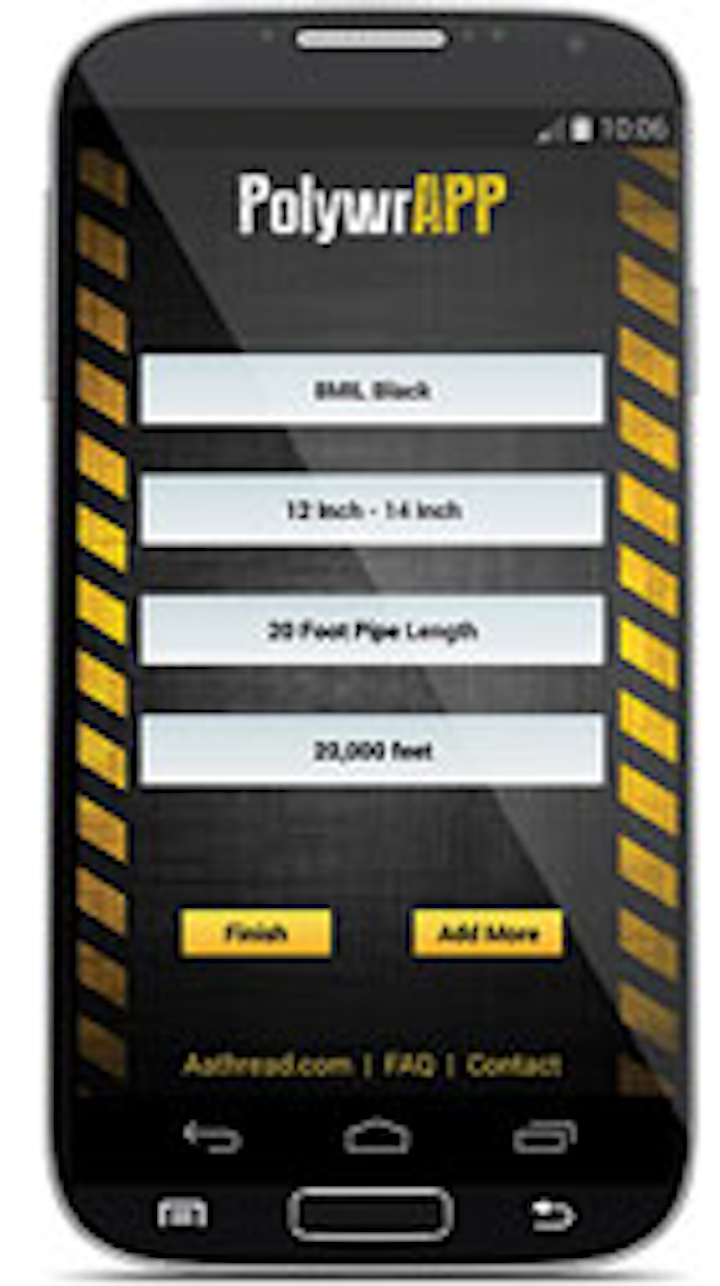 Pipe app
AA Thread has introduced PolywrAPP, a new calculator app that serves as a fast and easy way to determine how much Polywrap operators need for the job. Simply select the pipe diameter, material preferred and pipe lengths and punch in total linear feet of pipe. This calculator will figure out the amount of wrap needed with proper overlapping and relay how many rolls is needed. It will also provide the recommended amount of tape used to secure it as well as shipping weights.
AA Thread Seal Tape Inc.

Inserts
McElroy is improving jobsite efficiencies with the creation of the OneFit™ Inserts, which make it possible to butt-fuse a range of pipe sizes on a single McElroy machine. The single-insert design fits directly into the jaws of the machine without the need for additional master or nesting inserts. As a result, fewer items need to be stored, moved and installed. It is an ideal application when trying to fit a single or odd pipe size. It is offered in lightweight aluminum construction.
McElroy Manufacturing Inc.

Sewage pipe pre-liner
Valéron Strength Films has introduced Valéron IL to the North American marketplace. Valéron IL is a 100% polythene product successfully incorporated as a pre-liner by cured-in-place pipe system providers to refurbish sewage pipes. Its high-dimensional stability, tear and perforation resistance make it an ideal solution to ensure a strong and durable pipe network. While preventing the water from the soil entering the main liner, Valéron IL also shields the environment from non-cured resins used in the hardening process of the main liner.
Valéron Strength Films

Pipe bursting system
Burst and replace water, sewer, gas and other pipes with the Grundoburst static pipe bursting system from TT Technologies. The Grundoburst can pull in a variety of replacement pipe including PVC, DIP, ABS, cast iron, fusion-welded HDPE, and VCP jacking pipe. Pulled by a hydraulic bursting unit, the cutter head's special cutting wheels split the host pipe. Six models are available for bursting 2" to 54" pipes and larger.
TT Technologies

Break-off plugs
Flomatic has introduced a new 1/2" break-off plug for 8" submersible ductile iron and stainless steel valves, made in 303-stainless or a high-strength engineered composite material. A break-off plug allows for lighter lifting weight by allowing water to drain from pipes after the plug is broken by dropping a smaller pipe down the inside diameter of the pipe. It also eliminates water accumulating at the surface of wells, making for a clean and simple pull of riser pipe.
Flomatic Corporation

Deburring tools
A smooth pipe end helps solvent spread evenly as pipe is joined. Reed's patented DEB1 Series Deburring Tools both deburr and also produce a clean chamfer to manufacturers' standards in one revolution. The new DEB1IPS-INT is a 2-in-1 tool that fits the outer diameter pipe on one end and the inner diameter with the other, eliminating the need to buy two separate tools. The DEB1 offers knurled grip for slip-resistance and a durable aluminum body for longevity.
Reed Manufacturing Company

Pipe restoration technology
Pipe Restoration is currently preventing customer-side domestic water leakage of nearly 14.5 million gallons of water per year throughout California using its patented ePIPE® leak protection and pipe restoration technology. With this, the company restores water pipe systems from the inside and prevents pinhole leaks from occurring. The ePIPE's epoxy coating is NSF-Std-61 approved for a return-to-water service in as little as 2 hours. The pipe lining method is preferred over traditional pipe replacement techniques, which can be expensive, disruptive and time-consuming.
Pipe Restoration Inc.

Piping management program
Engineered Software's PIPE-FLO® Professional v14.0 is widely used in the three phases of piping projects: engineering, commissioning and operations. The heart of the program is the piping simulation model, which continually updates as the system evolves. The model allows PIPE-FLO to reflect the operation accurately as new information becomes available and throughout the life of the facility. By integrating even tighter standards into the software and increasing the number of calculations and warning messages, it is easy to improve the accuracy of piping operation modeling.
Engineered Software Inc.

Flexible expansion joint
Shear forces, differential settlement, seismic activity, thermal expansion, and contraction all make pipeline design and construction challenging. As such, EBAA Iron created the Force Balanced FLEX-TEND® flexible expansion joint to protect water and wastewater pipelines from these forces. Because of the unique force balance system, the Force Balanced FLEX-TEND eliminates the need for thrust blocks and/or rodding the expansion joint and simplifies pipe hanger and support apparatuses and designs.
EBAA Iron Inc.

Pipe coupling
With a variety of diameters from 1.5" to 70", Krausz HYMAX VERSA products connect and repair a wide range of water and wastewater piping types. Functioning as both a coupling and a repair coupling, they offer ease of use and cost effectiveness over both the short and long term. VERSA can join pipes with the same or different diameters and repair holes and cracks. This multi-functionality, together with extra-wide tolerance, enables smaller inventories, saving costs and shelf-space. VERSA products are made from stainless steel.
Krausz

Piping solutions
Centrifugally cast, fiberglass-reinforced, polymer mortar HOBAS pipe is suitable for new construction and rehab of critical installations including hydroelectric penstocks, storm and sanitary sewers, and other corrosive environments. The company manufactures pressure and gravity pipe in diameters ranging from 18" to 126" with leak-free push-together joints that speed installation and reduce costs. It is ideal for a variety of installation methods including sliplining and other trenchless methods, open-cut and aboveground.
HOBAS Pipe USA

Underground repair solutions
With its Permaform and CentriPipe systems, AP/M Permaform offers engineered solutions for the repair or replacement of badly deteriorated manholes, pipe and similar underground structures without excavating. Applied by the company's network of certified applicators since 1975, its patented bi-directional centrifugally cast solutions are trusted by cities, engineers and contractors.
Permaform

Piping solutions
Total Piping Solutions (TPS) offers several innovative products including the new wide-range T3 Service Saddle and Triple Tap Tapping Sleeve along with related municipal and industrial line stopping products. TPS also provides the Quick Cam® Lug System. The company is dedicated to providing quality products with added value to the installer. All products save time, cut inventory and offer exceptional levels of proven performance, as well as work on pipe types including PVC, Ductile, Cast, Steel, AC, and HDPE.
Total Piping Solutions Inc.

UV curing system
The Anaconda UV Curing System from Aries Industries provides fast, consistent pipe lining installation with CCTV video inspection before and during the cure. The rehabilitation method uses a "light train" that emits UV light as it's pulled through the flexible, resin-impregnated liner. The light cures and hardens the liner, forming a new tight-fitting, joint-free pipe. A computer controls the speed, temperature and pressure in the inflated liner, all of which are carefully monitored during the cure.
Aries Industries Inc.

PVC pipe products
Underground Solutions' Fusible PVC® pipe products, including Fusible C-900®, Fusible C-905® and FPVC®, utilize patented technology to produce a fused, monolithic, fully-restrained, gasket-free, leak-free piping system ideal for trenchless (horizontal directional drilling, pipe bursting and sliplining) or conventional "open-cut" installations. The combination of standard fittings and lower weight with higher flow for a given pressure class versus other thermoplastic pipe ensures that Fusible PVC pipe brings greater economy to most pipeline projects.
Underground Solutions

HDPE pipe solution
PolyPipe® offers the LightView™ Plus HDPE pipe. The specially formulated gray color allows inspection of the pipe interior via CCTV monitoring, and the pipe is well-suited for both open-cut and HDD installations. It is manufactured with high-performance polyethylene (HPPE) resin, provides superior fatigue resistance, is resistant to corrosion, abrasion and chemical attack, and suffers no damaging effects from freeze-thaw cycles.
PolyPipe Inc.
More WaterWorld Current Issue Articles
More WaterWorld Archives Issue Articles