Product & Services: Aeration Systems
Collection of aeration system products and services.
Aug 18th, 2015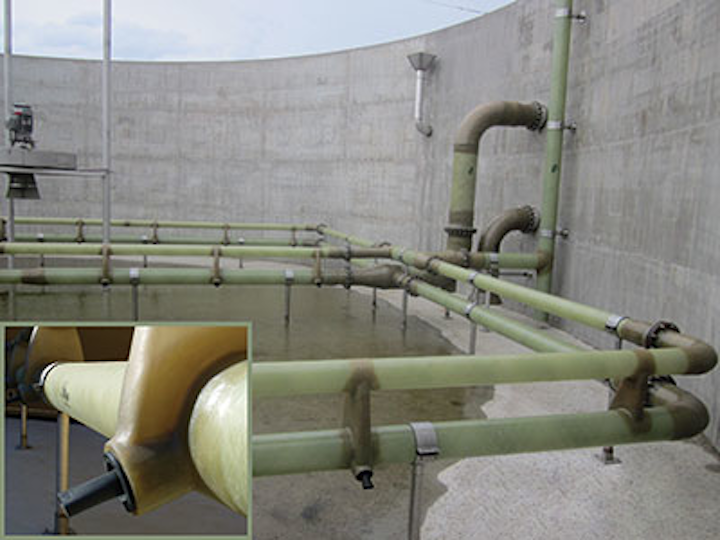 Slot injector
KLa Systems' Slot Injector™ aeration technology is ideal for MBR processes. Unlike conventional diffusers, the slot injectors do not experience depressed alpha factors, allowing continuous delivery of high O2 transfer rates in the concentrated biomass environment of the membrane bioreactor. Other important performance features are flexible operation using DO feedback to VFD controlled pumps and blowers for improved process control and optimum energy management. When necessary, the injectors can be cleaned out using the airlift back-flush system.
KLa Systems Inc.
www.klasystems.com

Coarse bubble diffuser
The Tideflex® Coarse Bubble Diffuser is a non-clog unit that requires no maintenance or service. The supply air to the assemblies can be completely shut off with no clogging or system shutdown. With no maintenance requirements, extensive operational cost savings are also realized. Tideflex aeration equipment provides continuous operation in one of the most aggressive process areas, with no service requirements or downtime and at a fraction of the typical operating cost.
Tideflex Technologies, a Division of Red Valve Company Inc.
www.tideflex.com

Turbo blower
The Aerzen Turbo Generation 5 is a mix of blower, hybrid and turbo technology. The system is designed for large intake volume flows of between 1,200 and 16,200 m³/h. It is variable-frequency controlled, 100% oil-free and tailor-made for the most demanding applications in wastewater treatment. The powerful turbo blowers provide cost savings and have minimal maintenance needs, easy handling and robust nature.
Aerzen
www.aerzenusa.com

Dual treatment system
Aqua-Aerobic's Aqua BioMax dual treatment system is ideal for low-flow applications and combines rotating biological contactor (RBC) technology with cloth media filtration. The unit utilizes multiple RBC disks that are vertically-mounted and closely spaced on a steel shaft, providing a large surface area for biofilm growth. The disks rotate out of the wastewater to provide aeration for efficient biological oxygen demand (BOD) removal and nitrification. A cloth media drum filter follows the RBC to collect and remove the biological solids prior to the effluent discharge.
Aqua-Aerobic Systems Inc.
www.aqua-aerobic.com

Agitators
The Chemineer™ Model 20 HT/GT agitators are designed for a wide range of services including applications in the water and wastewater treatment industry that include aeration, nitrification, de-nitrification, aerobic and anaerobic digestion, and clarification. The agitators feature a high-efficiency gearbox designed for agitator service. Models are available in right-angle and parallel-shaft configurations to meet specific application requirements. The agitators incorporate a modular design package that reduces the number of replacement parts that need to be carried in inventory by the customer.
Chemineer, a brand of National Oilwell Varco
www.chemineer.com

Corrosion-resistant materials
KCH Engineered Systems has introduced POLYSTRONG and POLYLAST, two corrosion-resistant, thermoplastic-based materials used in the equipment that it manufactures. They are poised to replace traditional fiberglass laminates that are subject to degradation wicking, porosity and UV light penetration. The materials are ideal for degasifiers or aeration towers at municipal drinking water treatment plants where NSF Certification is required.
KCH Engineered Systems
www.kchservices.com

Mixers
GridBee AP air-powered mixers from Medora Corporation combine patented long-distance circulation technology with a clog-free air-powered pump. With no moving parts and no electricity in the water, they offer years of maintenance-free operation. Float models feature an adjustable intake depth up to 100 ft. or more for hypolimnetic applications and are designed for use in lakes, stormwater ponds and wastewater ponds. Pedestal models are designed for use in activated sludge wastewater basins, wet wells and industrial tanks and basins.
Gridbee, a Medora Corporation
www.medoraco.com

Aeration system
Landia's AirJet system can aerate thicker sludge than other systems. It offers simplified upkeep and does not require the tank to be drained for diffuser maintenance. Available in motor sizes from 3 to 18.5 kW and in submerged, vertical or horizontal versions, the system can be dry-installed outside the tank or floated under pontoons in a lagoon. Ideal for applications where liquid levels vary, the non-clogging air jets are self-aspirating, so they don't require a compressed air supply.
Landia Inc.
www.landiainc.com