Research results in surprising advances in decanter centrifuges
A new sludge decanter transports and treats up to 30% higher volume of sludge, produces cleaner centrate with minimum polymer consumption and higher cake dryness, according to Alfa Laval.
Dec 1st, 2003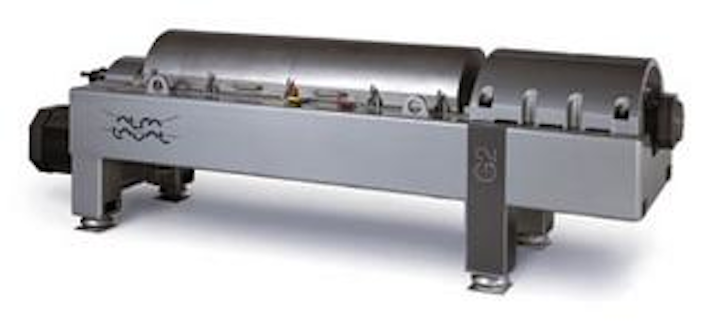 By Mai Holm Møllekær, Bent Madsen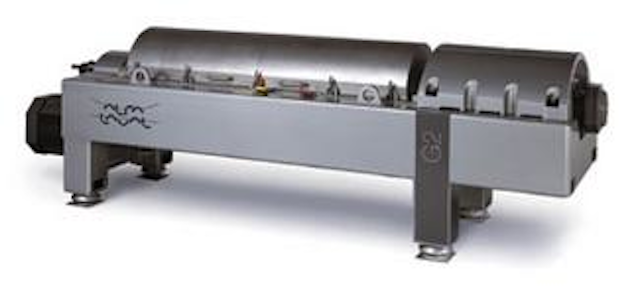 Click here to enlarge image
Research carried out by Alfa Laval in collaboration with the Royal Institute of Technology in Stockholm have resulted in surprising new insights into the mechanics of sludge decanters and several patent applications for new sludge dewatering equipment used in municipal wastewater treatment plants.
In June 2003 Alfa Laval launched the ALDEC G2 Smart Decanter. This second generation design makes it possible to achieve a new level of dewatering using several different approaches:
• by treating up to 30% more sludge than previous equipment and doing so more efficiently;
• by treating the same quantities of sludge, but producing much drier sludge cake, with major savings on disposal costs; and
• by using a significantly smaller decanter centrifuge to process any given quantity of sludge.
Subsequently, the company revealed a range of significant new design details, and has lodged patent applications for some of these. The results of the latest Alfa Laval research efforts have made it possible to exploit more intensively the time spent by sludge in the decanter due to a new arrangement of the conveying movement inside. The design also enables more efficient exploitation of the G forces created by the rotation of the decanter bowl.
Benefits
Power consumption normally weighs heavily on the budget of any wastewater treatment plant, but the direct drive system used in ALDEC G2 minimises this consumption. The new drive system also simplifies the electrical installation in addition to the operating procedures used in conjunction with the decanter.
The decanter components traditionally considered critical in regards to wearing parts have been made more durable. A great deal of work has also been put into making these parts easily accessible for inspection, maintenance and replacement.
Extensive research and development work carried out by Alfa Laval in the field of fluid dynamics means that ALDEC G2 decanters transport and treat higher volumes of sludge, provide clean centrate and use only a minimum of polymer. Sludge is fed into the decanter without destroying the flocs, the polymer mixing point has been optimised, and sludge is not discharged until all the forces in the decanter bowl have been put to full use for maximum efficiency.
The Decanter Core Controller monitors a wide range of different operational parameters. The ALDEC G2 can also exchange data with a wide range of advanced control and monitoring systems from different manufacturers. The new Alfa Laval Octopus system is one of these.
By combining optimised fluid dynamics, an improved feed zone and a new backdrive system featuring a new gearbox, Alfa Laval claims to have achieved a significant breakthrough in the sludge dewatering capabilities provided by decanter centrifuges.
Over the last decade, a consensus of opinion in industry circles maintains that dewatering using decanter centrifuges - has been in a state of near stagnation, with only marginal improvements being achieved. Naturally, efforts to bring down sludge treatment costs have nevertheless continued, driven both by the need for lower operating costs and for ways to offset extra costs imposed by legislative requirements.
Until very recently, however, there seemed to be widespread expert agreement that dewatering had effectively been taken to its limit, and that centrifugation could no longer squeeze significantly more water out of sludge. The measures used to achieve performance improvements, therefore, focused largely on other areas and other technologies, such as drying and incineration.
Moving beyond trial and error
Conventional thinking among suppliers of sludge treatment equipment has tended to focus on increasing the speed of the centrifuge in order to achieve better sludge consolidation. This work has largely been done on an essentially trial-and-error basis that has rarely provided significant improvements; however the boundaries for sludge consolidation have not been reached, as Alfa Laval recently demonstrated. The company focused considerable time and resources on an extensive, ongoing programme of fundamental research into the basic mechanisms involved in making a decanter centrifuge more efficient, and on the behaviour and movement of the sludge within the decanter.
In ALDEC G2, improved dryness and greater capacity are alternatives. Graph provided by Alfa Laval Copenhagen A/S
Click here to enlarge image
This research was carried out partly on the basis of studies carried out in collaboration with the Royal Institute of Technology in Stockholm, coupled with intensive practical development work of the kind made possible by Alfa Laval's 60 years of know-how with decanter centrifuges. Together, these efforts have produced surprising new insights into the exact way in which rotation speed contributes to the process result, resulting in several patent applications.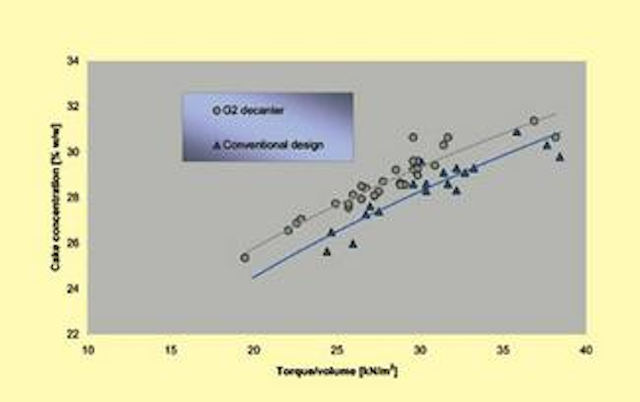 Shifting of T/V curve Graph provided by Alfa Laval Copenhagen A/S
Click here to enlarge image
A decanter centrifuge produces a cake that is significantly drier than that produced by a bottle centrifuge operated at an identical G force, cake height and retention time. This increased dryness is a result of the rotation of the conveyor inside the centrifuge; however the details of cake movement are very complex. In order to identify the elements with potential for providing increased dryness and to exploit these as much as possible, it is necessary to understand the many individual components of this overall movement.
Alfa Laval's intensive studies of the respective roles played by linear and radial movement included building a centrifuge with a diameter that could be varied dynamically while the machinery was in operation. This produced valuable information about the key difference between linear compaction (in the bottle centrifuge) and radial compaction of cake (in the decanter centrifuge).
In conventional decanters, cake dryness always corresponds to a specific conveyor torque per volume in the decanter (T/V). This relationship is normally represented by a curve. The curve shifts from one sludge type to another, but for any given sludge type it is independent of the size (diameter) of the particular decanter centrifuge, so that all decanter sizes produce results on the same curve. This is because all conventional decanters convey the cake inside the centrifuge in essentially the same way, and the torque is a result of this conveying action.
The ALDEC G2 design, however, introduces a new and significantly different conveying pattern and the effects are clearly visible because the entire T/V curve shifts to the left.
This lower set of T/V values indicates clearly that the new Alfa Laval
design represents the successful arrival of a new approach to conveying solids in decanters.
This is also a clear demonstration that - contrary to popular belief - decanter-based separation technology can indeed be developed still further, even though it requires substantial technical resources.
The results of the Alfa Laval research on which the development of the ALDEC G2 was based are likely to yield significant influence on the way in which sludge treatment processes and equipment evolve. By shifting the focus from the relatively simple yet naturally limited mechanical aspects of dewatering to more complex and technically demanding forms of optimisation, this research will undoubtedly bring about renewed customer interest in what can be achieved with decanter centrifuges.
---
Author's Note
Mai Holm Møllekær is the regional business manager for Alfa Laval Copenhagen A/S, based in Copenhagen, Denmark. Bent Madsen is the manager of decanter process research for Alfa Laval. For more information, visit the website: www.alfalaval.com/environment.