Technologies & Products
The US company Flowserve will launch its new, severe service control valve, the Multi-Z at POWER-GEN International 2003 in Las Vegas, Nevada from 9 -11 December.
Dec 1st, 2003

Multi-Z control valve launched at Power-Gen
The US company Flowserve will launch its new, severe service control valve, the Multi-Z at POWER-GEN International 2003 in Las Vegas, Nevada from 9 -11 December. The control valve handles high-pressure drop applications where entrained solids and cavitation create problems. The Multi-Z is the only valve certified and tested by a boiler feed-pump manufacturer, and is used for system start-up and boiler feed-water recirculation.

Click here to enlarge image
Its multistage trim design eliminates cavitation and provides extended trim life. The venturi outlet nozzle provides further trim and seat protection from high velocity, cavitation and flashing, and its linear multistage plug design provides greater rangeability and higher throttling resolution, according to Flowserve.
Flowserve Corporation
Irving, Texas, USA
TFT plant installs membrane contactors for high-purity water
Liqui-Cel Membrane Contactors, part of an overall high-purity water treatment system, will be used to deoxygenate water at a thin film transistor (TFT) plant in Japan. The manufactured TFTs, state-of-the-art sixth generation (1,500 mm x 1,800 mm) geometries, will be used primarily in Flat Panel Television displays. The membrane contactors will also be used to dissolve a portion of H2 into the water. Dissolved gasses left in the water can cause defects on the TFT surface, so dissolving H2 into the water helps in an activated water cleaning process.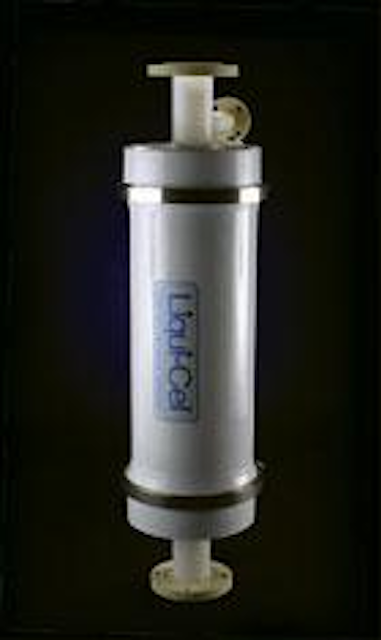 Click here to enlarge image
The 175 m3/h-system uses Liqui-Cel 10 x 28 membrane contactors to remove dissolved oxygen from saturation to less than 30 parts per billion (ppb); however contactors are capable of removing dissolved oxygen to 1 ppb. The contactors will operate in combo mode where a small amount of nitrogen and vacuum will be used.
O2 is corrosive and can oxidise many materials, such as piping and equipment, in the power and industrial sectors. Carbon dioxide (CO2) can also negatively affect EDI and ion exchange performance. Liqui-Cel Contactors offer a modular solution for O2 and CO2 removal without chemicals.
Membrana
Charlotte, North Carolina, USA
SpiraSep technology enters municipal market
Ashbrook Simon-Hartley signed an exclusive agreement with TriSep Corporation of Goleta, California, USA, to apply SpiraSep ultrafiltration membrane technology in the municipal water and wastewater industry. "With this agreement, Ashbrook Simon-Hartley brings the advantages of spiral geometry – combined with a patented high-flow, low-pressure membrane – to applications such as tertiary filtration and membrane bioreactors," explained Robert T. Williams, president of Ashbrook Simon-Hartley.
The SpiraSep membrane forms a strong, backflushable structure with discrete feed channels that allow high-flow levels and efficient air scour (where appropriate) when arranged in a proprietary spiral configuration.
Ashbrook Simon-Hartley
Newcastle-under-Lyme, Staffordshire, UK
Compact plant treats wastewater for up to 5,000 pe
The compact and fully integrated wastewater treatment plant, called Plant 125, treats municipal wastewater for populations between 1,000 and 5,000. Plant 125, an activated sludge process, features a very small footprint and incorporates screening, anoxic treatment, extended aeration, settlement, sludge thickening, sludge storage and washwater facilities.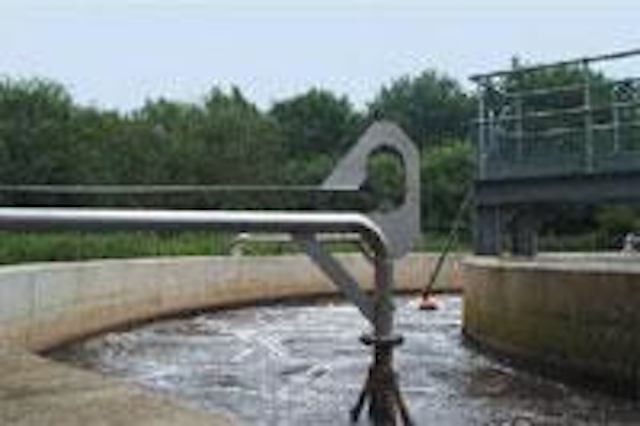 Click here to enlarge image
The plant comprises two concentric zones with the anaerobic, anoxic and sludge storage zones covered to prevent odour emissions. Vexamus Water also manufactures EcoCell and Black Box (SAF's) package plants for populations of 60 up to 1,000, and SBR (Sequential Batch Reactor) technology for populations above 5,000.
Vexamus Water
Ely, UK
Filtering catch basin removes pollutants in stormwater runoff
Capture-Flow, a new three-stage filtering catch basin, is a structural Best Management Practice (BMP) that removes 92% of the solid particles transported by typical stormwater at an average flow condition.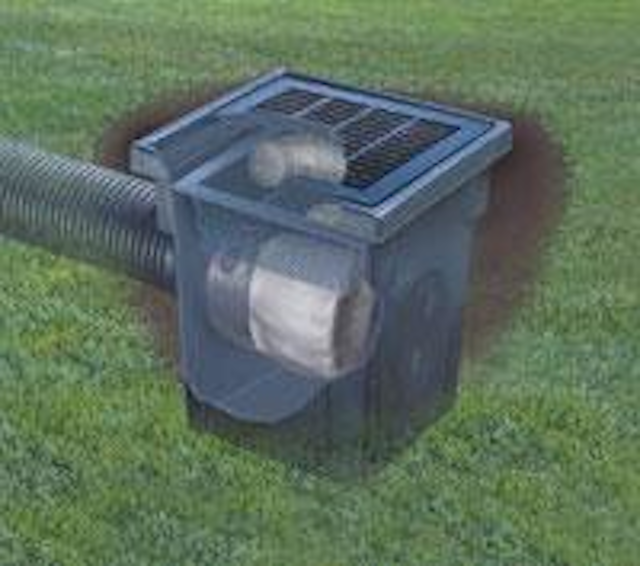 Click here to enlarge image
Entering the first stage, stormwater is filtered through a stainless steel basket that traps floatables, debris and trash. Gross solids larger than three millimetres, including gravel, litter, leaves and grass clippings, are removed at this stage. The second stage consists of oil absorbent booms that effectively reduce the amount of hydrocarbons entering the storm drain system. The third stage is a cylindrical polypropylene filter that provides removal of Total Suspended Solids (TSS) down to 1.5 mm, such as coarse, medium and fine sand.
One person can maintain the Capture Flow without the need for tools. Trash can be emptied from the stage one basket, and the second-stage hydrocarbon absorbers and slip-on polypropylene filter can be replaced when needed.
The system helps facilities meet federal, state and local requirements for treating stormwater. Capture Flow enables developers, property owners and public agencies to avoid stiff daily fines for not implementing plans for filtering stormwater runoff. Potential applications include new and redevelopment projects, public capital projects, multi-unit residential properties, golf courses, parking lots, industrial property and retail gas stations.
Carson Industries LLC
Glendora, California, USA
KiloWhale cleans deep sewers
Whale Tankers designed and built the high-volume KiloWhale JetVac tanker with an overhead boom for Holford Contracts, based in Staffordshire, England. The unit, mounted on a Volvo FM9 6x6 rigid chassis, cleans and maintains deep sewers. Equipped with a 70-gpm at 2,300-psi, high-performance jetting pump, the unit propels jetting tools through blockages in pipes up to two metres in diameter. Its engine-driven large liquid ring exhauster with an output of 1,000 cfm can operate in pneumatic conveying or vacuum loading modes, enabling it to lift wet and dry waste from vertical depths beyond 30 metres and from even greater horizontal distances.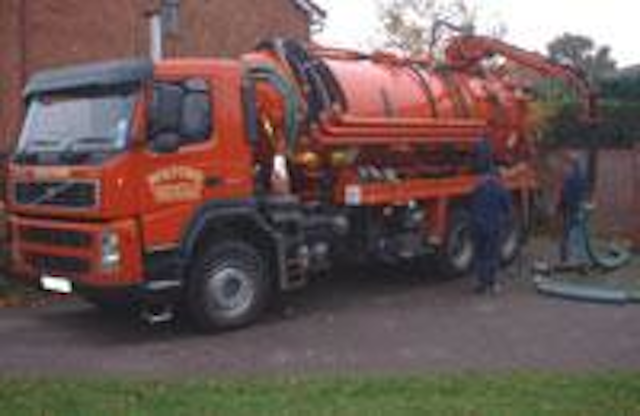 Click here to enlarge image
In addition to carrying out standard sewer cleansing tasks, the KiloWhale JetVac removes grit, stone and other heavy debris that can cause pumping stations to fail.
The vehicle is fitted with a swinglift manwinch and a retractable lanyard to meet new UK Health & Safety legislation relating to operators working over deep shafts. Other features include a hydraulically-operated, five-inch bore loading boom with remote control, a grid lifter and heavy-duty guards to protect equipment underneath the unit during offroad use.
Whale Tankers Ltd.
Solihull, England
System detects pipe leaks in noisy areas
The leak locating system from Radcom Technologies simplified the task of finding underground pipe bursts for the Southern California Water Company (SCWC), enabling technicians to survey a 42-mile system of water main in a few days. SCWC provides water services to 240,000 residents.
The SoundSens multi-point noise correlation system helps water companies identify leaks in noisy areas, and on pipe materials such as plastic and asbestos cement.
Click here to enlarge image
SCWC used two kits of six SoundSens correlation pods, which were placed around an area where leakage was suspected. Left to log noise data over a period of time, the self-contained pods perform multiple correlations to precisely identify sources of leak noise. Dedicated software then presents these leak positions overlaid on a clear schematic of the pipes in the area.
Radcom Technologies Inc.
Woburn, Massachusetts, U SA