Meters
A NEW RANGE OF LOW-MAINTENANCE water meters and ancillary equipment for industrial, commercial and public sector applications are individually calibrated ...
Dec 1st, 2003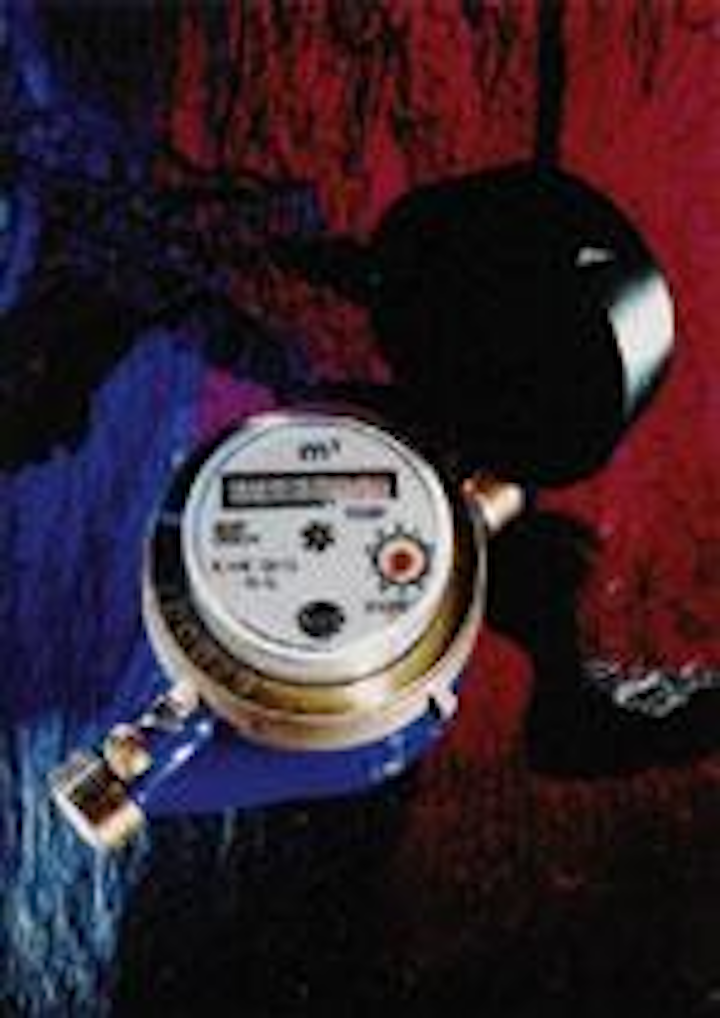 Low-maintenance meters comply with EU standards
A NEW RANGE OF LOW-MAINTENANCE water meters and ancillary equipment for industrial, commercial and public sector applications are individually calibrated and all comply with European Union standards for meter accuracy. These meters include three models: single and multi-jet cold water meters, and a Woltman cold water meter. The ancillaries include batteries, a remote totaliser, flow rate indicator and a batch controller to govern pulse input and relay output.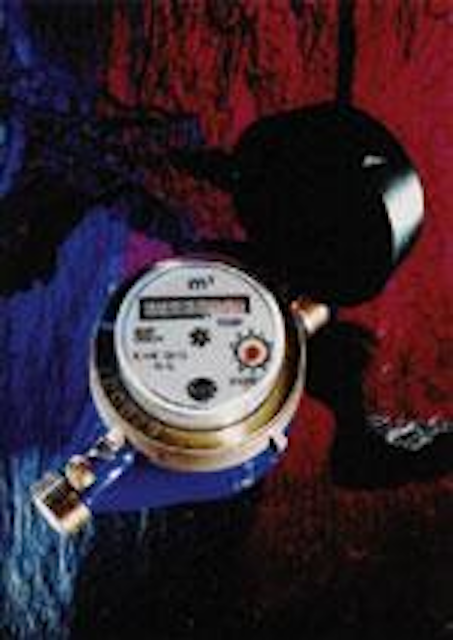 Click here to enlarge image
The Landon Kingsway single-jet meter features a "Superdry" 360º rotary clockwork mechanism and counters housed within a vacuum capsule to which the motion of the dipped component is transmitted via a shielded mechanical joint. The unit can be mounted vertically or horizontally and will handle warm water up to 90ºC. It can also be supplied with an anti-fraud system and, for remote meter reading, with an impulse transmitter.
The multi-jet water meter also features a dry vacuum compartment to house the complete register mechanism. The impeller rotates in a measuring chamber made of self-cleaning resin and the magnetic drive is shielded to prevent any interference from external fields. It is suitable for operation in hard water where deposits may occur or even where sand is present.
The helix Woltmann-type meter is suitable for cold water with a self-cleaning impeller mounted on a stainless steel spindle in the measuring chamber. Designed to ensure high flow rate with minimum head loss, the complete unit can easily be removed from the meter body.
Concentric Controls Limited
Birmingham, UK
Self-cleaning meter improves accuracy
THE AZTEC™ SERIES 5000, AN AUTOMATIC SELF-CLEANING and self-calibrating dissolved oxygen (DO) and mixed liquor suspended solids (MLSS) meter, monitors aeration basins at wastewater treatment plants. These meters operate with built-in data logging and remote communications, capable of single, dual or combined measurements. The systems incorporate a pneumatic cylinder and shroud assembly used for in-situ cleaning and calibration.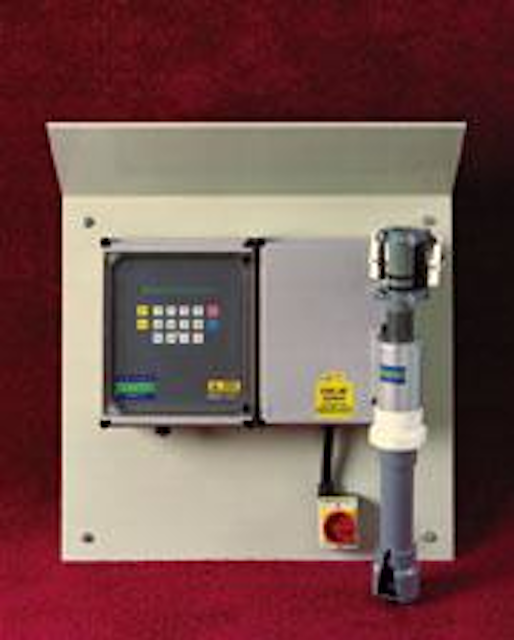 Click here to enlarge image
Water contamination fouls DO systems over time, reducing their efficiency. Since the aeration process can account for 50% to 90% of total plant electrical use, significant savings can be realised by using reliable DO measurement in conjunction with the treatment plants' control system. The Aztec Series 5000 is automatically self-cleaning and reduces fouling to increase efficiency. Self-calibration verifies sensor performance and optional remote communication provides status reports, minimising the need for manual attention and unplanned maintenance. Incorporating a replaceable cell that does not require electrolyte or membrane replacement further minimises maintenance costs.
Severn Trent Services
Fort Washington, Pennsylvania, USA
Meter measures turbidity in multiple applications
THE MICRO 950 WATERPROOF TURBIDIMETER, A portable meter sealed to IP67, covers the range 0.01 to 1000 NTU (Nephelometric Turbidity Units) and provides on-the-spot measurement of turbidity in water.
Click here to enlarge image
Turbidity is an important measurement for clean water systems such as natural and drinking water. The test is also widely used in other systems such as effluent and industrial waters. The new meter is designed for bench use in laboratories and for field use by sampling engineers or contractors. It will accurately measure turbidity rapidly in accordance with recent UK, EU and ISO standards, and requires no technical knowledge.
Turbidity is measured within the ranges 0.01 to 19.99 NTU, 20.0 to 99.9 NTU, and 100 to 1000 NTU. After a water sample is inserted in the meter a single button press displays the reading on a large LCD screen together with units and status codes. Accuracy is ±2% of reading below 500 NTU and ±3% above 500 NTU.
Turbidity is measured using the nephelometric principle. A beam of light with a wavelength of 850 nm is passed into the water sample and the amount scattered by the particles present is detected at right angles to the incident beam. The use of a near infrared LED light source eliminates interference from inherent colour in the water, and is in accordance with national and international standards on the determination of turbidity.
Palintest Ltd.
Gateshead, Tyne & Wear, UK
On-site remote meters saves water costs
A SYSTEM INSTALLED TO MONITOR WATER, GAS AND electricity supplies for the University Hospital of North Staffordshire NHS Trust, saved US$ 17,300 in water costs in the first year. Severn Trent Water specified and installed the Data Monitor system, which uses a specialised package called utilityBOX developed by BOX telematics to enable real time "wire-free" transmission of data from on-site remote meters to a centralised PC.
The Data Monitor system identifies water leaks, electricity going to earth and gas leaks at the Trust's City general Hospital complex, the Haywood and Royal Infirmary sites. The utilityBOX monitors and displays the readings of water, electrical and gas meters connected locally or remotely. By using GSM cellular and radio technology, data from remote devices are retrieved by a central computer, either to a pre-determined schedule or on demand. The data is stored allowing reports to be produced from historical data, which can be exported to a variety of industry standard formats. In addition, maintenance personnel can be automatically notified of critical alarm conditions via PC or SMS text messages sent direct to a mobile phone, enabling 24-hour pro-active monitoring.
Severn Trent Water
Birmingham, UK