Membrane biological reactor treats supermarket wastewater
The Fluides & Automation membrane biological reactor installed in a compact wastewater treatment plant in Lille, France, drastically reduces sludge production.
Oct 1st, 2003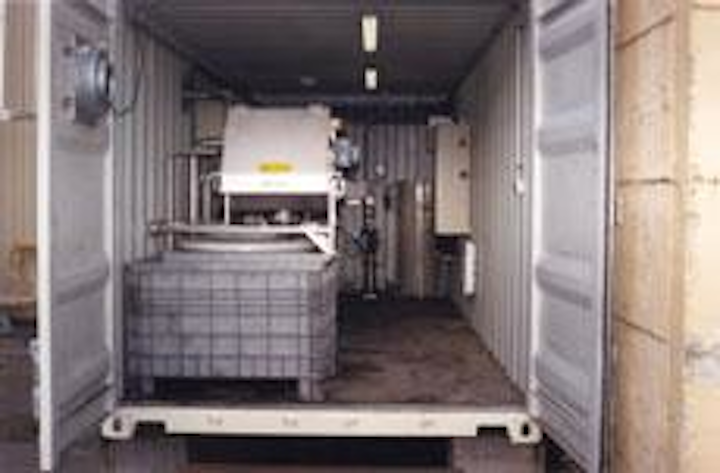 By Pascal Guasp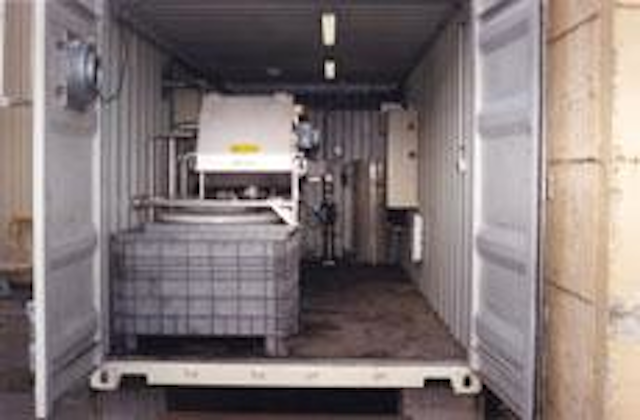 Membrane equipment and automatic programming of the plant.
Click here to enlarge image
Fluides & Automation designed, built and is now operating a compact wastewater treatment plant that includes a membrane biological reactor (MBR) for the leading French supermarket chain Auchan near the city of Lille in northern France. The plant serves one of Auchan's largest gallery and trade centres, which covers 107,000 square feet.
The MBR consists of an aerobic biological reactor and a membrane unit. In the biological reactor, which is permanently aerated and agitated, organic matter is broken down by a variety of microorganisms, which are present in large quantities and in a dispersed form. The treated effluent then passes through the membrane unit where it undergoes ultrafiltration on ceramic membranes, thus separating the biomass and the purified water.
Using MBR technology, Fluides & Automation put the sewage plant into operation in less than six months. The plant operates continuously 24 hours a day, every day of the week, with a capacity of 150 gallons per hour. Water treated comes from the wastewater issued from rinsing food after it has been prepared in specific units including meat processing, fish and seafood cleaning, and the hypermarket's bakery. Most of the pollution is organic, such as blood and grease. This effluent is also mixed with "grey water" collected while cleaning the floors of the back office located behind the hypermarket centre. Plastic bags and other packages are collected at the entrance of the treatment unit using a screening system.
Pollution reduction is more than 95% for chemical pollution with a heavy load on concentrated effluents (more than 2,000 ppm COD. Phosphorus and nitrogen are also treated through a combination of biological process and chemical treatment. One of the advantages of MBR is reduced sludge production compared to classical systems. Auchan has removed sludge from its wastewater treatment plant after one year of operation.
The construction cost of the plant amounted to around US$ 250,000, including all civil works, equipment delivery and design capacity. In addition, the company guarantees an average operation and maintenance cost of US$ 25,000 per year. This includes human resources allocated to the plant, consumables, and equipment maintenance for membranes and pumps over three years.
The return on investment for the customer is certain, since if the treatment did not perform according to European Union regulations, Auchan could pay heavy fines based on volume treated and pollution discharged or could be closed by local authorities. The company plans to reuse wastewater after treatment for floor cleaning to reduce water supply costs. The additional investment, therefore, should reach payback in one year given the price of water at US$ 1 per 132 gallons.
Fluides & Automation remotely operates the plant using telemetrics and a fully automated system.
---
French MBR firm seeks US partners
Fluides & Automation, based in Mons en Baroeul in northern France, designs, builds and operates membrane filtration plants that include membrane biological reactor (MBR) technology. MBRs can be used by food processing industries, such as poultry slaughterhouses, seafood processors, wine and champagne producers, breweries, in addition to textile industries, including dying and weaving units. MBR technology can benefit all industries with a large amount of chemical and organic pollution (over 10,000 ppm COD) in a limited area (less than 5,300 square feet) with reduced wastewater flow (usually less than 50,000 gallons per day).
The company is currently seeking partnerships in the USA to transfer its knowledge concerning compact and reliable MBRs for sewage plants.
---
Author's Note
Pascal Guasp is the president of Fluides & Automation, based in Mons en Baroeul, France. For more information, contact the author at Email: flau@nordnet.fr