Big business in China - sewage treatment
Determined to solve its urban wastewater problem, the Chinese government is encouraging overseas companies to invest in water and wastewater treatment projects.
May 1st, 2003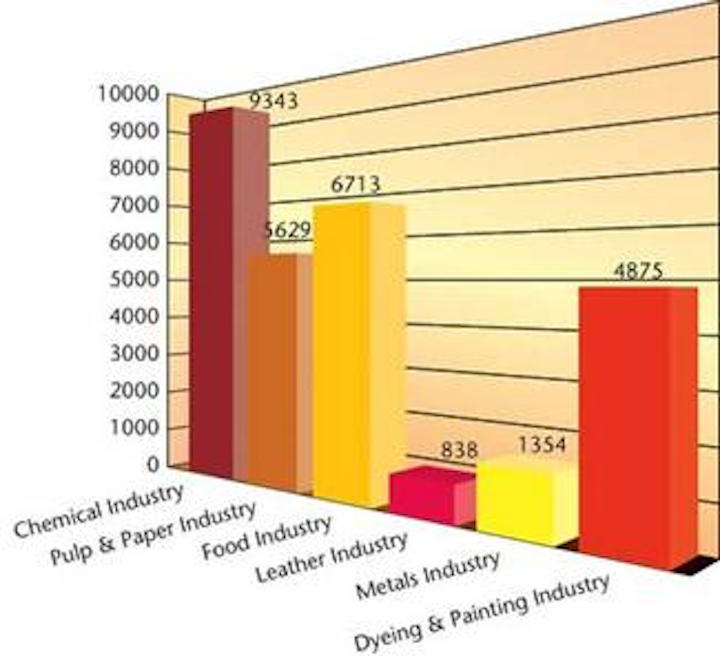 By Xu Jie
In China, an estimated US$ 483 billion will be invested in the construction of new sewage treatment plants, purchase of equipment and facility upgrades by the year 2005 to meet ambitious national goals. The government plans to increase wastewater treatment to 50% in urban areas and 75% in key cities by the year 2010, when the country's urbanisation rate is projected to reach 40%.
Shortages of clean drinking water are seen as a threat to China. Domestic and industrial wastewater treatment and potential reuse has become a major concern of the Chinese government, which is now determined to drastically change its previous handling of the urban wastewater problem. Currently, only 20% of urban sewage is treated, compared with 85% in some developed countries. New equipment markets are quickly developing for the following — medium urban wastewater treatment systems with flow rate between 0.1 and 0.5 million tons per day; wastewater treatment facilities for small cities with populations of 10,000 to 50,000; urban wastewater recycling equipment, seawater desalting facilities, antibiotic/paper & pulp/ organic wastewater treatment systems; automated processes; on-line instrumentation and process control systems.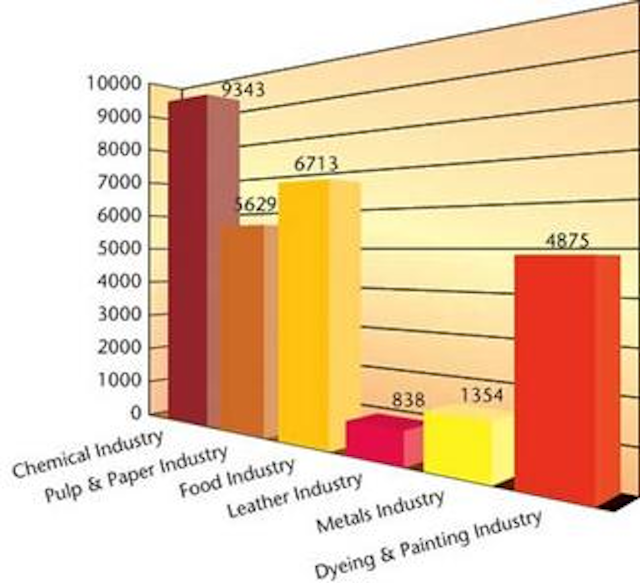 Wastewater treatment facilities in different industries, such as chemicals, pulp and paper, food, leather, metals, and dyes and paints reached 65,848 in 2002.
Click here to enlarge image
New water quality regulations, imposed to ensure that wastewater-discharging facilities operate safely and effectively monitor water quality, are driving the water treatment market. Meanwhile, the Chinese government is improving its ability to inspect nationwide. The government founded the Urban Water Discharging Network (UWDN) and national inspectors conduct inspections of member companies' discharged treated effluents. All companies and wastewater treatment facilities must adhere to UWDN requirements; establish document management systems and impose tariff controls. Water treatment fees and treatment facility operation fees are now imposed in all of China.
Many problems still arise in the implementation of regulations. Some companies refuse to implement the wastewater discharge rules. Local governments allow this neglect because these companies play a significant role in local economic development. National legislation and local implementation must be effectively coordinated to prevent these violations.
The Chinese government has invested heavily in water treatment projects in recent years, but it is still hard-pressed to afford plant construction and operation. Raising the price of water to control demand is one way. The government increased water prices several times to control water demand; for example, Hubei province changed its water price 11 times from 1985 to 2000.
Another way to fund operations is to increase water treatment fees so provinces are modifiying fee structures. In Chengdu, Sichuan Province, for example, the residential wastewater treatment fee increased from RMB (China Yuan) 0.15 per cubic meter (m3) to RMB 0.35/ m3. Local authorities are also encouraged to raise funds from international organisations and overseas private investors through build-operate-transfer (BOT) projects and privatisation. BOTs are considered an initial step towards privatisation, which have become increasingly popular in recent years, and are often used to fund municipal water treatment projects.
Another option for foreign investors is investment through the traditional Chinese joint-venture (JV) structure, with the Chinese partner role filled by a municipal water utility that plays numerous, and sometimes conflicting, roles in the project. For example, in June 2002, Arkansas-based ThermoEnergy Corporation and Shenzhen Fuhaoheng Investment Co. formed a joint venture in June 2000 to design, construct and operate wastewater treatment plants in China. Its first project is a commercial-scale pilot plant located in Shenzhen, which, if it performs successfully, will be the forerunner of future commercial, municipal and industrial wastewater treatment projects throughout China for the JV.
Many foreign companies find it difficult to evaluate the profits of water projects in China due to the typically long period of investment and recovery. Companies are also cautious about the lack of clear rules stipulating fee-charging standards. The Chinese government still needs to promulgate better laws that clearly address the needs and issues of BOT projects in China to make this type of financing a more profitable and thus attractive option.
---
Author's note
Xu Jie is an industrial analyst in the Chemical Industry Group for Frost & Sullivan in Shanghai, China.